Interview With Noctua's Jakob Dellinger
Author: HP - Date: - Manufacture: Noctua - Interviewee: Jakob Dellinger
Interview - Part 1

About Noctua:

Designed in Austria, Noctua's premium cooling components are internationally renowned for their superb quietness, exceptional performance and thoroughgoing quality. Having received more than 3000 awards and recommendations from leading hardware websites and magazines, Noctua's fans and heatsinks are chosen by more than a hundred thousand satisfied customers around the globe.

Noctua has become one of the most popular companies in the cooling market and they have been constantly releasing top notch products one after another. Noctua has been getting a lot of positive attention for their superb fans and exceptional coolers and the color scheme is the reason why people recognize Noctua products when they see one. Noctua took the enthusiasts' hearts by storm and quickly developed into one of the most acclaimed suppliers of premium quality quiet cooling products. Today, Noctua is present in more than 30 countries across the globe and working with several hundred sales partners.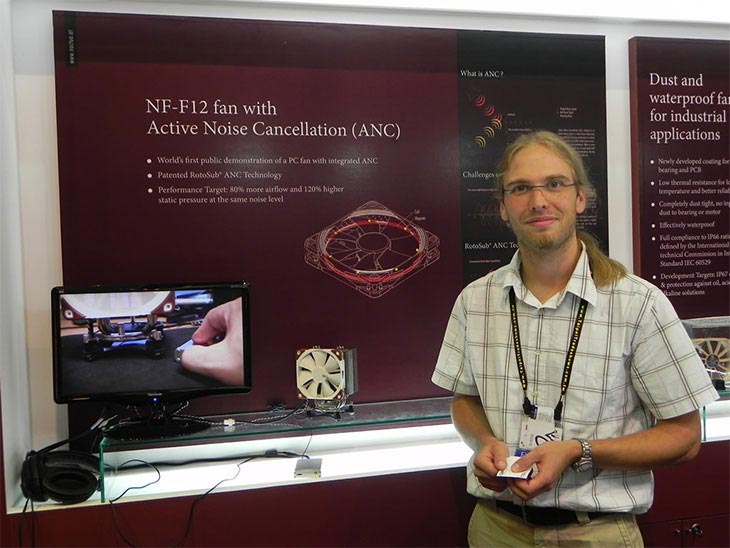 [RelaxedTech]: Hello Jakob, can you please introduce yourself and tell us what your role at Noctua is?

[JD]: Hi everyone, my name is Jakob Dellinger and I'm responsible for press and PR at Noctua.

[RelaxedTech]: How long have you worked at Noctua and can you describe a typical day?

[JD]: I've been at Rascom, one of the two companies behind Noctua, since 2001 and I've contributed to what would officially become Noctua in 2005 from the very beginning. My typical working day starts with some press review and news monitoring, which usually turns into studying new reviews of our products and discussing with journalists. A key part of my job is to channel the feedback we get from the press into our product development, so the next step for me is to evaluate it and to report my findings during our development meetings. We spend a lot of time discussing what further improvements we could make and where to go with future products. Another part of my job is to develop communication strategies for upcoming products, so once we've settled on how something should look like, I will help to make sure that they are presented in an appropriate way, prepare press-releases, coordinate the product launch, etc.

[RelaxedTech]: How has Noctua grown since it was founded in 2005 and is the cooling market more competitive these days with so many brands coming into the market?

[JD]: Well, we've pretty much started from scratch with Noctua and now we're present in more than 30 countries across the globe and widely considered to be among the leading suppliers of premium quality quiet cooling components. The market has certainly become more competitive over the years though, it now takes much more care and attention to make a product successful than it did 8 years ago. At these times, most quiet fans were slowed down versions of OEM fans that have been originally designed for much higher speeds. I think we've been pretty much the first to get back to the drawing board in order to develop fans specifically for much slower speed ranges and their specific aerodynamic parameters. Nowadays, everyone tries to do the same thing – with varied scientific background and success of course, but you can no longer grab much attention simply by offering a fan that looks different. Obviously, the proof of the pudding is still in the eating and many of the innovative-looking new designs surfacing these days utterly fail to perform, but it certainly has become much more difficult to get attention for a new fan design over the years. On the other hand, we can certainly benefit from our excellent reputation in this somewhat confused market – customers know that Noctua is always a safe choice.

[RelaxedTech]: As we leave 2013 behind and embrace 2014, what can we expect from Noctua in 2014? Is there anything you can reveal to us?

[JD]: We have a very strict policy of not realising anything that we aren't 100% happy with and this often leads to delays with upcoming products. In this case, we did some more fine-tuning on the stuff we had scheduled for late 2013, so all this has now moved to 2014. This means you'll see lots of new stuff from us this year – new 8 and 9cm fans, new high-end and low-profile heatsinks and last but not least two entirely new lines of fans.


Navigation: