AMD Wraith Max and Wraith Spire Coolers Review: Stock Cooling Just Got A Whole Lot Better
Author: HP Date: Manufacture: AMD Product Name: Wraith Max / Wraith Spire Price: N/A Warranty: N/A
Temperature & Noise Results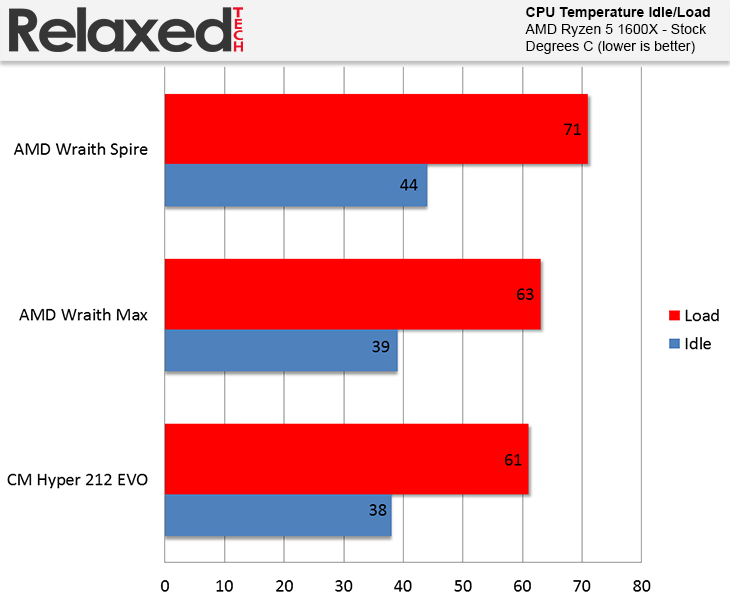 When measuring temperatures, you have to account for margin of error which is 1-2 degree Celsius. I'm very impressed by the cooling performance of the Wraith Max. It performed almost on par with the CM 212 EVO in idle and under load. In idle, the Wraith Max and CM Hyper 212 EVO achieved the same idle temperatures. Under load, the Wraith Max was about 2 Celsius warmer which is excellent considering that this is a stock cooler competing with an after market cooler. The Wraith Spire had the highest idle and load temperatures but I was not expecting the Wraith Spire to compete with the CM 212 EVO.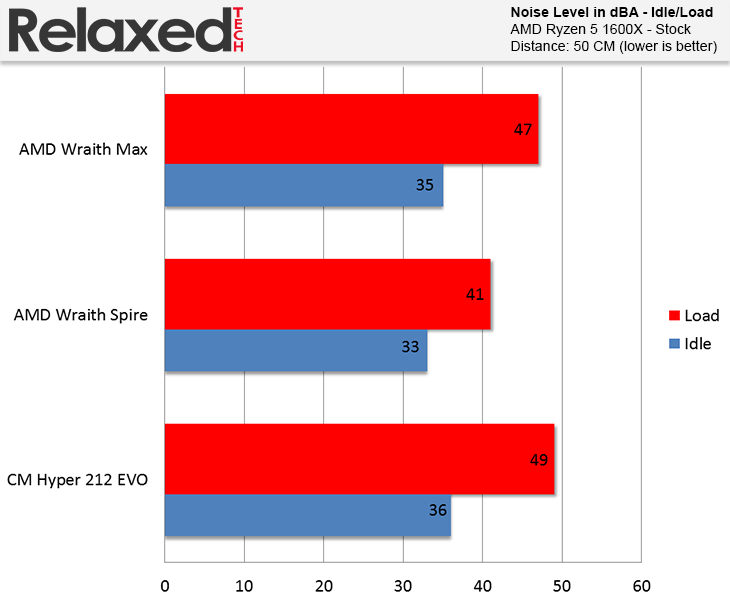 AMD's Wraith Max is quieter than the CM 212 EVO in both idle and under load. In idle, all three coolers were quiet but the Wraith Spire was the quietest with 33 dBA. Under load, the Wraith Max is quieter by about 2 dBA compared to the CM 212 EVO. This is very good performance for a stock cooler.
Conclusion
Overall, the Wraith Max and Wraith Spire are perfect for someone who does not plan on overclocking. Both coolers are more than capable of providing excellent cooling capabilities. The Wraith Max is a well designed stock cooler that competes well with low-end third party coolers. It is easily the best stock cooler on the market and it has no problems competing with after market coolers such as the CM 212 EVO. I am also very impressed with the Wraith Spire considering that it is way better than any Intel stock cooler. AMD certainly deserves a round of applause for bundling their Ryzen processors with fantastic stock coolers.
Navigation: