GPU Design

Looking at the side view of the card, the card measures about 11 inches long and 5 inches wide so it's pretty big and it is a two-slot card. The card is a little bit taller than most cards but that is to accommodate the large cooling solution. The cooling solution is well designed and you can see the nickel-plated dual-heatpipe design that uses two 100mm fans. The fans light up in bright red when the card is turned on. Since this card utilizes the Silent Extreme Technology, that means the fans start spinning when the GPU temperature reaches 45 degree Celsius. There is a GEFORCE GTX branding which illuminates and you can control the lighting with the Xtreme Tuner software.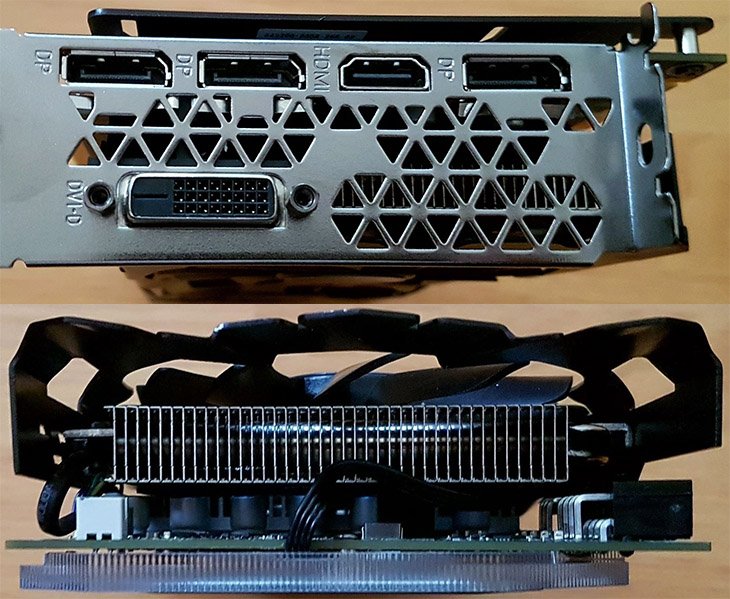 Looking at the I/O panel, we can see that it is well ventilated so the heat can easily escape from the card and bring in fresh air. You can see that the Galax GTX 1070 EXOC Sniper has lots of cut-outs and vents for air to flow in and out. Underneath the dual-fans, you will see a huge aluminium fin stack which the heatpipes run through it.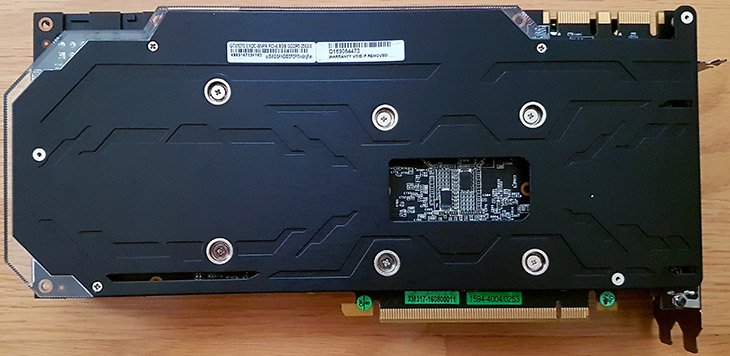 On the back of the video card is a sturdy backplate that protects the card from warping with its large dual-heatpipe cooling solution. It does a good job of provide protection to the PCB and providing better heat dissipation and it uses a special RGB lighting around the edges.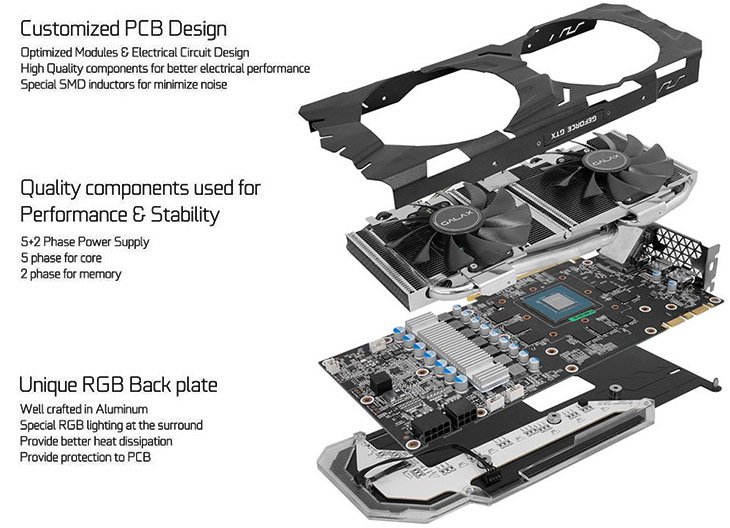 Head over to Galax's GTX-1070 EXOC Sniper website if you want to see high resolution images of the card in different RGB lightings.
Test Setup
Test Setup
Processor:
Intel i7-6900K Stock
Motherboard:
ASUS X99 Deluxe II
RAM:
Crucial Ballistix Elite 16GB DDR4 3000Mhz
Graphics Card:
Galax GTX 1070 EX-OC SNIPER
Galax GTX 1070 Founders Edition
Storage:
Crucial MX300 1TB SSD
Power Supply:
SilverStone ST80F-TI 800W
Heatsink:
Noctua NH-U14S
OS:
Windows 10 Home 64-Bit
Thermal Compound:
Noctua NT-H1
Drivers:
NVIDIA: 376.33 WHQL
AMD: Catalyst 16.12.2 WHQL
To make sure these GPUs perform at their maximum performance, we will be disabling all the power saving features in the BIOS (CPU C-state, C1E, EIST etc). The testing was done on a fresh install of Windows 10 64-bit with the latest windows updates installed. We disabled a bunch of unnecessary services and removed all the bloatware from Windows 10 to make sure there were as few processes running as possible during the testing.

We'll be using an Intel Ivy Bridge i7-6900K CPU that will run on stock settings. We're using the ASUS X99 Deluxe II motherboard with the latest BIOS version 1401 from ASUS. Installing and using a graphics card is pretty straight forward, simply connect the GPU in the correct PCIe slot and plug the PCIe connectors from the power supply to the graphics card. After installing your video card, make sure to install the latest drivers. At the time of writing this review, we tested all the cards at their stock speeds with the latest drivers. All of the testing is done with an ambient temperature of ~21C. Also, all games are tested at their highest quality settings and at 2560x1440 resolution. Idle and load temperatures will be measured by using Unigine Heaven Benchmark to get the video card at 100% load.

Software Benchmark Suite:
+ 3DMark 11
+ Rise of the Tomb Raider
+ Fallout 4
+ Hitman (2016)
+ The Witcher 3
+ Just Cause 3
+ GTA V
+ Rainbow Six Siege
+ The Division

Fan Noise & Temperature
We will measure the noise levels in idle and load using a dBA meter and we will point it at the video cards at a distance of ~60cm. Idle noise levels will be measured after leaving the system idle for 20 mins. Load noise levels will be measured after playing GTA V on max settings for 20 minutes. It's always difficult to measure noise levels because there are always noises in the background which can affect it so the results may not be 100% precise but it should give you a clear indication of the noise levels for each video card. The video cards will be tested at stock speeds.
Noise Levels In dBA
Lawn Mower:
90 dBA
Vacuum Cleaner:
80 dBA
City Traffic:
75 dBA
Conversation:
65 dBA
Air Conditioning:
60 dBA
Floor Fan:
50 dBA
Electric Hum:
45 dBA
Refrigerator Hum:
40 dBA
Rustling Leaves:
30 dBA
Pin Falling:
15 dBA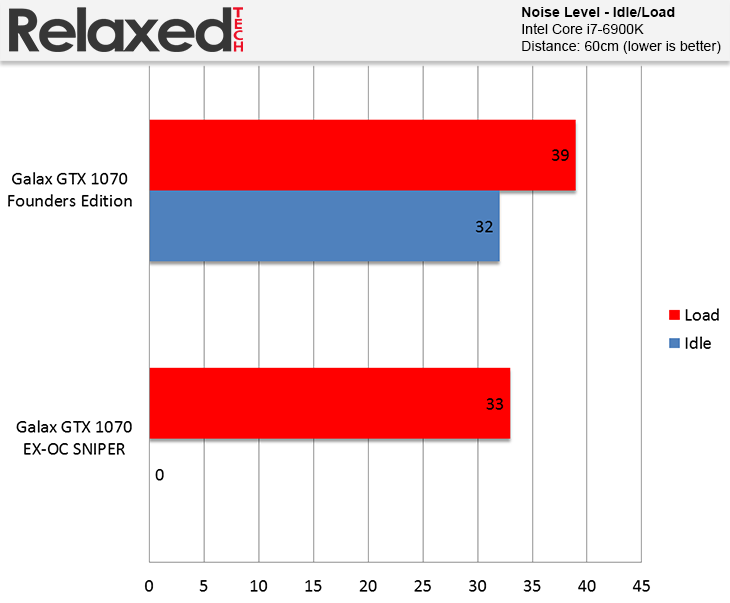 Idle fan noise is fantastic because the fans turn completely off in idle (up to 45°C). During load noise levels, the card is about 6dBa quieter than the Founders Edition.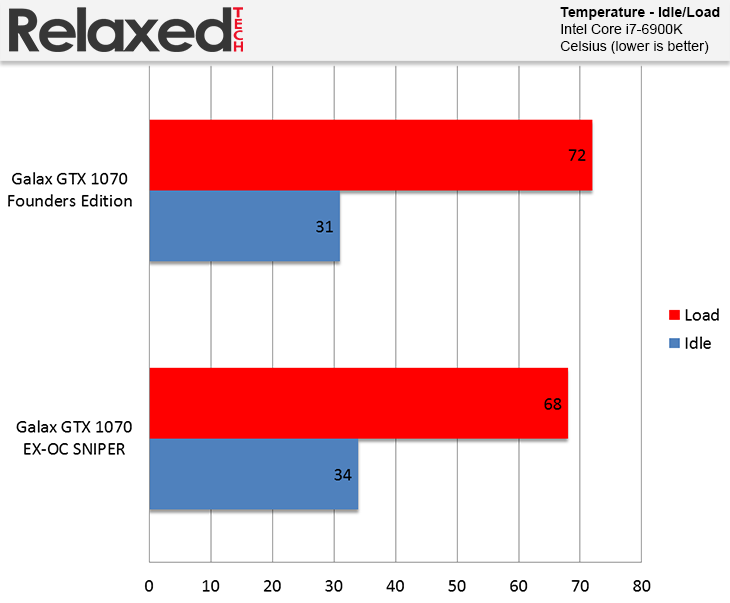 Idle temperature is good despite the fans turned off and load temperature is great.
Navigation: