Netgear Nighthawk X10 R9000 AD7200 Router Review: Not For Your Average Consumer
Author: HP Date: Manufacture: Netgear Product Name: Nighthawk X10 R9000 Price: $399.99 Warranty: 2 Years
Introduction

Netgear has sent us the Nighthawk X10 R9000 for review which is one of the fastest routers on the market with a whopping $400 price tag. The Nighthawk X10 R9000 supports the new 802.11ad WiFi technology standard which is rated for data throughput up to 4600 Mbps, or three times faster than the typical AC speeds. I do want to mention that 802.11ad is not the true successor to 802.11ac, 802.11ax is, and if everything goes according to plan, we should start seeing 802.11ax devices during the second half in 2019.

Moving on, in order to experience its super-fast 802.11ad speeds, you will first need a device that supports 802.11ad and there are only a few devices on the market that support the new 802.11ad WiFi standard. Even if you do have a device that supports 802.11ad, you will need to be very close to the X10 R9000 at all times or as soon as you move away, the speed will reduce significantly. The 802.11ad standard has an extremely short range, no more than 15 feet and since its signal can't penetrate walls, the 802.11ad standard is used only for clients that stay close to the router. 802.11ad is basically designed to replace your video cables such as HDMI and DP and data cables such as USB and thunderbolt so it's definitely not designed to replace 802.11ac.

The Nighthawk X10 R9000 is a big router that's intended for very large homes and it measures 8.81 x 6.61 x 2.91 in (HWD) and weighs 4.11 pounds (1865 g). It packs a 1.7Ghz Quad-Core processor and besides the 60 GHz radio, it supports up to 800 Mbps on the 2.4Ghz band and up to 1733 Mbps on the 5Ghz band. Netgear has also incorporated quad-stream (4x4) 802.11ac which means the Nighthawk X10 R9000 can simultaneously deliver up to 4,600Mbps, 1,733Mbps, and 800Mbps WiFi speeds on 60GHz, 5GHz and 2.4GHz bands, respectively.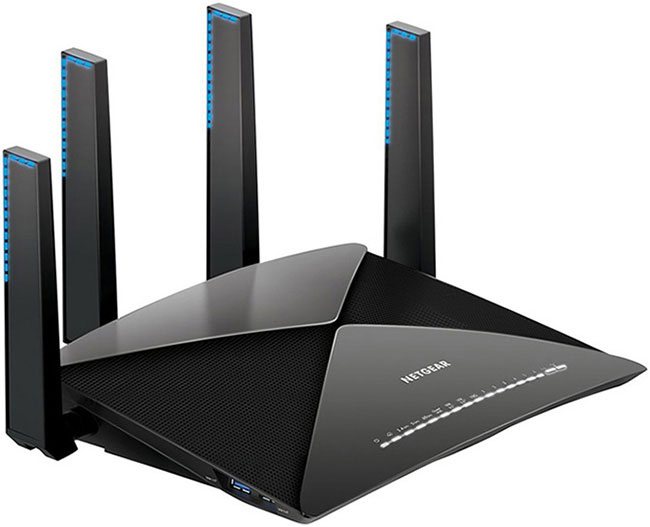 The build quality of the Nighthawk X10 R9000 is top-notch and it feels quite sturdy. Netgear has gone with a rather minimalistic design with the Nighthawk X10 R9000 which I really like. The antennas come pre-attached in the box and there's one small fan in the center at the top of the router that provides cooling to the CPU. Netgear has included a switch that let's you turn off all the LEDs except for the Power light or you can leave them on and stop them from blinking via the Web GUI settings.

There are plenty of ventilation slots at the top and bottom of the router so the cooling design of the Nighthawk X10 R9000 seems to be very good. It can definitely be wall mounted via the two bottom-panel screw slots if you don't have enough space but the Nighthawk X10 R9000 is mostly designed to sit on a flat surface. The reason why I say it's mostly designed to sit on a flat surface is because it weighs 4.11 pounds which is quite heavy for a router to be wall mounted and it's also very large so make sure you install those screws very well.

As far as ports go, the Nighthawk X10 R9000 has a total of seven Ethernet ports, one WAN port and six Gigabit LAN ports and two of these ports can work together to create a single 2Gbps connection. There are also two USB 3.0 ports on the side of the router and the Nighthawk X10 R9000 is the first home router with a 10Gbps SFP+ LAN port. The only way you will be able to experience the full speed of 802.11ad is if you're willing to invest in a 802.11ad laptop and a high-end NAS server that can connect to its 10Gbps LAN port so it simply isn't a device for the average consumer.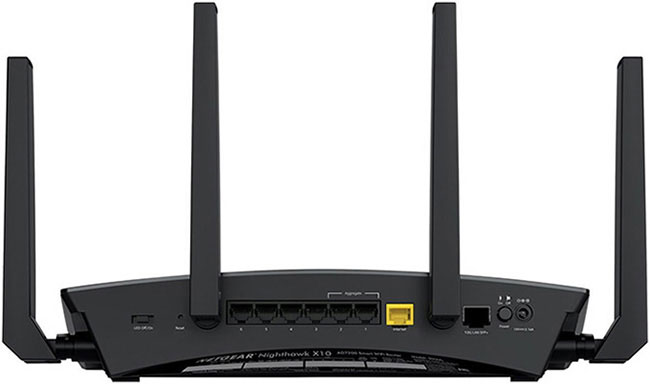 The antennas on the Nighthawk X10 R9000 are adjustable but non-removable and you will notice that the antennas are not that long compared to previous Netgear routers but they are thick. Netgear is using four external antennas and Beamforming+ to improve range, extend coverage and reduce dead spots for large homes.

Most WiFi routers normally just blast the WiFi signals in all directions which isn't efficient at all but with Beamforming+, the router and the device talk with each other so the router can directly beam the WiFi signal to the device. This results in a much stronger, faster and more reliable connection that is locked in even when the device is moving around the house.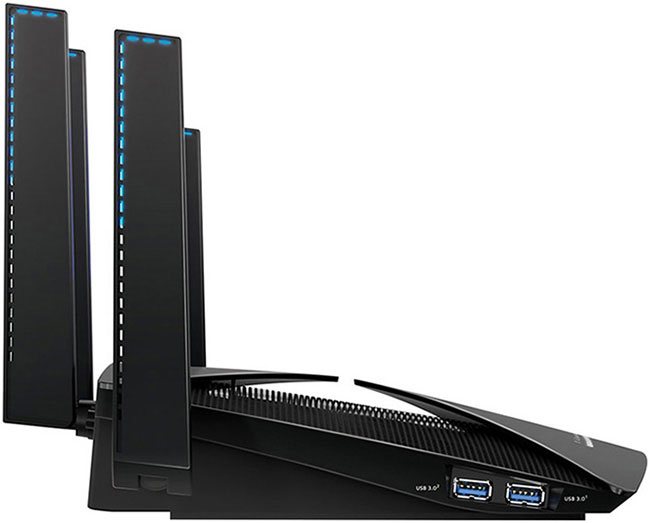 Netgear has developed a new antenna technology called Enhanced Active Antennas. What Netgear has done here is move the WiFi amplifiers from their usual location which is on the router's motherboard and up to the top of the antennas. This results in a cleaner and stronger receiving signals from your mobile devices by avoiding any signal loss during transmission between antenna and router board.
Specifications
Netgear Nighthawk X10 R9000 Specifications
Wi-Fi Technology:
802.11ac plus 802.11ad
Wi-Fi Performance:
AD7200 WiFi (800 + 1733 + 4600)
Wi-Fi Range:
Very Large Homes
Wi-Fi Band:
Band 1: 800 Mbps @2.4GHz – 256QAM
Band 2: 1733 Mbps @5GHz – 256QAM
Band 3: 4600 Mbps @60GHz – SC
Beamforming:
Explicit Beamforming for 2.4 & 5GHz bands
Number of Ethernet Ports:
Seven (7) 10/100/1000 Mbps Gigabit Ethernet ports (1 WAN & 6 LAN)
Dual Gigabit Ethernet Port Aggregation
Number of USB Ports:
Two (2) USB 3.0 ports
Key Features:
802.11ac Quad-Stream Wave2 WiFi plus 802.11ad WiFi
Plex Media Server—Stream your media on all your devices
Powerful 1.7GHz Quad-Core processor
MU-MIMO ‡—Simultaneous streaming of data for multiple devices
Amazon Drive cloud back up
ReadyCLOUD® USB Access—Personal & secure cloud access to USB storage anytime, anywhere
ReadySHARE® Vault—PC software for automatic backup to USB hard drive connected to the router
DLNA® Server—Find & play your media on TVs & game consoles
VPN support—Secure remote access to your home network & Internet
Enhanced Parental Controls—Manage web filtering & accessibility by profiles or devices
NETGEAR® genie® home network manager includes remote access to manage your network away from home
NETGEAR Up app — Easily set up, update, and configure your router
Open source software available
IPv6 Support (Internet Protocol Version 6)
On/Off LED light switch
Security:
Customized free URL to set up personal FTP server
VPN support—secure remote access
Guest network access—separate & secure
WiFi Protected Access® (WPA/WPA2—PSK)
Double firewall protection (SPI and NAT)
Denial-of-service (DoS) attack prevention
Physical Specifications:
Dimensions: 8.81 x 6.61 x 2.91 in (224 x 168 x 74 mm)
Weight: 4.11 lb (1865 g)
Processor:
Powerful Quad-Core 1.7GHz processor
Memory:
512MB NAND flash and 1GB DDR3 SDRAM
Package Contents:
Nighthawk X10-AD7200 Smart WiFi Router (R9000)
Ethernet cable
Quick start guide
Power adapter
Standards:
Two (2) USB 3.0 ports
IEEE® 802.11 b/g/n 2.4GHz 64QAM support
IEEE® 802.11 a/n/ac 5GHz1024QAM support
I spent some time opening up the router and inspecting the internal components and below I have listed all the internal components in the Nighthawk X10 R9000.
Netgear X10 R9000 Internal Specs
Model
R9000 AD7200
Release Date:
19 October 2016
Price:
$400
CPU:
Annapurna Labs Alpine AL-514
Frequency:
1.7 GHz, 4 cores
Memory:
512MB Flash (Spansion S34ML04G200TF100)
RAM:
1GB RAM DDR3 (Nanya NT5CC256M16DP-DI x 2)
2.4 Ghz Radio:
QCA9984 4-stream 802.11ac MU-MIMO radio
Skyworks SE2623L 2.4 GHz power amp (x4)
5 Ghz Radio:
QCA9984 4-stream 802.11ac MU-MIMO radio
RFMD RFPA5542 5 GHz power amp (x4)
60 Ghz Radio:
QCA9500 in QCA9008-SBD1 module
Tri-Band:
60GHz (4600Mbps), 5GHz (1733Mbps), 2.4GHz (800Mbps)
Wi-Fi:
802.11ac/ad
Switch:
Qualcomm Atheros QCA8337 (x2)
Antennas:
Four External
Let's talk a little bit about the specs inside the R9000. The R9000 comes with the Annapurna Labs Alpine AL-514 quad-core 1.7Ghz processor and it's using 1GB of DDR3 RAM and 512MB flash. This is a powerful processor for a router and the Annapurna Labs Alpine AL-514 SoC is normally used in NASes. The R9000 stays relatively cool thanks to the ventilation holes on the back and at the top.

We are going to benchmark the R9000 in NAS performance, Wi-Fi performance and storage performance.
Navigation: