Noctua NH-D15 Review: Retaking The Cooling Performance Crown
Author: HP - Date: - Manufacture: Noctua - Product Name: NH-D15 - Price: $99.90
Thermal & Noise Level Results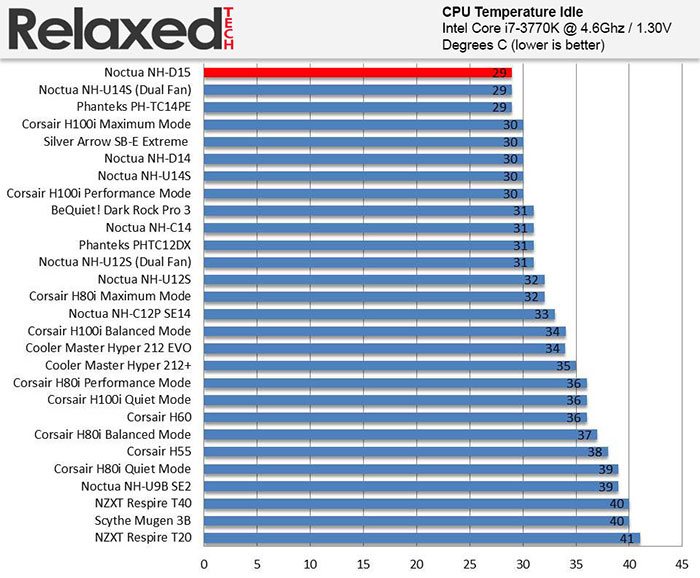 Looking at the chart above, we can see that the NH-D15 offers some of the lowest idle temperature out of all. There isn't that much of a difference in temperature between the legendary NH-D14 and the NH-D15. The Phanteks PH-TC14PE and NH-U14S (Dual Fans) all seem to perform excellent and are able to keep up with the newly released NH-D15. With that being said, the majority of the premium coolers did fine against the NH-D15.

Let's now move on to the load temperatures to see how the NH-D15 does against its older brother.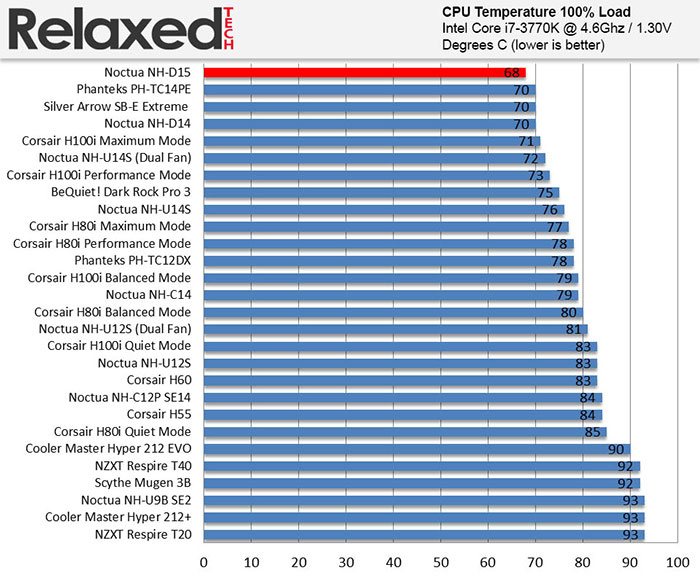 Looking at the full load temperatures, the NH-D15 comes on top and beats the legendary NH-D14 by 2 Celsius which isn't that much by any means but it's enough to put it at the top of the chart. It's nice to see the NH-D15 beating its predecessor because some products don't. There is only so much you can do to improve on the design of a CPU cooler so seeing that Noctua managed to improve on that is very nice! The rest of the coolers such as the Phankteks PH-TC14PE and Silver Arrow SB-E Extreme are not very far away either. These CPU coolers need to be stressed at high overclocks to show what they are truly capable of.

Now let's look at the noise levels for both idle and load.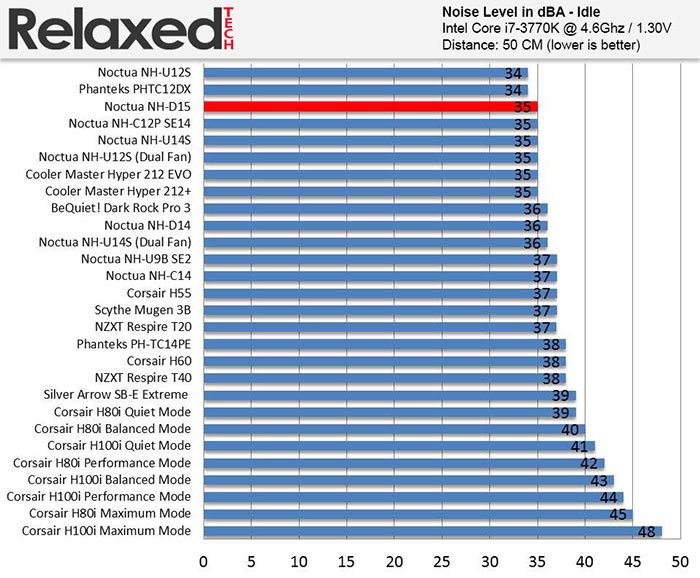 Like with any Noctua cooler that you would expect, the NH-D15 is whisper quiet in idle mode and you can hardly hear the fans spinning. According to my measurements, the NH-D15 is only 1 dBA quieter compared to the NH-D14 but there's always a 1 dBA margin of error in acoustic performance testing. Anything below ~40 dBA is considered to be silent and the NH-D15 stays well below that.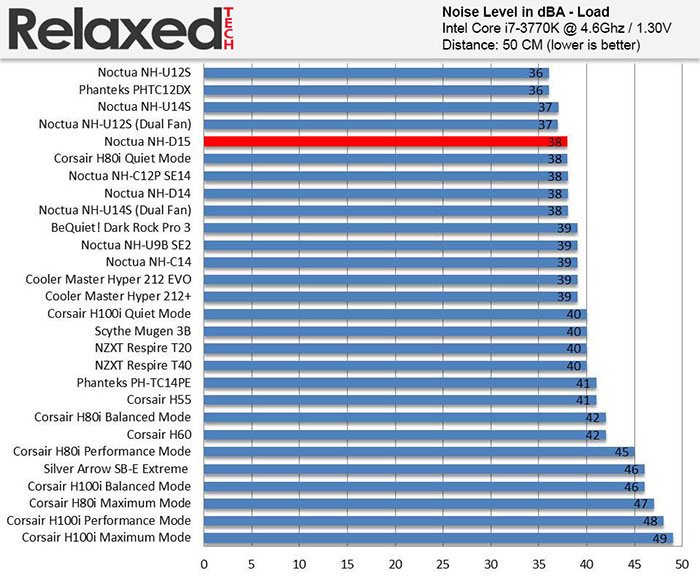 Under full load the NH-D15 manages to have the same noise level as its older brother but nevertheless, it stays below 40 dBA which is very impressive! The Corsair closed-liquid-coolers have by far some of the loudest fans I have ever seen. They sound like a jet engine taking off when you have them running on maximum speed.

With all those being said, let's now go to the next page where we will wrap this review up.
Navigation: