Noctua NH-L9i & NH-D14 CPU Coolers Review
Author: HP - Date: - Manufacture: Noctua - Product Name: NH-L9i & NH-D14 - Price: $47.99/$85.99
Introduction

From Noctua's website about the NH-L9i:

The NH-L9i is a premium quality quiet CPU cooler for Intel LGA115x based HTPCs and Small Form Factor systems. At a super-low profile of only 37mm, the NH-L9i is ideal for extremely slim cases and due to its 95x95mm footprint, it provides full compatibility with tall RAM modules and VGA cards on mini-ITX mainboards. The custom designed SecuFirm2™ mounting system for LGA115x makes installation a child's play and thanks to the highly optimised NF-A9x14 premium fan that supports fully automatic speed control via PWM, the NH-L9i runs remarkably quiet. Topped off with Noctua's renowned NT-H1 thermal compound, the NH-L9i fuses everything users have come to expect from Noctua's larger coolers into a super-compact package for slim HTPC systems.

From Noctua's website about the NH-D14:

Combining a massive six heatpipe dual radiator design with an exquisite NF-P14/NF-P12 dual fan configuration, the NH-D14 is built for ultimate quiet cooling performance. Topped off with a tube of Noctua's award-winning NT-H1 thermal compound as well as the new SecuFirm2™ multi-socket mounting system, the NH-D14 is an elite choice for the highest demands in premium quality quiet cooling.

Noctua has become one of the most popular companies in the cooling market and they have been constantly releasing top notch products one after another. Noctua has been getting a lot of positive attention for their superb fans and exceptional coolers and the color scheme is the reason why people recognize Noctua products when they see one.

Noctua offers a six year warranty on their products and has possibly the best customer service out there and I can certainly vouch for that. They have always sent me replacements for fans and mounting kits free of charge and that was long before I became a reviewer. Noctua sets the perfect example of what a customer service should be like.

The NH-L9i is Noctua's low profile heatsink designed to fit into small factor systems or HTPCs for Intel socket LGA115x (1155/1156/1150) processors only. Since it's designed to work only on Intel platforms, this makes for a super easy installation thanks to Noctua's SecuFirm 2 mounting system. It comes at a super low profile of only 37mm tall (23mm heatsink and 14mm NF-A9x14 low profile fan) that makes it extremely slim and ideal to use for mini ITX cases. It provides full compatibility with tall RAM modules and VGA cards on mini ITX mainboards.

The NH-L9i is designed to replace stock cooling that comes with Intel CPUs and should theoretically eliminate overheating issues that you might have with the stock heatsink. The NH-L9i comes with a strict set of TDP guidelines and according to Noctua's website, it should be used with care on CPUs with more than 65W TDP.

To find out if the NH-L9i is recommended for your CPU, head over to Noctua's website for their TDP guidelines.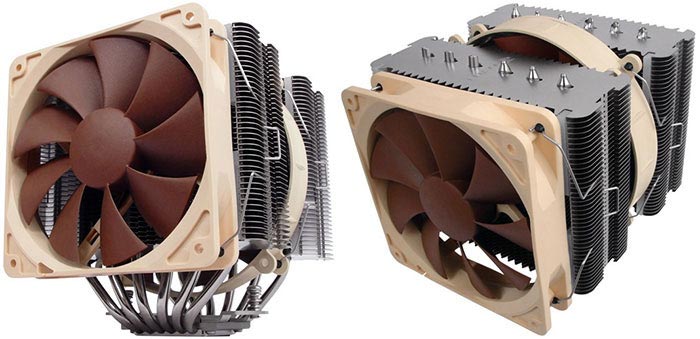 The other product that we will be taking a look at is the complete opposite of the NH-L9i. This is Noctua's largest CPU cooler that combines a massive six heatpipe dual tower design for extreme overclocking. We are talking about none other than the notorious NH-D14 that has won numerous awards for its exceptional performance. We will put the NH-D14 to the test to see how well it stacks up against other high end water coolers and air coolers.

As you might have guessed from the name (-D14), this monster features a 14cm/140mm (NF-P14 FLX) fan that sits right in the middle of the two towers and also a 12cm/120mm (NF-P12) fan that sits on the side used in push/pull configuration. Similarly like the NH-L9i, this cooler also comes with SecuFirm 2 that makes installation a breeze.

Without further ado, let's take a look at the specifications.
Navigation: