Seagate BarraCuda Pro 12TB Review: Meet The Highest Capacity And Fastest Desktop Hard-Drive On The Market
Author: HP Date: Manufacture: Seagate Product Name: Barracuda Pro 12TB Price: $524.99 Warranty: 5 Years
Introduction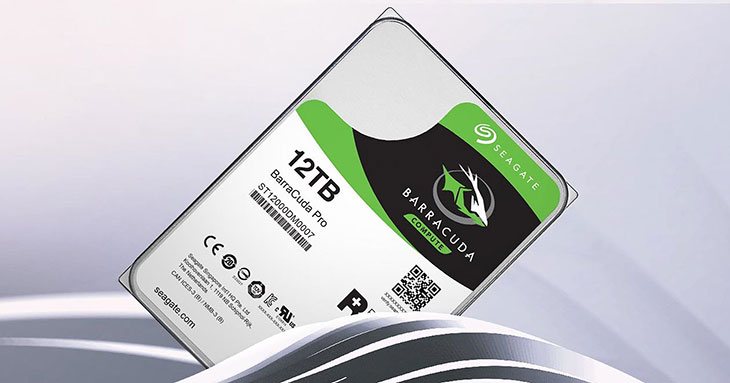 Seagate has recently released three new 12TB 3.5-inch HDDs with the first two being the IronWolf 12TB and IronWolf Pro 12TB which are designed specifically at NAS environments. The third drive that Seagate announced is the BarraCuda Pro 12TB which is aimed at desktop users, creative professionals, and gamers. These drives are based on helium technology and have eight platters inside.

Today we will review the Seagate BarraCuda Pro 12TB hard-drive which is the world's highest-capacity desktop hard-drive on the market. The Seagate BarraCuda Pro 12TB HDD comes with a speed of 7200RPM which also makes it the fastest 12TB desktop drive on the market. It has a continuous read and write speed of 250 MB/s and it comes equipped with a large 256MB cache size which will help with loading applications and files faster.

While the average user might not need a drive this massive in capacity, there are creative professionals who work with high-resolution 4K content, hardcore PC gamers who install their entire Steam library, and data hoarders that would love to have a drive such as the BarraCuda Pro 12TB. Large hard-drives such as the BarraCuda Pro 12TB are still relevant in the industy due to their reliability and low price.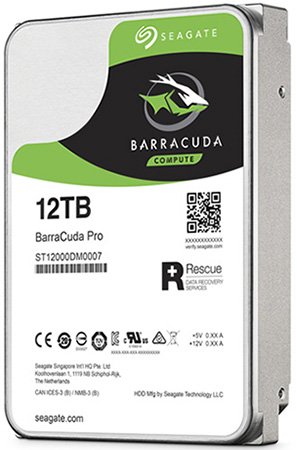 Seagate's Barracuda Pro series range in capacities from 2TB, and all the way up to 12TB, and are only available in a 3.5" form factor. The Barracuda Pro 12TB is available for purchase on Amazon for $525 and is backed by a five-year limited warranty. Seagate also includes two years of their Rescue Data Recovery plans if you purchase a Barracuda Pro drive. If there is a hard-drive mechanical issue or something accidentally happens to the drive, you can send the drive to experienced data recovery experts at Seagate.
Specifications
Seagate Barracuda Pro Series Lineup
Model:
12 TB
10 TB
8 TB
6 TB
4 TB
2 TB
Price:
$529.99
$399.99
$324.99
$249.99
$159.99
$129.99
Bytes per Sector:
512
Interface:
SATA 6Gb/s
Speed (RPM):
7200
Warranty:
5-Years
Max. Transfer Rate:
250MB/s
220MB/s
195MB/s
Cache (MB):
256
128
Load/Unload Cycle:
300,000
Power-On Hours per Year (24×7):
8760
Data Recovery and Rescue Services:
Yes
Workload Rate Limit (TB/year):
300
Startup Power (A):
2.0
Operating Mode, Typical (W):
7.8
6.8
9.0
6.7
Idle Average (W):
4.83W
4.42W
7.2W
6.0W
4.5W
Standby Mode (W):
0.84
0.80
0.6
0.8
Operating (ambient, min):
0°C
Operating (drive case, max):
60°C
Nonoperating (ambient):
-40°C – 70°C
Halogen Free:
Yes
RoHS Compliance:
Yes
Height (mm/in, max):
26.11mm/1.028in
Width (mm/in, max):
101.85mm/4.010in
Depth (mm/in, max):
146.99mm/5.787in
Weight (g):
705g
780g
680g
550g
Carton Unit Quantity:
20
Cartons per Pallet/Cartons per Layer:
40 / 8
Launch Date:
October 2017
The Seagate BarraCuda Pro 12TB HDD utilizes the SATAIII 6Gbps interface, and according to Seagate, it is said to draw around 7.8 watts in operating mode and 4.8W in idle mode making it one of the most power efficient 3.5" hard drives on the market. Seagate has designed the BarraCuda Pro 12TB HDD for 24x7 usage and it carries a workload rating of 300TB/year or 820GB/day.

In this review we will be benchmarking the BarraCuda Pro 12TB HDD against the Western Digital Black 6TB to see which one is the fastest. Western Digital's Black hard-drives are available up to 6TB of capacity, and also come with a 5-year of warranty.
Test Methodology
Test Setup
Processor:
AMD Ryzen 7 1700X (3.8Ghz)
Motherboard:
MSI X370 xPower Titanium (BIOS v1.9)
RAM:
Ballistix Elite 16GB (2x8GB) DDR4 3200Mhz
Graphics Card:
Nvidia GeForce GTX 1070
Storage:
Seagate BarraCuda Pro 12TB
Western Digital Black 6TB
Power Supply:
SilverStone ST80F-TI (800W)
Heatsink:
Noctua NH-D15
OS:
Windows 10 Home 64-Bit
Thermal Compound:
Noctua NT-H1
Case:
Corsair 400C
The testing was done on a fresh install of Windows 10 64-bit with the latest windows updates installed. To make sure these drives perform at their maximum performance, we have disabled all the power saving features in the BIOS (C6-state, etc) and set the power option to high-performance in Windows 10. We have also gone ahead and disabled a bunch of unnecessary services and removed all the bloatware from Windows 10 to make sure there were as few processes running as possible during the testing.

We'll be using the AMD Ryzen 7 1700X processor overclocked to 3.8Ghz and the MSI X370 xPower Titanium motherboard with the latest BIOS version which at the time of writing this is v1.90. The Ballistix Elite DDR4 (2x8GB) 16GB memory kit was run at 3200MHz with 16-16-16-38 1T memory timings.

Benchmark Software:
+ CrystalDiskMark
+ ATTO Disk Benchmark
+ HD Tune Pro
+ IOMeter
Benchmark Results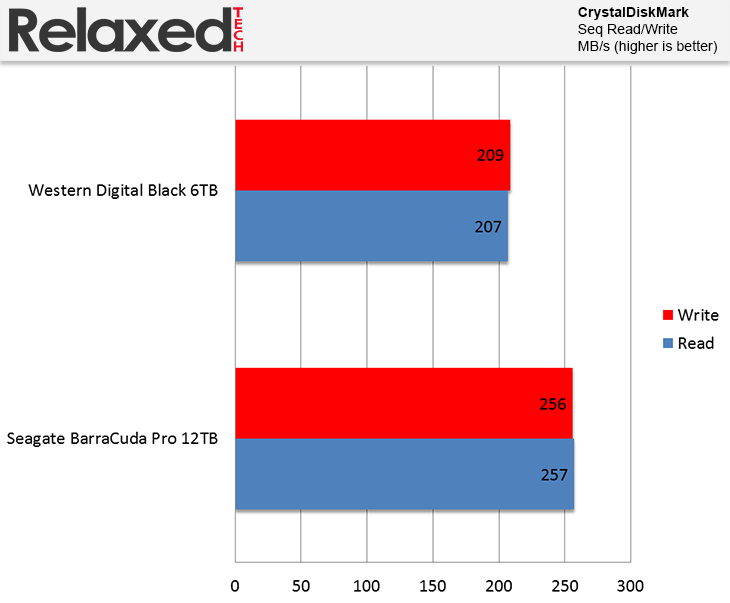 Here we are using CrystalDiskMark to measure the performance for sequential reads/writes.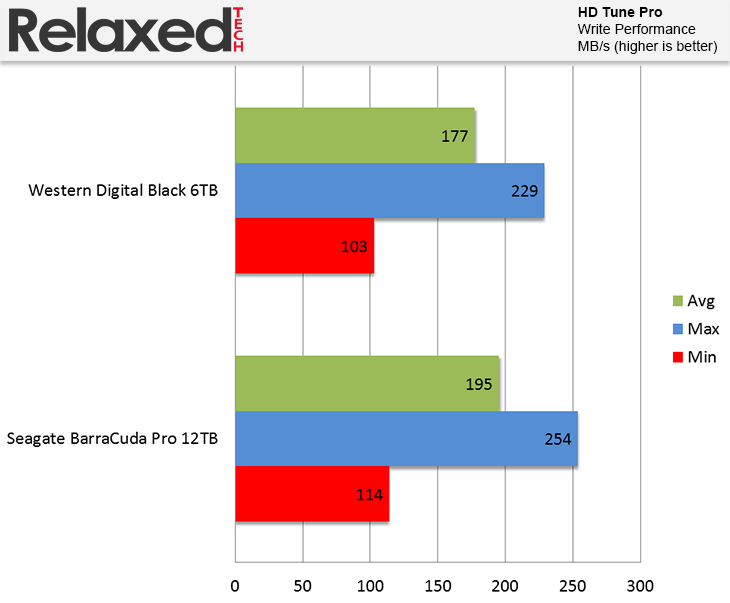 In this test we are using HD Tune Pro which is a Hard Disk Utility with many functions such as error checking, S.M.A.R.T and benchmarking. Here we are measuring the write performance using HD Tune Pro.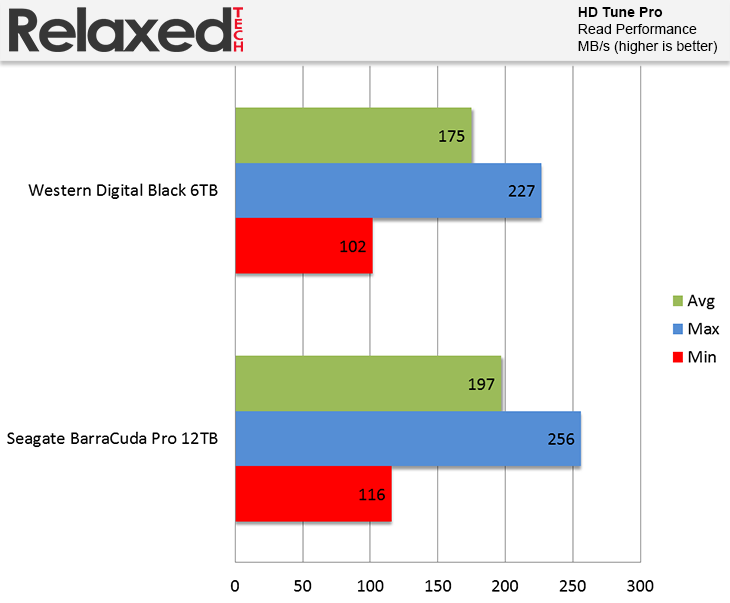 Now we are measuring the write performance using HD Tune Pro.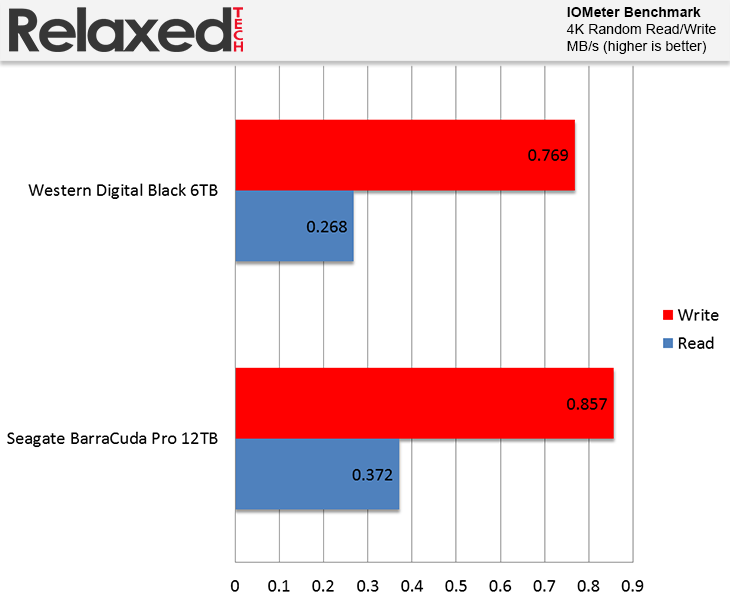 In this test we are using IOMeter which is one of the best application for stress testing the random IO performance of a drive. IOMeter is set to use 4KB file size chunks and will stress the HDD with random 4 KB files.
Conclusion
Seagate has a fantastic product on their hands with the BarraCuda Pro 12TB HDD. The Seagate BarraCuda Pro 12TB offers great performance across many heavy computing tasks whether you are a creative artist, hardcore PC gamer, or a photographer, Not only is the BarraCuda Pro 12TB the highest storage capacity available in the 3.5-inch PC market, but also the fastest. In all of our benchmarks, the Seagate BarraCuda Pro 12TB offered superior performance compared to the Western Digital Black 6TB.

Pros:
+ Fantastic Performance
+ Massive Capacity
+ 5-Year Warranty
+ Power Efficiency

Cons:
- Expensive

Seagate provides a 5-year warranty and also a 2-year of their Rescue data plan which might come in handy if something ever happens to the drive. If you're looking to buy a strong and reliable HDD to store all your digital stuff, the new BarraCuda Pro 12TB is the hard-drive to get. Other than that, the BarraCuda Pro 12TB is easily the best HDD that I have ever tested and I believe it deserves our Elite award.