Acer Predator XB272 G-Sync Monitor Review: Perfect For Fast-Paced Gaming
Author: HP Date: Manufacture: Acer Product Name: XB272 Price: $679.99 Warranty: 3 Years
Introduction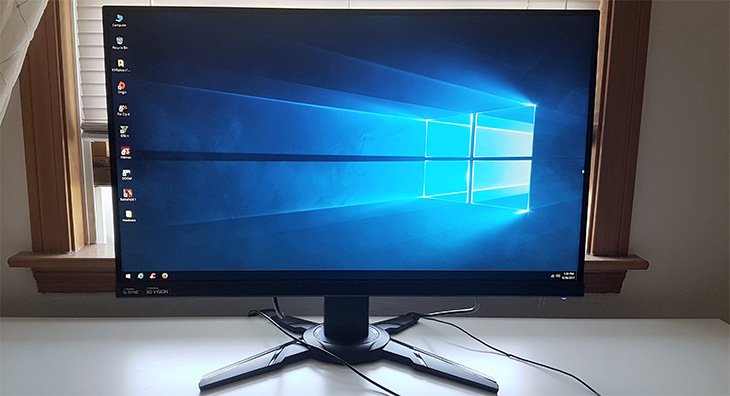 Acer has sent us the Acer Predator XB272 which is a 27-inch 240 Hz G-Sync gaming monitor that retails for $680 on Amazon and comes with 3 years of warranty. It comes with a TN panel with a 1920 x 1080 resolution, a fully adjustable stand, and supports NVIDIA's G-Sync tearing prevention technology. The Acer Predator XB272 is positioned toward the higher end of the gaming monitor market and competes with other 240 Hz monitors on the market such as the Asus Swift PG258Q, BenQ Zowie XL2540, ViewSonic XG2530, and Alienware AW2518H.

The Acer Predator XB272 is the first 27" 240Hz monitor on the market while the other monitors that I listed above are all 24.5" to 25" and range from $490 and all the way up to $580. Before we move on, I want to mention that Acer has also announced that they will release the HDR version of the Predator XB272 which will feature a 4K resolution with an IPS panel at 144 Hz refresh rate. Although, the XB272-HDR was supposed to be released during the first half of 2017 and is estimated to sport a $2000 price-tag.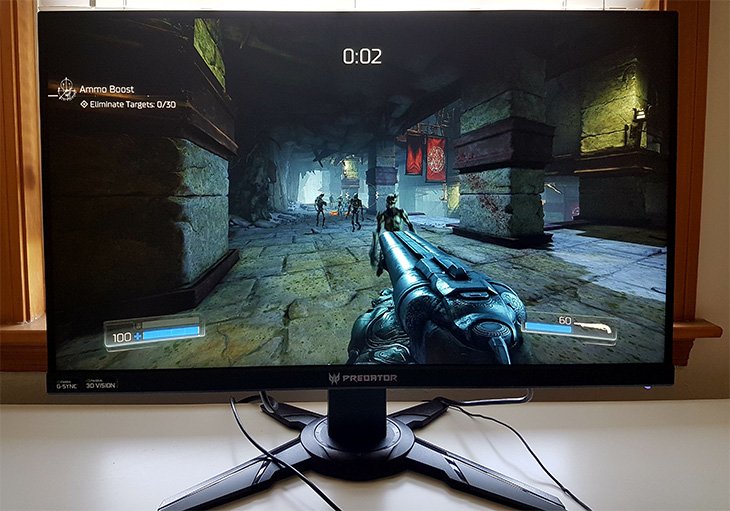 Moving on, the Acer Predator XB272 has a response time of 1 ms and a native refresh rate of 240 Hz. If you are into fast-paced gaming such as Counter-Strike Global Offensive, Doom or Overwatch where you need a super high frame rate, the Acer Predator XB272 might be the monitor you need. But otherwise, its a bit uninspiring as a all-purpose monitor for the money. The resolution is very low for a 27-inch monitor which means doing other things other than playing games will not look look very sharp. Also, TN panels typically have washed out colors, the viewing angles are not as good compared to an IPS panel, and the color quality is not as accurate.

In the future, 240 Hz gaming monitors are going to be in high demand due to the fast-paced world of PC gaming and thanks to Nvidia's G-Sync technology which helps you get those critical missing images on the screen in ultra smooth motion so you can easily target your enemy on the screen. NVIDIA's G-Sync is designed to ensure smooth on-screen action which works by synchronizing the display's refresh rate to the NVIDIA GPU to eliminate screen tearing. With that being said, you will need a powerful video card to drive a monitor such as this to the limit.
Specifications
Acer Predator XB272 Specifications
Manufacture:
Acer
Model:
XB272
Viewable Screen Size:
27"
Panel Type:
TN Panel
Aspect Ratio:
16:9
Brightness:
400 cd/m²
Refresh Rate:
240Hz using DisplayPort
60Hz using HDMI port
Screen:
Anti-glare

Contrast Ratio (dcr):
1000:1
Response Time:
1 ms
Max Resolution:
1920 x 1080
Color Depth:
16.7M
Color Gamut:
72% NTSC
Support:
NVIDIA G-Sync
NVIDIA ULMB
Acer DarkBoost
BlueLightShield
Flicker-less Technologies
Viewing Angles:
170° left/right, 160° up/down
Audio:
2 x 2W Built-in Speakers
Pixel Pitch (mm):
0.3113mm
Tilt Angle:
-5° to 20°
Swivel Angle:
45°
Maximum Adjustable Height:
115 mm
Tearing Prevention Technology:
NVIDIA G-SYNC
Input Signal:
DisplayPort v1.2
HDMI v 1.4
USB Hub 3.0 x 4 (1 up, 4 down)
Audio Out
Energy Consumption per Year:
44 kWh
Input Voltage:
120 V AC / 230 V AC
Operating Power Consumption (EEL):
30 W
Operating Power Consumption (Energy Star):
29.71 W
Standby Power Consumption:
500 mW
Off-Mode Power Consumption:
470 mW
VESA Wall Mounting:
100x100mm
Height x Width x Depth without stand:
367 mm x 614 mm x 61 mm
Height x Width x Depth with stand:
524 mm x 614mm x 268mm
Weight Without Stand:
5.63 kg
Weight with Stand:
7.51 kg
Warranty:
3 Years
Release Date:
April 2017
Packaging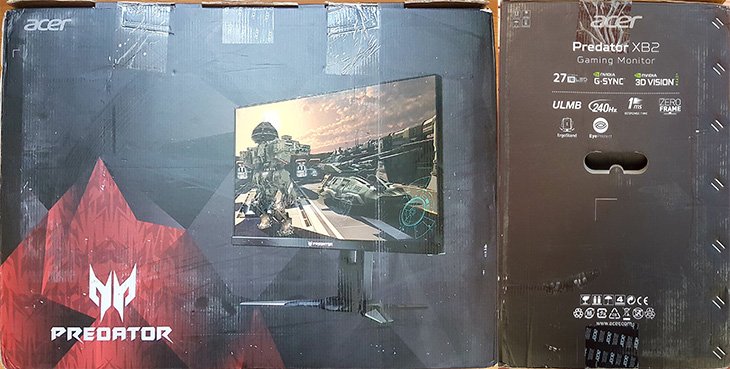 The monitor comes in an elegant box which weighs around 8 kg. The features of the monitor are listed at the top and on the sides of the box. Looking at the bottom left of the box, we see the name 'PREDATOR' and on the sides, we see all the features that come with this monitor such as 27" FHD LED, Nvidia G-Sync, Nvidia 3D Vision, ULMB, 240Hz, 1ms, ZeroFrame, ErgoStand and EyeProtect.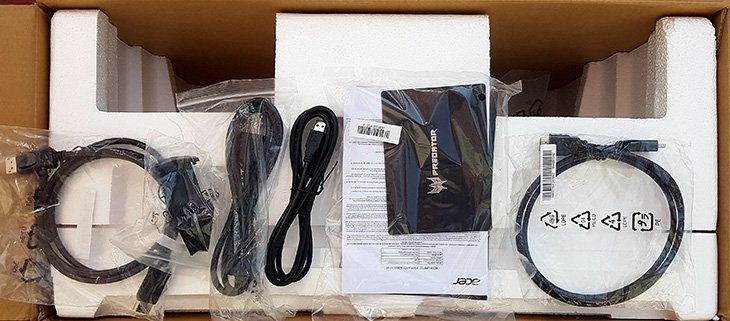 The included cables are high quality and durable. The components inside are well packaged and everything feels well secured inside the box. Inside you will find the 27" monitor, power cord, HDMI cable, DisplayPort cable, USB cable and the manual.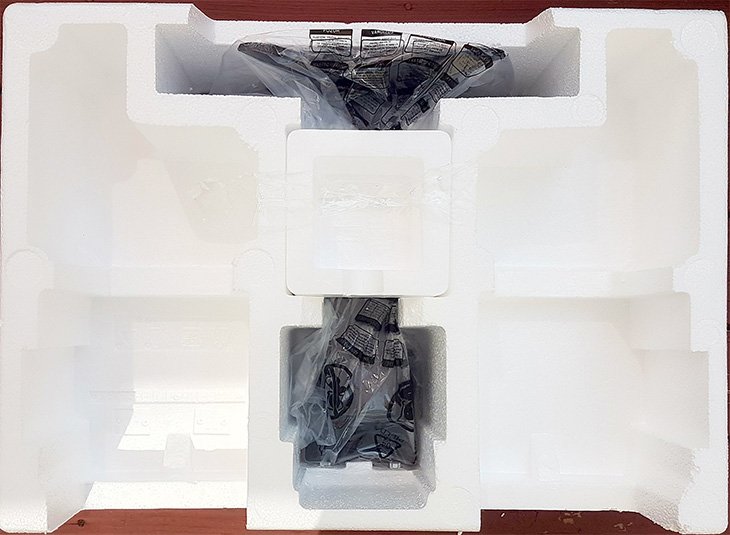 The monitor is protected by two high density foams as shock absorbent and plastic wrapping to prevent any accidental damages during shipping. Overall, the packaging is top notch just as you would expect from Acer.
Navigation: