AMD A10-7890K Review: Fantastic Performance For Entry Level Gaming
Author: HP Date: Manufacture: AMD Product Name: A10-7890K Price: $149.99 Warranty: 3 Years
Introduction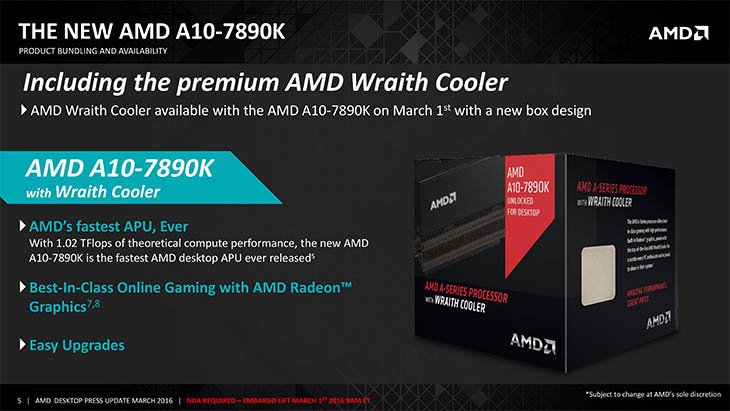 A few months ago AMD launched several new processor bundled with the company's new range of silent stock air coolers. The processors included the A10-7890K and A10-7870K Kaveri APUs and the Athlon X4 880K CPU on the FM2+ socket. AMD launched the A10-7870K last year but now it comes bundled with a new stock CPU cooler. The new stock cooler is being called the Near-Silent 125W thermal solution. The main difference between the Wraith and the Near-Silent cooler is that the Wraith shroud illuminates.

In this review, we will focus on the A10-7890K which is an unlocked quad-core Kaveri APU with 512 stream processors, 4MB of L2 cache and a 95W thermal design power. The A10-7890K is aimed at budget users who play a lot of entry level games and don't really need discrete graphics. The base frequency of the A10-7890K is 4.1Ghz and boosts up to 4.3Ghz which makes it AMD's fastest APU to date. Also, AMD is bundling the A10-7890K APU with the Wraith cooler which is designed to handle TDPs of up to 125 watts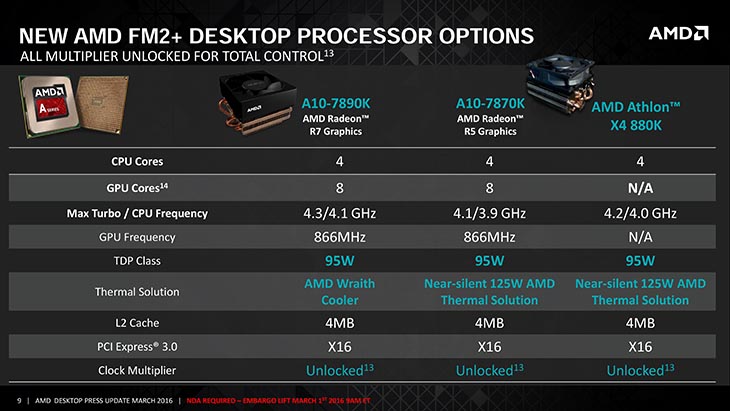 The A10-7890K is basically an A10-7870K but with a higher CPU frequency and the graphics performance is still the same. The A10-7870K sells for about $140 while the A10-7890K sells for $150 on Amazon. Since these two chips are 99.9% identical, you are basically paying $10 more for a 200 Mhz increase in CPU frequency. AMD's A10-7890K APU has four Steamroller CPU cores, eight GCN computer units, and support DDR3-2133 memory.
Comparison
AMD APU Processors Lineup
Model:
AMD A10-7890K
AMD A10-7870K
AMD A10-7860K
AMD
A8-7670K
AMD
A8-7650K
Graphics:
Radeon R7 Series
Radeon R7 Series
Radeon R7 Series
Radeon R7 Series
Radeon R7 Series
GPU Clock Speed:
866 MHz
866 MHz
757 MHz
757 MHz
720 MHz
CPU Codename:
Godavari
Kaveri
Godavari
Kaveri
Kaveri
Cores / Threads:
4/4
4/4
4/4
4/4
4/4
Core Clock:
4.1 GHz
3.9 GHz
3.6 GHz
3.6 GHz
3.3 GHz
Boost Clock:
4.3 Ghz
4.1 GHz
4.0 Ghz
3.9 GHz
3.8 GHz
L2 Cache:
4MB
4MB
4MB
4MB
4MB
L3 Cache:
N/A
N/A
N/A
N/A
N/A
TDP:
95W
95W
65W
95W
95W
Socket Support:
FM2+
FM2+
FM2+
FM2+
FM2+
AMD wants to sell the A10-7890K APU to gamers who are on a budget and can save money by relying on the iGPU instead of buying a discreet GPU. With that being said, the FM2+ socket is nearing the end of its life and the A10-7890K is most likely the last processor for this socket.
Navigation: