AMD Radeon RX 550 Review: Perfect For eSports Gamers
Author: HP Date: Manufacture: AMD Product Name: Radeon RX 550 Price: $79.99 Warranty: 3 Years
Introduction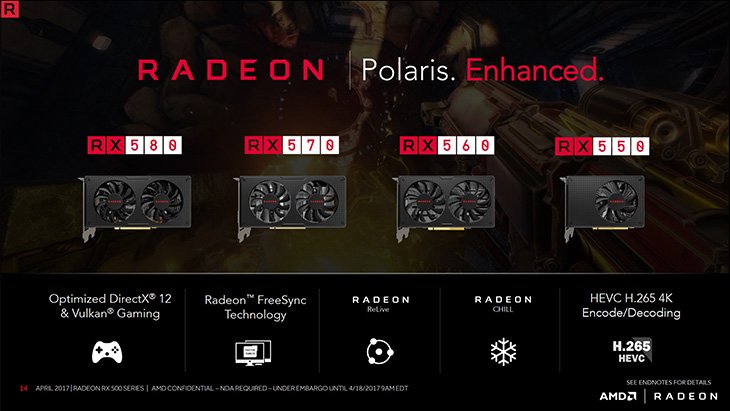 So far 2017 has been a huge success for AMD. With the release of the Ryzen processors, AMD has taken the CPU market by storm and have put some serious pressure on Intel in the mainstream and also high-end market. Last year, AMD introduced the first Polaris generation of GPUs and about two weeks ago, AMD revealed the Radeon RX 500 series which is a refresh of their mainstream and budget offerings based on the existing Polaris architecture. The new RX 500 series come with bumped up clock-speeds and slightly adjusted prices. The Radeon RX 500 series takes aim at the mainstream and lower-end market while RX Vega which will be released in the current quarter is aimed at the high-end market.

AMD is targeting the new RX 500 series cards at PC gamers who are on a 2 year old graphics card and have not made the move to 14nm technology. Some of these PC gamers are still on 28nm technology and are using graphics cards such as the Radeon 300/200 series and will benefit greatly by upgrading to 14nm technology. So in the RX 500 series, we have the RX 580, RX 570, RX 560, and RX 550 and the prices will be from $79 and up to $229. Today, we will be looking at the Radeon RX 550 that retails at $80 and is designed for PC gamers who are mainly into eSports or for people that build HTPCs.

The Radeon RX 550 does not require any additional power connection so installing it is as easy as plug and play concept. AMD says that the Radeon RX 550 is engineered for smooth 1080p/60fps in eSports titles, and this makes the Radeon RX 550 an excellent upgrade over integrated graphics processors. The Radeon RX 550 comes with many features and capabilities found in other Radeon RX 500 series products such as Free Sync, HDMI 2.0, DP 1.4 HBR, HEVC 4K decoding, Radeon Chill, Radeon ReLive, and much more.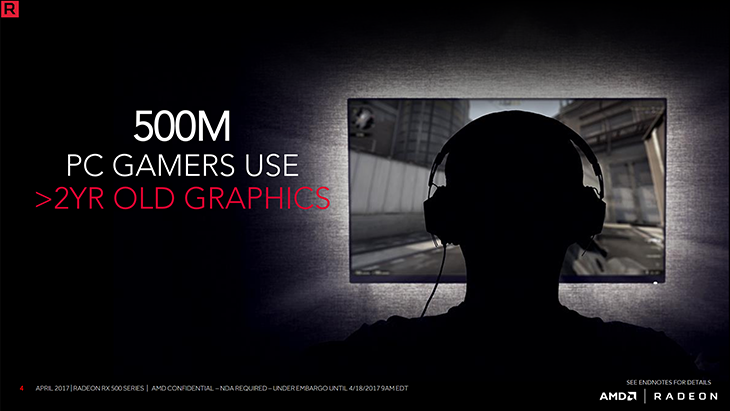 Let's talk a bit more about the pricing of the RX 550. AMD has priced the Radeon RX 550 at $80 which I strongly think it's priced too high and should have been more around $70. The reason why I think the RX 550 is priced too high at $80 is because the RX 460 which also retails for $80 and also doesn't require a PCIe power connector, is much faster than the RX 550 while costing the same. People who are on a budget will not being going with the much slower RX 550 over the similarly priced RX 460 that has 896 Stream processors compared to 512 Stream processors in the RX 550. If the RX 550 was about $10 less, it would have been perfect and it would have no problems selling like hot cakes.
Specifications
AMD Radeon RX 500 Series Lineup
Model:
Radeon RX 550
Radeon RX 560
Radeon RX 570
Radeon RX 580
Process Node:
14nm FinFET
14nm FinFET
14nm FinFET
14nm FinFET
GPU Model:
Polaris 12
(Lexa Pro)
Polaris 21
(Baffin Pro)
Polaris 20 XL
(Ellesmere Pro)
Polaris 20 XLX
(Ellesmere XT)
Architecture:
4th Gen GCN
4th Gen GCN
4th Gen GCN
4th Gen GCN
Cores:
512
1024
2048
2304
Base Clock:
1100 MHz
1090 MHz
1168 MHz
1257 MHz
Boost Clock:
1183 MHz
1287 MHz
1244 MHz
1340 MHz
Compute Units:
8
16
32
36
Memory Clock (Effective):
1750 (7000) MHz
1750 (7000) MHz
1750 (7000) MHz
2000 (8000) MHz
Computing Power (FP32):
1,126 GFLOPS
2,232 GFLOPS
4,784 GFLOPS
5,788 GFLOPS
Memory Size:
2GB GDDR5
2GB GDDR5
4GB GDDR5
8GB GDDR5
TDP:
50W
80W
150W
185W
Memory Bus Width:
128-bit
128-bit
256-bit
256-bit
Memory Bandwidth:
112 GB/s
112 GB/s
224 GB/s
256 GB/s
Interface:
PCIe 3.0 x8
PCIe 3.0 x8
PCIe 3.0 x16
PCIe 3.0 x16
Transistors:
2.2 Billion
3 Billion
5.7 Billion
5.7 Billion
Die size:
101 mm²
123 mm²
232 mm²
232 mm²
TMUs:
32
64
128
144
ROPs:
16
16
32
32
Pixel Rate:
18.93 GPixel/s
20.40 GPixel/s
39.8 GPixel/s
42.9 GPixel/s
Texture Rate:
37.9 GTexel/s
81.6 GTexel/s
159.2 GTexel/s
193.0 GTexel/s
Price:
$79
$99
$169
$229
Release Date:
April 20, 2017
May ???, 2017
April 18, 2017
April 18, 2017
The Radeon RX 550 is built using Polaris 12, code-named Lexa Pro and it is based on a 4th gen GCN architecture. It is composed of 2.2 billion transistors and measures 101 square millimeters. The RX 550 has a 50W TDP, a full 128-bit memory bus, and a 1100 MHz base and a 1183 MHz boost. It comes with 8 compute units, 32 TMUs, and 16 ROPs. All RX 500 series support features such as Radeon Chill which is a gameplay adaptive power saving feature, Radeon ReLive which can be used to capture, stream and share your greatest moments, AMD FreeSync Technology, and also AMD Eyefinity Technology.
MSI RX 550 Aero ITX 2GB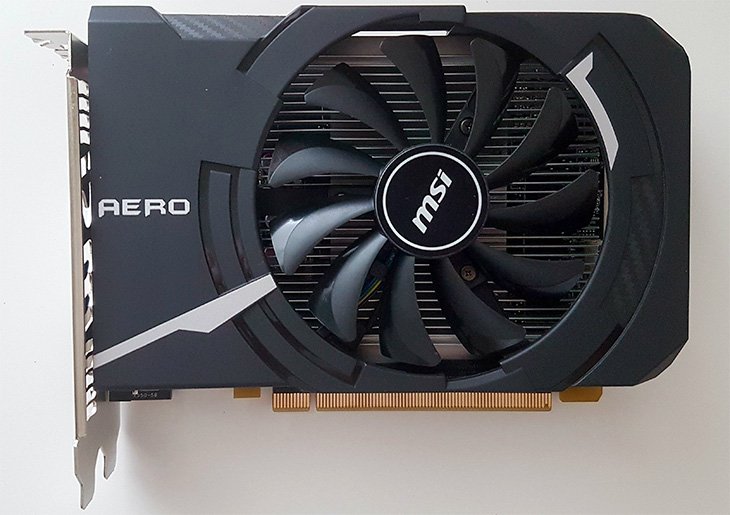 AMD has sent us the MSI RX 550 Aero ITX OC 2GB model for our review. This card comes with a slight factory overclock of 1203 MHz boost clocks which shouldn't make too much of a difference in performance. With factory overclocked cards, keep in mind that you're often paying for a better cooler than for the factory overclock.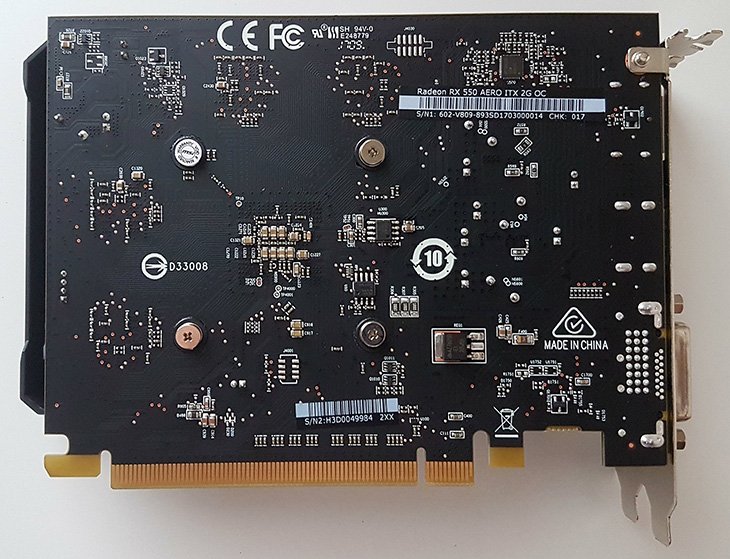 As far as dimensions go, this card measures 155mm long, 112mm tall, and 38mm wide and it weighs around 285g. This is a compact card and weighs dramatically less than a full size graphics card. It comes with three display outputs, an HDMI 2.0 port, a Dual-Link DVI port, and a DisplayPort.
Navigation: