AMD Ryzen 7 1700 Review: The New King of Price To Performance Ratio
Author: HP Date: Manufacture: AMD Product Name: Ryzen 7 1700 Price: $329.99 Warranty: 3 Years
Introduction

A few weeks ago AMD released the first three models of its highly anticipated, high-performance AMD Ryzen processor. AMD Ryzen processors come in three series; Ryzen 7, Ryzen 5 and Ryzen 3. The AMD Ryzen 7 1800X, Ryzen 7 1700X and Ryzen 7 1700 are 8 core offerings with 16 threads and are fully unlocked. AMD's Ryzen 7 processors come in a very attractive pricing; $500 for the 1800X, $400 for the 1700X and $330 for the 1700. The hype for Ryzen has been unprecedented since its first mention and people have waited for AMD to break Intel's CPU monopoly for a long time. Intel has been dominating the market from the budget segment and all the way up to the most expensive enthusiast segment. AMD's Ryzen 7 1800X, 1700X and 1700 processors finally bring true competition to the CPU market that's been dominated by Intel for the past 6+ years.

The newly released Ryzen 7 processors utilize the company's AM4 socket and are based on the Zen architecture which is a brand new architecture built from scratch. AM4 is a big step-up from the aging AM3+ socket and will accompany us until 2020. AM4 motherboards are also compatible with AMD's upcoming Raven Ridge APUs which will feature up to four Zen cores, an integrated GCN GPU and High Bandwidth Memory. Zen brings huge improvement over the long-standing Bulldozer architecture. The successor to Zen will be codenamed Zen+ and it is expected to bring a slight increase in performance over Zen and not nearly as large of a jump as from Excavator to Zen. AMD and GlobalFoundries are currently working on Zen+ chips which will take advantage of the new 7 nm FinFET process.

The Ryzen processors come with a neat feature called extended frequency range (XFR), which automatically overclocks up to two cores depending on how good your cooling is. XFR will give you a nice boost of 100MHz if you are using a Ryzen "X" model like the 1800X or 1700X, but on non-X models like the R7 1700, you are limited to a smaller 50MHz boost. All Ryzen 7 processors have 16MB of L3 cache, 4MB of L2 cache and come with 24 PCI-Express 3.0 lanes and support modern features like dual-channel DDR4 memory, PCIe X4 storage, and USB 3.1 Gen 2. In this review, we will focus on the Ryzen 7 1700 which sports a base clock of 3.0GHz with a maximum turbo boost of 3.7GHz. The Ryzen 7 1700 is by far the most interesting processor in this lineup because it comes with a low TDP of 65W while the 1800X and 1700X have a 95W TDP.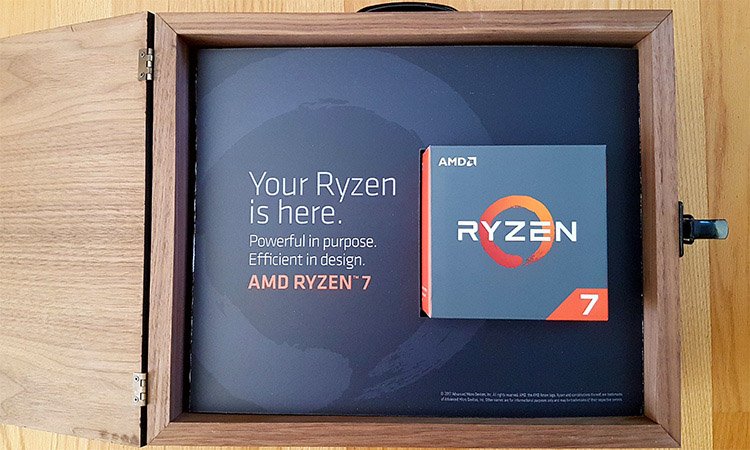 For the past few years Intel has had a CPU monopoly on the market and has been rehashing the same architecture over and over again. Intel's last innovation was Sandy Bridge and that was 6+ years ago. Intel has been milking consumers for 6+ years with their 0-5% improvement each generation and they have been been releasing the same processor every year while charging consumers premium prices for it. With every new Intel CPU release, Intel and many reviewers purposely show how drastically better the next version of the Intel CPU is when in reality it's less than 5% faster than the previous version.

The CPU market desperately needs some competition and the way Intel has priced their high-end desktop CPUs, $1000-1700 USD for a processor, is just ridiculous. AMD created their Ryzen 7 processors to directly compete with Broadwell-E and that's why in this review we are comparing the Ryzen 7 1700 to the i7-6900K. Both CPUs are aimed at the enthusiast crowd and come with 8 cores, 16 threads, 16MB of L3 cache but here's the catch, Intel's i7-6900K processor retails for $1050 while AMD's Ryzen 7 1700 processor retails for $330. The Ryzen 7 1700 is more than $700 cheaper, and not only that, but the i7-6900K has a 140W TDP while the Ryzen 7 1700 has a 65W TDP. Also, Broadwell-E has a terrible price to performance ratio in games compared to other Intel CPUs.

We all remember when AMD initially announced that the Zen architecture was going to offer a 40% IPC gain (single-threaded performance) and everyone thought AMD couldn't do it. With a whopping 52% increase, AMD was able to make huge IPC (Instructions Per Clock) improvements with the Zen architecture over the previous Excavator core. According to AMD, this huge 52% IPC gain came from three design goals: core, cache, and power. AMD made the core bigger and wider and introduced a micro-op cache as well as a better branch prediction. The prefetch on the cache side is now much faster and L1 and L2 bandwidth has been doubled, and L3 more then quadrupled.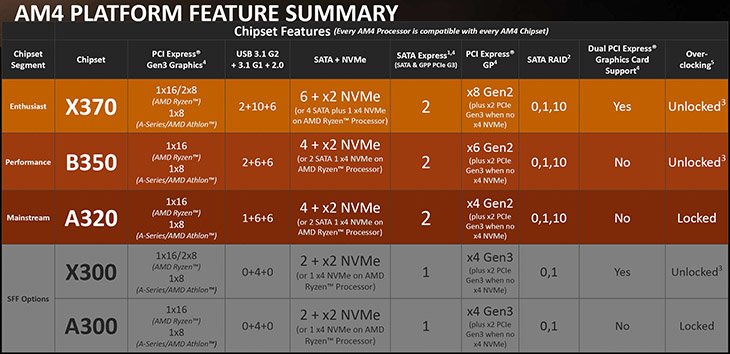 The new AMD Ryzen processor will require an AMD AM4 platform to run so that means besides buying a new motherboard, you will also need to purchase a dual-channel DDR4 memory kit. The AM4 socket comes with 5 new chipsets which include X370, B350, A320, X300, A/B300 configurations. Price-wise, AM4 X370 and B350 motherboards are much cheaper compared to Intel Z270 and X99 motherboards. Building a Ryzen based system should cost far less than building an Intel X99 system.

Before I move on, I want to quickly talk about the strategy behind AMD's pricing with the Ryzen 7 processors because it's very interesting what AMD has done here. Now, we have to keep in mind that Intel has a strong hold on the market and AMD can't afford to price their CPUs too high because the average consumer has no idea who AMD is but they know who Intel is. So AMD cannot afford to price their Ryzen 7 CPUs in the same ballpark as Intel because they do not have the brand recognition. You gain brand recognition by offering better performance for cheaper and that is why AMD is pricing the Ryzen 7 1800X at half the price of the i7-6900K. Think of it this way, if AMD priced the Ryzen 7 1800X at the same price range as the i7-6900K, they would end up killing their sales because people would think "Well, Intel has always made very good processors and the prices aren't too different so I'll just go with Intel". Offering consumers a processor with equal or better performance at half the price of the competitor's $1000 processor is a guaranteed way to gain brand recognition worldwide.
Specifications
AMD Ryzen 7 Processors Lineup
Model:
AMD Ryzen 7 1700
AMD Ryzen 7 1700X
AMD Ryzen 7 1800X
Model SKU:
YD1700BBAEBOX
YD1700BBAEMPK
YD170XBCAEWOF
YD170XBCAEMPK
YD180XBCAEWOF
YD180XBCAEMPK
CPU Process Node:
14nm FinFET
14nm FinFET
14nm FinFET
CPU Codename:
Summit Ridge
Summit Ridge
Summit Ridge
CPU Architecture:
Zen
Zen
Zen
Cores / Threads:
8/16
8/16
8/16
Core Clock:
3.0 GHz
3.4 GHz
3.6 GHz
Boost Clock:
3.7 GHz
3.8 GHz
4.0 GHz
XFR (up to 2 Cores):
+50 MHz
+100 MHz
+100 MHz
L1 Cache:
768KB
768KB
768KB
L2 Cache:
4MB
4MB
4MB
L3 Cache:
16MB
16MB
16MB
Unlocked:
Yes
Yes
Yes
TDP:
65W
95W
95W
DDR4 Speed:
2667 MHz
2667 MHz
2667 MHz
DDR4 DIMMs:
4
4
4
PCIe Lanes:
24
24
24
Socket Support:
AM4
AM4
AM4
Transistors:
4.8 billion
4.8 billion
4.8 billion
Die size:
192 mm²
192 mm²
192 mm²
Included Cooler:
Wraith Spire
Wraith Max
Wraith Max
Cooler TDP:
95W
140W
140W
Cooler Weight:
0.425 Kg
0.545 Kg
0.545 Kg
Cooler Dimensions:
109mm (L)
103 mm (W)
54 mm (H)
105mm (L)
108 mm (W)
85 mm (H)
105mm (L)
108 mm (W)
85 mm (H)
Price:
$330
$400
$500
Release Date:
March 2, 2017
March 2, 2017
March 2, 2017
AMD is offering their Ryzen 7 processors with and without a CPU cooler. The X variants are also available in WOF (Without Fan-Heatsink) packages and these WOF packages are slightly cheaper than the variant with a heatsink included. Depending which model you buy, the Ryzen 7 1700 comes with a circular 95W Wraith Spire cooler, while the Ryzen 7 1700X and 1800X come with the 140W Wraith Max. You can choose weather you want to spend extra on the model that comes with a cooler or save money by choosing your own air or liquid cooler.

The original Wraith cooler was very impressive and was able to match the Hyper 212+ in cooling performance and noise levels. I found the original Wraith cooler to be significantly improved over AMD's previous stock coolers. AMD's original Wraith cooler is the best stock cooling to date offered by any processor manufacturer. Unlike Intel stock coolers which most people throw away because they are complete garbage, these new coolers from AMD don't have to go straight into the trash bin once you unbox them because they are actually high quality and well designed.
Navigation: