AOC AG271QG Agon 165hz G-Sync Monitor Review: The Best G-Sync Monitor On The Market
Author: HP Date: Manufacture: AOC Product Name: AG271QG Price: $619.99 Warranty: 3 Years
Introduction

Admiral was founded in 1934, in Chicago, Illinois and it was later established in Taiwan in 1967 as Admiral Overseas Corporation (AOC). At that time, AOC was the first manufacturer of color televisions for export and fast forward to now, AOC is selling in more than 100 countries worldwide and their products include CRT/LCD monitors, LCD TVs, All in One units, and Android Tablets.

AOC has become a well known name in the enthusiast market and have gained a lot of respect for releasing quality monitors. Their monitors are designed for any solution weather it is for gaming, corporate, creative and USB powered monitors. The gaming industry is one of the fastest growing industries in the world and it keeps growing each year. If you are a gamer, there are so many gaming monitors to choose from nowadays and the Agon line from AOC is specifically targeted at gamers.
AOC has sent us the AOC AG271QG Agon which is a 27 inch stylish gaming monitor that incorporates a wide range of features such as IPS panel, fully adjustable stand, and support for G-Sync with 165Hz refresh rate. The AOC AG271QG Agon 27 inch monitor is an extremely well designed gaming monitor which retails for $619.99 on Amazon. It is positioned toward the higher end of the gaming monitor market and competes with other 1440p IPS-Panel 144/165Hz monitors that are on the market such as the Asus ROG PG278Q, ViewSonic XG2703-GS and Acer XB271HU.

AOC is using a 27 inch AU Optronics AHVA (Advanced Hyper-Viewing Angle) panel on their AG271QG Agon monitor with a 2560 x 1440 resolution. AHVA panel is an IPS (In-Plane Switching) type panel that's designed for great color consistency and viewing angles compared to TN panel.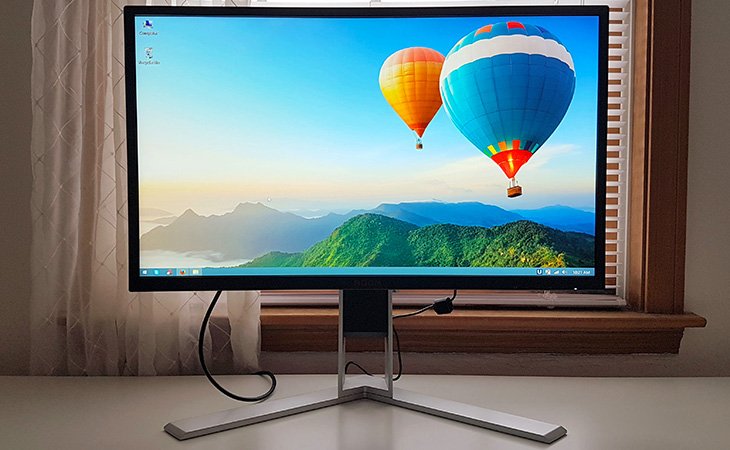 The AOC AG271QG has a response time of 4 ms and a maximum refresh rate of 165Hz. NVIDIA's G-Sync is designed to ensure smooth on-screen action which works by synchronizing the display's refresh rates to the GPU in your GeForce GTX-powered PC to eliminate screen tearing. The 165Hz refresh rate is effectively faster than a standard display and can help you get those critical missing images on the screen which shows enemy movement in ultra smooth motion so you can easily target them. AOC's warranty process is a 14-day DOA (Dead On Arrival) policy so if you receive a defective monitor, you can return it during that time and they will replace it with an identical one.
Specifications
AOC AG271QG Specifications
Manufacture:
AOC
Model:
AG271QG
Viewable Screen Size:
27"
Panel Type:
IPS Panel
Aspect Ratio:
16:9
Brightness:
350 cd/m2
Refresh Rate:
165Hz

Contrast Ratio (dcr):
50,000,000:1 (dynamic)
Response Time:
4ms
Max Resolution:
2560 x 1440
Color Depth:
16.7M
Pixel Pitch (mm) (H x V):
0.233 x 0.233
View Angle (degrees) (H x V):
178 / 178
Display Area (mm) (H x V):
596.74 x 335.66
Scanning Frequency (H / V):
30~83KHz / 50~76Hz
Cabinet Color:
Black/Red
Adjustability:
Tilt: -3.5°±1.5°~+21.5±1.5°, Pivot: 90°
Swivel, Height Adjustment: 130 mm
VGA/DVI-D:
0
HDMI 1.4:
1
Display Port 1.2:
1
USB 3.0:
4
Power Consumption:
45W (typical), Standby: ~0.5W
Power Source:
Universal 110~240VAC, 50/60Hz
Built-in Speaker:
2W x 2
Audio:
Audio line-in/Earphone-out
User Control:
Source/Auto/Exit, Left/Game Mode
Right/Shadow Control Menu/Enter, Power
Regulations:
uTUVus, CE, FCC, RoHS, Windows 8/10
OSD Languages:
16 Languages including English, French and Spanish
Other Features:
NVIDIA® G-SYNC™, User Friendly Graphical OSD Menu
VESA 100mm Wall Mount Compliant, Kesington Security Slot
AOC's eSaver Software, i-Menu Software
Net Weight (lbs/Kgs):
14.9/6.8
Gross Weight (lbs/Kgs):
22.1/10
Monitor in inch (WxHxD):
24.5 x 17.1 x 8.6
Monitor in mm (WxHxD):
622.7 x 432.7 x 218.2
Loading Qty w/pallet:
20' = 288 pcs; 40' Std= 576 pcs
UPC:
685417713684
In the Box:
27" Monitor, Power Adapter, Power Cord, HDMI cable
DP cable, Audio Cable, USB Cable, Quick Start Guide
Packaging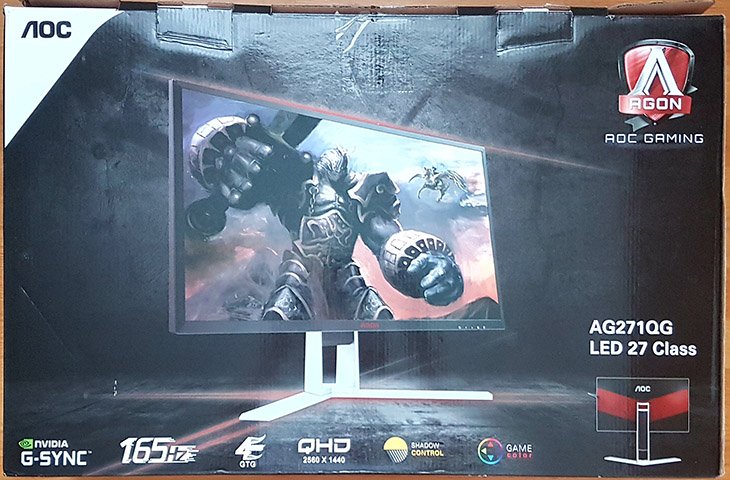 The monitor comes in an elegant box that is huge and weighs exactly 10 kg. All of the features are listed at the bottom of the box and the monitor's dimensions are 24.5 inch in width, 17 inch tall and 8.6 inch deep. Looking at the top right of the box, we see the name 'AGON GAMING' and underneath this, we see 'AG271QG LED 27 Class'.

When you open up the box, you will be confronted with the monitor's quick-start guide, which is printed on the inside flap of the cardboard. The manual and drivers are available for download at the AOC's website. AOC does include a basic quick guide manual but any documentation beyond that will have to be downloaded from AOC's website.

The monitor is protected by two high density foams as shock absorbent and plastic wrapping to prevent any accidental damages during shipping. Inside you will find the 27" monitor, power adapter, power cord, HDMI cable, DP cable, audio cable, USB cable and a basic quick start guide. The included cables are high quality and durable. The components inside are well packaged and everything feels well secured inside the box.
Navigation: