Fractal Design Define C Window Review: An Aesthetic Compact ATX Case
Author: HP Date: Manufacture: Fractal Design Product Name: Define C Window Price: $89.99 Warranty: 2 Years
Introduction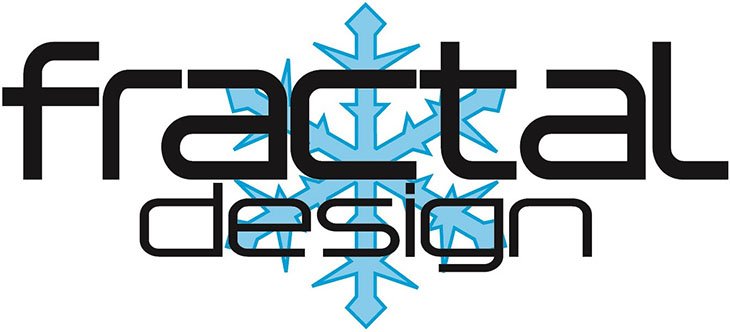 Fractal Design was founded in 2007 and their products are famous for the Scandinavian design which is a minimalistic, elegant and simple design. When it comes to computer cases, Fractal Design is a well known name in the enthusiast market and they have gained a lot of respect for releasing high quality cases. Fractal Design also makes fans, power supplies and CPU coolers but they are mostly known for being highly active in the computer case market with a huge range of products for all prices.

Today we are looking at the Define C Window model which is a stylish, compact, mid-tower case that supports a full ATX motherboard. There are two versions of the Define C case, the regular Define C (non-windowed) and the Windowed version. Fractal Design has also released the Define Mini C, and Define C Mini Window which is smaller than the usual Micro ATX case and it carries the same build quality as the Define C.

The Define C Window retails for $89.99 and it incorporates a wide range of features such as space for high performance graphics cards, support for various cooling configurations and it even comes with Velcro straps for easy cable management. It has a fully blacked-out interior and it is quite roomy for such a compact case. You can accommodate up to 5 hard drives and all modern graphics card and it certainly has plenty of room if you wish to expand your system with water cooling components or more fans.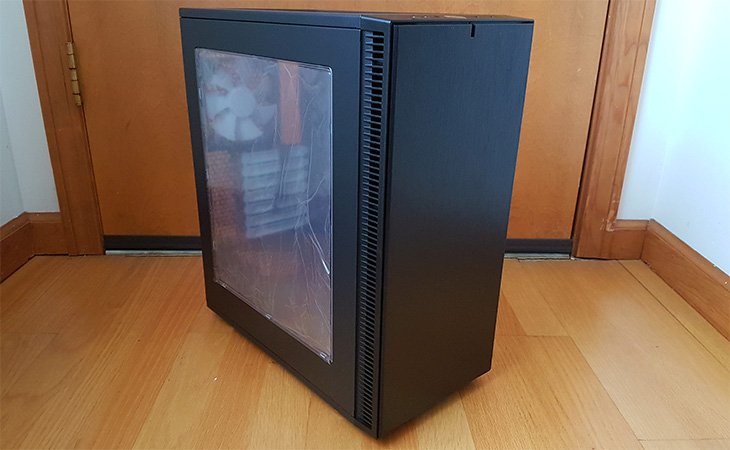 There's two included 120mm fans that spin at a maximum of 1200RPM. The front door is made of plastic while the body is made of durable steel. The case comes with a front, bottom and top removable dust filter that are durable and sturdy. You can install graphics cards up to 315 mm in length with front fans mounted and you can also install a full size ATX PSU up to 175 mm.
Specifications
Fractal Design Define C Specifications
Manufacture:
Fractal Design
Model:
FD-CA-DEF-C-BK-W
Material:
Plastic and Steel
Motherboard:
ATX, Micro-ATX, ITX
Drive Bay:
2x Internal 2.5/3.5"
3x Internal 2.5"
Cooling System:
Front: 3 x 120mm or 2 x 140mm (1 x Dynamic X2 GP-12 included)
Rear: 1 x 120mm (1 x Dynamic X2 GP-12 included)
Top: 2 x 120/140mm
Bottom: 1 x 120mm
Radiator Support:
Front: 360, 280, 240, 140 and 120 mm. Max width 144 mm
Top: 240 and 120 mm radiators. Max component height on motherboard 40mm
Rear: 120 mm. Max width 125 mm

Expansion Slot:
7
Front I/O Port:
2x USB 3.0
Audio in/out
Power button with LED
HDD activity LED
Reset button
Limitation of PSU:
Up to 175mm deep
Limitation of GPU:
Up to 315mm with front fans mounted
Limitation of CPU cooler:
168mm
Dust Filters:
Bottom, front and an optional top filter intake
Net Weight:
6.8 kg
Fan controller:
None
Dimension:
399mm x 210mm x 440mm (LxWxH)
Packaging

The case comes in a simple brown box and on the front of the box you see the name 'Define C' and on the back you have the basic technical specifications of the case. The case is 210mm in width, 440mm tall and 399mm deep and weighs 6.8 kg.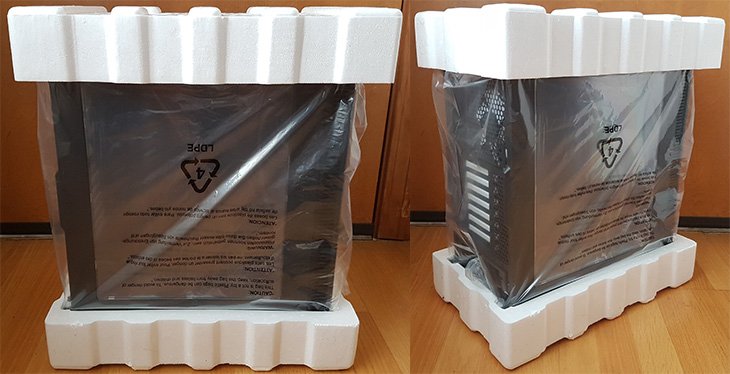 Fractal Design's packaging is very good. The Define C is protected by two high density foams as shock absorbent and plastic wrapping to prevent any accidental damages during shipping.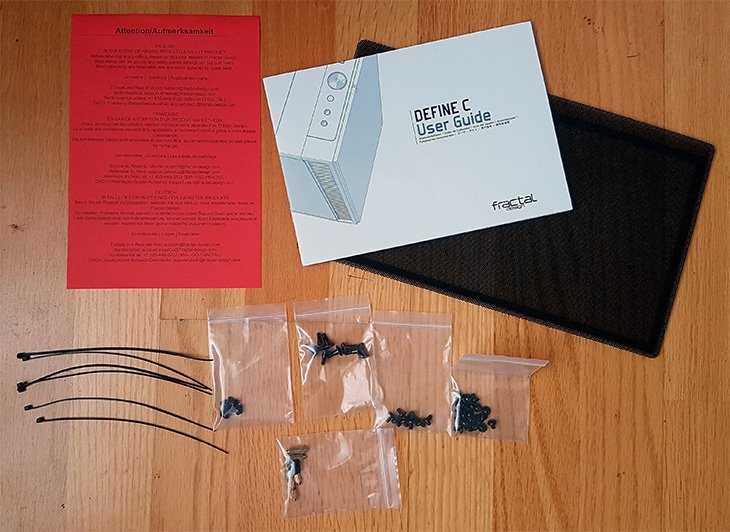 The accessories included are a pack of black screws, six cable ties, the users manual and a metal-mesh for the top cover. The manual has all the information you need to know about the case.
Navigation: