Fractal Design Define R5 Blackout Review: Big, Stylish, Quiet, and Durable
Author: HP Date: Manufacture: Fractal Design Product Name: Define R5 Blackout Window Price: $99.99 Warranty: 2 Years
Introduction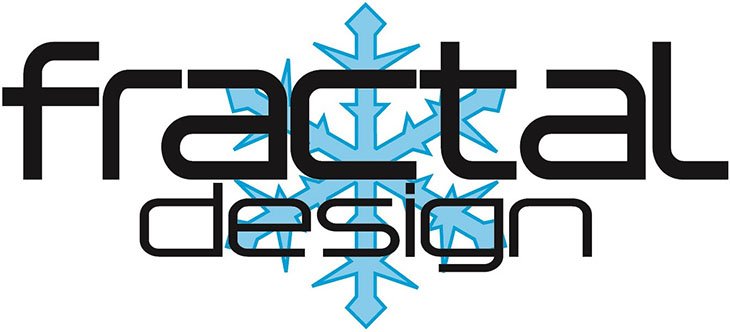 Fractal Design was founded in 2007 and since then, they have become a well known name in the enthusiast market and have gained a lot of respect for releasing quality products such as cases, fans, power supplies and CPU coolers. They are mostly known for being highly active in the computer case market with a huge range of products for all prices. Fractal Design products are well-known for the Scandinavian design which is a minimalistic, elegant and simple design.

Fractal Design has sent us the Define R5 Blackout edition which is a stylish mid-tower case that incorporates a wide range of features such as flexible storage options, space for high performance graphics cards, and support for various cooling configurations. Fractal Design has a total of eight versions of the Define R5 case - black, black window, blackout, blackout window, titanium, titanium window, white, white window. The Define R5 blackout version that I have is an extremely well designed case and retails for $99.99. It is positioned toward the high end of the mid-tower case market and competes with other popular cases that are on the market such as the Corsair 400Q/400R/450D, NZXT 410, Cooler Master 690 III, Antec P100 etc. The blackout edition has a fully blacked-out interior and it comes in two versions, a windowed which is the one I have and windowless version. It can accommodate up to 8 hard drives and all modern graphics card and it has plenty of support if you wish to expand your system with water cooling components or more fans.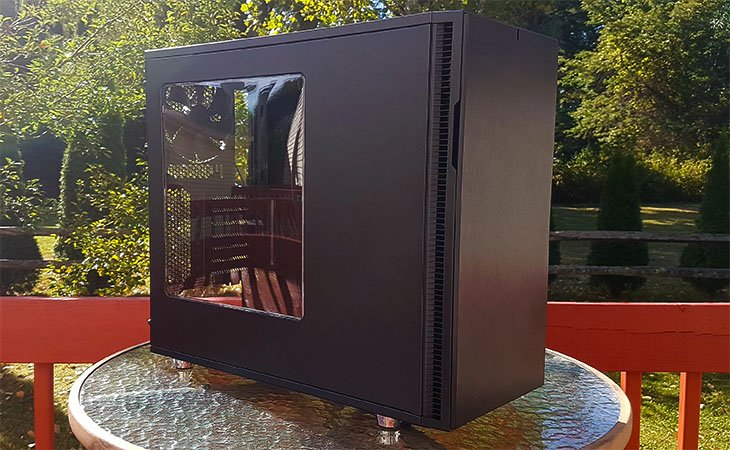 Fractal Design has included a built-in three-speed fan controller in the front panel which supports 5V, 7V and 12V. The included 140mm fans spin at a maximum of 1000RPM and they are so quiet that even at maximum speed they are still silent. The interior of the Define R5 blackout is roomy and supports a variety of large radiators. The front door is made of plastic while the body is made of durable steel. The Define R5 is an aesthetically pleasing case with its internal painted all black. The case comes with a front and bottom removable dust filter that feel durable and sturdy. It also comes with plenty of room for installing graphics cards up to 310 mm in length with the top HDD cage installed or up to 440 mm with the top cage removed. You can install a full size ATX PSU up to 190/170 mm with a bottom 120/140mm fan installed or up to 300mm when not using a bottom fan.
Specifications
Fractal Design Define R5 Specifications
Manufacture:
Fractal Design
Model:
FD-CA-DEF-R5-BKO
Material:
Plastic and Steel
Motherboard:
ATX, Micro-ATX, Mini-ITX
Drive Bay:
2x External 5.25"
8x Internal 2.5/3.5"
2x Internal 2.5"
Cooling System:
Front: 2 - 120/140 mm fans (included is 1 Dynamic GP14 fan, 1000 RPM speed)
Rear: 1 – 120/140 mm fan (included is 1 Dynamic GP14 fan, 1000 RPM speed)
Top: 3 - 120/140 mm fan (not included)
Bottom: 2 – 120/140 mm fan (not included)
Side: 1 – 120/140 mm fan (not included)
Radiator Support:
Front – 360, 280, 240, 140 and 120 mm radiators (requires removal of drive bays)
Top – 420, 360, 280, 240, 140 and 120 mm radiators. (A thickness limitation of 55mm for both radiator + fan applies on 420, 280 and 140 mm radiators) (420 and 360 mm radiators require removal of the ODD bay)
Bottom – 120 or 240 mm radiator (Use of radiators in the bottom position limits the PSU length to 165 mm)
Rear – 120 or 140 mm radiator

Expansion Slot:
7
Front I/O Port:
2x USB 3.0 + 2x USB 2.0
Audio in/out
Power button with LED (white)
HDD activity LED (white)
Reset button
Limitation of PSU:
190/170 mm with a bottom 120/140mm fan installed; when not using any bottom fan location longer PSUs up to 300mm can be used
Limitation of GPU:
310 mm in length with the top HDD cage installed; with the top cage removed, graphics cards up to 440 mm in length may be installed
Limitation of CPU cooler:
180mm
Dust Filters:
Bottom and front intakes
Net Weight:
10.7kg
Fan controller:
3 step fan controller for up to 3 fans
Dimension:
232mm x 462mm x 531mm (WxHxD)
Packaging

The case comes in a big brown box and on the front of the box you see the name 'Define R5' and on the back you have the basic technical specifications of the case. The case is 232mm in width, 462mm tall and 531mm deep and weighs 10.7 kg.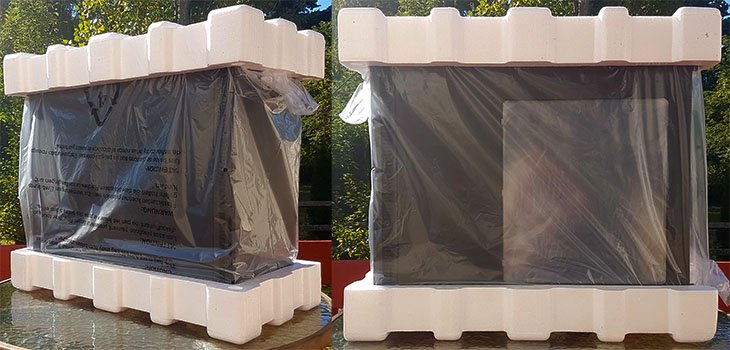 Fractal Design's packaging is very good. The Define R5 is protected by two high density foams as shock absorbent and plastic wrapping to prevent any accidental damages during shipping.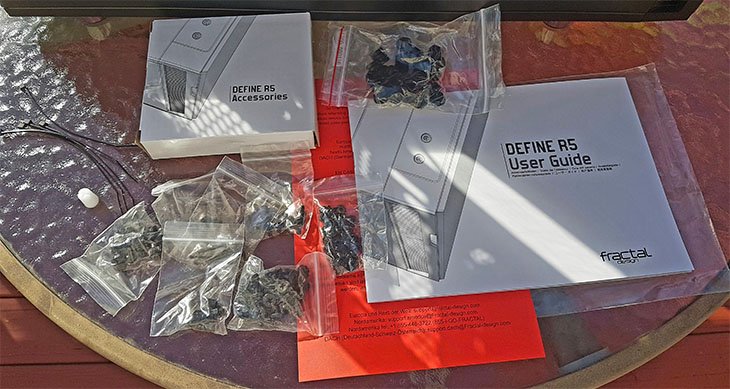 The accessories included are a pack of black screws, four cable ties and the users manual that has all the information you need to know about the case.
Navigation: