Lexar JumpDrive P20 64GB USB 3.0 Flash Drive Review: Speeds As Advertised
Author: HP Date: Manufacture: Lexar Product Name: JumpDrive P20 USB 3.0 64GB Price: $29.99 Warranty: Limited Lifetime
Introduction

Lexar is a brand of Micron and they specialize in memory cards, USB flash drives, readers, and storage drives for retail and OEM. They are well respected in the memory and storage industry and have more than 20 years of experience in this field. In 2015, they announced the JumpDrive P20 which replaces the P10 with faster read and write speeds. The JumpDrive P20 64GB comes with read speeds up to 400MB/s and write speeds up to 270MB/s. It features a sleek design with a metal alloy base and high-gloss finish top and comes with a key ring loop. It is available in capacities of 32GB, 64GB, and 128GB and in this review, we will be taking a look at the 64GB model which retails for $29.99 and comes with a limited lifetime warranty.

The P20 is being advertised as one of the fastest USB flash drives available and Lexar claims that you can transfer a full-length HD movie in less than 40 seconds. The drive comes with EncryptStick Lite software that securely protects files using 256-bit AES encryption. The EncryptStick Lite software can be used to help protect files against corruption, loss, and deletion and can also create a password-protected vault that encrypts the data stored. Files that are deleted from the vault, are securely erased and cannot be recovered. The P20 features a capless design with a thumb-retracted connector. The drive has a clean look that is completely black except for its metallic base.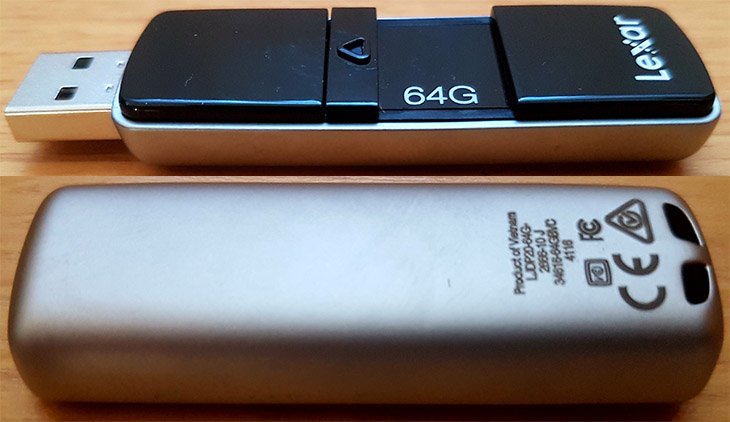 Design-wise, I like the fact that the JumpDrive P20 doesn't have a removable cap because I don't have to worry about losing the cap. The build quality seems sturdy and it feels well-made when holding it in hand. I will say that it is a little bit heavier and larger than most drives that I have used before. The slider design is a little stiff when you start using the drive but it becomes easier to slide after it is used for a period of time.
Specifications
Technical Specifications
Brand:
Lexar
Model:
LJDP20-64GCRBNA
Series:
JumpDrive P20
Capacity:
64GB
USB Specification:
USB 3.0
Read Speed:
up to 400MB/s
Write Speed:
up to 270MB/s
Security:
No
Features:
Sleek design with metal alloy base and high-gloss mirror finish top
Backwards compatible with USB 2.0 devices
Compatible with PC and Mac systems
Reliably stores and transfers files, photos, videos, and more
High-capacity options to store more files on the go
Securely protects files using EncryptStick Lite software
Color:
Black
Warranty:
Limited Lifetime
Packaging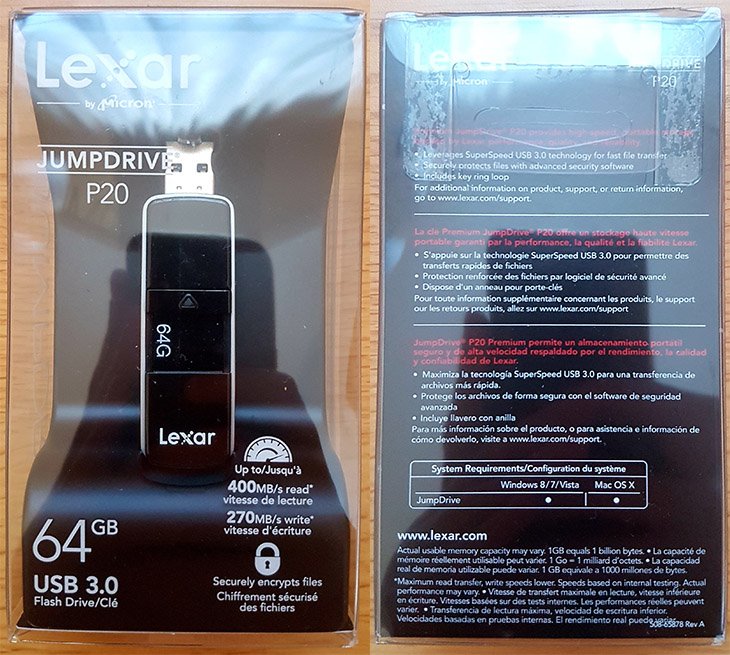 Lexar's packaging is composed of a clear plastic leaving the flash drive on full display so you can see exactly what you are getting. The front of the package displays the capacity information and other features that come with the flash drive. On the back, you will see the features and specifications listed in different languages.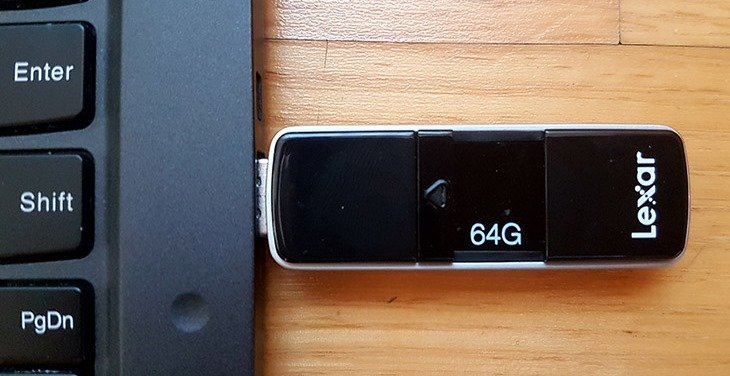 The capacity of the drive is listed in the middle of the drive and the P20 uses the Phison PS2308 controller and the memory chips are MLC manufactured by Micron.
Test Methodology
Test Setup
Processor:
Intel i7-6900K Stock
Motherboard:
ASUS X99 Deluxe II
RAM:
Crucial Ballistix Elite 16GB (2x8GB) 3000Mhz
Graphics Card:
Sapphire R9 390X
Storage:
Samsung 840 Pro 256GB
Power Supply:
SilverStone ST80F-TI
Heatsink:
Noctua NH-U14S
OS:
Windows 10 Home 64-Bit
Thermal Compound:
Noctua NT-H1
USB 3.0 Flash Drives:
Lexar JumpDrive P20 64GB
SanDisk Extreme Pro 128GB
SanDisk Extreme 64GB
Patriot Supersonic Magnum 64GB
Kingston DataTraveler HyperX 64GB
Patriot Rage XT
All the testing was done on a fresh install of Windows 10 64-bit. We made sure there were as few processes running as possible during the testing by disabling a bunch of unnecessary services that come with Windows 10. We also set the power options to high performance in Windows. The Lexar JumpDrive P20 64GB comes formatted in FAT32 system so the maximum individual file size that you can work with is 4GB so I went ahead and re-formatted the drive with NTFS since I personally work with large individual files. The 64GB model comes with 59.6GB available capacity. We'll be using an Intel Ivy Bridge i7-6900K CPU that will run on stock settings and the ASUS X99 Deluxe II motherboard with the latest BIOS version 1401 from ASUS.

We will be comparing the Lexar JumpDrive P20 64GB to all the USB 3.0 flash drives listed above. All of these flash drives are considered to be some of the fastest USB 3.0 offerings available. As far as benchmarking goes, we will be using CrystialDiskMark x64 to benchmark the Sequential Read and Write speed of each flash drive and also, we will benchmark these drives in 4 KB/512 KB Random Read and Write speeds.
Results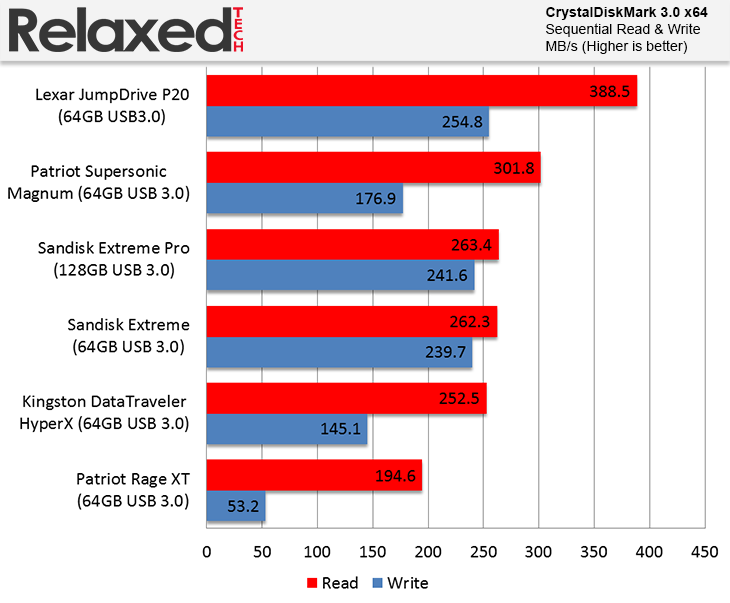 Looking at the read/write speed benchmark, we can see that the JumpDrive P20 64GB outperformed all the drives. I was expecting a negligible difference over the other drives but was quite impressed. Keep in mind, these speeds may vary depending on your computer's USB controller.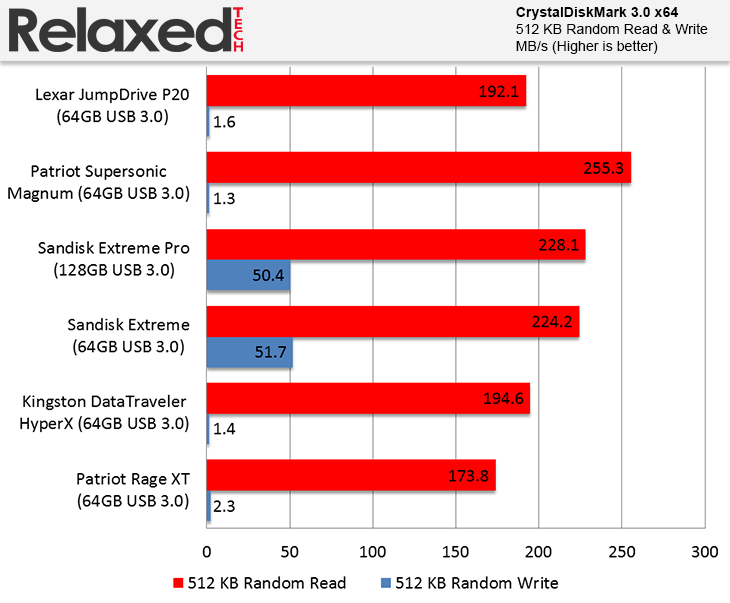 The JumpDrive P20 64GB has excellent 512KB read speeds but falls short on 512KB write speed.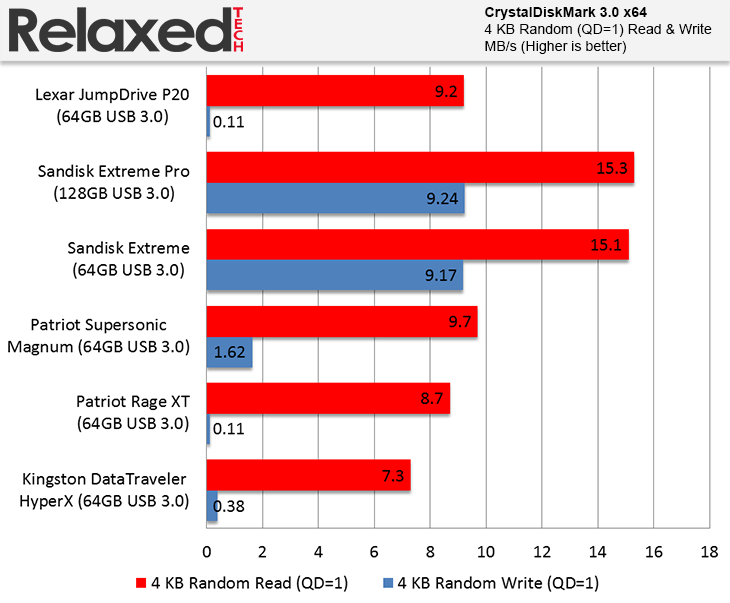 Once again, we see the same thing in the 4KB benchmark. The 4KB read speeds are great while the 4K write speed not so much.
Conclusion
Lexar has always released great flash drives and the JumpDrive P20 proves that they have still got it. The JumpDrive P20 flash drive has one of the fastest read/write speeds that I have seen on a flash drive and Lexar has basically reached the full potential of USB 3.0. Build quality is top notch, as expected from a company known to make high quality products. You also get the EncryptStick Lite software which allows users to secure their data on any Lexar based flash drive.

Pros:
+ Aesthetic Design
+ Fast Read/Write Speeds
+ Sturdy

Cons:
- Sliding Mechanism is Stiff.

You can find the 64GB model for $30 on Amazon which is hard to beat and its premium build quality is what sets it apart from the other flash drives. It is a little bit heavier than most flash drives and you can definitely feel it. What bothered me the most is the sliding mechanism. The stubborn sliding mechanism requires too much energy to slide it and it isn't very effective. If Lexar decides to make an improved version to this drive, they seriously need to come up with a better sliding mechanism design. Other than that, the JumpDrive P20 is an excellent flash drive and I recommended it to anyone who's looking for a fast, high quality, flash drive. Overall, I believe the Lexar JumpDrive P20 64GB deserves our recommended award.