Logitech G610 Orion Mechanical Gaming Keyboard Review: A Solid Gaming Keyboard
Author: HP Date: Manufacture: Logitech Product Name: G610 Price: $79.99 Warranty: 2-Year Limited
Introduction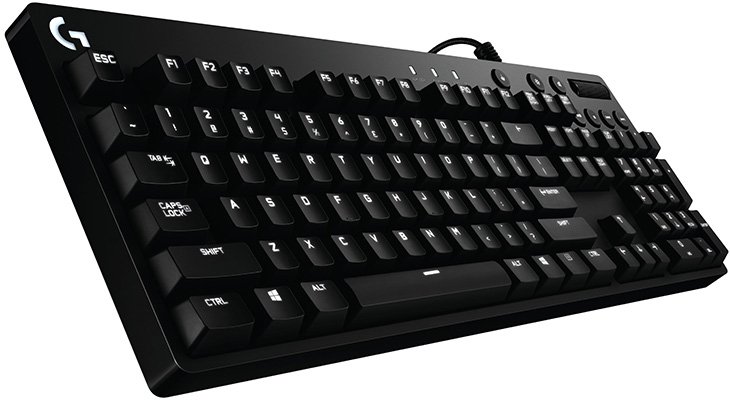 The Logitech G610 is a full-size mechanical gaming keyboard that comes in two variants, Orion Brown and Orion Red. The layout of the G610 is pretty much the same as the G810, except it lacks the RGB color lighting and it uses the Cherry-MX switches. Logitech has integrated Cherry-MX switches in both variants of the G610 as well as customizable bright white LED backlighting and dedicated media controls. Cherry-MX switches are the industry standard in mechanical keyboards and are rated over 50 million keystrokes.

The two variants of the G610 keyboard feature slightly different versions of Cherry-MX switches. There's the Cherry-MX Brown switches which have a tactile bump for feedback while you type, and there's also the Cherry-MX Red switches which have a linear keypress for rapid-fire actuation. I received the Cherry-MX Red for review which I have been testing for about a week now. If gaming is your primary goal, the Cherry-MX Red switches is what you need but if you need a keyboard mostly for typing, then the Cherry-MX Brown switches are what you want.

The keyboard weighs about 2.8 lbs which I would consider to be slightly on the heavy side and it measures 153 mm x 443.5 mm x 34.3 mm inches (L x W x H). From a distance, the G610 looks like it's made of steel but it's in fact made of thick plastic and it's quite sturdy for its weight. I'm not a fan of flashy keyboards so I absolutely love the minimalistic design that Logitech has gone with in the G610.

The G610 retails for $79.99 on Amazon and come with 2 years of limited hardware warranty. With the G610, you get a full set of keys, a number pad and dedicated media keys. The G610 does not come with a palm rest but it is still perfectly comfortable because of the adjustable feet. This is a top notch gaming keyboard but it lacks a few features in my opinion which I will talk more about below.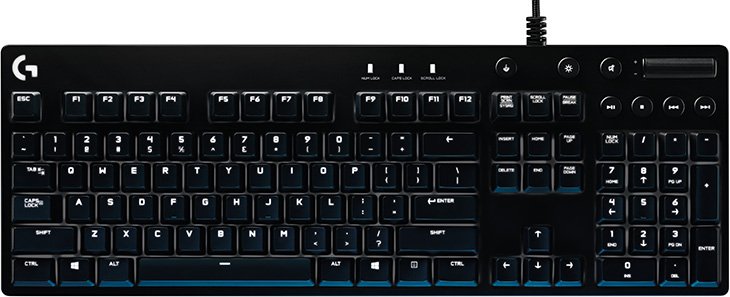 What I dislike the most about the G610 is the space bar. The space bar feels cheap and does not feel as quiet and smooth as the other keys. It seems like there is no sound dampening measures so pressing the space bar will come with a very noticeable clack. This might not be an issue for most people but it does get annoying over time.

Another thing that I dislike about the G610 is the lack of a USB passthrough and cable routing on the bottom of the keyboard. The G413 has a dedicated USB passthrough and cable routing which I find very useful but you will not find those features in the G610. The USB passthrough is important because it can be used to charge your USB devices and I know many people would love to have this feature.

Most mechanical keyboards on the market today use Cherry MX switches and they are among the most popular switches to gamers. Mechanical switches last longer and are more consistent in feel and responsiveness than rubber dome keyboards.

The dedicated media controls can be used to play, pause and mute music and videos instantly. You can control your background track without switching out of your game and you can use the roller to adjust the volume, or skip to the next song with the touch of a button. The the F1-F12 keys can be used as custom macros for different games that you might play. You can control the RGB lighting on individual keys and there's also a Game Mode key which by default disables the Windows key when activated.
The Logitech G610 keyboard comes with standard OEM sculpted keycaps which are black with white shine-through legends. Each key has its own white LED and is customizable via the Logitech software.
Specifications
Technical Specifications
Company:
Logitech
Model:
G610
Height:
6.0 in (153 mm)
Width:
17.5 in (443.5 mm)
Depth:
1.4 in (34.3 mm)
Weight:
2.8 lbs (1259 g)
Cable Length:
6 ft (1.83 m)
Switches:
Cherry MX
Durability:
50 million keypresses
Actuation distance:
2 mm (0.08 in)
Actuation force::
45 g (1.6 oz)
Total travel distance:
4 mm (0.16 in)
Connection Type:
USB 2.0
USB Protocol:
USB 2.0
USB Speed:
USB 2.0
Indicator Lights (LED):
White
USB Ports (Built-in):
N/A
Backlighting:
White
Special Keys:
Game Mode
Announced:
March 2017
Performance
I tested the performance of the G610 by playing Battlefield 1 and GTA V and I absolutely love the performance that this keyboard offers. The G610 performed very good during gaming and the Cherry-MX Red switches are very responsive and perfect for gaming. The G610 is very comfortable to use and its sturdy design can withstand forceful tapping with no problems.
Software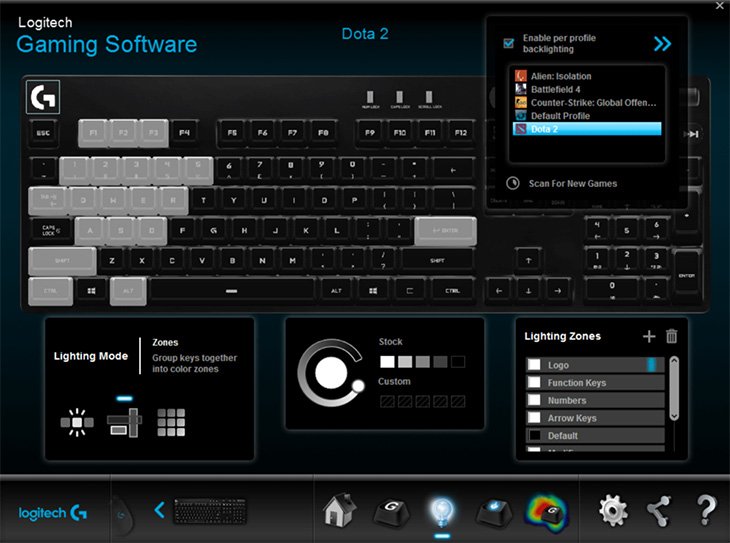 The G610 can be used with Logitech's Gaming Software for customization and personalization but the customizations work only while the software is running. If you don't want to use Logitech's gaming software, the keyboard defaults to a wave-effect that looks somewhat nice so you are going to have to install LGS if you want to be able to have full control over every element in the keyboard. The LGS can also be used to synchronize the lighting patterns and effects with other Logitech G gear so your devices can display the same lighting pattern.

You can use the 'Custom Function Keys' to assign any custom function to the F1-F12 keys on the G610 Keyboard. Using the powerful macro and scripting features built into the Command Editor, you can basically create an unlimited amount of customization with Custom Function Keys and you can even save and export the profiles you create to share with other people.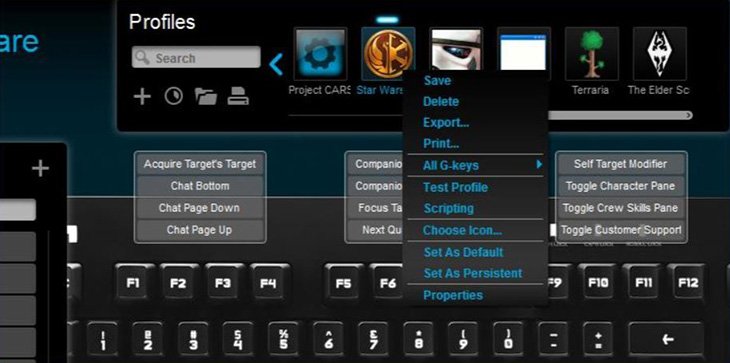 You can set up per-game profiles to automatically adjust certain aspects of the G610 when you launch an application. To enable per-profile settings, simply click the radio button on the tab you want to apply. You can customize the settings to get the perfect experience while gaming.
Conclusion
The G610 is great for users who are looking for a minimalistic gaming keyboard. It features a sturdy build quality with a heavy feel and very sleek design. The white LEDs look very nice and the Logitech gaming software offers a ton customization options. The caps themselves are very durable and not prone to fading or losing their texture. Logitech should consider making a revision with an improved space bar and USB passthrough.

Pros:
+ Attractive Design
+ Solid Performance
+ Media Buttons
+ RGB Lighting
+ Comfortable
+ Sturdy

Cons:
- No USB Ports
- Spacebar Feels Cheap

If you are looking for a solid mechanical gaming keyboard with a great typing and gaming experience, you can't go wrong with the Logitech G610. Overall, I believe the Logitech G610 keyboard deserves our Highly Recommended award.