Logitech G900 Chaos Spectrum Review: The Best Gaming Mouse On The Market
Author: HP Date: Manufacture: Logitech Product Name: G900 Chaos Spectrum Price: $119.99 Warranty: 2-Year Limited
Introduction

Logitech is a company that needs no introduction. They are well respected in the enthusiast market for creating some of the most advanced and well engineered gaming mouses on the market. Besides making amazing mouses, Logitech also makes keyboards, tablet accessories, webcams, bluetooth speakers, universal remotes etc. I've been a fan of their mouses for as long as I can remember and the Logitech G5 will always have a special place in my heart and I continue to use it to this day because it is so perfect.

Today we will be taking a look at the Logitech G900 Chaos Spectrum mouse. This is a premium mouse aimed to those seeking accurate and precise wireless/wired connection and it is the successor to the popular G700 and G700S which were well received in gaming community. The G900 Chaos Spectrum mouse is Logitech's current flagship mouse and it retails for $119.99 and comes with 2 years of limited warranty. Logitech is targeting the G900 to eSports pros because these people have always complained about the cable on a wired mouse and they simply want a mouse with the wireless performance and reliability of a wired mouse and that's where the G900 comes in.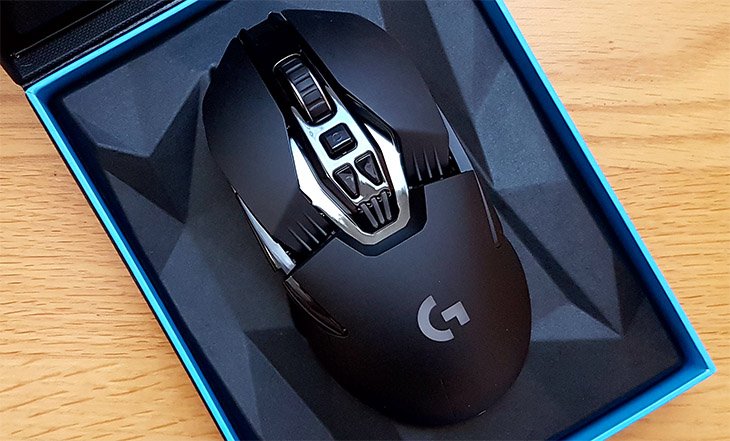 The G900 is definitely the best mouse Logitech has ever made and it is certainly the best mouse I have ever used. Build quality is top notch and the material used offers a good grip for sweaty and dry conditions and it doesn't cause irritation after long periods of use. It has a matte coating on it which is great because it doesn't pick up fingerprint marks. Logitech claims that the wireless connection of the G900 is faster than the competitors wired connections.

The G900 features the PWM3366 sensor which is PixArt's high end gaming sensor which comprises of navigation sensor and IR LED integrated in a 16pin molded lead-frame DIP package. The PMW3366 sensor provides fantastic gaming experience with enhanced features of high speed, high resolution, high accuracy and selectable lift detection height. The sensor comes with self-adjusting variable frame rate algorithm to enable wireless gaming application. The G900 uses 16-bit data transmission, and because it polls at 10000Hz, the 32-bit ARM Cortex processor ensures consistent signals of 2.4Ghz transmission from mouse to PC.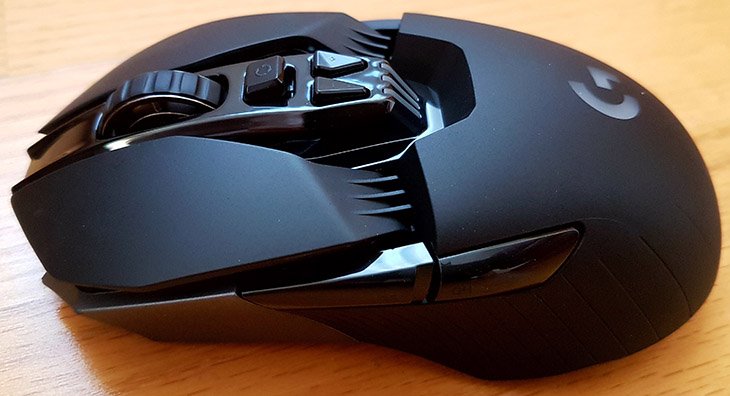 Design-wise, the G900 is an ambidextrous mouse meaning that it's as comfortable in your left hand as it is in your right and works well with both palm and claw grip. The shape of the G900 is as perfect as it can get. It perfectly fits my hand and it weighs 107g which is very light for its size. If you are looking for a heavier mouse, you'll need to find another one because the G900 doesn't come with adjustable weights.

The clicks feel great and even the side buttons feel nice and crisp. Also, the side buttons are removable which means you can move them from side-to-side. The left and right buttons are rated at 20 million clicks and are independent of each other. They are mounted on a mechanical pivot that gives them a consistent, accurate, reliable click performance with a crisp, clean click feel.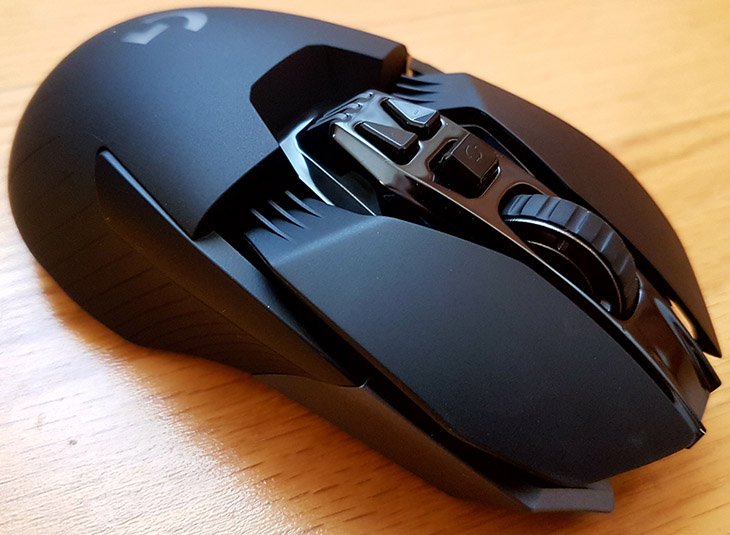 While the mouse works well in its default configuration, there are a total of 11 programmable controls that gamers will find really useful. I have been testing this mouse for a couple of days now and the scroll wheel is extremely precise and I've never once had a mis-scroll. Physically, the G900 is 130mm long, 67mm wide, and it stands 40mm in height. The G900 comes with surface tuning calibration which Logitech calls 'Delta Zero' technology and this lets gamers tune the mouse's sensor to work efficiently on mouse pads hard or soft, light or dark. This will make gamers expect the best possible tracking response.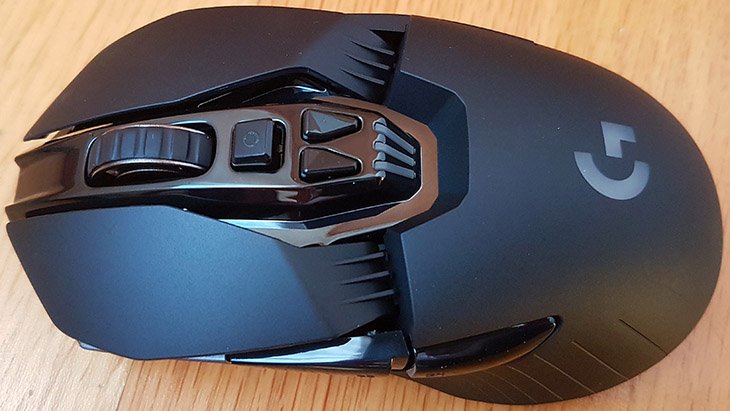 The battery life is as advertised, with the default lighting, the battery lasts 24 hours and with no lighting, 32 hours. The battery takes two hours to charge but it can be used in wired mode while charging so it isn't really an issue. Logitech supplies an aesthetic braided cable with a custom molded to charge the mouse. Logitech's software allows you to personalize the RGB lighting to match your style from up to 16.8 million colors. The Logitech G logo and the DPI indication LEDs can be separately configured to different colors or settings and can be individually enabled or disabled
Specifications
Technical Specifications
Company:
Logitech
Model:
G900
Resolution:
200 – 12,000 DPI
Max. Acceleration:
>40G*
Max. Speed:
>300 ips*
USB Data Format::
16 bits/axis
USB Report Rate:
1000 Hz (1ms)
Wireless Report Rate:
1000Hz (1ms)
Wireless Technology:
Custom 2.4GHz
Microprocessor:
32-bit ARM
Dynamic coefficient of friction:
0.11 μ (k)*
Static coefficient of friction:
0.17 μ (s)*
Buttons (Left / Right):
20 million clicks
Feet:
250 kilometers
Default lighting:
24 hours
No lighting:
32 hours
Connection Type:
Wired/Wireless
USB Protocol:
USB 2.0
Sensor:
PMW3366
Indicator Lights (LED):
Yes, RGB
Buttons:
6-11
Other Features:
Hyperfast scroll wheel
on-the-fly DPS adjustment
up to 5 onboard profiles
Dimensions:
130mm (H) x 67mm (w) x 40mm (D)
Weight:
3.80 oz (107 g) mouse only
Cable Length:
6 ft (1.83 M)
Packaging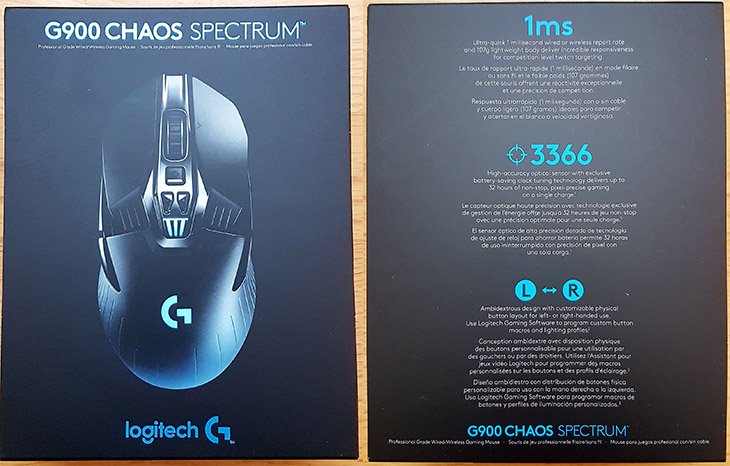 Logitech's packaging of the G900 is perfect. The packaging is composed of a sturdy box with all the information you need to know about the mouse. The front of the package has a big image of the mouse with the brand and name of the mouse. On the back, you will see some of the features listed such as Pixart's PWM3366 sensor, 1ms polling rate in both wired and wireless mode and that it can be used by either hand.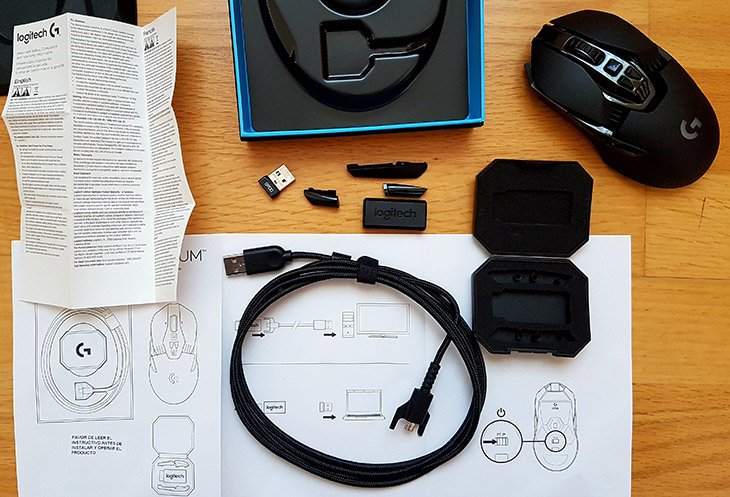 Once you open up the box, inside you will find the mouse, a manual, a charging/data cable, extra buttons, cover plates for the side, and the USB dongle. Logitech has included a small box which holds the USB dongle and extra buttons for the right-hand side which you can add if you want. They are fairly easy to add and they are held on by magnets. The USB cable is 1.8 meters long and feels very durable and it doesn't add much weight when using the mouse in wired mode.
Software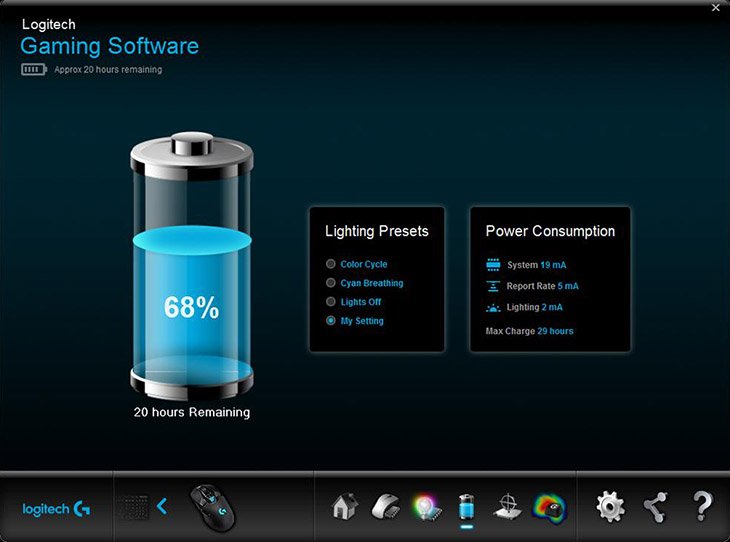 You obviously don't need to install Logitech's gaming software to use the G900 Chaos Spectrum mouse but it does unlock many more features. You can control any new Logitech peripheral from within the Logitech Gaming software. The Logitech software gives you full control of the mouse and the 64-bit version of the software is roughly 120MB. Logitech's battery-saving Clock Tuning Technology allows a single charge to power you through an entire weekend of gaming. The mouse goes into sleep mode after 30 minutes of inactivity but it wakes up almost instantly. It takes less than half a second to wake up the mouse after going into sleep mode.

The software also gives you low-battery alerts and it allows you to seamlessly switch to wired mode without worrying about losing power in the middle of gaming. You can check the battery's status and you can also pick the lighting options here. I have turned off the lighting to increase the battery life as much as I can.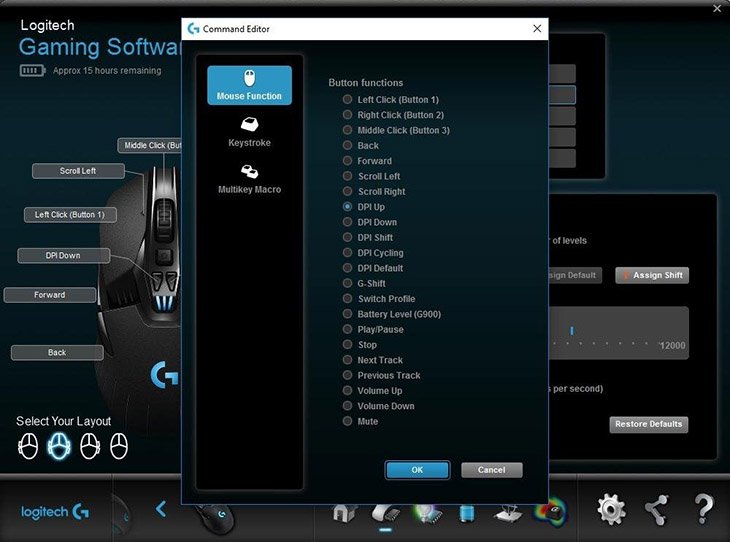 You can program up to 11 buttons and you can do that by simply right-clicking the button you want to change and then clicking on "Assign New Command". After you assign a new command to the button, you can select a predefined options or record a macro. When it comes to saving your profiles, the Logitech Gaming software allows you to save your profiles either on the G900's on-board memory or in your computer. I tend to save the profiles to the on-board memory because I know my profiles will always be there and I don't have to worry about losing them or if I have to format my PC. Logitech offers up to five profiles that can be stored onto the G900 Chaos Spectrum.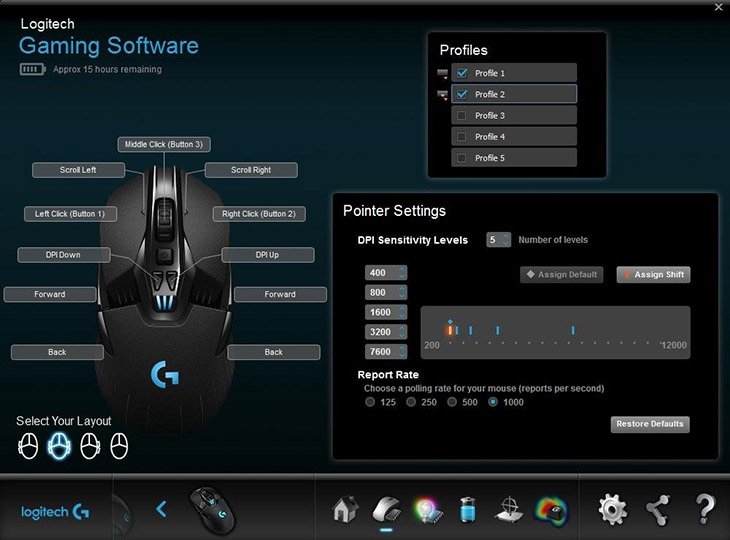 You can configure the polling rate and DPI, which ranges between 200 and 12,000. The G900 has zero smoothing or filtering across the entire DPI range delivering exceptional tracking accuracy and consistent responsiveness at any speed. You can change the layout of the buttons depending on how you configure the mouse.
Conclusion
Logitech has always released top notch mouses and the G900 Chaos Spectrum is no exception. The G900 is Logitech's most advanced mouse ever released. It is currently retailing for $120 on Amazon and it is quite expensive but that is to be expected from a premium mouse. Build quality is top notch, as expected from a company known to make high quality products. The performance of the G900 is fantastic and I tested the mouse by playing CS:GO, Team Fortress 2 and Battlefield 1 and I can easily say that the G900 is very comfortable to use in gaming and the PMW3366 sensor does a great job tracking the mouse movement. There's little to no noticeable performance loss when using the mouse in wireless mode compared to wired mode which is very impressive.

Pros:
+ Aesthetic Design
+ Advanced Sensor
+ Great Battery Life
+ Superb Performance
+ Great Packaging
+ RGB Lighting
+ Comfortable
+ Light
+ Sturdy

Cons:
- Price

Battery life is exactly as advertised. If you want to further increase the battery life, make sure to disable the RGB lighting because it does make a big difference. The Logitech gaming software is easy to use and it unlocks plenty of features. The packaging is also fantastic. The Logitech G900 Chaos Spectrum is currently the best gaming mouse on the market and it has become my daily mouse. The design team at Logitech has done an outstanding job with the G900 Chaos Spectrum. Overall, I believe the Logitech G900 Chaos Spectrum easily deserves our Elite award.