Noctua Chromax Accessories Review: Stylish and Very Easy to Install
Author: HP Date: Manufacture: Noctua Product Name: NA-SAV2 & NA-SAVP1 Price: $6.99 Warranty: 6 Years
Introduction

Noctua is one of the most well-liked companies in the enthusiast market and they have an excellent reputation in high performance fan and CPU cooler technologies. They have been dominating the cooling market with their top-notch products such as the NH-D14, NH-U14S and NH-D15 to name a few. Enthusiasts love Noctua's fans and their CPU coolers because they are near-silent and perform exceptionally well. The biggest complaint enthusiasts have about Noctua's fans is their traditional brown color scheme but Noctua now sells industrialPPC fans that came in black with brown pads. Personally, I have always liked Noctua's traditional color scheme but I also understand why many people dislike it.

Today we are going to look at Noctua's Chromax accessories which include NA-SAV2 and NA-SAVP1 that retail for $6.99 and come with 6 years of warranty. Noctua's Chromax line consists of anti-vibration parts that give users the option of color-customizing their fans to match individual build color schemes. The NA-SAV2 and NA-SAVP1 are available in red, blue, green, yellow, black and white.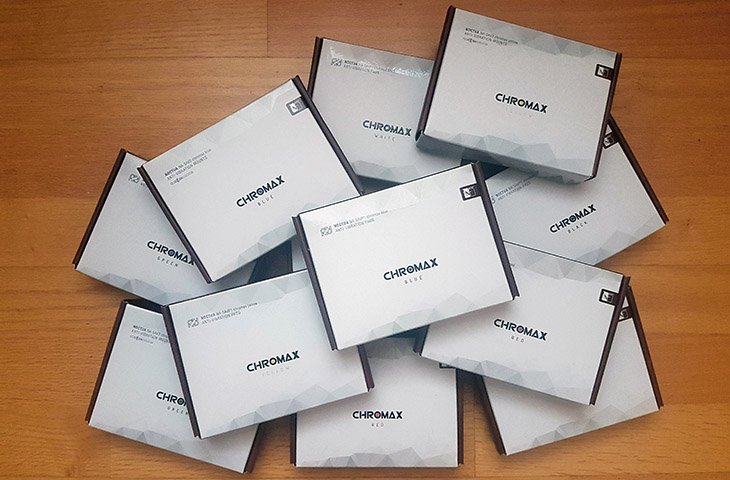 You can find Noctua's regular NA-SAV2 with its usual brown color scheme for $7.99 on Amazon whereas the new chromax edition NA-SAV2 retails for $6.99 making it a dollar cheaper. The chromax edition NA-SAV2 anti-vibration mounts fit all types of Noctua fans, including redux models and the NA-SAVP1 anti-vibration pads fit all NF-F12, NF-S12A and NF-A14 models and can also be used for customizing industrialPPC fans. IndustrialPPC fans are all black with brown pads and now Noctua has given the consumers the option of customizing the color of their fans to match their build.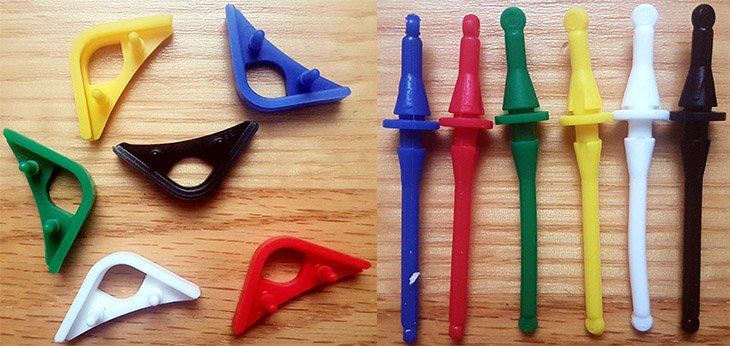 When we talk about Noctua products, the first thing that comes to mind is high quality. The NA-SAV2 and NA-SAVP1 parts are made of premium-grade silicone that is extra soft and highly tear-proof making it excellent for longevity and ease of use.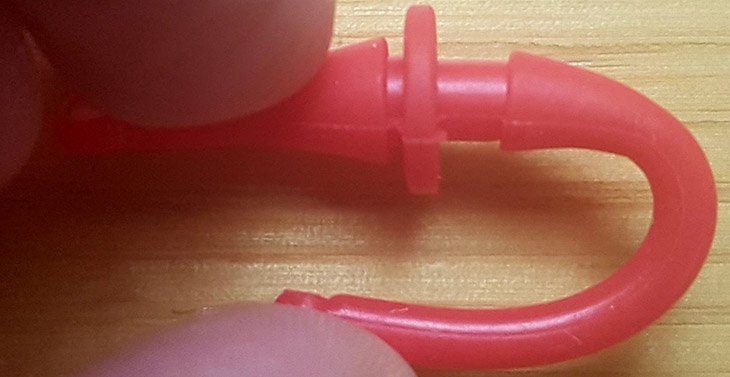 The rubber material used feels strong and durable. You can bend and fold them and they fold back into its default position.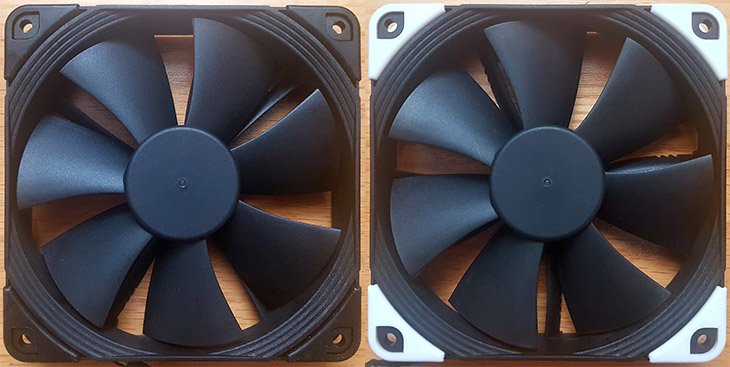 The NA-SAV2 kits include 20 anti-vibration mounts for 5 fans, the NA-SAVP1 kits include 16 anti-vibration pads for 2 fans. The NA-SAV2 can be used with third party fans with open flange frames and standard 4.3mm diameter mounting holes. Noctua's anti-vibration mounts can be used to replace the screws to offer a better vibration control.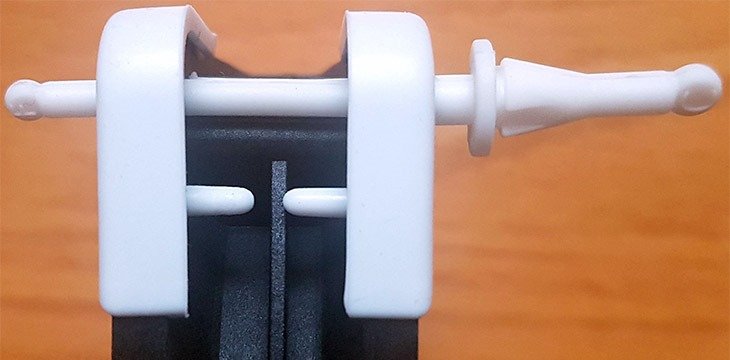 Specifications
Specifications
Color:
NA-SAV2 (black, blue, green, red, white, yellow)
NA-SAVP1 (black, blue, green, red, white, yellow)
Fan compatibility:
NA-SAV2 (All Noctua fans, many third-party fans)
NA-SAVP1 (See fan compatibility info)
Scope of Delivery:
16x NA-SAVP1 Anti-Vibration Pads
20x NA-SAV2 Anti-Vibration Mounts
Warranty:
6 years
Packaging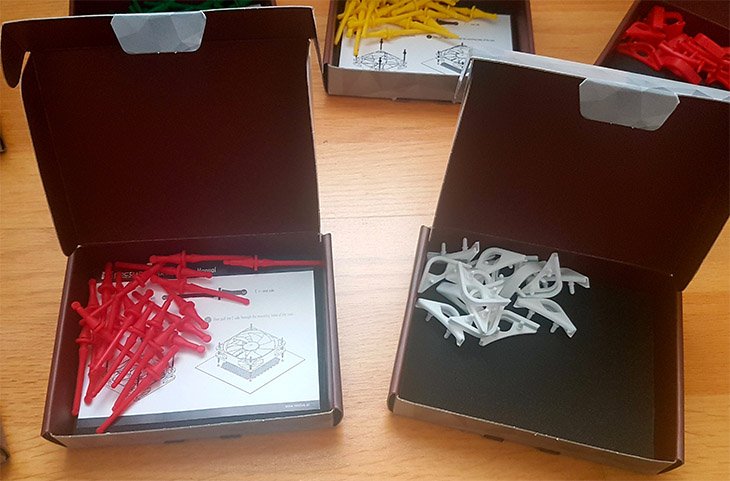 Noctua's packaging has always been excellent and this time it's no exception. The NA-SAV2 and NA-SAVP1 come well package like you would expect. Noctua has included a quick little guide with the NA-SAV2 anti-vibration mounts that details how to properly use them in fans or CPU coolers. Standard fan screws create a lot of structure-borne noises and replacing them with NA-AV2 mounts can drastically reduce vibration noises.
Conclusion
If you take price into consideration, the NA-SAV2 and NA-SAVP1 are quite expensive. Noctua fans are already expensive as is so buying either the NA-SAV2 or NA-SAVP1 will increase the price even more. The NA-SAV2 and NA-SAVP1 pads are stylish and very easy to use. If you are into modding and want to use Noctua's fans in your computer but you hate Noctua's traditional color scheme, then consider buying the NA-SAVP1 corner pads. I will say that this is a step in the right direction for Noctua because people like different color schemes and it's good to have variations of colors to choose from.

Pros:
+ High Build Quality
+ Eliminates Vibrations
+ Stylish
+ Easy To Install

Cons:
- Price

In terms of real world usage, if you are using fans with screws and want to further eliminate any possible vibrations coming from your case, the NA-SAV2 will help with that. When I was testing the anti-vibration mounts, once the fans reached max speed, I found the NA-SAV2 mounts to help with eliminating vibrations coming from the case. While the NA-SAVP1 corner pads are identical in performance to the ones included with a Noctua fan. The silicone used on the Chromax parts is the same as the bundled pads that come with regular Noctua fans. If you're looking to eliminate any vibrations from your computer while at the same making your computer stylish, the new chromax edition NA-SAVP1 and NA-SAV2 will help you with that but also come at a premium price. Overall, I believe the Noctua Chromax NA-SAVP1 and NA-SAV2 deserve our Recommended Choice award.