Noctua's NH-D15 Versus Five High End Closed Loop Liquid Coolers
Author: HP - Date: - Manufacture: Noctua - Product Name: NH-D15 - Price: $99.00
Introduction

Noctua is a company that needs no introduction. They have gained a lot of respect in the enthusiast market for creating some of the most advanced and well engineered CPU coolers and fans on the market. Noctua's premium products are aimed to those seeking extreme and quiet cooling performance. The NH-D15 is the successor to the legendary NH-D14 which is considered to be the champion of air cooling. In this review, we will pit the NH-D15 against five high end liquid coolers to see who has the best cooling, lowest noise and greatest value.

When it comes to cooling, you can go the traditional way by using an air cooler or you can get an AIO closed loop cooler. High end closed loop coolers are just on par with the best that air cooling has to offer. Closed loop coolers typically dissipate more heat at higher frequencies and you don't have to worry about RAM interference. Liquid cooling is also more expensive and can leak and cause damage to components which is why some people stay away from it.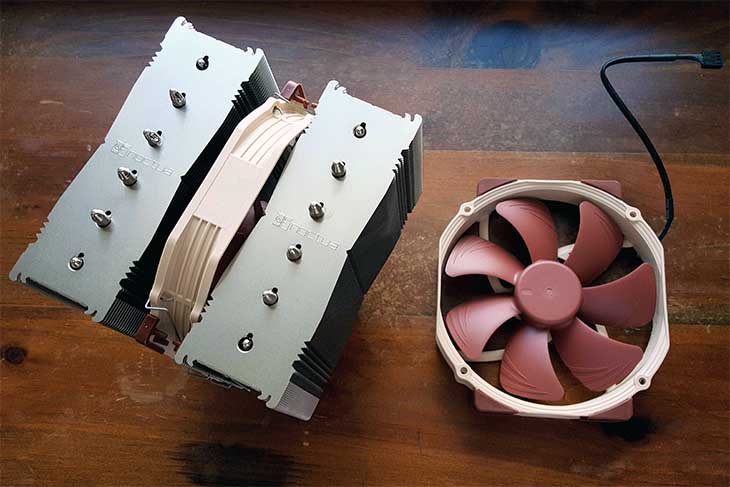 Since I've already reviewed the Noctua NH-D15, I wanted to do a separate review where I compare the NH-D15 against five high end closed loop coolers. The NH-D15 is going head-to-head against the Corsair H100i GTX, NZXT Kraken X61, Cooler Master Nepton 240M, DEEPCOOL Gamer Storm Captain 240 and Thermaltake Water 3.0 Extreme S. These are some of the popular high end closed loop coolers on the market right now so it will be a great way to test them against the NH-D15.

Let's talk a little bit about each liquid cooler before we get down to business. Corsair's H100i GTX is basically an H100i but with a newer design. Corsair says the H100i GTX will offer performance improvement due to the new cold plate design but according to my tests, I saw zero performance improvement. So other than the new design that looks nice, I see no reason to upgrade if you have an H100i.

The NZXT Kraken X61 is a 280mm liquid cooler that has received a lot of positive feedback from enthusiasts. It has 36% more surface area than that of a typical 240mm. The radiator feels huge when holding it in hand and you will need a chassis that supports dual 140mm fans. The Cooler Master Nepton 240M liquid cooler is another popular 240mm cooler that competes well with the H100i GTX.

Next we have the DEEPCOOL Gamer Storm Captain 240M which is another 240mm AIO. It comes with 120mm PWM fans that are dust-proof and waterproof. It's a well made AIO cooler but I'm not a fan of the black and red theme. Last but not least we have the Thermaltake Water 3.0 Extreme S which is an improved version over the original Water 3.0 Extreme that came out in 2013. Hardware-wise, nothing has changed with the newer version of the Water 3.0 Extreme S.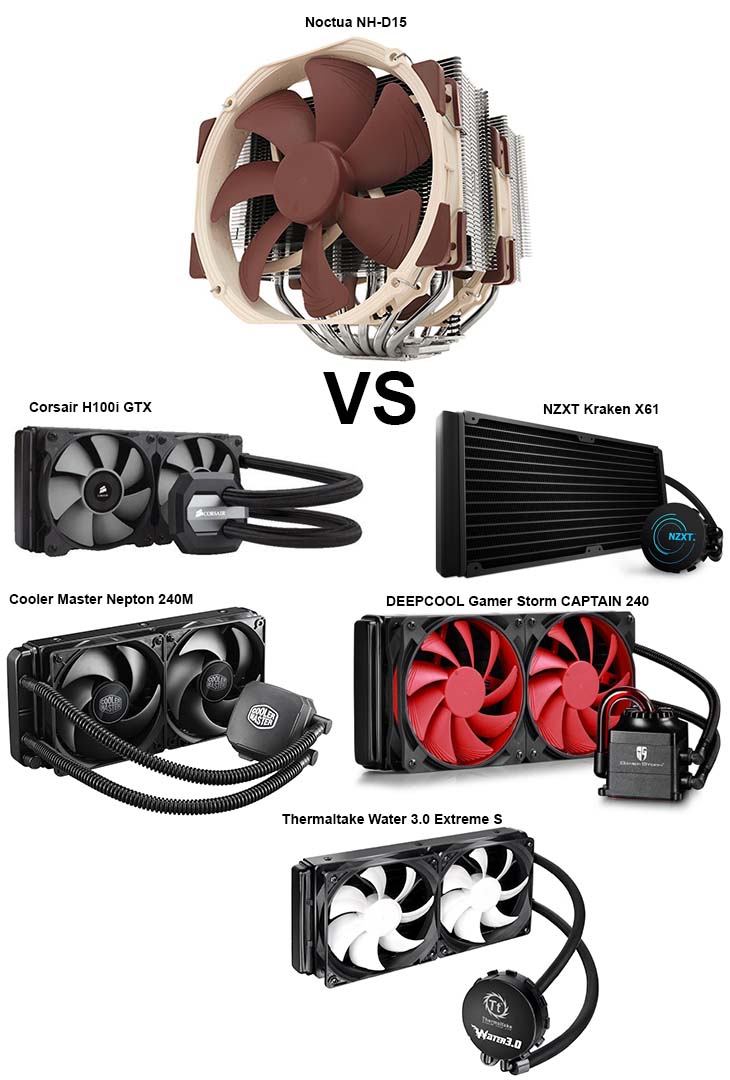 With all that being said, let's now compare each cooler and see what they offer, spec-wise.
Comparison
CPU Coolers Tested In This Review
Model:
Noctua NH-D15
Corsair H100i GTX
NZXT Kraken X61
CM Nepton 240M
DEEPCOOL Captain 240M
Thermaltake Water 3.0
Extreme S
Price:
$99.99
$109.99
$139.99
$119.99
$94.99
$94.99
Weight:
3 lbs
4 lbs
2.8 lbs
3.5 lbs
2.9 lbs
3.3 lbs
Dimensions:
165 x 150 x 134 mm
276 x 125 x 30 mm
140 x 312.5 x 27 mm
274 x 119 x 27 mm
274 x 120 x 27 mm
270 x 120 x 27 mm
Fan airflow:
82.5 CFM
70.69 CFM
106.1 CFM
76 CFM
91.12 CFM
99 CFM
Fan speed:
1500 RPM
2435 RPM
2000 RPM
2400 RPM
2200 RPM
2000 RPM
Fan Air Pressure:
1.51 mmH2O
4.65 mmH2O
1.97 mmH2O
4.8 mmH2O
3.71 mmH2O
N/A
Fan Noise Level:
24.6 dBA
37.7 dBA
37 dBA
27 dBA
39 dBA
20 dBA
Cooling Fans:
2x 140mm
2x 120mm
2x 140mm
2x 120mm
2x 120mm
2x 120mm
Warranty:
6 years
5 years
6 years
5 years
3 years
1 year
The Thermaltake cooler comes with a lame 1 year warranty while the majority of them offer a 5-6 years warranty. This alone might be a deal breaker for some which is perfectly understandable. The DEEPCOOL Gamer Storm Captain 240M offers a 3 year warranty which is much better than Thermaltake's 1 year warranty but still not as good as the majority of other coolers.

When it comes to weight, some people say that heavy coolers like the NH-D15 will damage the motherboard overtime because of the constant weight hanging off the motherboard. This might happen if you move your computer a lot or if you ship it somewhere but if your computer is going to stay in one place, then you have nothing to worry about. The AIO closed loop coolers are great when it comes to shipping a system and they make it easy to work inside your computer.
Test Setup & Methodology
Test Setup
Processor:
Intel i7 4790K @ 4.5GHz 1.23v
Motherboard:
Asus Maximus VII Hero Z97
RAM:
Kingston HyperX 8GB @ 1866Mhz
Graphics Card:
Sapphire R9 390X
Storage:
Samsung 840 Pro 256GB
Power Supply:
Antec HCP 850W
Case:
Corsair 750D
OS:
Windows 8.1 64Bit
Thermal Compound:
Artic Silver 5
Heatsinks:
Noctua NH-D15
Corsair H100i GTX
NZXT Kraken X61
CM Nepton 240M
DEEPCOOL Captain 240M
Thermaltake Water 3.0 Extreme S
All of the testing is done with an ambient temperature of ~19C. RealTemp will be used to monitor the temperature of the CPU and Prime95 (Large FFTs) will be used to deliver the full load to the CPU for 20 minutes. After each testing, we let the temperature inside the case to stabilize for 10 minutes to ensure that the temperature inside the case is back to normal.

Idle temperatures will be measured after leaving the computer idle for 20 minutes. CPU-Z will be used to verify the CPU speed and the voltage being used in Windows 8.1. Also, the coolers are tested with the default settings (Turbo, C1E etc) enabled in the BIOS.

We will measure the noise levels for both idle and load using a dBA meter and point it at the computer at a distance of ~50 CM. It's always difficult to measure noise levels because there are always noises in the background which can affect the results so it may not be 100% precise but it should give you a clear indication of the noise levels for the cooler.
Navigation: