Noctua NH-D15S Review: Noctua Dominating The Cooling Market
Author: HP Date: Manufacture: Noctua Product Name: NH-D15S Price: $79.99 Warranty: 6 Years
Introduction

From Noctua's website about the NH-D15S:

Tailored to provide superior RAM and PCIe compatibility, the NH-D15S is an asymmetrical single fan version of Noctua's award-winning flagship model, the NH-D15. Thanks to its asymmetrical design, the NH-D15S clears the top PCIe slot on most µATX and ATX motherboards. At the same time, the single fan setup and recessed lower fins guarantee 100% RAM compatibility with memory modules of up to 65mm height. Users who have sufficient room can also upgrade the cooler with either a 120mm or round 140mm fan on the front fin stack for further improved performance in dual fan mode. Topped off with the trusted, pro-grade SecuFirm2™ multi-socket mounting system, Noctua's proven NT-H1 thermal compound and full 6 years manufacturer's warranty, the NH-D15S forms a complete premium quality solution that combines dual tower efficiency with excellent compatibility and flexible upgrade options.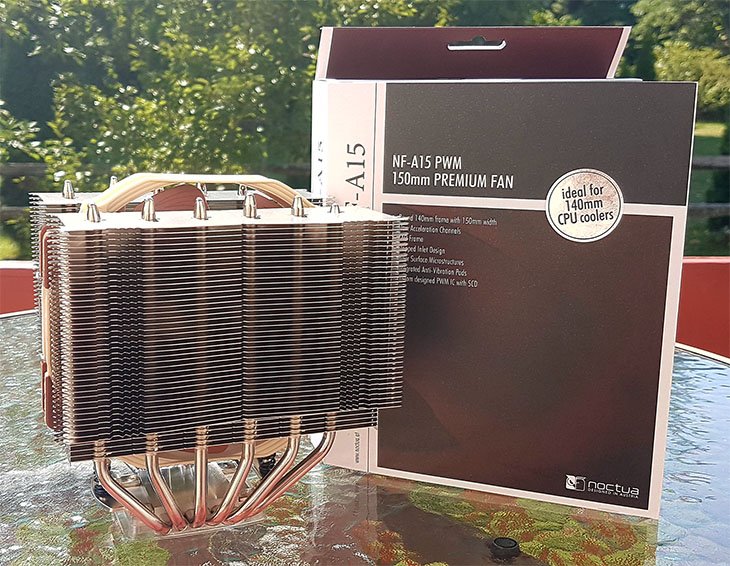 Noctua is a company known in the enthusiast market for making premium performance air-cooling solutions and almost everyone who has build their own computer has heard of them. Over the past few years we have covered almost all of Noctua's products and today we are looking at the NH-D15S. The NH-D15S uses an asymmetrical layout and a single fan that allows the NH-D15S to provide greater RAM and PCIe compatibility than the regular NH-D15. Noctua's products are always top notch when it comes to build quality and the NH-D15S is no exception. The NH-D15S provides 65mm clearance for tall memory heatsinks so you can install RAM with tall heatsinks without much issue.

Noctua's distinguishable color scheme is what makes them stand out from the crowd and their ultimate quiet cooling performance solutions is what makes them the best at what they do. Noctua has gained a lot of respect in the enthusiasts market for making some of the most advanced and well engineered CPU coolers on the market. Noctua offers a six year warranty on their products and has possibly the best customer service out there and I can certainly vouch for that.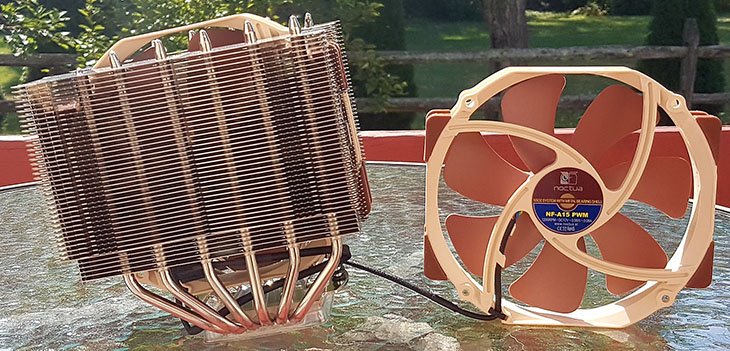 The NH-D15S comes with one 140mm NF-A15 PWM fan but Noctua has sent us an extra NF-A15 PWM fan to test the NH-D15S with both one and two fan configuration. The NH-D15S retains the same six 6mm dual heatpipe design as the NH-D15 so overclocking with this beast won't be a problem. Noctua ships the NH-D15S with SecuFirm 2 mounting kit that makes the installation process a breeze.

The NH-D15S is constructed with a copper base, heatpipes, aluminum fins, soldered joints and nickel plating and weighs 980 g without the fan and 1150 g with one fan installed. Similarly like the NH-D15, the copper base plate on the NH-D15S has a nickel-plated finish which measures 4.5 mm thick and is 40 x 38 mm in size. The NH-D15S has 45 aluminum fins and each fin measures 0.42 mm thick and are approximately spaced 2.0 mm from the next. The dimensions come in at 160 mm x 150 mm x 135 mm (H x W x L).

When the NH-D15 came out, many people complained about the PCIe slot being blocked by the NH-D15 so Noctua changed the structure design of the NH-D15S to fix that issue. Noctua has off-set the fin-stack of the NH-D15S towards the upper edge of the motherboard because many current motherboards have the top PCIe x16 slot sitting close to the CPU socket and big heatsinks tend to block it. So the asymmetrical layout of the NH-D15S is better for PCIe compatibility because it allows the NH-D15S to clear the top PCIe x16 slot.
Technical Specifications
Heatsink Specifications
Manufacture:
Noctua
Model:
NH-D15S
Socket Support:
Intel LGA2011 (Square ILM), LGA1156
LGA1155, LGA1150 & AMD AM2, AM2+
AM3, AM3+, FM1, FM2, FM2+ (backplate required)
Material:
Copper (base and heat-pipes)
Aluminium (cooling fins)
Soldered joints & nickel plating
Fan Compatibility:
140x150x25 (with 120mm mounting holes)
140x140x25 (with 120mm mounting holes)
120x120x25
Heatsink:
Dimensions: 160 mm x 150 mm x 135 mm (w/o Fan)
Heatpipes: 6pcs
Weight: 980 g (w/o Fan) 1150 g (w/ Fan)
Scope of Delivery:
1x NF-A15 PWM premium fan
Low-Noise Adaptor (L.N.A.)
Fan clips for second fan
NT-H1 high-grade thermal compound
SecuFirm2™ Mounting Kit
Noctua Metal Case-Badge
Warranty:
6 Years
Fan Specifications
Model:
1x Noctua NF-A15 PWM
Bearing:
SSO2
Max. Rotational Speed (+/- 10%):
1500 RPM
Max. Rotational Speed with L.N.A. (+/- 10%):
1200 RPM
Max. Airflow:
140,2 m³/h
Max. Airflow with L.N.A:
115,5 m³/h
Max. Acoustical Noise:
24,6 dB(A)
Max. Acoustical Noise with L.N.A:
19,2 dB(A)
Input Power:
1,56 W
Voltage Range:
12 V
MTBF:
> 150.000 h
Packaging & Accessories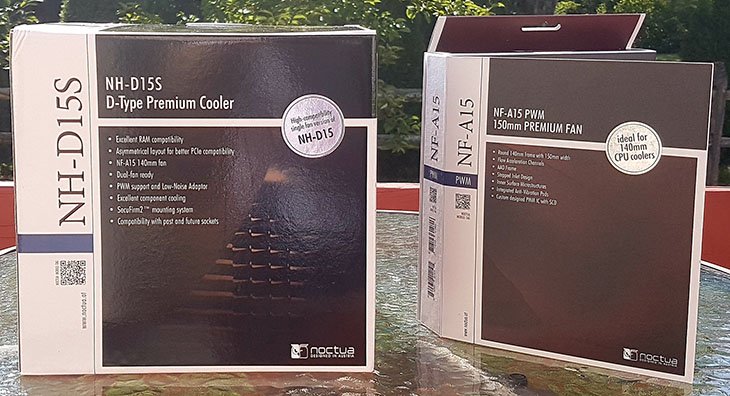 Noctua ships the NH-D15S in a huge elegant box that utilizes Noctua's traditional color design. Noctua's packaging is very hard to beat and Noctua does an excellent job at securing their products so they don't get damanged during shipment. The packaging feels premium just as you would expect with any Noctua product.

The front of the box lists some of the features such as Excellent Ram Compatibility, Asymmetrical Layout for better PCIe Compatibility, NF-A15 140mm fan, Dual-Fan Ready, PWM support and Low-Noise Adapter, Excellent component cooling, SecuFirm 2 mounting system and Compatibility with past and future sockets On the left side you will find a short paragraph with details of the cooler and some of its features in multiple languages.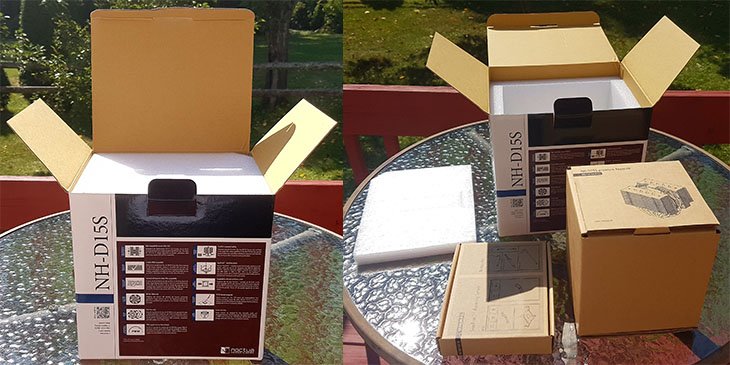 When opening up the package, you are presented with sturdy cardboard boxes that securely hold the cooler in place and all included accessories that come with the cooler. The components inside are well packaged and everything feels well secured inside the box.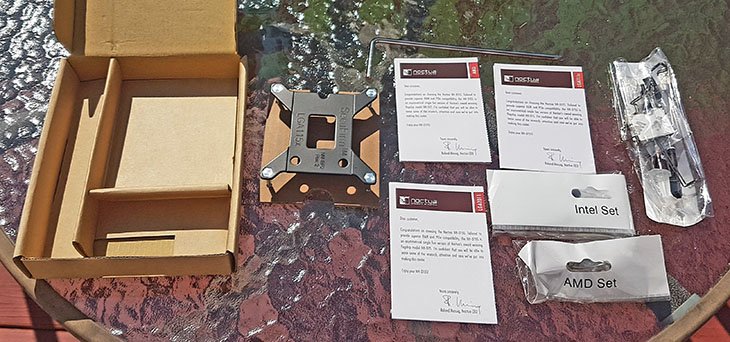 Inside you will find Noctua's NT-H1 thermal compound, one Low-Noise-Adapters (L.N.A) which can be used to reduce the fan speed, one 140mm NF-A15 PWM fan, brackets that hold the fans onto the cooler, fan clips for second fan, a Phillips screw driver that you can use during the installation, AMD and Intel SecuFirm2 mounting hardware, Noctua metal case badge and a manual.
Navigation: