Noctua Redux Fans Review: Premium Fans Just Got More Affordable
Author: HP - Date: - Manufacture: Noctua - Product Name: NF-P14s Redux - Price: $20.00
Introduction

From Noctua's website about the Redux fans:

The redux product line reissues some of Noctua's most popular, award-winning models by presenting them in streamlined packages that have been reduced to the essential core: premium quality quiet cooling solutions. All redux edition products are industry proven, time-tested models that have convinced thousands of customers and helped to found Noctua's reputation as a first-tier supplier of premium grade low noise cooling equipment. Backed up with full 6 years manufacturer's warranty, the redux product line provides trusted Noctua quality at an accessible price point.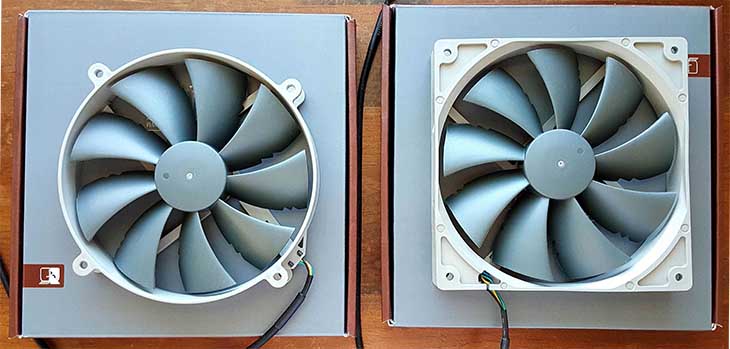 Noctua is a company that needs no introduction. There hasn't been a single product that they have released that was not up to their standards. Everything that they have released since they were founded in 2005 has been top-notch. Every company runs into quality issues with their products every once in a while but that's not the case with Noctua. Noctua is a well known name in the enthusiast market and they have gained a lot of respect for releasing high quality products one after another. We reviewed the NF-A14 industrialPPC fans and we were literally blown away by their performance. This new majestic color scheme of the industrialPPC line looks unbelievably attractive and performs exceptionally well. The NF-A14 industrialPPC fans are hands down the best fans we have tested thus far and you can read our review of the Noctua NF-A14 industrialPPC here.

One thing that's for sure is that price has always been an issue for most people who want to buy Noctua fans which is why Noctua has introduced the Redux fans. The Redux line is geared towards budget oriented users who still want Noctua's high quality fans but in a more affordable package. Noctua has given us the following Redux fans to test: NF-P14s/r Redux-1500RPM PWM, NF-S12B Redux-1200RPM PWM, NF-B9 Redux-1600RPM PWM and we will also test the NF-F12 industrialPPC-2000RPM PWM. The Redux fans come with Noctua's SSO bearing, over 150.000 hours MTBF rating and full 6 years manufacturer's warranty and all of that in an attractive price point.

Noctua has released 13 Redux models with speeds ranging from 700 to 1800RPM and from 80mm to 140mm. The Redux line contains both 4-pin PWM and 3-pin versions of NF-P14, NF-S12B, NF-B9 and NF-R8. Similarly like the industrialPPC fans, the Redux fans also do not come in the usual color scheme that we have come to know from Noctua but instead in this attractive light grey color scheme. So all in all, we have the black color scheme of the industrialPPC fans that is for users who want the best of the best. We have the notorious brown/beige color scheme that is for users who are after quiet fans and last but not least, we have the light grey color scheme which is for users that are price-conscious.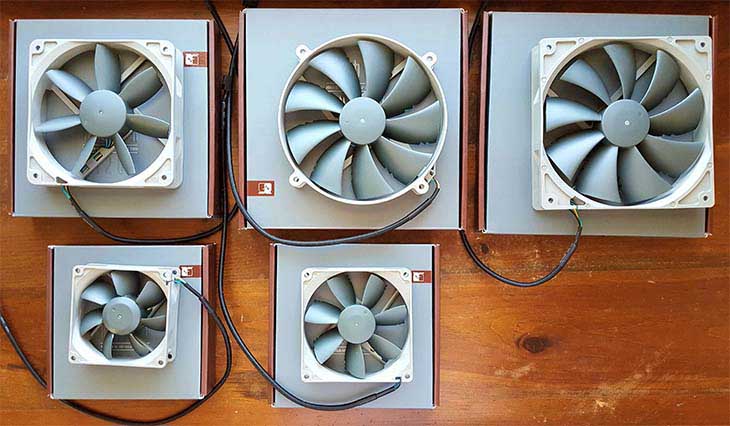 The Redux fans can be used as either case fans or CPU cooler fans but are primarily designed as case fans. We tested the NF-A14 industrialPPC fans as CPU cooler fans so with that being said, we will test the Redux fans the exact same way. Similarly like our NF-A14 industrialPPC review, we will be creating multiple sets of configurations to test the Redux fans. We will talk more about how exactly we will test the Redux fans in the Test Setup section of this review.

Without further ado, let's take a look at the specifications.
Navigation: