Patriot Supersonic Mega 256GB USB 3.0 Flash Drive Review: A Fast And Sturdy Drive
Author: HP Date: Manufacture: Patriot Product Name: Supersonic Mega 256GB Price: $79.99 Warranty: 5 Years
Introduction

Patriot was founded in 1985 and they specialize in high performance, enthusiast memory modules, flash memory, and mobile accessory products. Patriot is known in the memory and storage industry for making great, reliable and durable products and have more than 20 years of experience in this field. In January of 2016, Patriot announced the Supersonic Mega flash drive which combines some of largest storage solutions on the market with also fast performance.

The Patriot Supersonic Mega is available in capacities of 128GB, 256GB, and 512GB and in this review, we will be taking a look at the Supersonic Mega 256GB model which retails for $79.99 on Amazon and comes with 5 years of warranty. The 256GB model comes with read speeds up to 380MB/s and write speeds up to 70MB/s and it features a tough industrial strength zinc alloy housing. The aluminum enclosure is durable and feels sturdy and enables shock resistance up to 15Gs to ensure greater protection of your data.

It is USB 3.1 Gen. 1 compliant and it is also backwards compatible with USB 3.0 and USB 2.0 and it's compatible with the latest versions of Windows, Linux, and Mac OS. Flash drives have come a long way and it's great that now we can buy flash drives with plenty of storage and also fast performance. Design-wise, the Patriot Supersonic Mega features a removable cap design which I'm not a fan of. The reason why most people don't like flash drives with removable cap is because they tend to lose the cap. I like flash drives with a thumb-retracted connector because I don't have to worry about losing or misplacing the cap.

Moving on, the build quality seems sturdy and it feels well-made when holding it in hand. I will say though that the Patriot Supersonic Mega is larger than most drives on the market and it is also a little bit heavier. You might have problems fitting the drive in a tight USB space and a USB extension cable may be needed as it's larger than the average flash drive. Another thing that bothers me with this drive is that there is no operation light indicator. Unless you are looking at the computer screen, you have no idea if the drive is still writing or reading.
Specifications
Technical Specifications
Brand:
Patriot
Model:
PEF256GSMGUSB
Dimensions:
13.2 x 10 x 1.04 cm
Series:
Supersonic Mega
Capacity:
256GB
USB Technology:
USB 3.0, USB 3.1
Read Speed:
up to 380MB/s
Write Speed:
up to 70MB/s
Certifications:
RoHS, FCC, CE
Country of Origin:
Taiwan
Unit Dimension Width:
1.06 cm
Weight:
32.8 g
Warranty:
5 Years
Packaging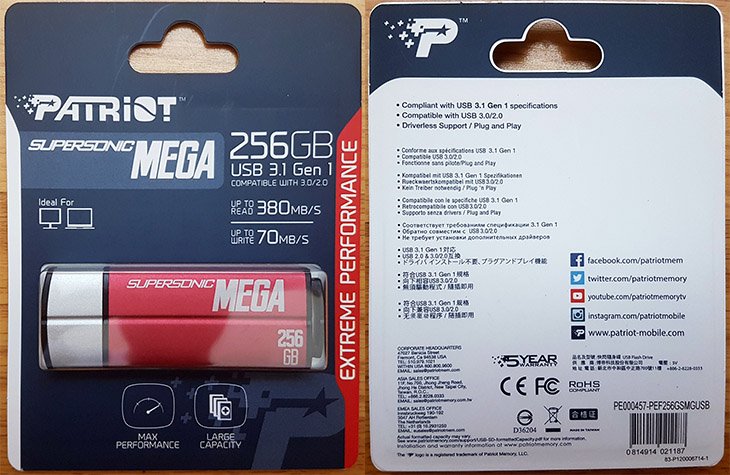 Patriot's packaging is composed of a clear plastic leaving the flash drive on full display so you can see exactly what you are getting. The front of the package displays the capacity information, speed and other features that come with the flash drive. On the back, you will see the features and specifications listed in different languages. The capacity of the drive is listed in the middle of the drive and the Patriot Supersonic Mega uses the Phison PS2251-08 controller which is a 55nm-process controller that features the BCH 72-bit ECC engine.
Test Methodology
Test Setup
Processor:
Intel i7-6900K Stock
Motherboard:
ASUS X99 Deluxe II
RAM:
Crucial Ballistix Elite 16GB (2x8GB) 3000Mhz
Graphics Card:
Sapphire R9 390X
Storage:
Samsung 840 Pro 256GB
Power Supply:
SilverStone ST80F-TI
Heatsink:
Noctua NH-U14S
OS:
Windows 10 Home 64-Bit
Thermal Compound:
Noctua NT-H1
USB 3.0 Flash Drives:
Patriot Supersonic Mega 256GB
Lexar JumpDrive P20 64GB
SanDisk Extreme Pro 128GB
SanDisk Extreme 64GB
Patriot Supersonic Magnum 64GB
Kingston DataTraveler HyperX 64GB
Patriot Rage XT
All the testing was done on a fresh install of Windows 10 64-bit. We made sure there were as few processes running as possible during the testing by disabling a bunch of unnecessary services that come with Windows 10. We also set the power options to high performance in Windows. The Patriot Supersonic Mega 256GB comes formatted in FAT32 system so the maximum individual file size that you can work with is 4GB so I went ahead and re-formatted the drive with NTFS since I personally work with large individual files. The 256GB model comes with 235GB available capacity. We'll be using an Intel Ivy Bridge i7-6900K CPU that will run on stock settings and the ASUS X99 Deluxe II motherboard with the latest BIOS version 1401 from ASUS.

We will be comparing the Patriot Supersonic Mega 256GB to all the USB 3.0 flash drives listed above. All of these flash drives are considered to be some of the fastest USB 3.0 offerings available. As far as benchmarking goes, we will be using CrystialDiskMark x64 to benchmark the Sequential Read and Write speed of each flash drive and also, we will benchmark these drives in 4 KB/512 KB Random Read and Write speeds.
Results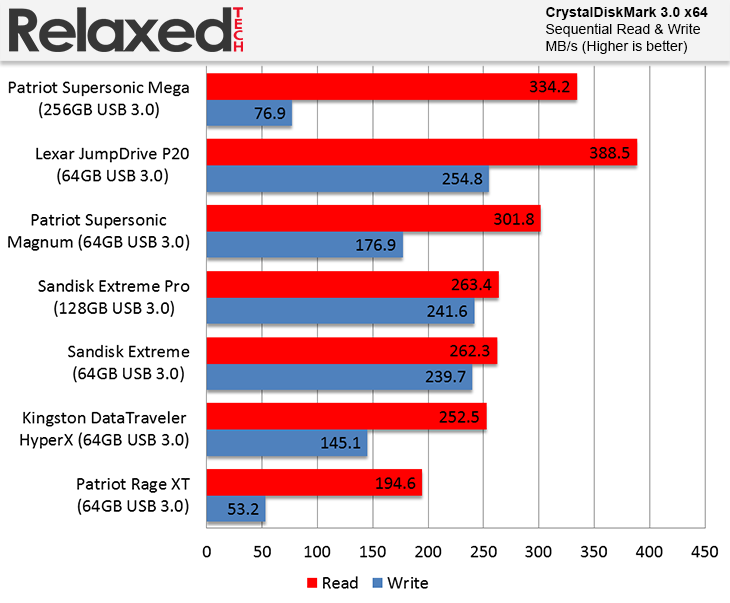 Looking at the read/write speed benchmark, we can see that the Supersonic Mega 256GB performed almost as advertised. Although, the read speeds were not as high as advertised (380MB/s), they were still very good. The write speeds was also good. Keep in mind, these speeds may vary depending on your computer's USB controller.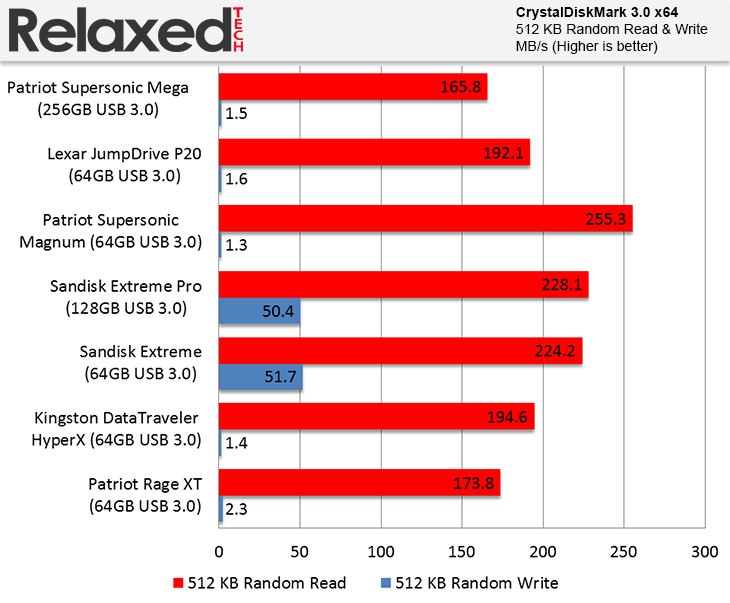 The Patriot Supersonic Mega 256GB has excellent 512KB read speeds but falls short on 512KB write speed.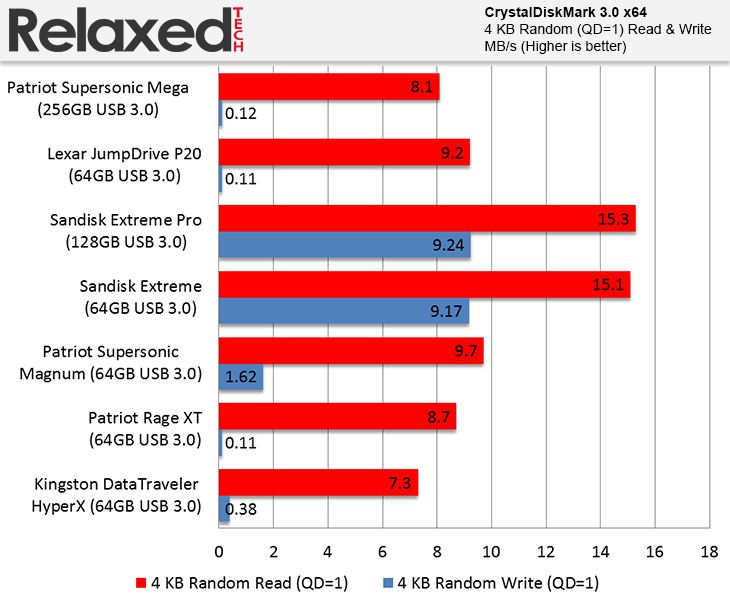 Once again, we see the same thing in the 4KB benchmark. The 4KB read speeds are great while the 4K write speed not so much.
Conclusion
The Patriot Supersonic Mega is a fantastic flash drive that comes with plenty of capacity options and performs as advertised. Build quality is excellent with the aluminum housing serving both an aesthetic purpose and durability. While the Supersonic Mega 256GB flash drive may not have the fastest read/write speeds on the market, it still performs quite well for its price.

Pros:
+ Plenty of Storage
+ Solid Read/Write Speeds
+ Sturdy Design

Cons:
- Larger Than Most Drives
- Removable Cap Design

Two things that bother me with Supersonic Mega flash drive are the removal cap design and its size. The size of the flash drive is much larger than most and it may not fit in tight USB areas. Most people prefer a thumb-retracted design over a removal cap design because you don't have to worry about misplacing the cap. You can find the 256GB model for $80 on Amazon which isn't too bad for a drive this large in capacity. Other than that, the Supersonic Mega is an excellent flash drive and I recommended it to anyone who's looking for a durable, reliable, flash drive. Overall, I believe the Patriot Supersonic Mega 256GB deserves our recommended award.