Patriot Viper V570 Blackout Edition Review: A Versatile Gaming Mouse
Author: HP Date: Manufacture: Patriot Product Name: Viper V570 Blackout Price: $59.99 Warranty: 2 Years
Introduction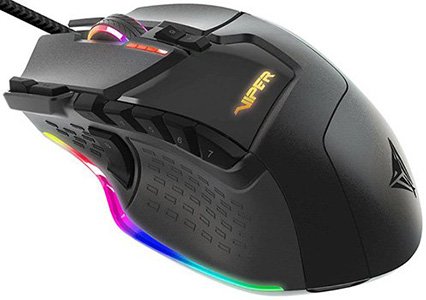 Patriot is a company that is mostly known for memory and storage devices but recently they have been releasing products for the PC gaming peripherals market such as mechanical keyboards, gaming mouses, headsets and mouse pads. While Patriot's Viper brand recognition might not be as popular as Logitech's, they are trying to change that by creating unique and well-designed products targeted at PC gamers. We recently reviewed the Patriot Viper V770 keyboard which we absolutely loved and awarded the gold award.

Patriot's gaming mouse lineup consists of the V530, V560, V570 and V570 blackout and today we will be taking a look at the Viper V570 blackout edition mouse. The Viper V570 Blackout mouse is Patriot's current flagship mouse and it retails for $59.99 on Amazon and comes with 2 years of limited warranty. The V570 blackout is an update to the original V570 mouse and shares almost the same design style as the original V570 except for a few small changes such as the buttons on the mouse are now blacked out instead of being bright red and the cable is now full black instead of being a mix of red and black. Physically, the V570 blackout is 5.2" deep, 3.2" wide, and it stands 1.7" in height and it weighs 159.2 grams.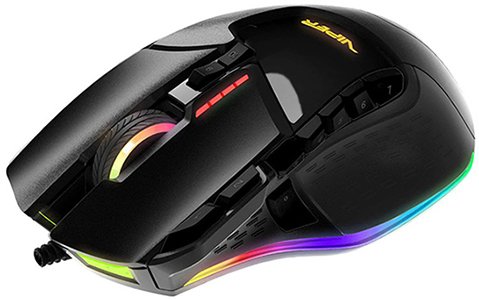 The V570 blackout supports many of the modern features that most gaming mouses come with such as giving you the ability to customize the RGB lighting on the mouse throughout seven different color zones and it also comes with 13 programmable macro buttons. On top of all that, Patriot is using Omron button switches and has equipped the V570 blackout with an Avago ADNS-9800 laser sensor. Omron is a Japanese company known for making the the best mouse button switches out there.

Build quality is decent and the materials used offer a good grip for sweaty and dry conditions and it doesn't cause irritation after long periods of use. It has a matte coating on it which is great because it doesn't pick up fingerprint marks and it sports ceramic foot pads for maximum speed over any surface.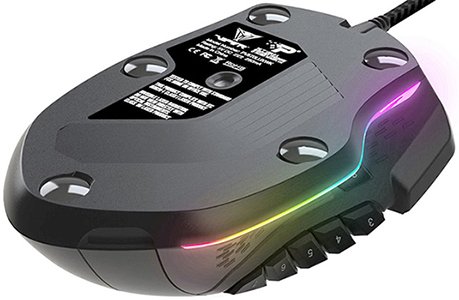 On the bottom you will notice five ceramic feet which really helps the mouse glide a little easier. The ceramic feet is the best feature of the V570 blackout and more companies need to do something similar with their products. Most mouses come with plastic feet and that usually wears out quickly but ceramic feet do not wear out at all and usually just need a clean once in a while.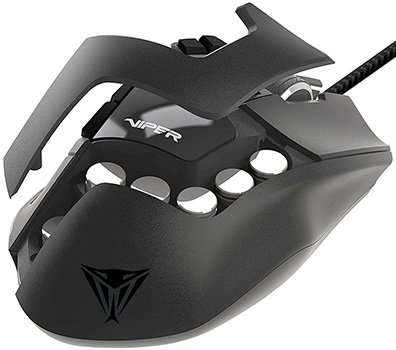 Like most gaming mouses, the V570 blackout mouse comes with an adjustable weight system and it allows you to add up to 34.2g of weight. Installing the weights is as simple as removing the plastic cover. There are seven weights included in the box but you can only fit in six in the mouse. Patriot includes an extra weight just in case you lose one which is awesome. The majority of the companies will simply include the exact amount of weights and if you accidentally lost one, they would sell it to you at a high price whereas Patriot just gives it to you for free.

The right hand side of the mouse has a slight contour but it's the left hand side where most of the programmable buttons are located. Now the buttons themselves are fairly well placed but my biggest problem with the Viper V570 blackout are the clicks. I'm not sure if it's just the product that I received but some of buttons are very spongy. I feel like there is not enough tactile feedback to know if you have pressed them accidentally. For example, I tested this mouse by playing Battlefield 1 and during heavy gaming, I found it difficult to know when I had pressed the button which normally doesn't happen with my other mouses..

Moving on, the first thing you will notice is that Patriot has included small rectangular groves that are built for the thumb to rest and right next to this, you will find a large switch which by default acts as a sniper button. All this does is basically drop down the DPI to 400 temporarily that returns to normal on release and you can of course increase or decrease this value within the Viper software. Just above the sniper button you will find more buttons which I think are slightly big and would be better if they were also a little bit more spaced out.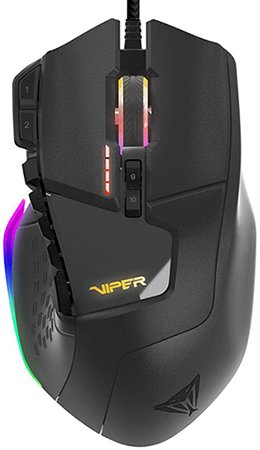 I want to talk a little bit about the sensor used in the V570 blackout. The Pixart 3300 series sensors are typically used in serious gaming mouses because they are extremely good and they have been on the market for years. The ADNS-9800 sensor on the other hand is not as good as the Pixart 3300 series sensors but for daily tasks, it is more than enough but it just can't compete with the Pixart 3300 series sensors. If you are a casual gamer then the ADNS-9800 sensor will be fine but for serious gamers, I would advise to stay away from the Viper V570 blackout.
Specifications
Technical Specifications
Company:
Patriot
Model:
V570 Blackout
Resolution:
8000 DPI Hardware
12000 DPI Software
Light source:
Laser
IPS:
150
Mouse Grip Style:
All
Polling rate::
1000Hz
Switch:
Omron (10M clicks)
Sensor:
Avago ADNS-9800
Controller:
Sonix
Color:
Black
Scrolling Capability:
1 x Wheel
Weight:
159.2 Grams/0.35 lbs
Warranty:
2-years
Adjustable weights:
Up to 34.2g
DPI LED indicator:
Yes
Macro Keys:
13
Cable Length:
6 Foot / 1.8 Meters Braided
Other Features:
RGB customizable profiles
Ceramic foot pads for maximum performance
Advance MMO+FPS all-in-one ergonomics
Multi-zone customizable RGB LED management
Dimensions:
5.2"(D) x 3.2"(W) x 1.7"(H)
Packaging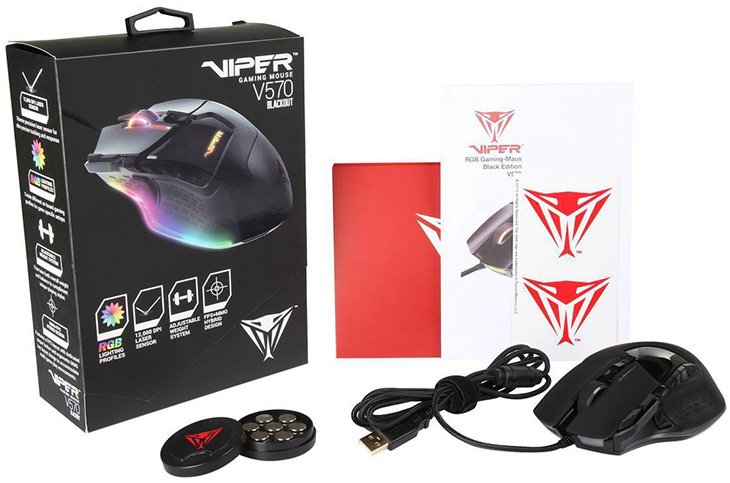 Patriot's packaging of the V570 blackout is very good. The packaging is composed of a sturdy black themed box that lists all the information you need to know about the mouse. On the front cover we see a big image of the mouse, the product name and the Viper logo sitting in the upper right corner. On the sides, you will see some of the features listed such as RGB lighting profiles, 12,000 DPI laser sensor, adjustable weight system, FPS+MMO hybrid design.

Once you open up the box, you will find the mouse, a documentation guide, two stickers with the Viper snake head logo and 7 adjustable weights. Patriot has included a small rounded box which holds the adjustable weights and only up to 6 of these will fit in the V570 blackout at any time. The USB cable has gold plating on the USB connection and the cable itself measures 1.8 meters long and it is braided which gives the cable a durable feel to it.
Software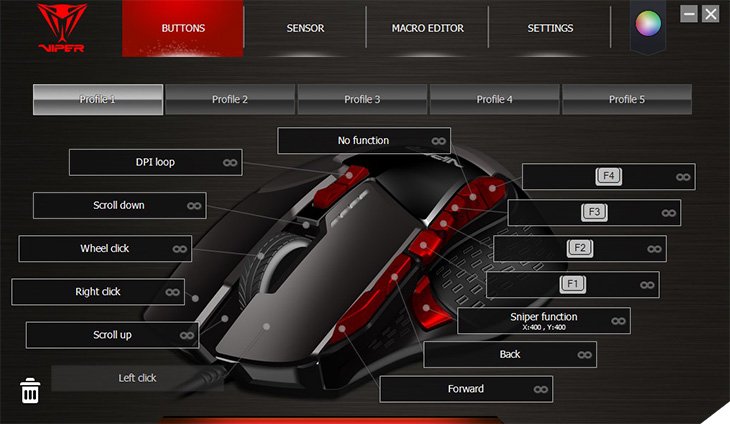 You can control all of your Patriot peripheral devices from within the Viper software which is roughly 11MB. You obviously don't need to install the viper software to use the V570 blackout mouse but it does unlock many more features. I would advise that after you install the software, make sure to check if there is a firmware update for your device. Patriot's Viper Software is simply to use and with a press of a button it allows you to customize many different settings such as changing the levels of DPI up to 12,000.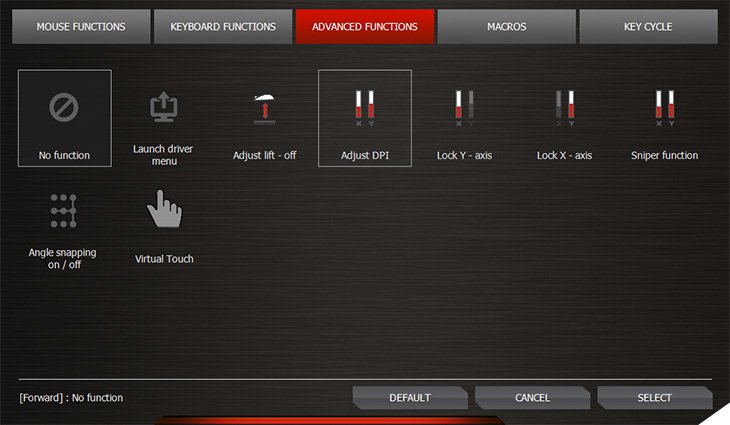 When you first launch the software, you will be presented with the 13 programmable buttons and the five profile settings. The left click is not programmable, but all others can be mapped to do anything you can imagine. Select any of the 13 programmable keys and another window appears. Now you have access to Mouse, Keyboard, Advanced Functions, Macros and Key Cycle. The software works flawlessly and the user interface is clean and straightforward which I really like.
Conclusion
The Viper V570 blackout is a solid gaming mouse but it falls short on two key things in my opinion. First, like I already mentioned, the tactile feedback just isn't there for some buttons, specifically the right button. Second, I feel like the build quality could be improved on some areas of the mouse. Don't get me wrong, the build quality is decent for a $60 mouse but the plastic doesn't feel the greatest but it doesn't feel cheap either.

Aesthetics-wise, Patriot has done a good job of giving the V570 blackout a unique look to it and it looks great being blacked out. For casual gaming, the V570 blackout is great and it is comfortable to use. I also really like the thumb grip resting area so you can use the mouse for hours and never have any issues with comfort. The ceramic feet do a good job of sliding the mouse across a smooth surface with very little effort. Ceramic feet need to be on more mouses because they are way better than plastic feet which most mouses come with.

Pros:
+ Software Features
+ Braided Cable
+ Great Packaging
+ RGB Lighting
+ Ceramic Feet

Cons:
- Not Enough Tactile Feedback On Some Buttons
- Build Quality Could Be Improved
- Needs A Better Gaming Sensor

Patriot's software is easy to use thanks to its clean user interface and it unlocks plenty of cool features. The packaging is also top-notch. Patriot needs to make a few changes to the Viper V570 blackout if they want to target serious gamers. Besides what I have listed above, if Patriot really wants to succeed in this market, they need to use a better sensor such as the Pixart PMW3366 which is one of the best gaming sensors out there. Overall, I believe the Patriot V570 Blackout mouse deserves our Great Value award.