SilverStone EP03, EP05 and EP07 Review
Author: HP Date: Manufacture: SilverStone Product Name: EP03, EP05, EP07 Price: $35, $20, $23 Warranty: 1 Year
EP03 - USB 3.0 HUB

SilverStone is not only known for making computer cases, power supplies and cooling fans but also for making a wide range of accessories for personal computers and today we will be looking at the EP03, EP05 and EP07. The EP03 is a USB 3.0 hub that has four 5Gbps USB 3.0 ports so you can use it transfer data or to fast charge your mobile devices. It is capable of providing up to 2A from one single USB port and it supports over voltage and over current protection. SilverStone has included a digital power meter display that can monitor each port's voltage and current output and it can be seen in real time. This is great for users who want to know the power draw of all the connected mobile device at any time.

SilverStone has put a built-in protection mechanism ensuring the EP03 can deliver power evenly and safely according to the number or the state of battery charge of connected devices. This is also useful for checking if a new/replacement charging cable is up to spec compared with the original one. The built quality is fantastic on the EP03, it is made of brushed aluminum and it has a nice premium feel to it.
Packaging

The EP03 comes in a sturdy cardboard box with the front of the box displaying in big text "Four port USB 3.0 hub with fast charging and power meter" and we also see an image of the EP03 along with the features. At the back we find a description of the device in 10 languages and to one side we find the technical specifications.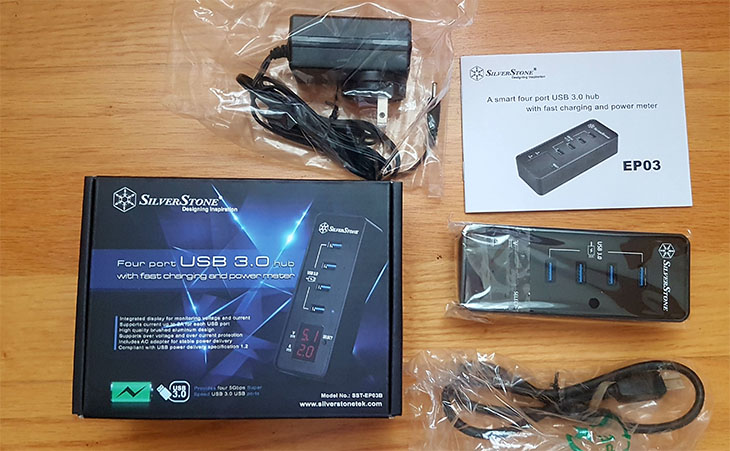 Inside the box you will find the EP03 wrapped in a plastic bag accompanied by an external power supply, a USB 3.0 cable and the user manual. SilverStone is very good at packaging their products and the EP03 is no exception.
Specifications
SilverStone EP03 Specifications
Manufacture:
SilverStone
Model:
SST-EP03B
Material:
Aluminum & Plastic
Chipset:
GL3522
Power Requirement:
Input : AC 100V~240V 50~60Hz
Output : DC 5V / 3.5A
Interface:
USB 3.0 (Compatible with USB 2.0 / 1.1)
Data Transfer Rate:
USB 3.0 up to 5 Gbps
Charging Spec:
USB battery charging 1.2 compliant
Detect Range:
Voltage : 0-5.5V Error ± 0.1V
Current : 0-2.5A Error ± 0.1A
Temperature:
Operating : 0 Celsius ~65 Celsius
Storage : 0 Celsius ~ 65 Celsius
Humidity:
Operating : 10%~90%
Storage : 5%~95%
Net Weight:
358g ± 20g
OS Support:
Microsoft Windows 10/8.1/8/7/Vista/XP(32-bits/64-bits)
or future release versions. Mac OS X, Linux
Dimension:
51 mm (W) x 31.5mm (H) x 130 mm (D)
As we see from the technical specs, the EP03 is made of aluminum and plastic. The EP03 is relatively small in size and weight coming in at 51mm wide, 31.5mm tall and 130mm deep and it weighs about 360g. The USB 3.0 ports are backwards compatible with USB 2.0 / 1.1 and it is capable of powering devices with up to 3.5 amps.
Benchmarks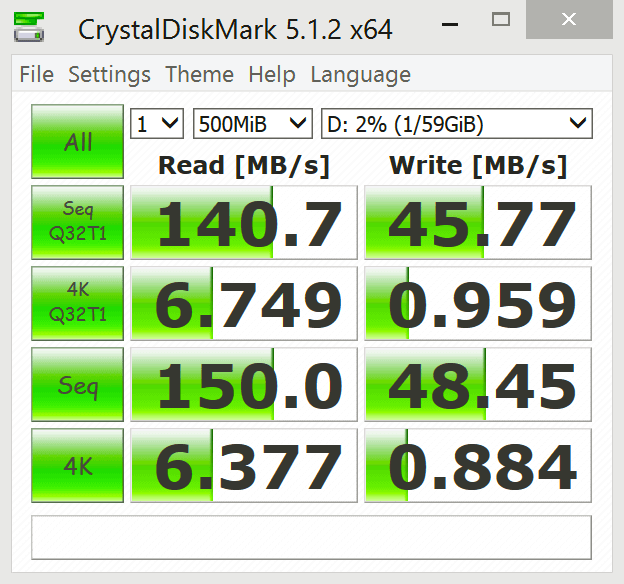 As soon as I connected the EP03 to my computer, windows automatically installed the drivers for it so I didn't encounter any incompatibility issues or anything like that. I performed a speed test with a USB 3.0 flash drive using CrystalDiskMark to ensure that the results are the same as connecting the flash drive directly to the motherboard and it performed pretty much the same.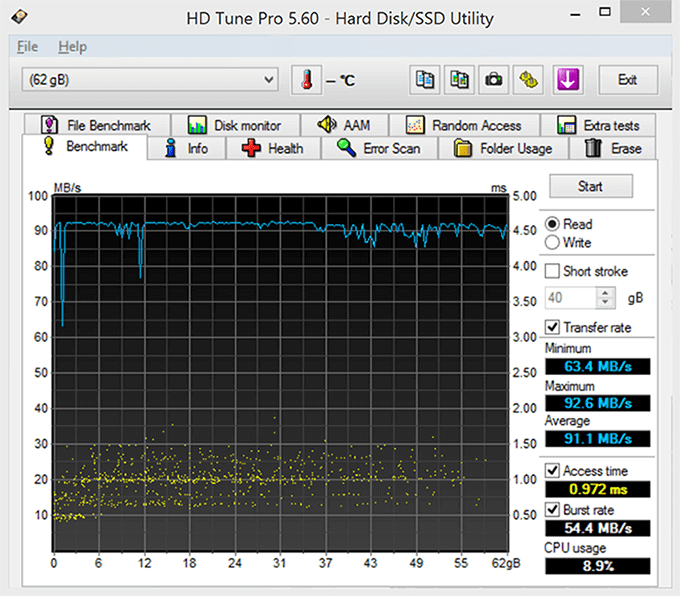 Here's another benchmark that I performed using HD Tune and once again, the flash drive performed similarly the same as connecting directly to the motherboard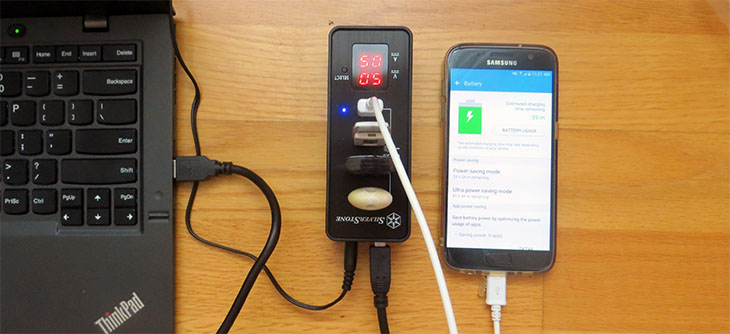 The EP03 is smart at saving energy. If you have connected multiple USB 3.0 flash drives and you are not using them, it will show you zero amperes because you are not supplying power to them. In this picture the only device being used is my Galaxy S7 which we can see 0.5A amperage while the other devices that I have connected are not being used.
Conclusion
Pros:
+ Four 5Gbps USB 3.0 Ports
+ Voltage Monitoring Display
+ Comes With External Power Supply
+ Digital Power Meter Display
+ Great Build Quality

Cons:
- Price

Overall, the EP03 is a high quality USB 3.0 hub that you can find for $35 on Amazon. It is a little bit on the expensive side but given the great build quality and all the features that it comes with, the EP03 is a top notch product. The EP03 is perfect for transferring data and fast charging your mobile devices and it allows you to measure the voltage and amperage of each of the USB 3.0 ports in real time.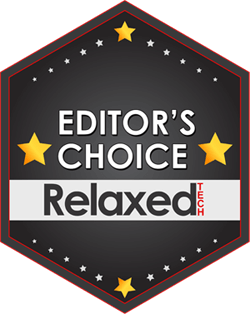 Navigation: