SilverStone PS13 Review: A Well Designed Mid-Tower Budget Case
Author: HP Date: Manufacture: SilverStone Product Name: PS13 Price: $39.99 Warranty: 1 Year
Introduction

SilverStone was founded in 2003 and since then, they have become a well known name in the enthusiast market and have gained a lot of respect for releasing quality products such as cases, fans, power supplies and CPU coolers. The Precision series consists of the PS06, 07, 08, 09, 10, 11, 12 and PS13. SilverStone has made two models of the PS13; PS13B (black) which is the one that I will be reviewing and PS13B-W (black + window).

The PS13B model is mostly made out of steel with a plastic panel that is all painted black and has a large ventilated section at the side that can accommodate two 120mm fans and costs only $40.00. The PS13B-W model is exactly the same as the first one but the only difference is that you have a side panel window and costs $45.00. With that being said, the SilverStone PS13 case comes with plenty of room for installing graphics cards up to 13.7 inches, a full size ATX PSU and an ATX motherboard up to 12" x11".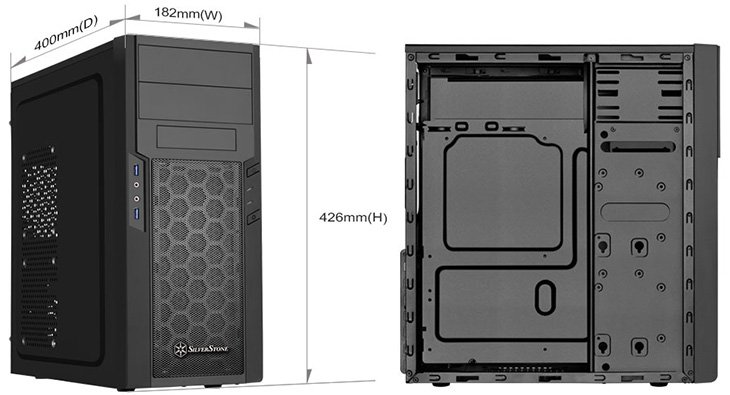 The Precision PS13 offers plenty of cool features such as quick access filters for easy cleaning, motherboard back plate opening for quick CPU cooler assembly, two USB 3.0 ports on the front and removable fan filter. If you are big on air cooling, the PS13 supports up to six fans total which is more than what some other mid-tower cases can support. You can install two 120mm fans on the front, one at the back, two on the side and one at the bottom.
Specifications
SilverStone PS13 Specifications
Manufacture:
SilverStone
Model:
SST-PS13B (Black)
SST-PS13B-W (Black + Window)
Material:
Plastic Panel, Steel Body
Motherboard:
ATX (up to 12" x11") , Micro-ATX
Drive Bay:
External - 5.25" x 2, 3.5" x 1
Internal - 3.5"x 1, 2.5" or 3.5"HDD x 2
Cooling System:
Front - 120mm fan slot x 2 (included 120mm fan x 1)
Rear - 120mm fan slot x 1
Side - 120mm fan slot x 2 (SST-PS13B only)
Bottom - 120mm fan slot x 1
Expansion Slot:
7
Front I/O Port:
USB 3.0 x 2
Audio x 1
MIC x 1
Material:
Brushed Aluminum and Steel
Power Supply:
Standard PS2(ATX)
Expansion Card:
Support up to 13.7", width restriction* - 4.92" ~ 5.91"
Limitation of CPU cooler:
162mm (none window)
159mm (window)
Limitation of PSU:
174mm
Net Weight:
3.36kg (PS13B)
3.26kg (PS13B-W)
Dimension:
182mm (W) x 426mm (H) x 400mm (D) , 31 liters
Packaging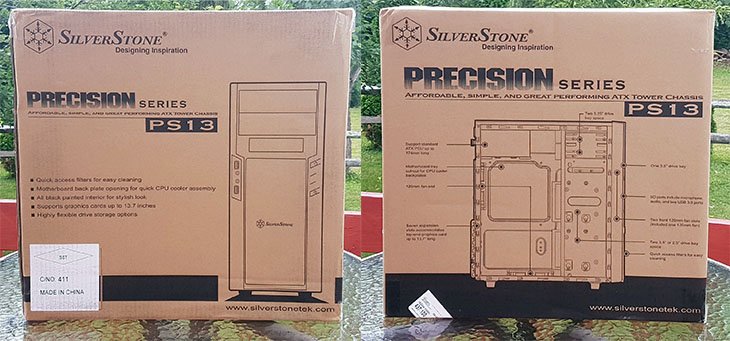 The case comes in a cardboard box and on the front of the box you see the name 'Precision series PS13' in huge bold text and on the back you have the basic technical specifications of the case. The case is 182mm in width, 426mm tall and 400mm deep and weighs 3.36 kg which is pretty light.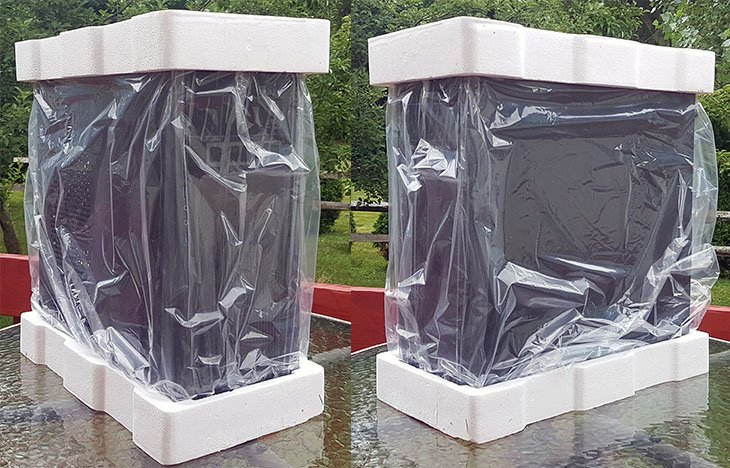 When opening up the package, you are presented with a high density foam that securely holds the case in place and it is wrapped up in plastic to prevent any accidental scratches during shipping.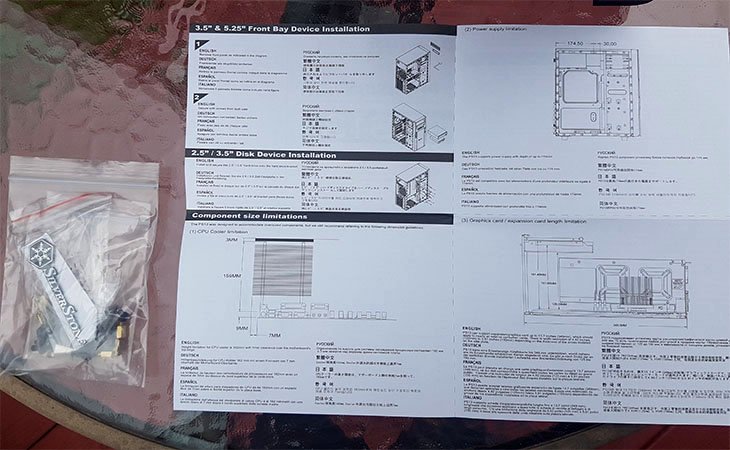 Along with the case, you will get a quick start guide that has all the information that you need to know about the case.
Navigation: