SilverStone Strider Titanium ST80F-TI Review: Silent And Modular
Author: HP Date: Manufacture: SilverStone Product Name: ST80F-TI Price: $169.99 Warranty: 5 Years
Introduction

SilverStone's power supply line are comprised of the Strider, SFX, Nightjar, Gemini and Zeus model lines. The Strider Titanium line consists of three power supplies ranging in capacity from 600W, 700W and 800W. Today we are going to look at the SilverStone Strider Titanium ST80F-TI power supply that retails for $169.99 and comes with 5 years of warranty. The ST80F-TI is a 80+ Titanium certified PSU, fully modular and comes in a compact design that delivers 413W per litre. It is very efficient under typical loads and uses all high-quality Japanese brand capacitors that ensure long-term reliability. Being fully modular allows you to only use the cables you need thus helping improve case airflow and eliminating unnecessary wires and reducing clutter. SilverStone has designed the ST80F-TI for those looking to build efficient systems in small footprints.

The ST80F-TI outputs enough power to feed two high-end graphics cards with little effort and still has plenty of room if you plan to overclock your CPU. It uses a single powerful +12V rail that can deliver up to 66A and offers great power output, rail stability and compatibility with the latest hardware. With that being said, platinum power supplies are becoming more and more popular nowadays but are about twice the price of a standard 80 Plus power supply unit. I recently reviewed the Strider Platinum ST75F-PT power supply and found it to be highly efficient and perfect for people who want to build computers in small footprints. Head over here if you are interested in reading my review of the ST75F-PT.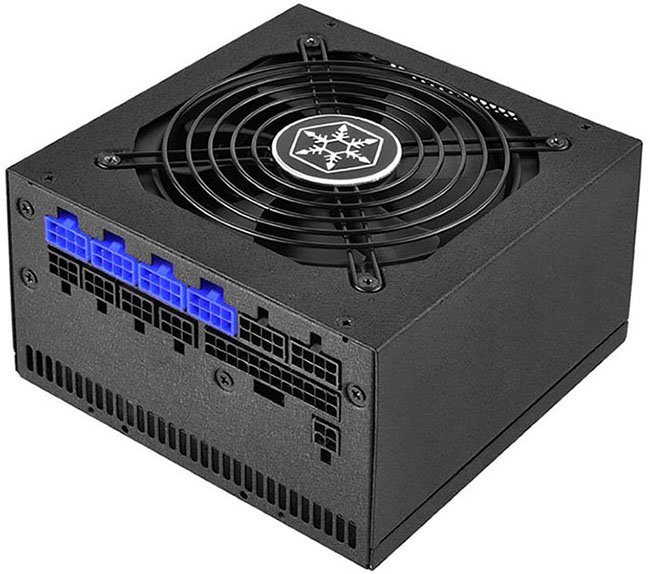 At the time of writing this review, the ST80F-TI is $15 more than the ST75F-PT so whether it's worth paying $15 more for a Titanium PSU efficiency is entirely up to you because both models are highly efficient and both would perform the same in every-day usage. From what I have seen on Amazon and Newegg, the ST80F-TI is about $20-30 cheaper compared to other similar capacity Titanium PSUs from companies such as EVGA and SeaSonic. But you have to keep in mind that companies like EVGA, Corsair and SeaSonic provide 10 year warranties for their high end models while SilverStone only provides 5 years.

SilverStone equips the ST80F-TI with a silent 120mm fan that has good airflow and is very quiet under typical loads. The PSU comes bundled with flat black cables that have good flexibility to allow for tighter folding and management of cables. The first thing you will notice about the PSU is Silverstone's logo in the middle of the rounded wire grill. The ST80F-TI has a 40 Celsius operating temperature rating which is a normal operating temperature for a power supply but pretty much all the high quality PSUs that are on the market are rated for 50 Celsius. When you are making a compact design PSU, you have to compromise somewhere and in this case it is in the operating temperature.
Specifications
SilverStone ST80F-TI Specifications
Manufacture:
SilverStone
Model:
SST-ST80F-TI
Max. DC Output:
800W (Peak 850W)
Power Density:
413W per liter
Load Range
+3.3V
+5V
+12V1
+12V2
+5VSB
-12V
Max.(Amps):
22A
22A
66A
/
2.5A
0.3A
Peak (Amps):
/
/
/
/
/
/
Min.(Amps):
0.1A
0.2A
0.15A
/
0A
0A
Range (%):
±3%
±3%
±3%
/
±5%
±10%
Line Reg.(%):
±1%
±1%
±1%
/
±1%
±1%
Ripple(mVp-p):
50mV
50mV
120mV
/
50mV
120mV
Color:
Black(Lead-Free Paint)
Combined +3.3, +5V:
120mm
Combined +12V:
792W
Input Voltage:
90V~264V
Input Frequency Range:
47Hz~63Hz
PFC:
Active PFC(PF>0.9 at full load)
Efficiency:
90% ~ 94% at 10% ~ 100% loading
MTBF:
100,000 hours
Operating temperature:
0°C ~ 40°C
Protection:
Over Current Protection
Over Power Protection
Over Voltage Protection
Short Circuit Protection
Under voltage protection
Over Temperature Protection
Connectors:
1 x 24 / 20-Pin motherboard connector(550mm)
1 x 8 / 4-Pin EPS / ATX 12V connector(750mm)
1 x 8 / 4-Pin EPS / ATX 12V connector(550mm)
4 x 8 / 6-Pin PCIE connector("550mm" x 4)
12 x SATA connector("600mm / 150mm / 150mm / 150mm" x 3)
3 x 4-Pin Peripheral connector(600mm / 150mm / 150mm)
1 x 4-Pin Floppy adapter connector (100mm)
Cooling System:
Single 120mm silent fan
Noise Level:
18 dBA Minimum
Dimension:
150 mm (W) × 86 mm (H) × 150 mm (D)
Weight:
2.7 kg
Form factor:
ATX
Certification:
80 PLUS Titanium
Other:
GPU Support list
Compatible with ATX12V v2.4
Packaging

The PSU comes in a large sturdy box and on the front, we see the product's model number (ST80F-TI) shown in large letter. SilverStone claims that this is world's smallest 80 plus Titanium fully modular power supply. On the back, you will see some of the product's features and graphs illustrating the features of the PSU such as the efficiency, size difference between a regular PSU. The dimensions are 150mm in width, 86mm tall and 150mm deep and weighs 2.7 kg. Most modern cases are designed for full-ATX power supplies and since the ST80F-TI comes in a compact design, you have extra room for better cable management. The compact design makes this PSU ideal for enthusiasts with compact cases.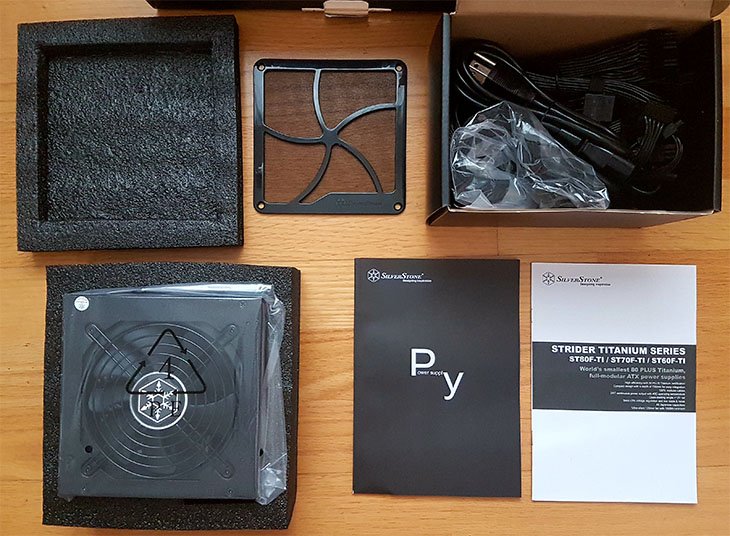 The overall packaging of the ST80F-TI is very good and SilverStone always does a good job packaging their products. We can see that the ST80F-TI is protected by two high density foams as shock absorbent and plastic wrapping to prevent any accidental damages during shipping. The ST80F-TI features a nice clean, flat black paint job that's really attractive. It also comes with a magnetic dust filter that can help reduce dust buildup and it uses built-in magnets that make it easy to attach and remove. There's a void sticker on one of the corners of the PSU and tampering with the PSU of course voids the warranty. The ST80F-TI doesn't have a power switch which in my opinion is an essential feature that every PSU should have.

The two manuals have all the information that you need to know about the power supply. The black manual has basically information on how to set up your power supply in all the languages and it's pretty generic. The white manual on the other hand is where all the interesting information is about the PSU and it tells you everything you need to know about the PSU. It's perfect if you want to learn how PSUs work and how to troubleshoot them and it will make you a more informed enthusiast user. I have said this before in my other reviews and I will say it again, SilverStone puts a lot of effort into their packaging which is greatly appreciated.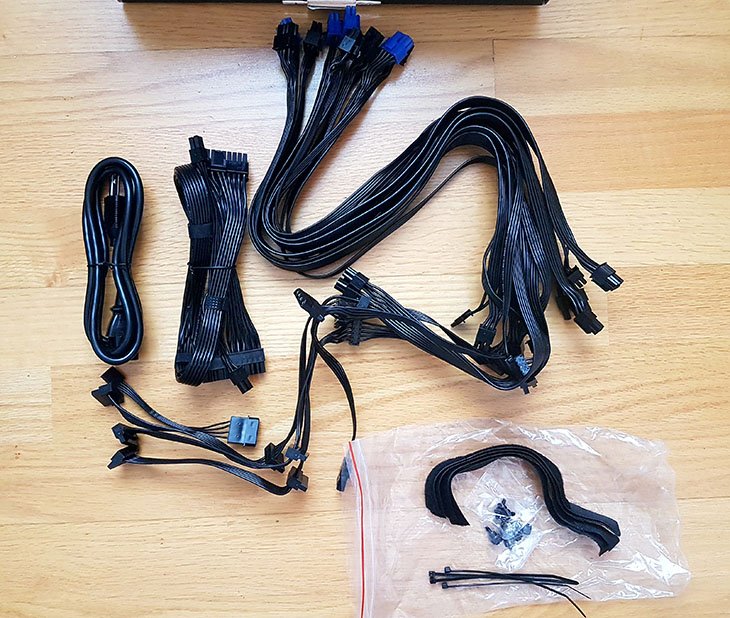 The accessories are stored in a small box that keeps everything neatly organized. Inside the box you will find the regular 24-pin cable, 2x 8-pin CPU, 4x 8-pin PCIe, 12x SATA and 3x Molex, with a floppy attached on the end. You will also find a couple of Velcro straps, two sets of bolts and a couple of zip ties. All cables are flat and the lengths are very good. This PSU is compatible with SilverStone's PP05-E which can be used to reduce cable clutter in smaller cases. The PP05-E is made with flexible cables that allows for much tighter bends than traditional cables and it is great if you are going to be building a small form factor computer so you won't have to deal with the added clutter of long cables
Navigation: