Team Group T-Force Vulcan 16GB DDR4 3000Mhz Kit Review: Great Performance For Gamers
Author: HP Date: Manufacture: Team Group Product Name: T-Force Vulcan 16GB DDR4 3000Mhz Price: $99.99 Warranty: Lifetime
Introduction

Team Group was founded in 1997 and they are well known for releasing high quality and reliable memory modules in the gaming community. Their memory modules are famous for overclocking incredibly high and have been well received by the technology media around the globe and have won many awards. Besides producing its own brand of memory modules, Team Group also produces its own brand of memory cards, USB flash drives, solid state disks, peripheral series, mobile accessories and industrial applications.

Team Group's gaming memory line is called 'T-Force' which is specifically designed for people who pursuit extreme high speed and excellent performance. Their new T-Force DDR4 memory line are comprised of the Vulcan, Dark Rog, Night Hawk, Xtreem and Dark. Their memory line ranges in speed from 2400Mhz and all the way up to 4000Mhz with the Xtreem. The T-Force Xtreem memory module won the world record for overall highest frequency 5260.8 MHZ and is the first in the world to cross over DDR 5200 MHz barrier.

Moving on, today we are going to look at the Team Group T-Force Vulcan 16GB DDR4 3000Mhz (2x8GB) memory kit that retails for $99.99 and comes with a lifetime warranty. Most manufactures provide lifetime warranty with their memory modules even though there is rarely any issues with RAM in general. The T-Force Vulcan comes in densities of a single 4GB per module and also 8GB per module and from 2400MHz to 3000MHz in speed. The T-Force Vulcan 16GB DDR4 3000Mhz has a stock rated timings of 16-18-18-38-2T and a voltage of 1.35V. Team Group has equipped its memory modules with pure aluminum heat spreaders that can help dissipate heat effectively while providing an aggressive appearance for your gaming rig.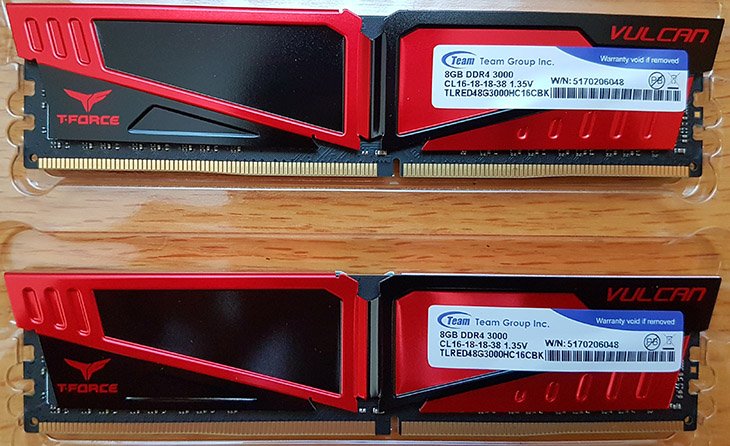 The dual colors design is eye catching and you can choose from the contrasting colors of black and red, or the calming colors of black and gray. The T-Force Vulcan memory is certified for Intel XMP 2.0 for easy setup and configuration. Once you turn on the Intel XMP 2.0 profile in the BIOS, it will automatically adjust to the fastest safe speed and you should be able to get reliable performance.

At the time of writing this review, you can find the T-Force Vulcan 16GB DDR4 3000Mhz (2x8GB) memory kit for $99.99 on Newegg which is incredibly cheap. Compared to other 16GB (2x8GB) 3000Mhz memory kits from G.SKILL, Kingston and Corsair, the T-Force Vulcan 16GB DDR4 3000Mhz (2x8GB) memory kit is anywhere from $5 to $15 cheaper.
Specifications
Technical Specifications
Brand:
Team Group
Series:
T-Force Vulcan
Model:
TLRED48G3000HC16CBK
Capacity:
16GB (2 x 8GB)
Type:
288-Pin DDR4 SDRAM
Speed/Timings:
DDR4 3000 (PC4 24000) - 16-18-18-38-2N
Cas Latency:
16
Voltage:
1.35V
ECC:
No
Buffered/Registered:
Unbuffered
Color:
Red
Heat Spreader:
Yes
Form Factor:
UDIMM
Fan Included:
No
Height:
30 mm
Warranty:
Lifetime
Multi-Channel:
Dual-Channel Kit
Features:
Intel XMP 2.0 compatible
Selected high quality IC chips
Asymmetric cutting design heat spreader
Packaging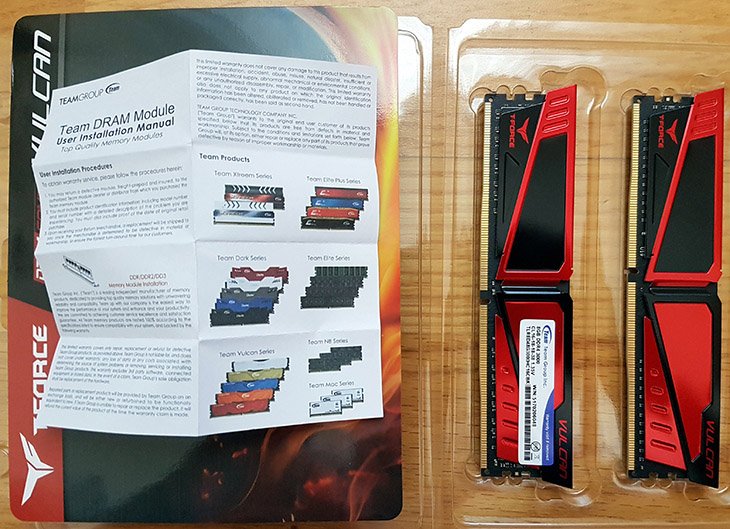 The memory comes in a simple sturdy plastic box. On the back, you will see a description of all the features that come with this memory. The Team Group T-Force Vulcan memory features a nice clean, dual colors design paint job that's really attractive and it stands 30 mm tall. Installing RAM is very easy and most manufactures don't include an installation guide but Team Group includes an installation guide which is nice to see.

Here is a close view of the aluminum heat spreaders. The heat-spreaders are thin and allow for a lot of airflow and since the heat spreaders are low profile, you won't have any compatibility issues with big air CPU coolers such as the Noctua NH-D15. The heat spreaders are connected together at the top and the two aluminum sides provide a complete coverage protection of the memory modules and enhance the cooling performance.
Test Methodology
Test Setup
Processor:
Intel i7-6900K Stock
Motherboard:
ASUS X99 Deluxe II
RAM:
Team Group Vulcan 16GB (2x8GB) 3000Mhz
Crucial Ballistix Elite 16GB (2x8GB) 3000Mhz
Crucial Ballistix Tactical 16GB (4x4GB) 3000Mhz
Kingston HyperX Savage 16GB (4x4GB) 3000Mhz
G.Skill RipJaws V Series 16GB (4x4GB) 3000Mhz
Corsair Vengeance LPX 16GB (4x4GB) 3000Mhz
Graphics Card:
Sapphire R9 390X
Storage:
Samsung 840 Pro 256GB
Power Supply:
SilverStone ST80F-TI
Heatsink:
Noctua NH-U14S
OS:
Windows 10 Home 64-Bit
Thermal Compound:
Noctua NT-H1
Case:
SilverStone PM01
The testing was done on a fresh install of Windows 10 64-bit. We made sure there were as few processes running as possible during the testing. We'll be using an Intel Ivy Bridge i7-6900K CPU that will run on stock settings. We're using the ASUS X99 Deluxe II motherboard with the latest BIOS version 1401 from ASUS. Installing and using memory is pretty straight forward, simply enable the XMP profile and you should be good.

Each memory kit will be tested at default speed and timings. As far as benchmarking software goes, we'll be using AIDA64 (Read, Write, Copy, Latency), SuperPi v1.55 32M, wPrime v1.55 32M and we'll finish it off with PCMark 8 Conventional.
Results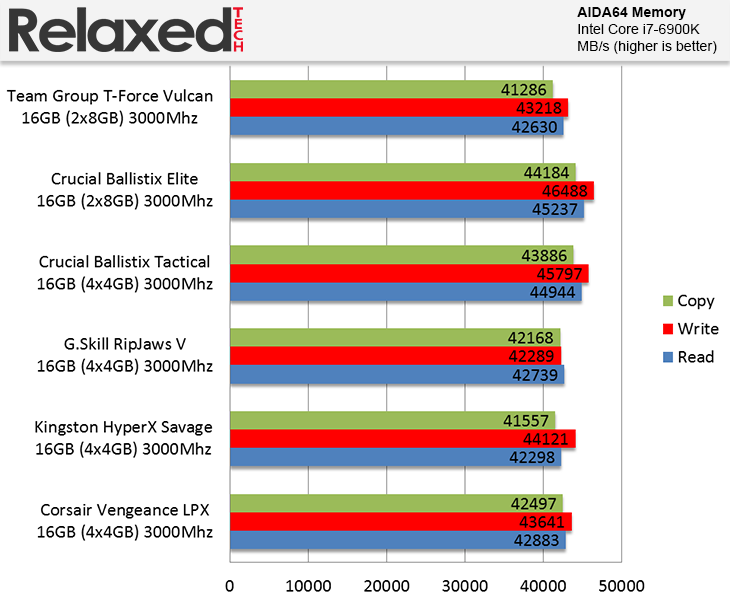 Looking at the AIDA64 memory benchmark, we can see the T-Force Vulcan memory performed relatively well but it fell behind the Crucial Ballistix Elite and Tactical.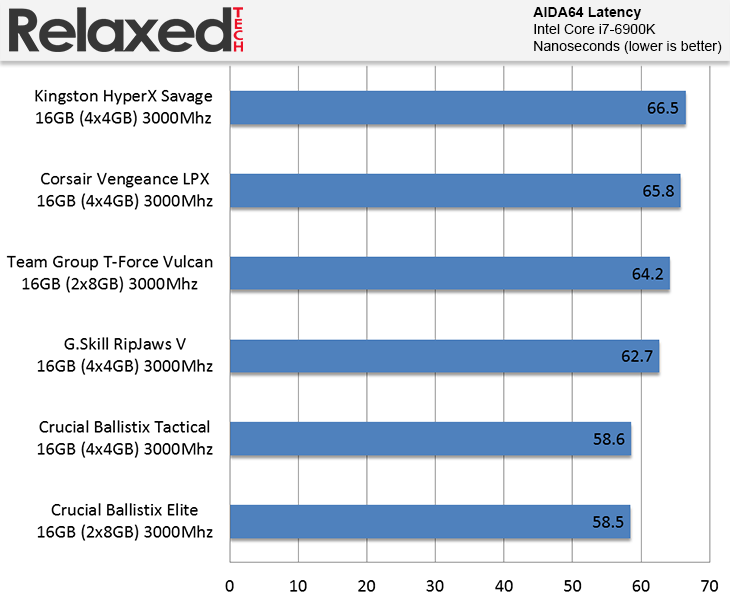 In the AIDA64 latency benchmark, the T-Force Vulcan is faster than the Corsair Vengeance and Kingston HyperX Savage but slower than the G.Skill RipJaws and Ballistix Elite/Tactical.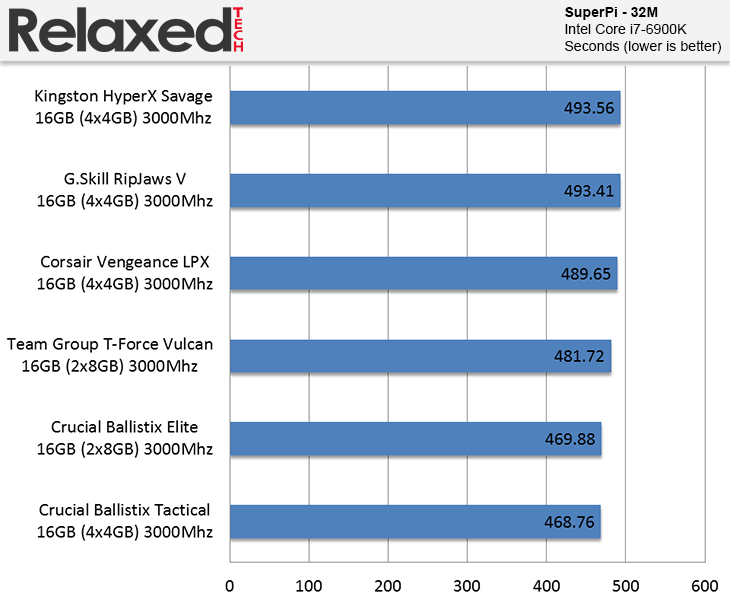 Looking at the SuperPi 32M benchmark, the T-Force Vulcan memory beat the other memories but still fell behind the Crucial Ballistix Elite and Tactical.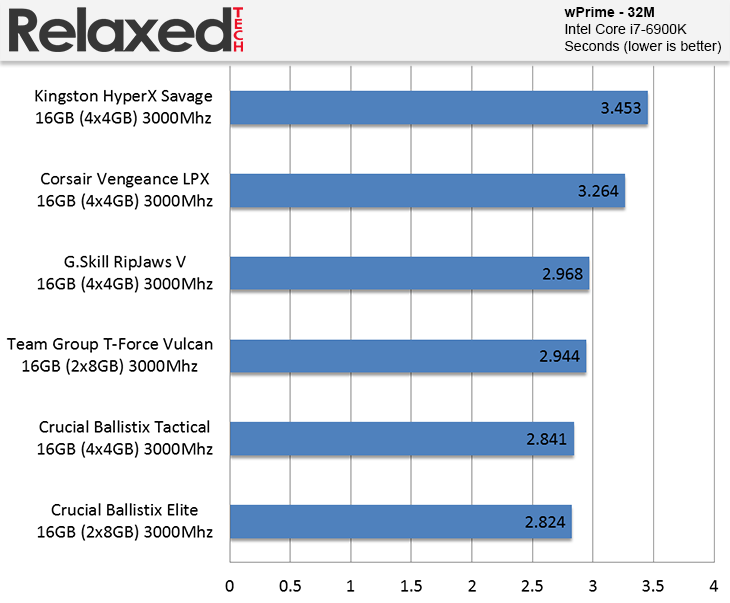 Once again we see the same thing in the wPrime 32M benchmark.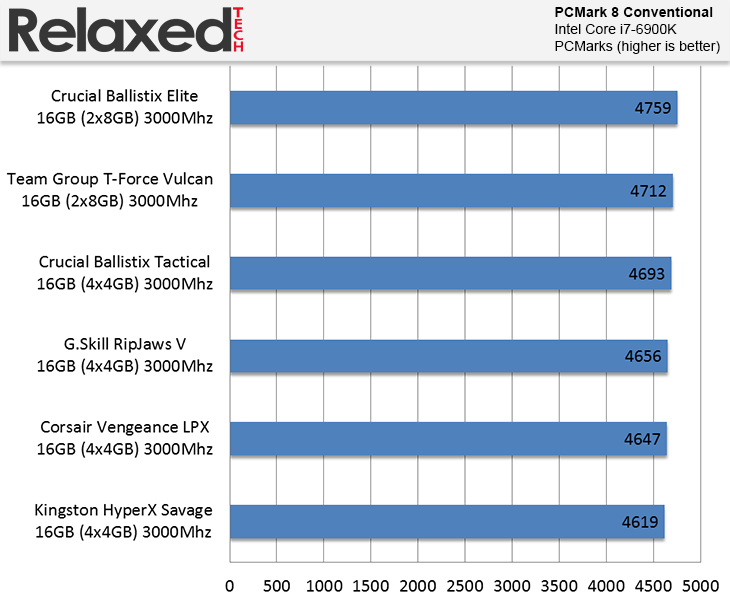 In the PCMark 8 Conventional benchmark, the T-Force Vulcan performed great and came in second after the Crucial Ballistix Elite.
Conclusion
Team Group has been releasing quality memory modules for a long time now and they have an excellent reputation in the memory industry. The T-Force Vulcan 3000Mhz (2x8GB) 16GB memory kit is a solid performer. It performed very well for the price that it retails and you also have to keep in mind that most memory kits on the market are on average $10 more expensive.

Let's talk a bit about the timings and overclocking now. I was able to lower the timings to 16-16-16-36 2T without touching the voltage (1.35V) and if you slightly bump the voltage to 1.40V, I was able to get the timings to 15-15-15-36. When it comes to overclocking, I set the voltage to 1.40V and the timings to 18-18-18 and I had no problems getting the memory to run at DDR4-3333Mhz. I would have liked to have seen lower timings in the XMP profile because 16-18-18-38 is pretty common nowadays.

Pros:
+ Headroom For Overclocking
+ Unique Heatsink Design
+ Cheaper Than Competition
+ Solid Performance

Cons:
- Needs Lower XMP Timings

Like I have already said, Team Group has a good product in their hands with the T-Force Vulcan 3000Mhz 16GB (2x8GB) memory kit. The aluminum heat spreaders don't extend over the PCB so you don't have to worry about the RAM interfering with large air CPU coolers and they give the RAM a sleek and sturdy look to it. You can find this memory kit for $99.99 on Newegg which is much cheaper compared to other memory kits that are on the market so that is a huge plus. I recommend the Team Group T-Force Vulcan 16GB (2x8GB) DDR4 3000Mhz to anybody who wants to buy a high quality memory kit at a cheap price. Overall, I believe the Team Group T-Force Vulcan 3000Mhz 16GB DDR4 memory kit deserves our recommended award.