AMD A10-7870K Review: Perfect For HTPC, Office And Light Gaming
Author: HP Date: Manufacture: AMD Product Name: A10-7870K Price: $139.99 Warranty: 3 Years
Introduction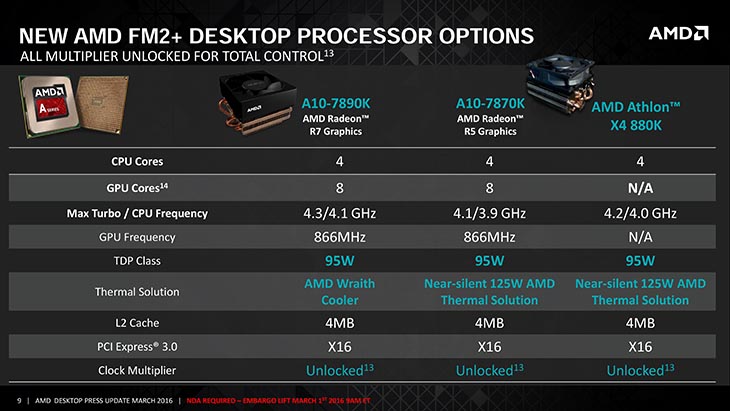 AMD launched the A10-7870K last year but now it comes bundled with the new near-silent Thermal Solution that's designed to handle TDPs of up to 125 watts. The A10-7870K is identical to the A10-7890K in terms of core counts and TDP but it is clocked 200MHz lower. The base frequency of the A10-7870K is 3.9Ghz and boosts up to 4.1Ghz which makes it the second fastest AMD desktop APU to date. Its got four CPU processing cores and an integrated Radeon R7 GPU clocked at 866Mhz. I have already reviewed the A10-7890K and found it to offer fantastic performance for entry level gaming. You can find the A10-7870K for $140 and the A10-7890K for around $150 on Amazon.

I want to quickly mention that back in February AMD announced the A10-7860K APU that aims to replace the A10-7850K. The A10-7860K is an interesting processor because it has a 65W TDP, full A10 four steamroller cores and 8 GCN Cores with 512 Stream Processors and this makes the A10-7860K the most efficient AMD APU released.

Moving on, the A10-7870K is an unlocked quad-core Kaveri APU with 512 stream processors, 4MB of L2 cache and a 95W thermal design power. Like the A10-7890K, the A10-7870K is also aimed at budget users who play a lot of entry level games and don't really need discrete graphics. Graphics is AMD's big advantage against Intel so you can pair the A10-7870K with a cheap discrete video card such as the R7-250 and run it in CrossFire mode and not only it will be cheaper but the performance will be faster than a system with an Intel i7 5775C without a discrete video card.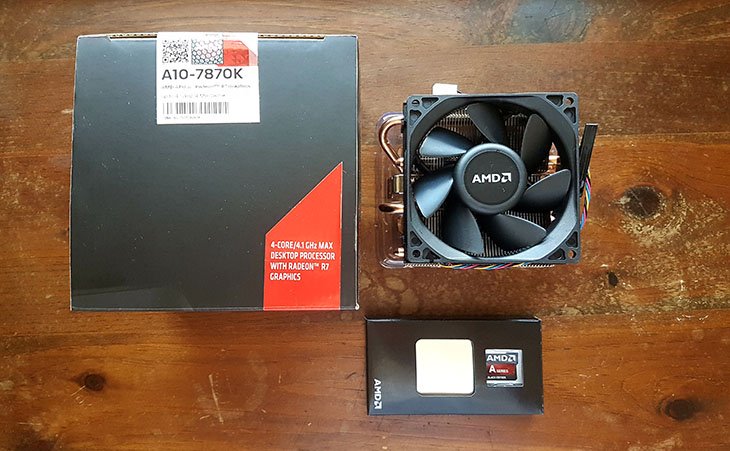 The near-silent thermal solution cooler that ships with the A10-7870K is basically the same as the Wraith Cooler that ships with the flagship A10-7890K and FX-8370/50. The difference is that the near-silent thermal solution cooler lacks the plastic shroud and LED AMD logo of the Wraith. You can read my review of the Wraith Cooler if you want to get an idea of the cooling and noise performance.
Comparison
AMD APU Processors Lineup
Model:
AMD A10-7890K
AMD A10-7870K
AMD A10-7860K
AMD
A8-7670K
AMD
A8-7650K
Graphics:
Radeon R7 Series
Radeon R7 Series
Radeon R7 Series
Radeon R7 Series
Radeon R7 Series
GPU Clock Speed:
866 MHz
866 MHz
757 MHz
757 MHz
720 MHz
CPU Codename:
Godavari
Kaveri
Godavari
Kaveri
Kaveri
Cores / Threads:
4/4
4/4
4/4
4/4
4/4
Core Clock:
4.1 GHz
3.9 GHz
3.6 GHz
3.6 GHz
3.3 GHz
Boost Clock:
4.3 Ghz
4.1 GHz
4.0 Ghz
3.9 GHz
3.8 GHz
L2 Cache:
4MB
4MB
4MB
4MB
4MB
L3 Cache:
N/A
N/A
N/A
N/A
N/A
TDP:
95W
95W
65W
95W
95W
Socket Support:
FM2+
FM2+
FM2+
FM2+
FM2+
The FM2+ socket is nearing the end of its life and AMD's AM4 platform is not expected to arrive till end of this year or early next year. The AM4 socket will become the only socket needed for any AMD Zen processor and it will replace AM1/AM3+/FM2+ sockets. This will make for a clear and easy upgrade paths from entry level to high end hardware.
Navigation: