AMD Radeon RX 580 and RX 570 Review: The Best Graphics Cards For 1080p+ Gaming
Author: HP Date: Manufacture: AMD Product Name: Radeon RX 580/RX 570 Price: $230/$170 Warranty: 3 Years
Introduction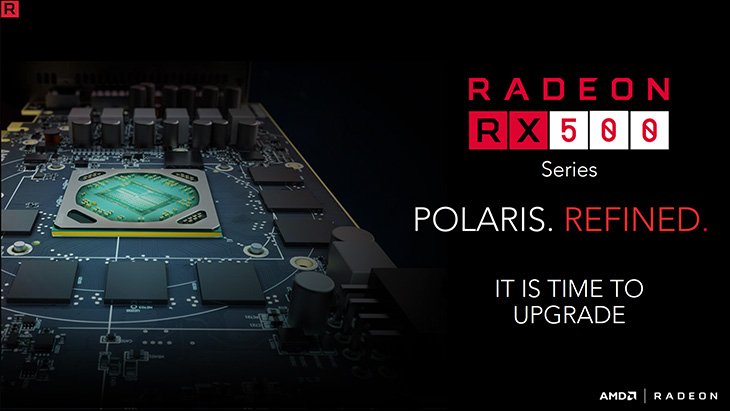 The launch of the RX 500 series is based on refined versions of the Polaris 10 and 11 architectures with the exception of the RX 550 which is based on a new Polaris 12 chip. In the RX 500 series, we have the RX 580, RX 570, RX 560, and RX 550 and the prices will be from $79 and up to $229. Today, we will be looking at the RX 580 and RX 570 that retail at $230 and $170. We have already covered the AMD Radeon RX 550 in-depth and we were blown away by its top notch gaming performance against Intel's HD 630 iGPU. If you are a gamer that mostly plays eSports titles or want a low profile card for your HTPC, I strongly recommend considering getting the RX 550.

Now, something that I have noticed with the release of the RX 500 series is that many people are bashing AMD for rebranding the RX 400 series which I understand where they are coming from but they are forgetting that the RX 500 series was designed specifically for gamers who are on a 2 year old graphics card and have not made the move to 14nm technology. AMD has specifically said that the RX 500 series is not aimed at gamers who already have an RX 400 series card and that's why they are not comparing the two. The RX 500 series is meant mostly for people with older graphics cards such as the Radeon 300/200 or GTX 900 series. If you already have a RX 400 series card then the RX 500 series cards are not for you, it's that simple.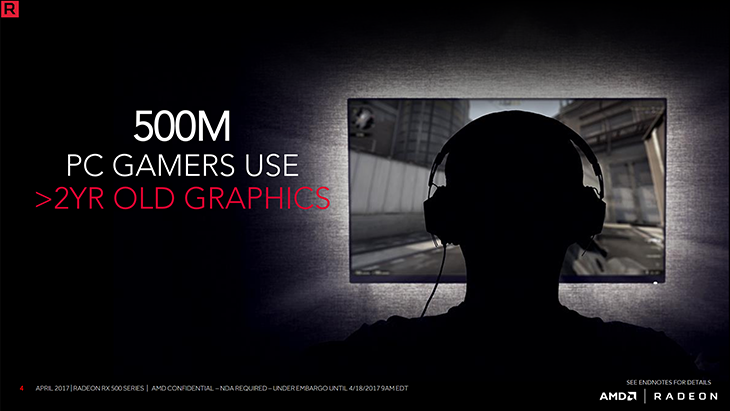 According to AMD, more than 500 million PC gamers are using greater than 2 years old graphics cards and these people will benefit greatly by upgrading to 14nm technology. AMD says that the Radeon RX 570 is aimed at 60FPS 1080p gaming and is as much as 2.3X faster than the R7 370. AMD also claims that the RX 580 is up to 57 percent faster versus the R9 380X, and is capable of achieving over 60FPS at 1440p in several titles. The Radeon RX 580 and RX 570 come with many modern features and capabilities found in other Radeon RX 500 series products such as Free Sync, HDMI 2.0, DP 1.4 HBR, HEVC 4K decoding, Radeon Chill, Radeon ReLive, and much more.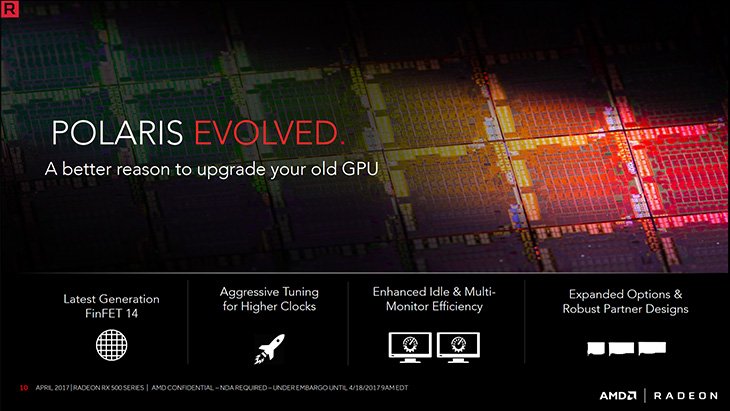 It seems that AMD has done away with the reference design in the RX 500 series so it will all be custom-design cards through AMD's add-in board (AIB) partners. Since there won't be any reference-design cards in the market, prices will be higher than the MSRP, but also the performance will be much better. AMD has positioned the Radeon RX 580 to compete against the GTX 1060 while the RX 570 is positioned to compete against the GTX 1050 Ti.

If you are a gamer that is still running a Radeon R9 380 or GTX 970 then there's really no reason not to upgrade to a RX 580/RX 570 or GTX 1060/GTX 1050 Ti at this point. Although, keep in mind that with the RX 580/RX 570 you have the option for crossfire for an additional boost. Whereas with the GTX 1060/GTX 1050 Ti, there is no SLI support. NVIDIA has disabled SLI support from everything below the GTX 1070. Also, another thing to consider is that AMD is ahead of NVIDIA in drivers and newer games support and AMD's cards get much better with time compared to Nvidia's cards.
Specifications
AMD Radeon RX 500 Series Lineup
Model:
Radeon RX 550
Radeon RX 560
Radeon RX 570
Radeon RX 580
Process Node:
14nm FinFET
14nm FinFET
14nm FinFET
14nm FinFET
GPU Model:
Polaris 12
(Lexa Pro)
Polaris 21
(Baffin Pro)
Polaris 20 XL
(Ellesmere Pro)
Polaris 20 XLX
(Ellesmere XT)
Architecture:
4th Gen GCN
4th Gen GCN
4th Gen GCN
4th Gen GCN
Cores:
512
1024
2048
2304
Base Clock:
1100 MHz
1090 MHz
1168 MHz
1257 MHz
Boost Clock:
1183 MHz
1287 MHz
1244 MHz
1340 MHz
Compute Units:
8
16
32
36
Memory Clock (Effective):
1750 (7000) MHz
1750 (7000) MHz
1750 (7000) MHz
2000 (8000) MHz
Computing Power (FP32):
1,126 GFLOPS
2,232 GFLOPS
4,784 GFLOPS
5,788 GFLOPS
Memory Size:
2GB GDDR5
2GB GDDR5
4GB GDDR5
8GB GDDR5
TDP:
50W
80W
150W
185W
Memory Bus Width:
128-bit
128-bit
256-bit
256-bit
Memory Bandwidth:
112 GB/s
112 GB/s
224 GB/s
256 GB/s
Interface:
PCIe 3.0 x8
PCIe 3.0 x8
PCIe 3.0 x16
PCIe 3.0 x16
Transistors:
2.2 Billion
3 Billion
5.7 Billion
5.7 Billion
Die size:
101 mm²
123 mm²
232 mm²
232 mm²
TMUs:
32
64
128
144
ROPs:
16
16
32
32
Pixel Rate:
18.93 GPixel/s
20.40 GPixel/s
39.8 GPixel/s
42.9 GPixel/s
Texture Rate:
37.9 GTexel/s
81.6 GTexel/s
159.2 GTexel/s
193.0 GTexel/s
Price:
$79
$99
$169
$229
Release Date:
April 20, 2017
May ???, 2017
April 18, 2017
April 18, 2017
The Radeon RX 580 is built using the Polaris 20 XLX GPU, code-named Ellesmere XT and it is based on a 4th gen GCN architecture while the RX 570 is built using the Polaris 20 XL GPU which is basically just a slightly cut down variant known as Ellesmere Pro. Basically, think of the Polaris 20 GPU as a slightly overclocked Polaris 10 GPU. The transistor count and die size remains the same so the transistor count is 5.7 billion and the die measures 232 square millimeters. The RX 580 has a 185W TDP, a full 256-bit memory bus, and a 1257 MHz base and a 1340 MHz boost. On the other hand, we have the RX 570 which has a 150W TDP, also a 256-bit memory bus, and a 1168 MHz base and a 1244 MHz boost.

AMD has equipped the RX 580 with 36 Compute Units, 144 TMUs, and 32 ROPs while the RX 570 comes with 32 Compute Units, 128 TMUs, and the same amount of ROPs as the RX 580. All the RX 500 series support features such as Radeon Chill which is a gameplay adaptive power saving feature, Radeon ReLive which can be used to capture, stream and share your greatest moments, AMD FreeSync Technology, and also AMD Eyefinity Technology.
The Cards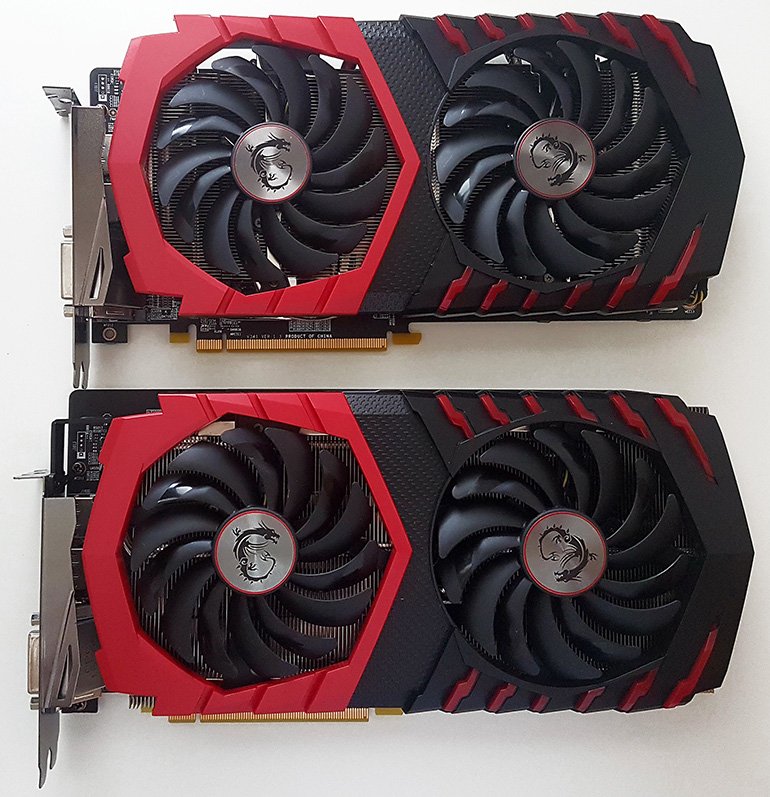 AMD has sent us the MSI RX 570 4GB Gaming X card (Top) and the MSI RX 580 8GB Gaming X model (Bottom) for this review. Both the MSI cards come with a slight factory overclock which shouldn't make too much of a difference in performance. With factory overclocked cards, keep in mind that you're often paying for a better cooler rather than for the factory overclock. The MSI Gaming App will allow you to have full control over the speed of your card by giving you the option of choosing between three modes: OC, Gaming, and Silent. The MSI RX 580 has a boost clock of 1393 MHz in OC Mode, 1380 MHz in Gaming Mode, and 1340 MHz in Silent Mode and the MSI RX 570 has a boost clock of 1293 MHz in OC Mode, 1281 MHz in Gaming Mode, and 1244 MHz in Silent Mode.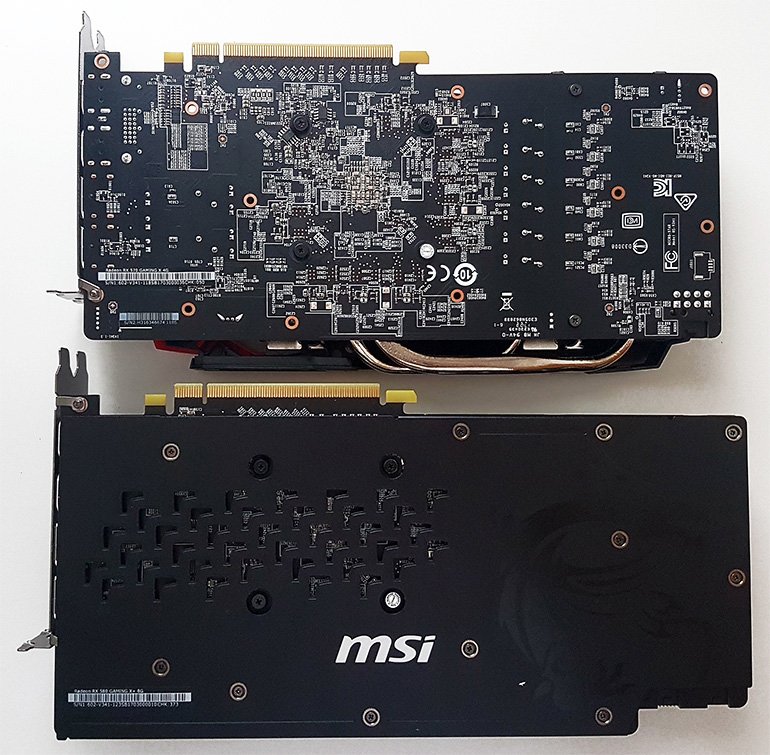 As far as dimensions go, the MSI RX 570 card measures 276mm long, 142mm tall, and 39mm wide and it weighs around 778g. The MSI RX 580 on the other hand is slightly wider and heavier, it's 42mm wide and weighs 978g. Both the MSI cards come with three display outputs, two HDMI 2.0b ports, a Dual-Link DVI port, and two DisplayPort 1.4.

There are two models of the MSI RX 580 Gaming X card, a 4GB and an 8GB model. The 4GB model requires a 1 x 8-pin power connector while the 8GB model needs a 2 x 8-pin power connector. The MSI RX 570 on other hand just needs a 1 x 8-pin power connector. Looking at the MSI RX 580, we can see that it features a matte black PCB and both cards utilize the company's TwinFrozr VI cooler design. These cards are a dual-slot solution, and are cooled by a nickel-plated copper base plate with 8mm heat pipes.
Navigation: