Logitech G Pro Mechanical Gaming Keyboard Review: Perfect For eSports Gamers
Author: HP Date: Manufacture: Logitech Product Name: G Pro Keyboard Price: $129.99 Warranty: 2-Year Limited
Introduction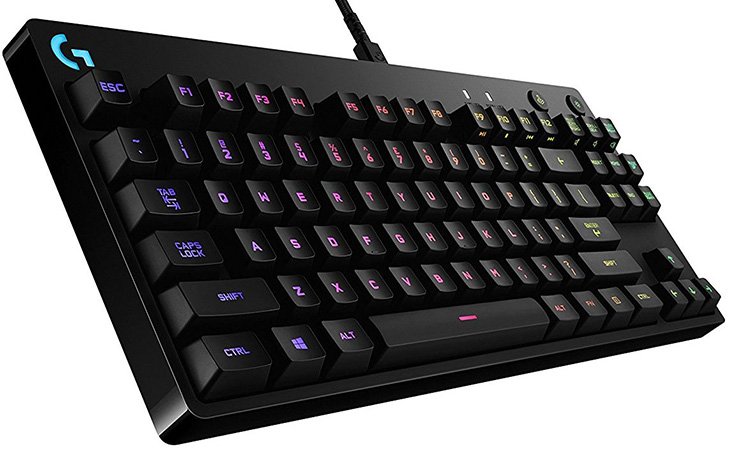 The compact TenKeyLess keyboards are starting to become popular among gamers these days because of their portability and compact size. A few months ago Logitech released the Logitech G Pro keyboard which is a compact TenKeyLess mechanical keyboard designed for eSport gamers. Think of the Logitech G Pro keyboard as the little brother of the G810 Orion keyboard but without the numpad.

Logitech has done a top-notch job designing the G Pro keyboard and you can tell as soon as you unbox the product. It features a simplistic, modern design with RGB color lighting and it comes with Logitech's exclusive Romer-G switches which offer 25 percent faster actuation than standard mechanical switches.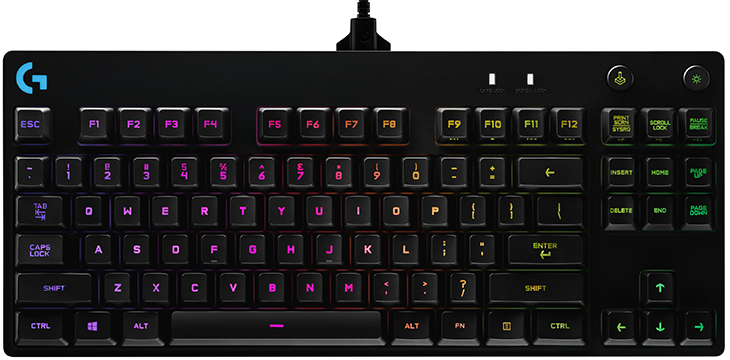 The G Pro keyboard weighs about 2.2 lbs (980g) without the cable and it measures 153 mm x 360 mm x 34.3 mm inches (L x W x H). The cable is braided and it is detachable for easy transportation and it measures 6 ft (1.8m). Similarly like the Orion keyboards from Logitech, the G Pro is made of thick plastic but it feels quite sturdy. I'm not a fan of flashy keyboards so I absolutely love the minimalistic design that Logitech has gone with in the G Pro keyboard.

The G Pro retails for $129.99 on Amazon and comes with 2 years of limited hardware warranty. If you need something bigger for everyday use, you might want to go with the Logitech G810 or Logitech G610. With the G810 or G610, you get a full set of keys, a number pad and dedicated media keys which the G Pro keyboard lacks.
I have had some issues with previous Logitech keyboards having a loose space bar where it would slightly bend if you pressed it too hard but the space bar on the G Pro keyboard feels sturdy and is as smooth as the other keys. On the bottom of the keyboard, you will notice five rubber pads to prevent scratches on your desk. The G Pro does not come with a palm rest but it is still perfectly comfortable because of the adjustable feet which can be adjusted to four degrees or eight degrees.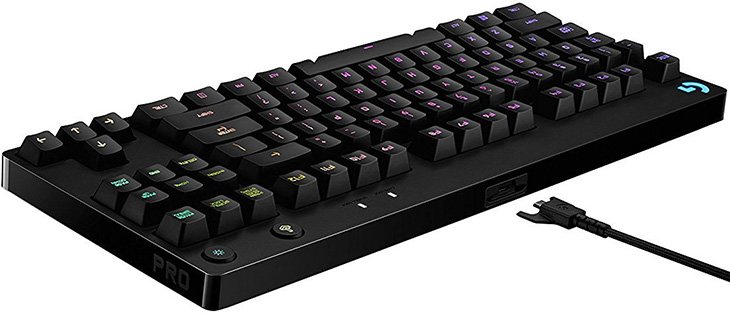 The G Pro keyboard features standard smooth key caps designed for speed and a traditional feel. Most gamers prefer smooth key caps because they are more comfortable to use. The LEDs are placed in the center to minimizes light leakage and to focus the light evenly through the top of the keys for a cleaner look. Each key has its own RGB LED and is customizable via the Logitech software.

Something else that the G Pro keyboard lacks is USB passthrough. The G413 has a dedicated USB passthrough which I find very useful but you will not find that with this keyboard. The USB passthrough is important because it can be used to charge your USB devices and I know many people would love to have this feature.

The G Pro keyboard falls short on only one key feature in my opinion, dedicated media keys. The dedicated media controls can be used to play, pause, mute music and videos instantly. You can control your background track without switching out of your game and you can use the roller to adjust the volume, or skip to the next song with the touch of a button. If Logitech had implemented dedicated media keys into the G Pro keyboard, this would have been an even greater keyboard.

You can use the F1-F12 keys as custom macros for different games that you might play. You can control the RGB lighting on individual keys and there's also a Game Mode key which by default disables the Windows key when activated.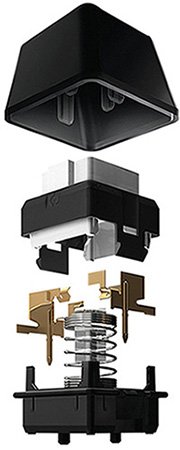 Now let's talk a little bit about the Romer-G mechanical switches. Logitech has designed the Romer-G key switches for responsiveness and durability which are up to 40% more durable than the top competitor. The Romer-G have a short-throw actuation point of just 1.5 mm, and register key presses up to 25 percent faster than standard mechanical switches.
Specifications
Technical Specifications
Company:
Logitech
Model:
G Pro
Product:
Keyboard
Height:
6.02 in. (153 mm)
Width:
14.19 in (360 mm)
Depth:
1.35 in (34.3 mm)
Weight:
2.2 lbs (980g)
Cable:
6 ft (1.8 m)
Switches:
Romer-G
Durability:
70 million keypresses
Actuation distance:
0.06 in (1.5 mm)
Actuation force:
1.6 oz (45 g)
Total travel distance:
0.12 in (3.0 mm)
Connection Type:
USB 2.0
USB Protocol:
USB 2.0
Indicator LIghts (LED):
Yes
LCD Display:
No
USB Ports (Built-in):
No
Backlighting:
RGB
Special Keys:
FN keys
Announced:
March 2017
Performance
I compared the performance of the Logitech G Pro keyboard against the Logitech G810 Orion by playing Battlefield 1, GTA V and DOOM (2016). Both keyboards utilize the Romer-G switches but I will say this though, I almost never use the numpad when gaming so I absolutely love the small form factor of the G Pro keyboard. Its compact size does make a big difference when gaming compared to a full set keyboard. With the G Pro keyboard, I don't have to stretch out my arms as much and I have plenty of room to move the mouse around.

The G Pro keyboard performed excellent during gaming and the Romer-G switches are very responsive and accurate. It is comfortable to use and its sturdy design can withstand forceful tapping with no problems. After testing the G810 and G Pro separately for a few days, I can easily say that I prefer to game using the G Pro keyboard simply because of its compact size.
Software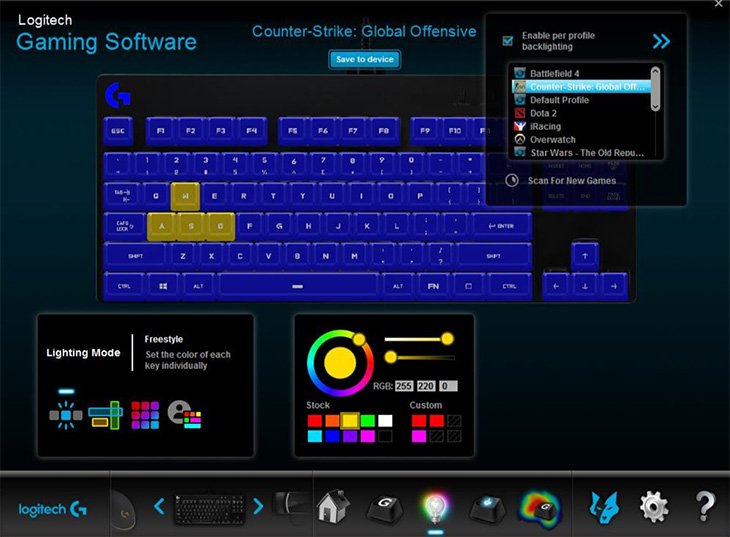 The G Pro keyboard can be used with Logitech's Gaming Software for customization and personalization but the customizations work only while the software is running. If you don't want to use Logitech's gaming software, the keyboard defaults to a wave-effect that looks somewhat nice so you are going to have to install LGS if you want to be able to have full control over every element in the keyboard. The LGS can also be used to synchronize the lighting patterns and effects with other Logitech G gear so your devices can display the same lighting pattern.

You can use the 'Custom Function Keys' to assign any custom function to the F1-F12 keys on the G Pro keyboard. Using the powerful macro and scripting features built into the Command Editor, you can basically create an unlimited amount of customization with Custom Function Keys and you can even save and export the profiles you create to share with other people.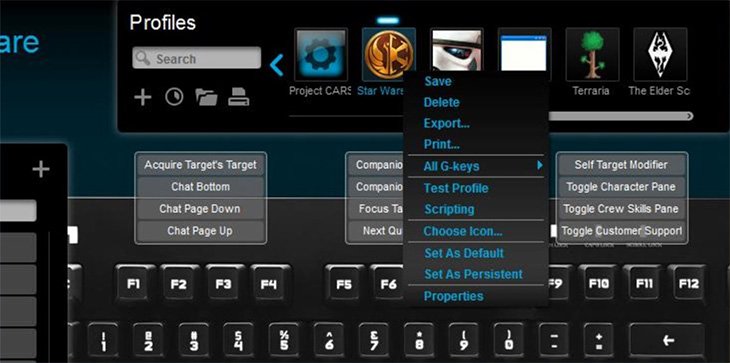 You can set up per-game profiles to automatically adjust certain aspects of the Logitech G Pro keyboard when you launch an application. To enable per-profile settings, simply click the radio button on the tab you want to apply. You can customize the settings to get the perfect experience while gaming and also, the Logitech G Pro keyboard allows one static lighting pattern to be stored to the onboard memory.
Conclusion
The G Pro keyboard is great for users who are looking for a compact high-end gaming keyboard but it's slightly overpriced at $130. I strongly believe that Logitech would sell a ton of these if they lower the price by $20 because at $130, you can buy mechanical keyboards that offer some extra features that this does not. But I will say that the G Pro keyboard has become my daily driver because of its sturdy build quality and sleek professional design. The RGB LEDs look very nice and the Logitech gaming software offers a ton customization options. The G Pro is a fantastic gaming keyboard and I had a blast testing it in gaming. The caps themselves are very durable and are not prone to fading or losing their texture.

Pros:
+ Detachable USB Cable
+ Fantastic Performance
+ Attractive Design
+ Sturdy

Cons:
- No Dedicated Media Keys
- Expensive

If you are in the market for a high quality compact mechanical gaming keyboard, the G Pro is definitely the keyboard to get. You simply can't go wrong with the Logitech G Pro because it offers everything you could want in a gaming keyboard. Overall, I believe the Logitech G Pro keyboard deserves our Editor's Choice award.