SilverStone Redline RL05 Review: A Beautiful Budget Case With Great Airflow
Author: HP Date: Manufacture: SilverStone Product Name: RL05 Price: $59.99 Warranty: 1 Year
Introduction

SilverStone is a well-known manufacturer when it comes to computer cases. They are known for making high quality computer cases that vary greatly in design and purpose. We recently reviewed the Precision PS11 and Precision PS13 which are designed for budget users and both performed exceptionally well for its price.

Today we are looking at the Redline RL05 which is a sturdy quality budget case that incorporates a wide range of features such as flexible storage options, two front USB 3.0 ports and a USB Type-C port, space for high performance graphics cards, and support for various cooling configurations. SilverStone's Redline RL05 comes in two versions, one with a black trim on the front panel (RL05BB-W) which is the one that I will be reviewing and another one that has a red trim on the front panel (RL05BR-W). The RL05 is designed to let you build a high-performance system with plenty of storage, extra graphics performance, and superior cooling and ventilation.
At $59.99, the front panel of the RL05 is plastic and the body is made out of steel which is what most cases are made out of and it also has a big side window. The RL05 is the most beautiful budget case that I have seen. The interior is painted all back and it has a nice clean look to it that is stylish. The case comes with a front, bottom and top removable dust filter but they feel kind of cheap but nevertheless, it's better to have them than not to. It also comes with plenty of room for installing graphics cards up to 14.7 inches, a full size ATX PSU and an ATX motherboard up to 12" x 10.2".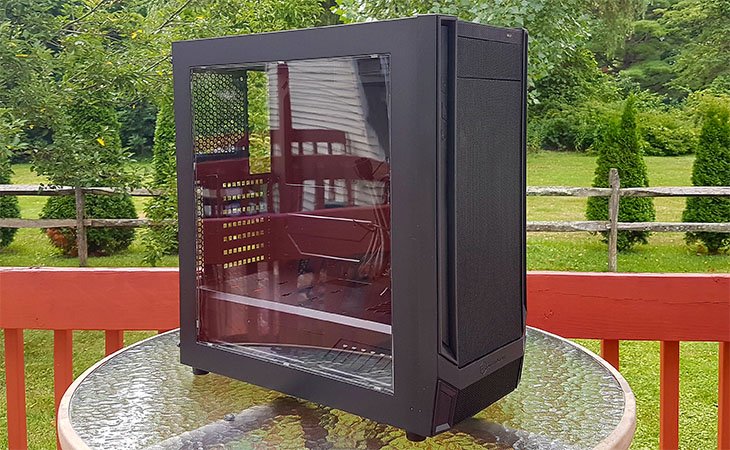 It is obviously not targeted at the extreme enthusiast crowd but it feels well made and durable. The RL05 is designed for both air and water cooling. If you are going the air cooling route, it supports up to five fans total. It comes with two 140mm pre-installed fans on the front, you can install one 120mm at the back and two 120/140mm on the top. If air cooling isn't your thing, you can install one 120mm or 240mm AIO cooler on the front, one 120mm/240mm/280mm at the top and one 120mm AIO on the back.
Specifications
SilverStone Redline RL05 Specifications
Manufacture:
SilverStone
Model:
SST-RL05BR-W(black with red trim + window)
SST-RL05BB-W(black with black trim + window)
Material:
Plastic Panel, Steel Body
Motherboard:
ATX (up to 12" x 10.2") , Micro-ATX
Drive Bay:
External - 5.25" x 1
Internal - 2.5" or 3.5" HDD x 2, 2.5" x 2
Cooling System:
Front - 120/140mm fan slot x 2 (includes 140mm LED fan x 2), 80mm slot x 1
Rear - 1 x 120mm fan slot
Top - 2 x 120/140mm fan slot
Radiator Support:
Front - 120mm x 1 / 240mm x1
Rear - 120mm x 1
Top - 120mm x 1 / 240mm x 1 / 280mm x 1
Expansion Slot:
7
Front I/O Port:
USB 3.0 Type-A x 2, Type-C** x 1
Audio x 1
MIC x 1
Power Supply:
Standard PS2(ATX)
Expansion Card:
Support graphics card up to 14.7", width restriction - 6.4"
Limitation of CPU cooler:
165mm
Limitation of PSU:
220mm
Net Weight:
5.9kg
Dimension:
210mm (W) x 465mm (H) x 450mm (D), 44.9 Liters
Packaging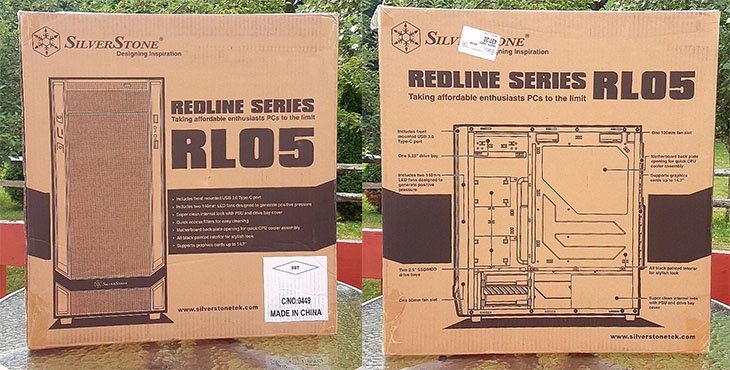 The case comes in a cardboard box and on the front of the box you see the name 'Redline Series RL05' in huge bold text and on the back you have the basic technical specifications of the case. The case is 210mm in width, 465mm tall and 450mm deep and weighs 5.9 kg.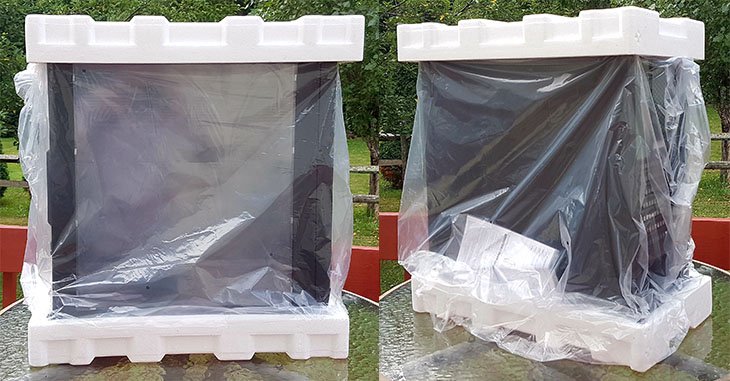 When opening up the package, you are presented with a high density foam that securely holds the case in place and it is wrapped up in plastic to prevent any accidental scratches during shipping.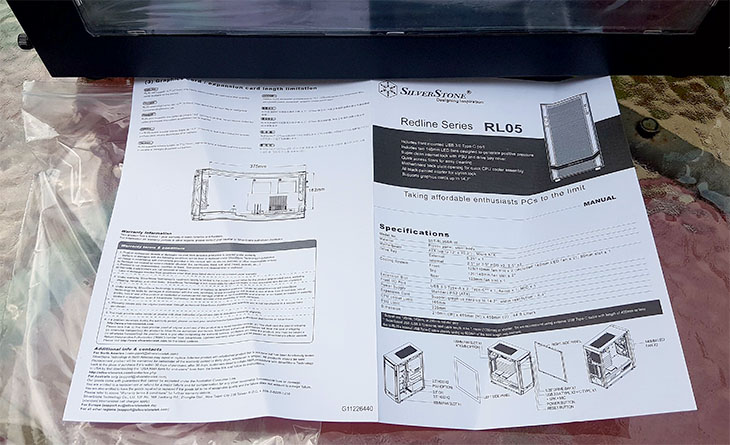 Along with the case, you will get a quick start guide that has all the information that you need to know about the case along with a plastic bag that has all the screws.
Navigation: