Interview

In this exclusive interview with AMD's desktop processor marketing manager of desktop processors, we talk about AMD's current and upcoming products which include the Wraith cooler, upcoming APUs and Zen etc. Zen is undoubtedly one of the most anticipated AMD products that enthusiasts are waiting for because it is intended to compete against Intel's best x86 processors. AMD expects Zen to deliver about 40% higher performance per clock cycle than today's Bulldozer variants.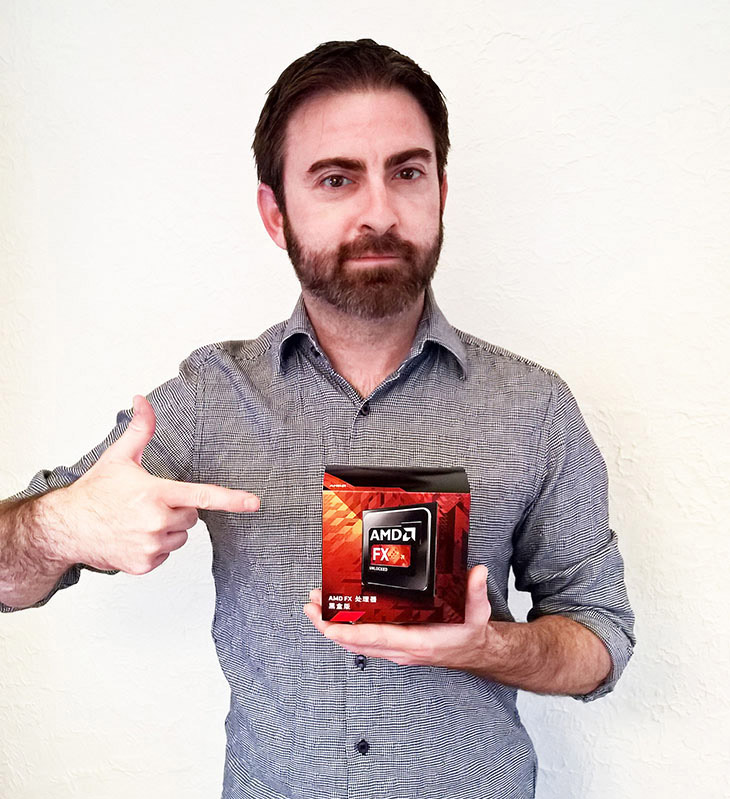 [RT]: Hello Don, thanks for taking the time to talk to us today. I know that you are very busy and I truly appreciate your time. Can you please introduce yourself and tell us what your role at AMD is?
[Don]: I'm Don Woligroski, desktop Processor marketing manager at AMD. It's my job to let people know why our processors deliver the best value on the market!

[RT]: How long have you worked at AMD and can you describe a typical day?
[Don]: I've been with AMD about a year and a half. There is no typical day at AMD, that's what makes it special. There are always new things to do right now, new things to plan for next month, and new things to plan for years from now. Tech slows for no man.

[RT]: Do you consider yourself a hardware enthusiast or are you more of a businessman?
[Don]: Hardware enthusiast, definitely. I've been into PCs since my first commodore VIC-20 and I haven't looked back. When it wasn't enough to simply put PCs together anymore, I got into overclocking. And when 3D graphics accelerators entered the market, I was hooked for life.

[RT]: What do you feel is the number one reason someone should choose an AMD CPU/APU over the competition when deciding to build a new machine?
[Don]: Plain and simple, AMD gives you more. Everyone has a budget they need to live in, and we have the best technology and performance you can get for your dollar. AMD has always appealed to me because of this, and also because the company has always driven technology forward in very real ways: the first to 1 GHz, the first to 5 GHz, the first discrete GPU, the first true multi-core CPUs. We created x86-64, and we introduced the first next-generation graphics API that shaped DirectX 12 and Vulkan. If there's an alternate universe without AMD, it must be a very boring place for PC enthusiasts.

[RT]: Can you tell us a little about how you see AMD's APUs fitting into the gaming laptop marketplace? What are the main goals when providing laptops for this type of consumer?
[Don]: It's important to preface this: mainstream gaming has shifted toward strategic, accessible titles like League of Legends and DOTA2 in a very big way. At the same time, we've doubled down on our graphics technology. So the result is that our latest APUs (like the desktop A10-7860K or mobile A10-8700P) are easily capable of handling the most played online games in the world, at full HD 1080p, and offer wonderful energy efficiency to boot. We'll always have dedicated mobile Radeon GPUs for power users, but current AMD APU's are perfect for delivering wonderful gaming experiences to the biggest, most active part of the PC gaming market. And of course, our APUs are only getting better and more powerful.

[RT]: AMD recently launched the Athlon X4 845, the first desktop processor featuring the Excavator architecture, what would you say has been the biggest advance in the Excavator architecture since the Steamroller architecture?
[Don]: I would say Instructions per clock. That's where our focus has been, and that's where our focus continues to be when it comes to improving our processors, especially as we look forward to our next gen architectures. And also, of course, efficiency, which goes hand in hand with that.

[RT]: Does AMD actively push developers to enhance multi-core/thread support to get the absolute maximum performance on their processors?
[Don]: Absolutely. We pioneered multithreading, and parallelism is our calling card. We offer 8-core FX processors where our competition offers 4-core options. In the budget space, we deliver quad-core processors where our competition supplies dual-core models. Especially where gaming is concerned, two concurrent threads is a very serious limitation, and you'll notice many new game titles specify quad-core (or quad-threaded) processors as a minimum requirement. On top of this, we work with developers to implement DirectX 12 and Vulkan, which (like AMD's Mantle) are the first graphics APIs to truly take advantage of multiple threads and deliver a better experience to users. Let's move the bottleneck back to the graphics card where it belongs!

[RT]: We recently reviewed AMD's Wraith cooler and found it to be a game changer. Can you please tell our readers the approach that AMD took when designing the Wraith cooler?
[Don]: I'm particularly proud of what we did with the Wraith Cooler, and it's a project I took a lot of personal interest in when I started at AMD. As a PC enthusiast, I've probably thrown away dozens of stock coolers (or at least kept them in a box where I can give them away to friends who need one). Bundled thermal solutions haven't exactly been the best part of a CPU buying experience, so the opportunity to change the game in this respect was too good to pass up. Why shouldn't every aspect of the CPU buying experience be satisfying? Why can't a stock cooler be an object of desire? This is one way we saw that we could really change people's expectations, and show people that AMD processors can offer a true, premium thermal solution that is quiet, can handle a mild overclock, and delivers thermal performance comparable to aftermarket solutions. It's a success story we're taking to every cooler we make as we go forward, and an attitude that we're trying to apply to everything we do.

[RT]: Currently, not much is known about the AM4 platform, can you reveal any technical specifications? When should we start seeing motherboards for AM4?
[Don]: I could tell you what I know, but we'd both die in unexplained 'accidents' before you had a chance to publish it. So I'll choose life and reiterate what we've already disclosed about AM4: it's a single platform that will run low-end to high-end APUs and CPUs, so it will be wonderfully scalable; it will have a long life, so you won't need to dump your mobo every year or two just to upgrade; and it has all the bells and whistles of a next-gen platform, of course, including DDR4 support. As for dates, I can't say anything specific, but stay tuned. We'll be talking more and more about AM4 later this year.

[RT]: It seems there is a heavy focus on energy efficiency nowadays and we know that the next generation Zen architecture will be made on 14nm FinFET process. With that being said, how well do you expect Zen to compare against the competitor's platform in this area? How much more efficient are the Zen CPU cores compared to the Bulldozer family of cores?
[Don]: We've worked miracles with the 32 and 28nm processes on our FX and A–series processors, and they deliver tremendous performance per dollar spent and better efficiency than anyone thought possible. But let's be frank: 14nm is a game changer and allows us to reach higher levels of performance than ever before, and at a much lower power draw. 14nm FINFET means we can to truly compete in the highest-end market segments. You're going to see us re-establish ourselves in the highest performance computing arena, in both desktop and mobile.

[RT]: What plans does AMD have for the second half of 2016 and where do you personally see the PC market industry heading in the future?
[Don]: In 2016, AMD plans to continue to offer some of the best computing platforms and graphics hardware our customers can buy with their hard-earned dollars, making new and immersive experiences like Virtual and Augmented reality more accessible to everyone. I personally think VR and AR will impact our lives in ways we can't yet fully forsee, but full disclosure: I'm a futurist. I cobbled together a dual-projector polarized 3D setup in my living room years before 3D Blu-ray existed. I'm a Star Trek geek. Having said that, PC gaming has gone exactly where I thought it would go, it's more pervasive and mainstream than ever before. And with room-scale VR having just arrived, I look forward to the day where video gamers are so physically involved and connected to virtual universes that they become the most physically fit people around. The line between e-sports and sports will blur, mark my words.

[RT]: Last but not least, what are the specifications of your current computer and do you do any modding or overclocking to your personal computer?
[Don]: Which one? Seriously, I have, like, 8 to 10 PCs in my home. I guess the most interesting is my VR gaming test rig, which has an FX-8370 and Radeon R9 390X right now. I'm happy to say it does an amazing job with the HTC Vive. My favorite game right now is Elite: Dangerous, which is basically spaceship pr0n. If I had this game in VR as a kid, I would never have left the house. The PC that gets the most use in my house is the HTPC in the livingroom, surprisingly. With an A10-7860K, it has more than enough power to handle home theatre tasks, and it also ends up being employed as a multiplayer gaming rig. Gang Beasts is one of the best party games that ever existed, BTW. I highly recommend. As for overclocking, I used to do a lot of that when I was an editor for Tom's Hardware, but honestly I haven't had the time lately. I'll probably jump back into that game when Zen comes out. :)

[RT]: We would like to thank Don for taking the time out to do this interview.