Interview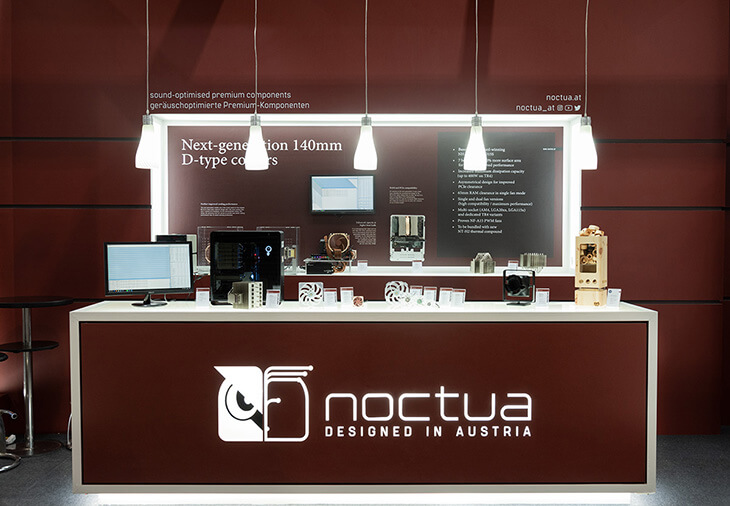 We all know that Noctua makes some of the best air cooling solutions and fans on the market and its unique color scheme is the reason why people recognize Noctua products when they see one. We had the opportunity to have a conversation with Noctua's Jakob Dellinger and ask him some questions about the upcoming products that Noctua is working on such as the fanless cpu cooler, next-gen NH-D15 and much more.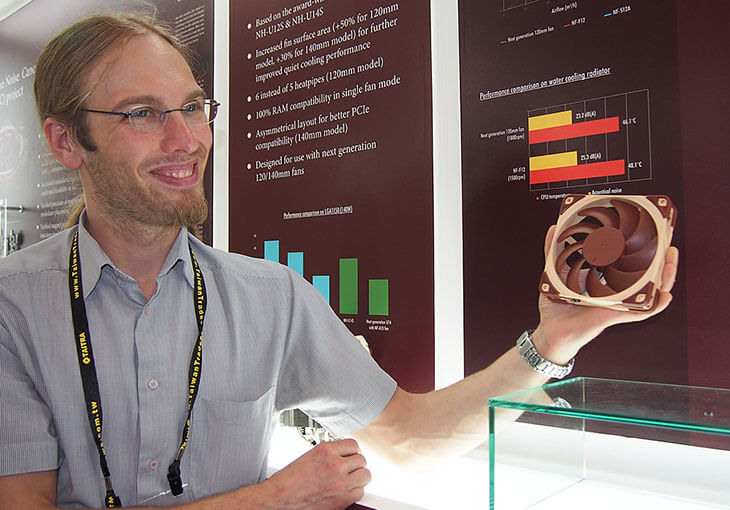 (Picture of Jakob Dellinger taken by gdm.or.jp)
[RelaxedTech]: Hello Jakob, hope you are doing well and thank you for taking the time out of your busy schedule to do this interview. I remember I interviewed you all the way back in 2014 and I thought of doing another interview with you because a lot has changed with Noctua since then. You have been at Rascom, one of the companies behind Noctua, since 2001. Has your role at the company changed over the years? Are you still responsible for the press and PR at Noctua?
[JD]: It's certainly been a while! My role as such didn't change much, however, our team has grown quite a bit. I'm still responsible for press and PR as well as product management, but coordinating things with a bigger team now.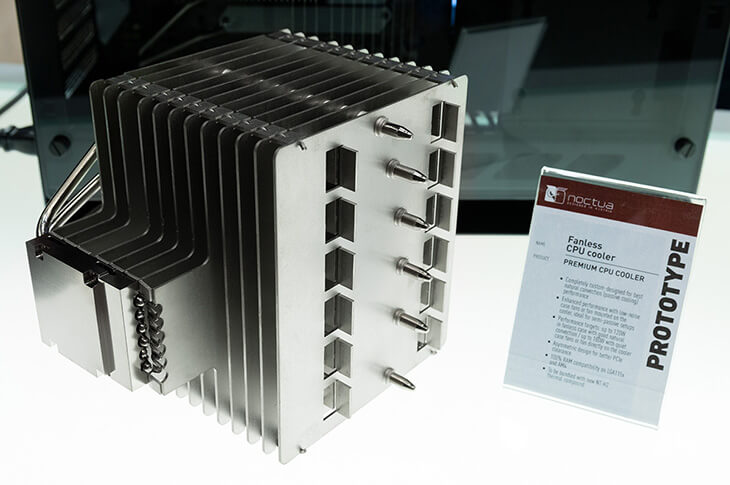 (Noctua fanless CPU cooler )
[RelaxedTech]: Noctua has demonstrated their fanless CPU cooler at computex which is said to handle 120W in a fanless case. What are some challenges with making a fanless CPU cooler and how big is the market for it? Also, why would someone buy a fanless CPU cooler when they can run the NH-D15 with very low RPM speeds?
[JD]: The key challenge is that for a passive cooler to be truly effective, design parameters such as fin pitch and fin thickness need to be quite different. You need a certain pitch to get low enough flow resistance for sufficient natural convection and a certain fin thickness in order to get the mass that is required for absorbing enough thermal energy. This means that different manufacturing machinery is required, e.g. much stronger stamping presses, etc. Getting this sorted in a reasonably cost-efficient way was quite a challenge. As for how big the market for this type of cooler is, we'll actually have to wait and see. We found the technical possibility thrilling and hope that many customers will share this feeling. There's a certain beauty and simplicity to going completely fanless rather than just running slow fans, there's no real possible point of failure, less dust build-up, and of course, the bliss of complete silence.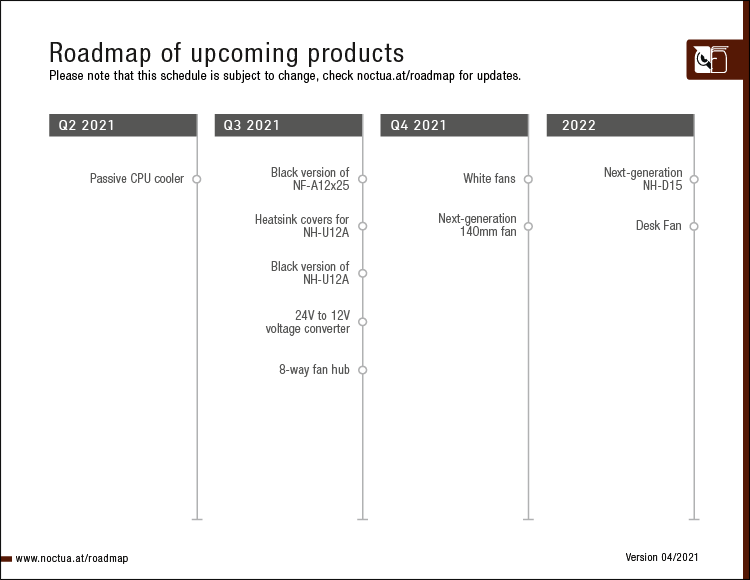 [RelaxedTech]: In the last few years there has been an upward trend towards Small-Form-Factor (SFF) cases. I am looking at Noctua's roadmap for 2021 and I do not see a next-gen NH-U9S. The SFF community would absolutely love a next-gen NH-U9S with more fins and larger surface area and maybe an improved NF-A9 fan as well. Are there any plans to release a next-gen NH-U9S?
[JD]: We continually work to further improve existing products and we do have plenty of interesting stuff coming up for SFF users. Improving the NH-U9S is quite challenging though, as it is a highly optimised heatsink already and the same is true for the NF-A9 fan. Just adding more fins to the heatsink by decreasing fin spacing would result in lower performance at low fan speeds and enlarging the fins would inevitably introduce compatibility problems with tall motherboard heatsinks or RAM, so I don't think that would make sense. Generally speaking, we also need to prioritise projects where we see more potential given that R&D resources are limited, so for example, we're currently focusing on the next-gen 140mm units because we see much stronger demand for 14cm fans and coolers than for 9cm.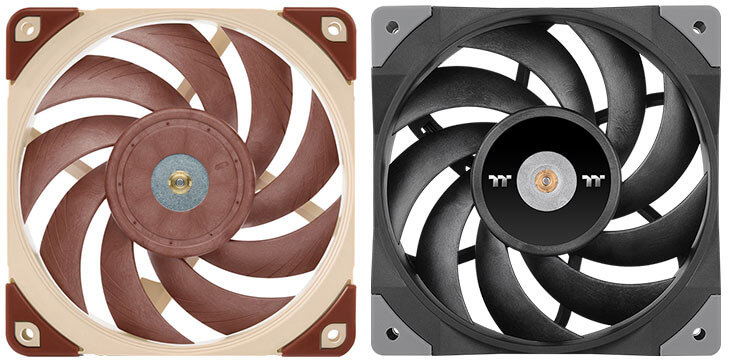 [RelaxedTech]: When a company does not respond to the customer's demand in time, usually another company will come along and eat your lunch. Noctua has delayed the release of the black NF-A12x25 fan several times now which has made companies like ThermalTake to come out with a replica of the NF-A12x25 fan. How does Noctua feel about other companies copying their fan design? Also, what is the reason behind the long delay of the black NF-A12x25 fan?
[JD]: We're investigating legal options, but generally, we prefer to spend funds in further R&D rather than wasting them in international legal battles that often end fruitless. Thankfully, our tests show that their fan measurably lags behind in performance and this has also been confirmed in third party tests. As for the reasons behind the delay, it's a combination of several factors. First of all, we had to create a new injection moulding tooling and since the different colour particles bring about different physical properties, we basically had to re-do all the tooling optimisation and injection process fine-tuning that we have done for the brown version in order to make sure to match its performance. Unfortunately, this type of optimisation is very time consuming because it usually has to go through several cycles, each of them takes quite some time and you don't want to change too many parameters at once in order to make sure you can keep track of everything. This has caused similar delays when we finalised the brown version. While these issues have been resolved a while ago, we've also been wrestling with the various impacts of the global pandemic. At the beginning, we had delays in manufacturing and logistics, then we saw very strong demand all over the world, so much of 2020 was struggling to make supply catch up with demand again. The fact that shipping costs exploded, shipping capacities were hard to get and lead times increased didn't exactly help either. Towards the end of the year, things became even worse because the entire industry started to struggle with a shortage of key components such as ICs and engineering plastics. Unfortunately, this situation has become worse and worse in 2021, so we're still having severe difficulties of producing and delivering our existing products in sufficient quantities for meeting the continuously high demand. Introducing a new, highly demanded product in this situation would make matters even worse as it would mean that the existing products would be even harder to get. Apologies if this answer was a bit lengthy, but I do want to clarify that we are perfectly aware that people want this fan and that we are fully determined to deliver it as soon as we possibly can, but certainly not at the price of running into an availability disaster.
Next-Gen NH-D15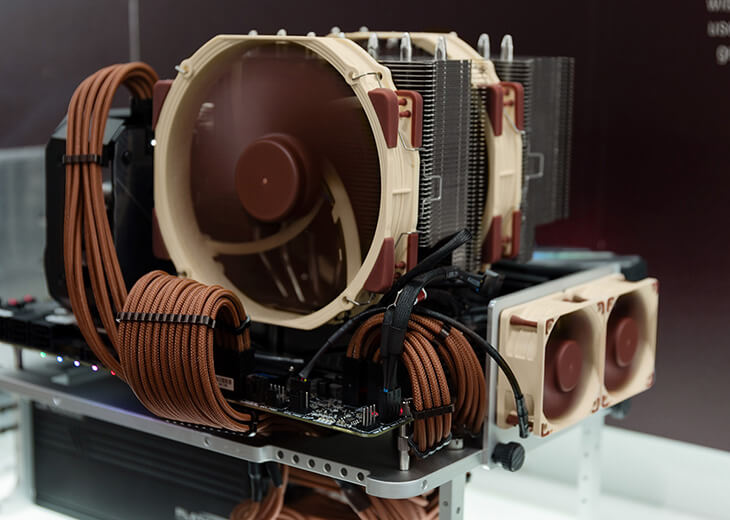 (Noctua NH-D15 successor)
[RelaxedTech]: The NH-D15 was released back in 2014 and since then, it's been regarded as one of the best air coolers that you can buy. Noctua's roadmap lists the next-gen NH-D15 to be released sometime in 2022. What can you tell us about the successor of the NH-D15? What will be the improvements over the NH-D15? Will it come with a next-gen NF-A15 fan?
[JD]: It will be a beast! Customers shouldn't get the wrong idea though, it's very hard to provide a substantial improvement over the NH-D15 when you're running at e.g. 120W. It's at high heatloads such as with Threadripper CPUs where the new cooler really shines and where it can provide a significant boost in performance. In short, getting this for your 65W CPU won't make much sense, but if you run something that can scale beyond 200W, you will have a lot of fun. As for the fans, yes, we're working hard putting the finishing touches on the next-gen 140mm units and these will be used on the cooler. This is also one of the reasons why we didn't introduce the cooler yet, as it would have been a pity to miss out on the extra gains we can get from the new fan.
[RelaxedTech]: How long does it take to develop a new CPU cooler or fan and when do you decide to release the product? Is there a lot of trial and error until it meets a certain condition?
[JD]: In the past, our development cycles have been shorter, but now that we are often working on successor models for products that have already been highly optimised and difficult to improve, it usually takes a couple of years. Sometimes we're a bit faster, but other projects like the next generation 140mm fan have been ongoing for more than 5 years. Basically, we release a product when our benchmark criteria are met and when we're 100% confident that the product has what it takes in order to live up to the Noctua name. I wouldn't say that there's a lot of trial and error involved in the process, we just give a lot of room to ideas for further improvement and take a lot of time searching for perfection. We understand that this can be frustrating and difficult to understand for customers sometimes, and it's certainly just as frustrating for us if we have to push things back, but I do think this approach pays off in the end when you look at the final products.
[RelaxedTech]: Does Noctua have any plans to join the water cooling market?
[JD]: The answer is no if you mean the DIY water cooling market. If you mean AIO water coolers, this is something we're doing quite a bit of research on at the moment, it's an interesting field for sure. Many people who buy AIO coolers replace the stock fans with ours in order to achieve better efficiency, but on the other hand we see many customers who switch back to our air coolers because they are frustrated with their AIO's pump acoustics or reliability issues. These two points are big question marks that would need to be resolved before we would consider moving into this market.
[RelaxedTech]: The CPU cooling market is dominated by many companies such as Noctua, Cooler Master, BeQuiet, NZXT, Corsair, and Phanteks. With that being said, do you find that you are able to compete with other brands easily?
[JD]: Honestly, we don't think about competing with other brands or market share too much, our focus is on our customers and products. For us, the key question is whether our customers are satisfied with our products and how we can serve this goal even better in the future. We are not driven by the question if we sell more or less than any other brand but by the aim to make the perfect solution that will make customers happy. Getting positive feedback from people who are excited how well our products work is a truly rewarding experience.
[RelaxedTech]: I have seen many people deshroud their GPUs and use Noctua fans on their GPUs. Does Noctua have any plans to release GPU heatsinks?
[JD]: Aftermarket GPU heatsinks isn't something we plan to do, but we're open towards cooperating with GPU manufacturers and hopefully, we'll be able to give customers an interesting option this way at some point.
[RelaxedTech]: Last but not least, where do you personally see the CPU cooling and fan market heading in the future?
[JD]: For the CPU cooling market, it will be interesting to see how we can deal with increasing heat flux densities and if we can reduce bottlenecks that occur on a CPU level by clever chip architecture and heat-spreader design. Today, we already have CPUs that cannot be pushed beyond say 120W due to heat flux density limitations, even if you use a very capable cooler that could easily dissipate 350W or more on another CPU. Avoiding these bottlenecks will become more and more difficult with smaller and smaller manufacturing processes, yet it will be vital from a cooling perspective. For fans, I expect that there will be a further trend towards even higher end, more sophisticated fan technology. Our NF-A12x25 has been a major step compared to previous generations, but there is a lot more coming. Today, we're putting much, much more optimisation work into each fan design than 10 years ago and I think this trend will have to continue if we want to offer further improvements. All the R&D work as well as more and more elaborate materials and manufacturing processes mean that fans certainly won't become cheaper, but thankfully, it seems that a lot of customers are as excited by the perspective of getting even higher end fans as we are!
[RelaxedTech]: We would like to thank Jakob Dellinger for taking time out to do this interview.