Interview

This is an interview with Crucial's senior marketing managers, Jonathan Weech and Jeremy Mortenson. Crucial/Micron is a well-known manufacturer in the memory and storage industry and they are known for making high quality products. Jonathan Weech and Jeremy Mortenson were kind enough to answer some of our questions about memory and SSDs. We also ask Jonathan Weech and Jeremy Mortenson questions about how Crucial has grown since it was founded in 1996 and what the company has accomplished since then.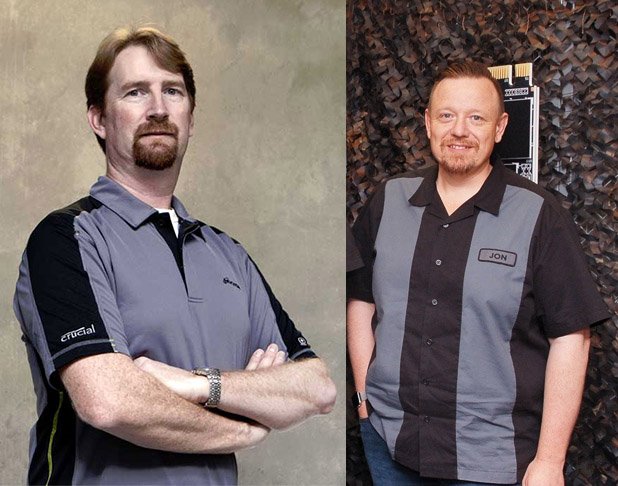 [RT]: Hello Jonathan Weech and Jeremy Mortenson. Thanks for taking the time to talk with us. Can you please introduce yourself and tell our readers what a normal day involves for you?
[Crucial]: Jonathan Weech is senior worldwide product manager for Crucial SSD products, while Jeremy Mortenson is the senior worldwide product manager for Ballistix DRAM memory products. Their respective responsibilities include defining new products, bringing them to market, and managing them through their lifecycle.

[RT]: Can you please give us some background information about Crucial?
[Crucial]: In 1996 Micron announced the creation of Crucial, Micron's consumer-focused product group. We deliver solid state drives (SSDs) and memory (DRAM) upgrades that are compatible with over 100,000 new and old desktops, laptops, workstations, and servers. Crucial products are designed to enhance system performance and user productivity. Crucial products are available worldwide at leading retail and e-tail stores, commercial resellers, system integrators, and direct via Crucial.com.

[RT]: Crucial turned 20 years old in 2016, what are some milestones of the past 20 years and how has Crucial grown since it was founded in 1996?
[Crucial]: In honor of our 20th anniversary we created this image to highlight many of our milestones. Key milestones include: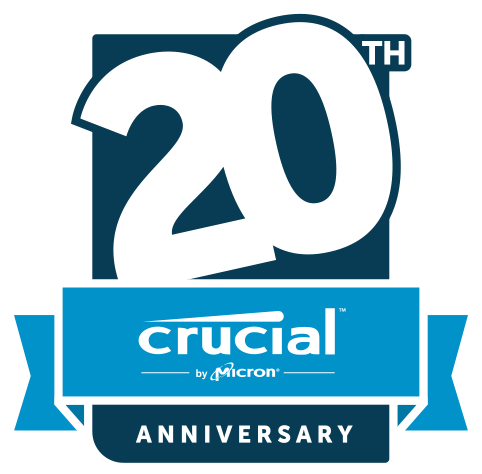 2000: First vendor to sell DDR memory to end users.
2001: Computer Shopper readers voted us the best place to buy memory.
2002: We introduced our first graphic cards.
2008: We launched our very first SSD.
2010: We rolled out the Crucial RealSSD C300, the world's first SATA 6Gb/s SSD.
2012: We launched our first mSATA drive.
2013: We are the first to publically demonstrate DDR4 technology.
As a brand of Micron, Ballistix (which is now independent of the Crucial brand) high-performance memory has its own legacy of innovation and success. Below are Ballistix product line highlights from the past 13 years:
2004: The first Ballistix module begins pushing the limits of performance in cutting-edge DDR2 technology
2005: Ballistix Tracer unveils with 16 red and green lights.
2006: NVIDIA SLI-ready and AMD Crossfire Certified Ballistix memory launches.
2007: DDR3 technology launches and Ballistix takes it to the next level.
2008: Ballistix Tracer becomes the world's first high-performance DDR3 memory to incorporate activity-indicating LEDs that pulse and flicker in customizable patterns.
2009: Ballistix Tracer green, blue, and red modules incorporate matching PCB, heat spreader, and activity-indicating LEDs with ground effects so gamers can match module color to motherboard
2010: New M.O.D. utility takes system management to the next level by providing real-time temperature monitoring
2011: Ballistix gaming memory evolves into three levels of performance: Sport, Tactical, and Elite series * The new Ballistix Tactical Tracer series feature activity-indicating LEDs, with patterns and brightness adjustable within the M.O.D. utility
2012: Ballistix low profile (LP) memory launches for space-constrained systems.
2013: Ballistix Sport SODIMMs are introduced to complement new gaming laptops.
2014: Ballistix Sport and Elite DDR4 modules jumpstart the next generation of gaming memory.
2016: Ballistixgaming.com launches in five languages.

[RT]: Memory and storage are clearly the main focus for Crucial. With that being said, what is Crucial's current best-selling memory and storage product?
[Crucial]: The Crucial MX300 SSD is a great product for us. Not only have customers recognized the great balance of mainstream features and performance that it offers, but the editorial community has consistently rated it as one of the top consumer SSDs available.
And from a DRAM standpoint, our Ballistix Sport LT DDR4 memory offers excellent performance and value. As the only major brand of gaming memory that builds and tests products from start to finish, Ballistix delivers the quality, expertise, and reliability that gamers can't get anywhere else. For more than a decade, we've screened and tested silicon, wafers, and die before they ever become gaming components, infusing an inherent advantage that pro gamers build with to win.

[RT]: How successful are Crucial's memory and storage products? Is the memory and storage market more competitive these days with so many brands coming into the market?
[Crucial]: The markets for memory and storage products continue to evolve but we like to think that, as the manufacturer of both the silicon and finished product, we offer a unique benefit and value to the customer.

[RT]: Why are there so many new companies trying to get in if the market is so competitive?
[Crucial]: From an SSD standpoint, there is a lot of growth potential and opportunity in the market right now. As brands of Micron, we enjoy a distinct advantage because we are the originator of the DRAM and the NAND. And from start to finish, our products are fully integrated with the manufacturer.

[RT]: What portion of Crucial's business comes from the OEM side versus the consumer side?
[Crucial]: The Crucial and Ballistix brands are focused almost exclusively on the aftermarket upgrade channel. The Micron brand primarily focuses on building products for and servicing OEMs.

[RT]: Does memory speed matter for gaming? (2133 vs 2666/3000Mhz etc)?
[Crucial]: Additional memory speed matters for gaming because it helps fuel the system with all the data moving through it. From the storage, CPU, and GPU systems, memory is critical to providing the resources each component needs; as games increase in size and complexity, the data needs to move quickly for a smooth gaming experience. Faster memory can help enable this and ensure your high end CPU and GPU have the bandwidth they need.

[RT]: What are the key differences between MLC and TLC and SLC flash SSDs?
[Crucial]: Early consumer SSDs were based upon SLC or MLC NAND flash, because it was the technology available at the time. Today, most consumer SSDs utilize TLC NAND flash technology, which stands for Triple Level Cell. It means exactly what it sounds like in that TLC allows for more data to be stored in a similar footprint.
The advent of TLC NAND has made it possible for SSD manufacturers to deliver high performance, large capacity drives to consumers at affordable price points. When paired with a technology like 3D, as is the case with the Crucial MX300 SSD, you end up with a fantastic balance of price, performance, and features. While outright, raw performance and endurance may be greater with SLC and MLC NAND, their performance profiles and cost structures are better suited to enterprise-class storage products.

[RT]: Is there a real world performance difference between TLC vs MLC SSDs?
[Crucial]: Practically speaking, there is not much of a noticeable difference for most users. Modern SSD architectures have implemented SLC write caching on TLC drives, which allows a portion of the drive to be written to like it was SLC NAND. This means that in most common use cases, the user sees no difference.

[RT]: Where do you personally see the memory and storage market heading in the future and what plans does Crucial have for 2017?
[Crucial]: We don't make forward looking statements about the market or our product lines, but there is always something cooking in the lab.
Micron is always developing new, innovative technologies and products that solve problems and enable the marketplace. As new industry trends emerge, Micron and its brands (including Crucial and Ballistix) will be there to support these trends and technologies with products.

[RT]: How does Crucial engage customers and keep them aware of their brand? And also, in your opinion, what do you think makes Crucial unique from other memory and storage brands?
[Crucial]: As brands of Micron, Crucial and Ballistix are part of one of the largest semiconductor manufacturers in the world. We are one of the few remaining companies that not only designs and builds their own SSDs and memory, but also fabricates the chips used to make them.

[RT]: I always ask this question but what are the specifications of your main rig at home?
[JW]: I'm always tinkering and trying new things. In my house you will find a variety of systems that range from the latest big iron gaming system, to NUC's, MACs, and even Rasberry Pi's.
[JM]: Current main rig used for gaming and general use is an X99 based Intel Core i7-5960X with 64GB of Ballistix Elite DDR4 along with Crucial SSD for the OS drive running Windows 10. It's due for a graphics card upgrade in the near future so I can push the pixels to a newer 27" 2K Gsync monitor recently installed!

[RT]: We would like to thank Jonathan and Jeremy for taking their time out to do this interview.