Introduction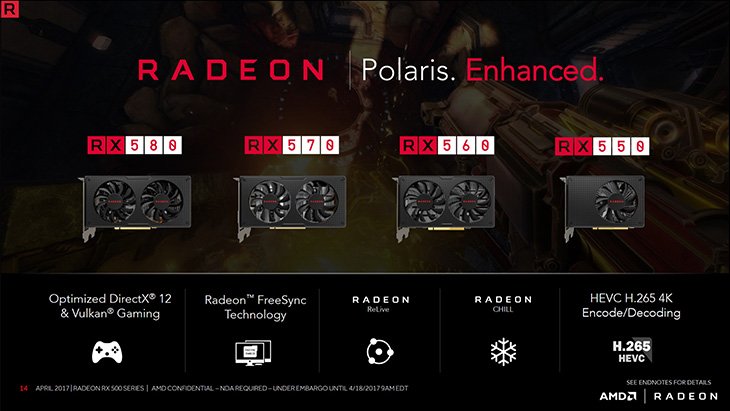 So far 2017 has been a huge success for AMD. With the release of the Ryzen processors, AMD has taken the CPU market by storm and have put some serious pressure on Intel in the mainstream and also high-end market. Last year, AMD introduced the first Polaris generation of GPUs and about two weeks ago, AMD revealed the Radeon RX 500 series which is a refresh of their mainstream and budget offerings based on the existing Polaris architecture. The new RX 500 series come with bumped up clock-speeds and slightly adjusted prices. The Radeon RX 500 series takes aim at the mainstream and lower-end market while RX Vega which will be released in the current quarter is aimed at the high-end market.
AMD is targeting the new RX 500 series cards at PC gamers who are on a 2 year old graphics card and have not made the move to 14nm technology. Some of these PC gamers are still on 28nm technology and are using graphics cards such as the Radeon 300/200 series and will benefit greatly by upgrading to 14nm technology. So in the RX 500 series, we have the RX 580, RX 570, RX 560, and RX 550 and the prices will be from $79 and up to $229. Today, we will be looking at the Radeon RX 550 that retails at $80 and is designed for PC gamers who are mainly into eSports or for people that build HTPCs.
The Radeon RX 550 does not require any additional power connection so installing it is as easy as plug and play concept. AMD says that the Radeon RX 550 is engineered for smooth 1080p/60fps in eSports titles, and this makes the Radeon RX 550 an excellent upgrade over integrated graphics processors. The Radeon RX 550 comes with many features and capabilities found in other Radeon RX 500 series products such as Free Sync, HDMI 2.0, DP 1.4 HBR, HEVC 4K decoding, Radeon Chill, Radeon ReLive, and much more.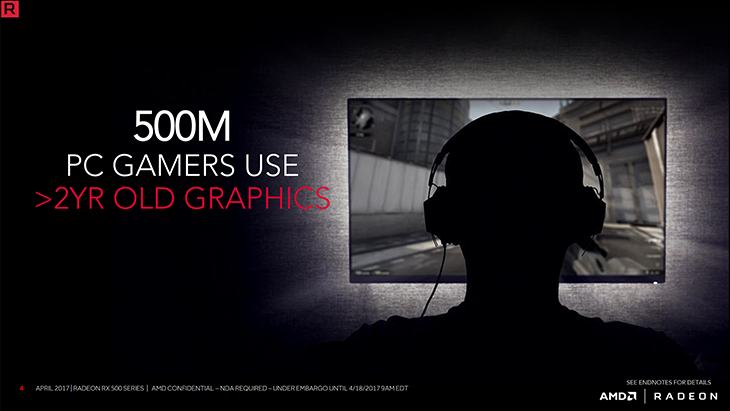 Let's talk a bit more about the pricing of the RX 550. AMD has priced the Radeon RX 550 at $80 which I strongly think it's priced too high and should have been more around $70. The reason why I think the RX 550 is priced too high at $80 is because the RX 460 which also retails for $80 and also doesn't require a PCIe power connector, is much faster than the RX 550 while costing the same. People who are on a budget will not being going with the much slower RX 550 over the similarly priced RX 460 that has 896 Stream processors compared to 512 Stream processors in the RX 550. If the RX 550 was about $10 less, it would have been perfect and it would have no problems selling like hot cakes.
Specifications
AMD Radeon RX 500 Series Lineup
Model:
Radeon RX 550
Radeon RX 560
Radeon RX 570
Radeon RX 580
Process Node:
14nm FinFET
14nm FinFET
14nm FinFET
14nm FinFET
GPU Model:
Polaris 12
(Lexa Pro)
Polaris 21
(Baffin Pro)
Polaris 20 XL
(Ellesmere Pro)
Polaris 20 XLX
(Ellesmere XT)
Architecture:
4th Gen GCN
4th Gen GCN
4th Gen GCN
4th Gen GCN
Cores:
512
1024
2048
2304
Base Clock:
1100 MHz
1090 MHz
1168 MHz
1257 MHz
Boost Clock:
1183 MHz
1287 MHz
1244 MHz
1340 MHz
Compute Units:
8
16
32
36
Memory Clock (Effective):
1750 (7000) MHz
1750 (7000) MHz
1750 (7000) MHz
2000 (8000) MHz
Computing Power (FP32):
1,126 GFLOPS
2,232 GFLOPS
4,784 GFLOPS
5,788 GFLOPS
Memory Size:
2GB GDDR5
2GB GDDR5
4GB GDDR5
8GB GDDR5
TDP:
50W
80W
150W
185W
Memory Bus Width:
128-bit
128-bit
256-bit
256-bit
Memory Bandwidth:
112 GB/s
112 GB/s
224 GB/s
256 GB/s
Interface:
PCIe 3.0 x8
PCIe 3.0 x8
PCIe 3.0 x16
PCIe 3.0 x16
Transistors:
2.2 Billion
3 Billion
5.7 Billion
5.7 Billion
Die size:
101 mm²
123 mm²
232 mm²
232 mm²
TMUs:
32
64
128
144
ROPs:
16
16
32
32
Pixel Rate:
18.93 GPixel/s
20.40 GPixel/s
39.8 GPixel/s
42.9 GPixel/s
Texture Rate:
37.9 GTexel/s
81.6 GTexel/s
159.2 GTexel/s
193.0 GTexel/s
Price:
$79
$99
$169
$229
Release Date:
April 20, 2017
May ???, 2017
April 18, 2017
April 18, 2017
The Radeon RX 550 is built using Polaris 12, code-named Lexa Pro and it is based on a 4th gen GCN architecture. It is composed of 2.2 billion transistors and measures 101 square millimeters. The RX 550 has a 50W TDP, a full 128-bit memory bus, and a 1100 MHz base and a 1183 MHz boost. It comes with 8 compute units, 32 TMUs, and 16 ROPs. All RX 500 series support features such as Radeon Chill which is a gameplay adaptive power saving feature, Radeon ReLive which can be used to capture, stream and share your greatest moments, AMD FreeSync Technology, and also AMD Eyefinity Technology.
MSI RX 550 Aero ITX 2GB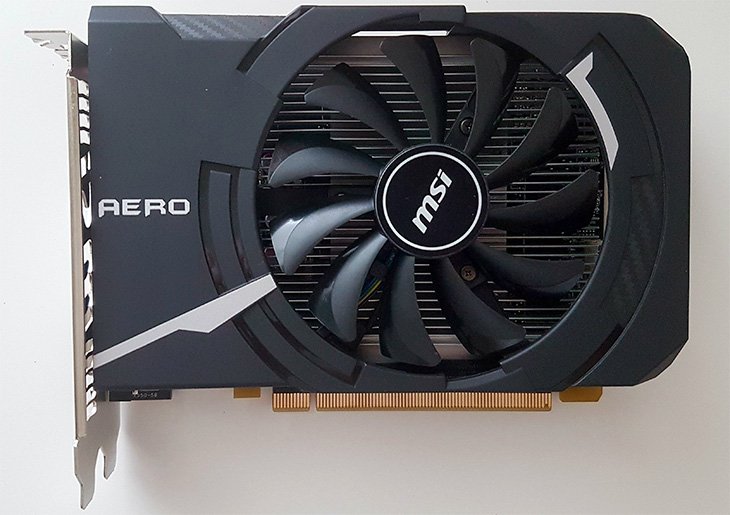 AMD has sent us the MSI RX 550 Aero ITX OC 2GB model for our review. This card comes with a slight factory overclock of 1203 MHz boost clocks which shouldn't make too much of a difference in performance. With factory overclocked cards, keep in mind that you're often paying for a better cooler than for the factory overclock.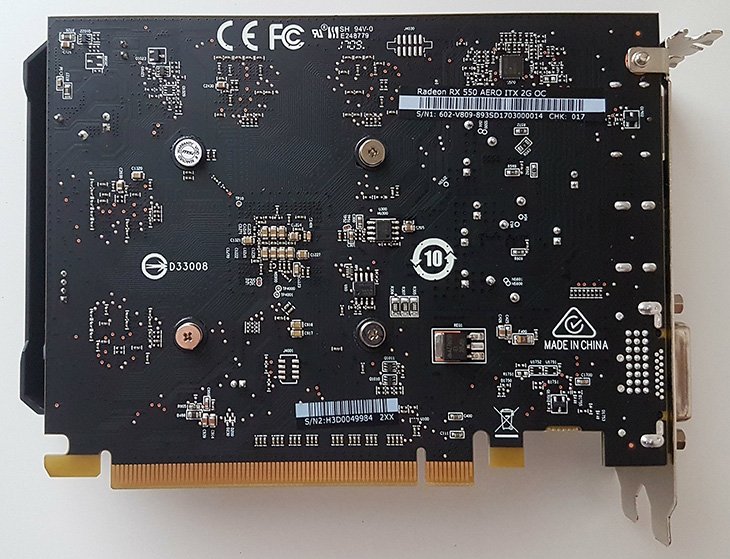 As far as dimensions go, this card measures 155mm long, 112mm tall, and 38mm wide and it weighs around 285g. This is a compact card and weighs dramatically less than a full size graphics card. It comes with three display outputs, an HDMI 2.0 port, a Dual-Link DVI port, and a DisplayPort.
Test Setup
Test Setup
Processor:
AMD Ryzen 7 1700X
Intel Core i7-7700K
Motherboard:
MSI X370 xPower Gaming Titanium (BIOS Version 1.5)
ASUS TUF Z270 Mark 2 (BIOS Version 0906)
RAM:
Crucial Ballistix Elite 2933MHz DDR4 16GB (2x8GB)
Crucial Ballistix Tactical 3000MHz DDR4 16GB (2x8GB)
Graphics Card:
AMD Radeon RX 550
Intel HD Graphics 630
Storage:
Crucial MX300 1TB SSD
Power Supply:
SilverStone Titanium ST80F-TI 800W
Case:
Open ATX Bench Case
OS:
Windows 10 64Bit
Thermal Compound:
Noctua NT-H1
Heatsink:
Noctua NH-D15
Since the Radeon RX 550 is an entry-level card, testing will be conducted by comparing the RX 550 against the Intel HD 630 iGPU to see who offers the best gaming performance. We have decided to use the Ryzen 7 1700X and i7-7700K because both of these processors perform on par and offer about equal performance in gaming. We want to eliminate any CPU bottleneck as much as possible. We understand that people who will be buying the RX 550 will most likely not use a i7-7700K or Ryzen 7 1700X processor.
All of the testing is done with an ambient temperature of ~22C and the CPUs have the power saving features disabled in the BIOS. Also, the testing was done on a fresh install of Windows 10 64-bit and we made sure there were as few processes running as possible by disabling a bunch of unnecessary services that come with Windows 10.
In gaming, we will be testing some games at 1080p and 720p and the settings will be set to high or low depending on how demanding the game is. Idle temperature will be measured after leaving the computer idle for 20 minutes with no additional applications running in the background and load temperature will be measured by playing Counter-Strike GO on max settings for 20 minutes at 1080p.

Gaming Benchmarks:
+ Ashes of the Singularity
+ Mass Effect Andromeda
+ Watch Dogs 2
+ Battlefield 1
+ Far Cry Primal
+ GTA V
+ DOTA 2
+ Counter Strike GO
+ The Witcher 3

Temperature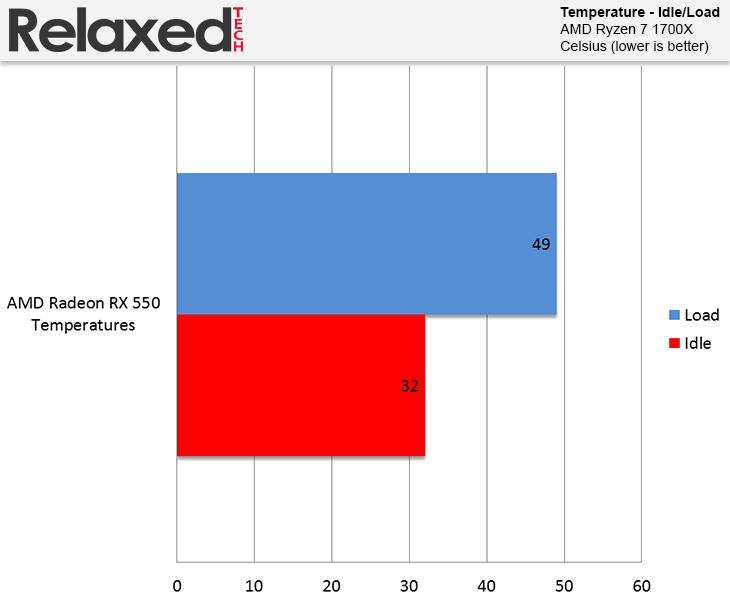 The MSI Radeon RX 550 Aero ITX stays relatively cool in idle mode. When leaving the computer at complete idle, the card idles at around 32 Celsius. When playing Counter Strike GO on max settings at 1080p, the temperature jumps to around 50 Celsius or so. Once I got out of Counter Strike GO, the temperature dropped back down to around 32-34 C within a few minutes.
Gaming Performance Results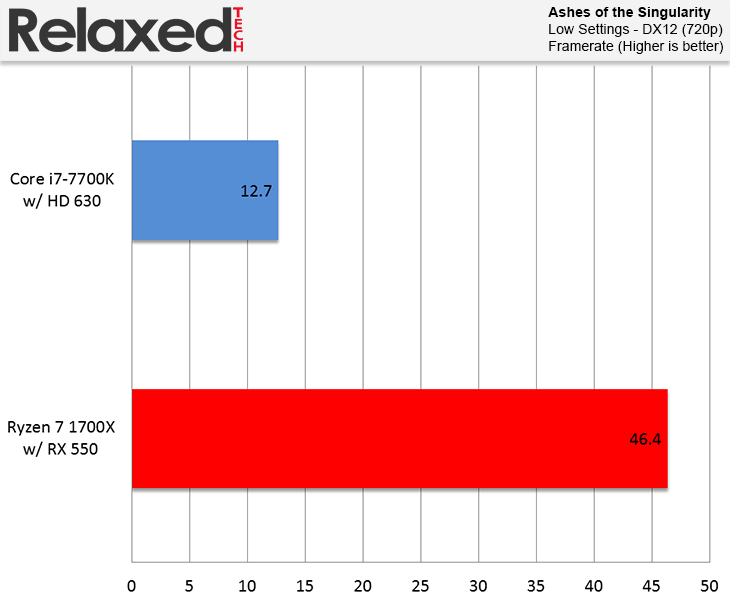 Looking at the Ashes of the Singularity benchmark, the RX 550 destroyed the Intel HD 630. The RX 550 performed about four times more than the Intel HD 630.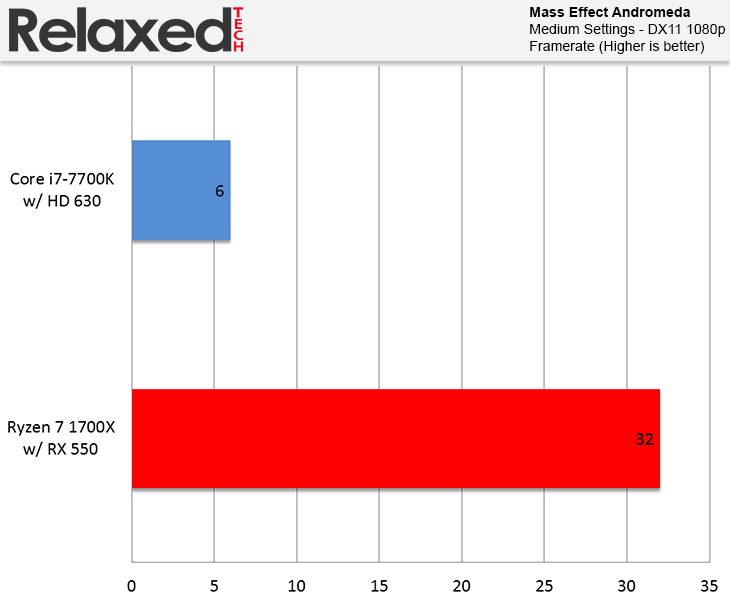 In Mass Effect Andromeda, the RX 550 outperformed the Intel HD 630 big time.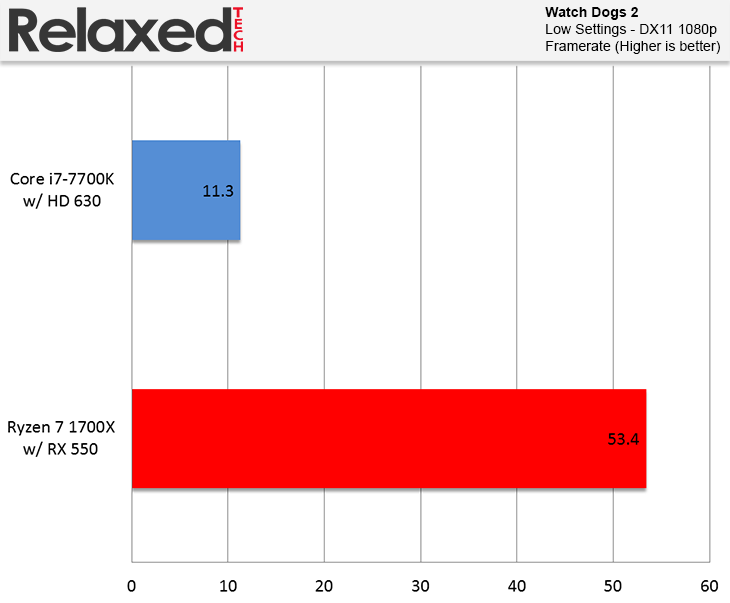 Once again, the RX 550 wrecked the Intel HD 630 in Watch Dogs 2.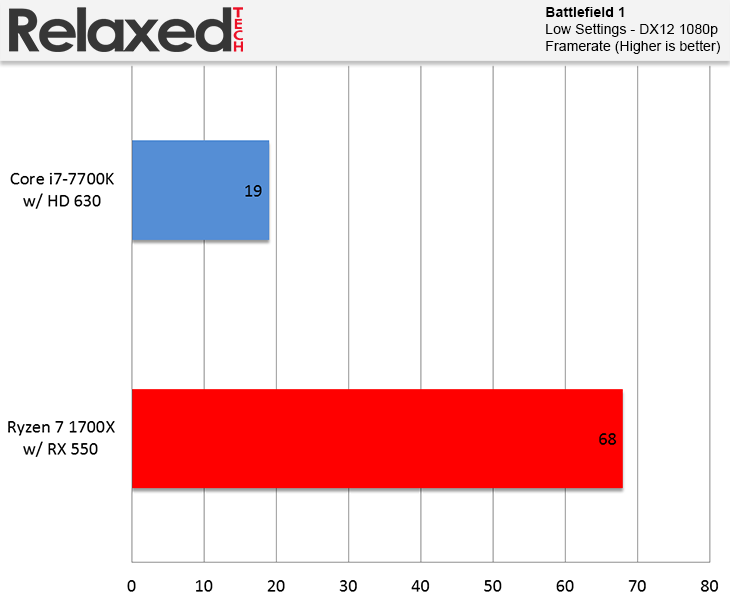 And again the RX 550 obliterated Intel HD 630 in Battlefield 1.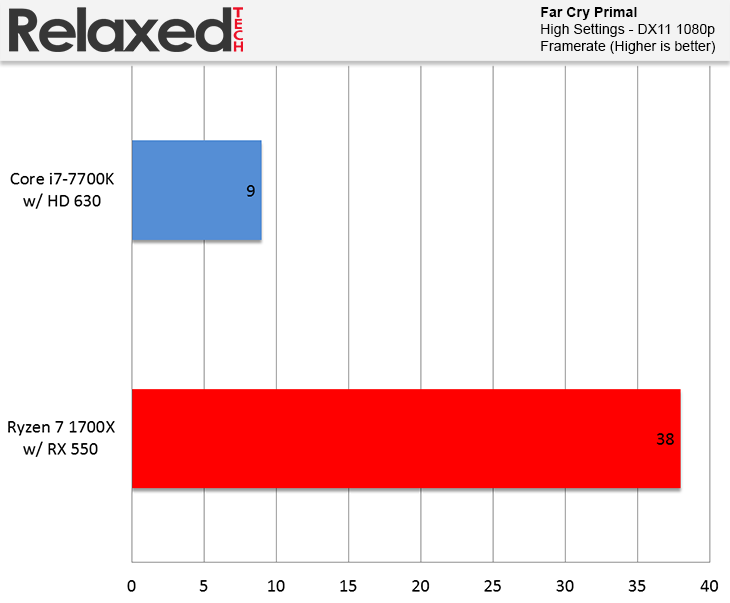 Here we see the AMD Radeon RX 550 demolish the Intel HD 630 in Far Cry Primal.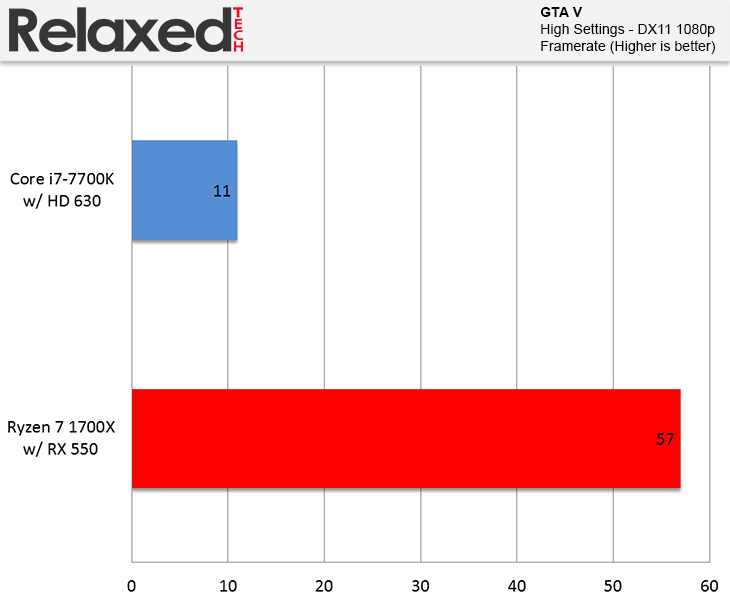 Moving on to GTA V, the RX 550 again bulldozed the Intel HD 630.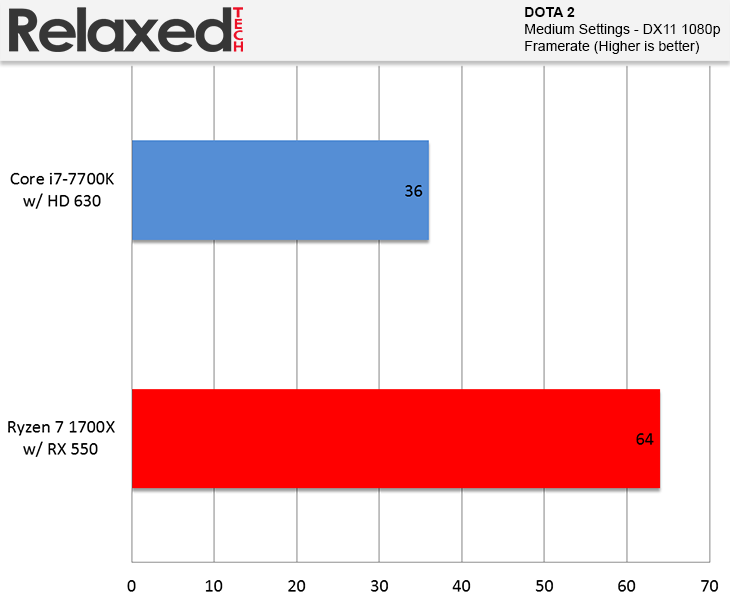 The RX 550 annihilated Intel's HD 630 in DOTA 2.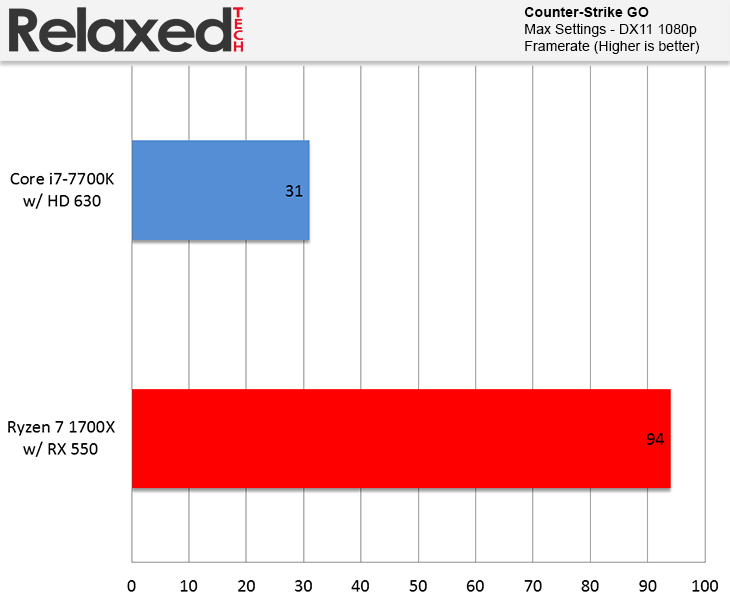 Once again, the RX 550 disfigured Intel's HD 630 in CSGO.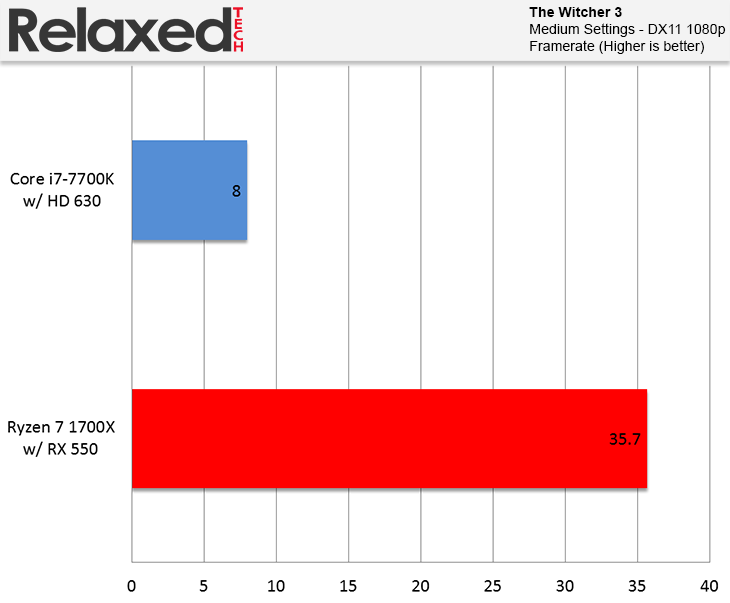 Last but not least, the RX 550 crushed Intel's HD 630 in Witcher 3.
Value & Conclusion
The Radeon RX 550 offers excellent performance in many popular DX11 and DX12 titles and it certainly crushes Intel's HD 630 in all the games that I tested. It can achieve a well playable FPS in 720p with medium settings in most games. The Radeon RX 550 is a strong entry-level card that is perfect for eSports gamers, and also for people who are into building HTPCs. If you hate to rely on Intel's iGPU whether it is for gaming or content creation applications such as Adobe Photoshop and Premier, then the Radeon RX 550 is perfect in that regard.
The RX 550 performs exactly as advertised and it has no problems handling eSports titles at smooth 1080p/60fps. eSports titles demand 60fps+ and you can't rely on an iGPU to play these games. As we saw in the previous page, the RX 550 achieved well above 90fps in CS GO on max settings while Intel's HD 630 struggled to maintain 30fps. This card can also handle more demanding games such as Battlefield 1 at 1080p on low settings or GTA V on high settings. It certainly has enough horse power to handle modern games at lower settings just fine.
If you are running an iGPU such as the HD 630 or HD 530 and struggle with getting playable fps in eSports games, then strongly consider getting the RX 550. The Radeon RX 550 comes with many modern features such as Free Sync, HDMI 2.0, DP 1.4 HBR, HEVC 4K decoding, Radeon Chill and Radeon ReLive. If you are building an HTCP and want a decent low profile card with a good cooler that won't overheat, then the MSI RX 550 Aero might be what you need. It runs relatively cool at 32 Celsius in idle mode and stays under 50 Celsius in gaming.

Pros:
+ Great For eSports Gaming
+ Outstanding Performance
+ Crushed Intel's HD 630 iGPU
+ Future-Proof Features
+ Runs Very Cool

Cons:
- Expensive

My only issue with the RX 550 is the price. The pricing of the RX 550 needs to come down by about $10 in my opinion. Currently, the RX 550 retails for about the same as the RX 460. The RX 460 is a much stronger video card than the RX 550 and it also doesn't require a PCIe power connector so people have no reason to go with the RX 550 when the RX 460 is much faster while costing the same. If AMD brings the price down to $70, this card will sell really well. AMD is going to have a hard time convincing people to get the RX 550 at $80. With all that being said, the Radeon RX 550 easily deserve our Gold Award.
Final Score 9.0