Introduction

A few weeks ago AMD released the first three models of its highly anticipated, high-performance AMD Ryzen processor. AMD Ryzen processors come in three series; Ryzen 7, Ryzen 5 and Ryzen 3. The AMD Ryzen 7 1800X, Ryzen 7 1700X and Ryzen 7 1700 are 8 core offerings with 16 threads and are fully unlocked. AMD's Ryzen 7 processors come in a very attractive pricing; $500 for the 1800X, $400 for the 1700X and $330 for the 1700.
The hype for Ryzen has been unprecedented since its first mention and people have waited for AMD to break Intel's CPU monopoly for a long time. Intel has been dominating the market from the budget segment and all the way up to the most expensive enthusiast segment. AMD's Ryzen 7 1800X, 1700X and 1700 processors finally bring true competition to the CPU market that's been dominated by Intel for the past 6+ years.
In this review, we will focus on the Ryzen 7 1700 which sports a base clock of 3.0GHz with a maximum turbo boost of 3.7GHz. The Ryzen 7 1700 is by far the most interesting processor in this lineup because it comes with a low TDP of 65W while the 1800X and 1700X have a 95W TDP.
The newly released Ryzen 7 processors utilize the company's AM4 socket and are based on the Zen architecture which is a brand new architecture built from scratch. AM4 is a big step-up from the aging AM3+ socket and will accompany us until 2020. AM4 motherboards are also compatible with AMD's upcoming Raven Ridge APUs which will feature up to four Zen cores, an integrated GCN GPU and High Bandwidth Memory.
Zen brings huge improvement over the long-standing Bulldozer architecture. The successor to Zen will be codenamed Zen+ and it is expected to bring a slight increase in performance over Zen and not nearly as large of a jump as from Excavator to Zen. AMD and GlobalFoundries are currently working on Zen+ chips which will take advantage of the new 7 nm FinFET process.
The Ryzen processors come with a neat feature called extended frequency range (XFR), which automatically overclocks up to two cores depending on how good your cooling is. XFR will give you a nice boost of 100MHz if you are using a Ryzen "X" model like the 1800X or 1700X, but on non-X models like the R7 1700, you are limited to a smaller 50MHz boost. All Ryzen 7 processors have 16MB of L3 cache, 4MB of L2 cache and come with 24 PCI-Express 3.0 lanes and support modern features like dual-channel DDR4 memory, PCIe X4 storage, and USB 3.1 Gen 2.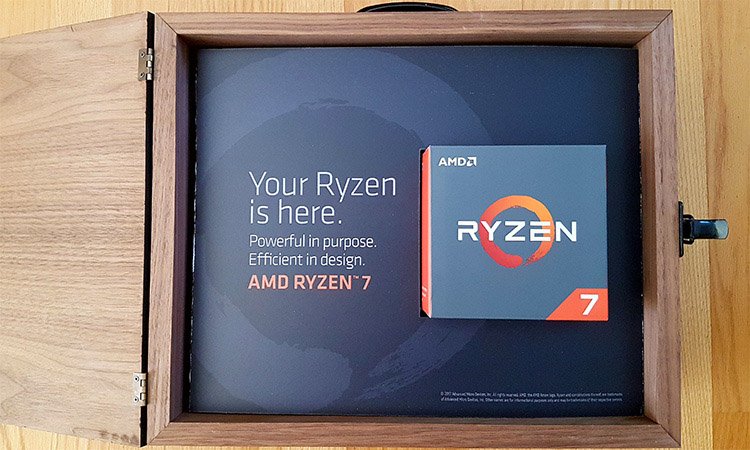 For the past few years Intel has had a CPU monopoly on the market and has been rehashing the same architecture over and over again. Intel's last innovation was Sandy Bridge and that was 6+ years ago. Intel has been milking consumers for 6+ years with their 0-5% improvement each generation and they have been been releasing the same processor every year while charging consumers premium prices for it. With every new Intel CPU release, Intel and many reviewers purposely show how drastically better the next version of the Intel CPU is when in reality it's less than 5% faster than the previous version.
The CPU market desperately needs some competition and the way Intel has priced their high-end desktop CPUs, $1000-1700 USD for a processor, is just ridiculous. AMD created their Ryzen 7 processors to directly compete with Broadwell-E and that's why in this review we are comparing the Ryzen 7 1700 to the i7-6900K. Both CPUs are aimed at the enthusiast crowd and come with 8 cores, 16 threads, 16MB of L3 cache but here's the catch, Intel's i7-6900K processor retails for $1050 while AMD's Ryzen 7 1700 processor retails for $330. The Ryzen 7 1700 is more than $700 cheaper, and not only that, but the i7-6900K has a 140W TDP while the Ryzen 7 1700 has a 65W TDP. Also, Broadwell-E has a terrible price to performance ratio in games compared to other Intel CPUs.

We all remember when AMD initially announced that the Zen architecture was going to offer a 40% IPC gain (single-threaded performance) and everyone thought AMD couldn't do it. With a whopping 52% increase, AMD was able to make huge IPC (Instructions Per Clock) improvements with the Zen architecture over the previous Excavator core. According to AMD, this huge 52% IPC gain came from three design goals: core, cache, and power. AMD made the core bigger and wider and introduced a micro-op cache as well as a better branch prediction. The prefetch on the cache side is now much faster and L1 and L2 bandwidth has been doubled, and L3 more then quadrupled.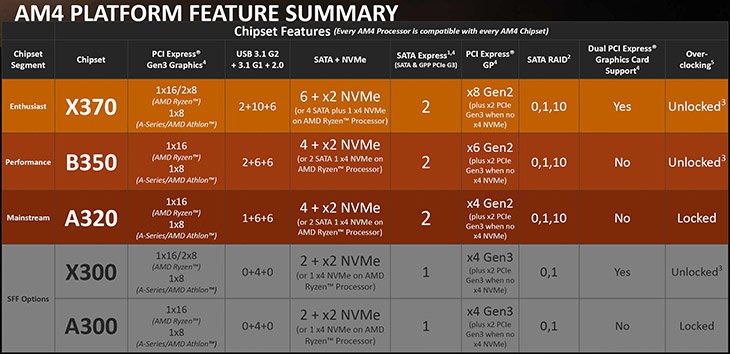 The new AMD Ryzen processor will require an AMD AM4 platform to run so that means besides buying a new motherboard, you will also need to purchase a dual-channel DDR4 memory kit. The AM4 socket comes with 5 new chipsets which include X370, B350, A320, X300, A/B300 configurations. Price-wise, AM4 X370 and B350 motherboards are much cheaper compared to Intel Z270 and X99 motherboards. Building a Ryzen based system should cost far less than building an Intel X99 system.
Before I move on, I want to quickly talk about the strategy behind AMD's pricing with the Ryzen 7 processors because it's very interesting what AMD has done here. Now, we have to keep in mind that Intel has a strong hold on the market and AMD can't afford to price their CPUs too high because the average consumer has no idea who AMD is but they know who Intel is. So AMD cannot afford to price their Ryzen 7 CPUs in the same ballpark as Intel because they do not have the brand recognition. You gain brand recognition by offering better performance for cheaper and that is why AMD is pricing the Ryzen 7 1800X at half the price of the i7-6900K. Think of it this way, if AMD priced the Ryzen 7 1800X at the same price range as the i7-6900K, they would end up killing their sales because people would think "Well, Intel has always made very good processors and the prices aren't too different so I'll just go with Intel". Offering consumers a processor with equal or better performance at half the price of the competitor's $1000 processor is a guaranteed way to gain brand recognition worldwide.
Specifications
AMD Ryzen 7 Processors Lineup
Model:
AMD Ryzen 7 1700
AMD Ryzen 7 1700X
AMD Ryzen 7 1800X
Model SKU:
YD1700BBAEBOX
YD1700BBAEMPK
YD170XBCAEWOF
YD170XBCAEMPK
YD180XBCAEWOF
YD180XBCAEMPK
CPU Process Node:
14nm FinFET
14nm FinFET
14nm FinFET
CPU Codename:
Summit Ridge
Summit Ridge
Summit Ridge
CPU Architecture:
Zen
Zen
Zen
Cores / Threads:
8/16
8/16
8/16
Core Clock:
3.0 GHz
3.4 GHz
3.6 GHz
Boost Clock:
3.7 GHz
3.8 GHz
4.0 GHz
XFR (up to 2 Cores):
+50 MHz
+100 MHz
+100 MHz
L1 Cache:
768KB
768KB
768KB
L2 Cache:
4MB
4MB
4MB
L3 Cache:
16MB
16MB
16MB
Unlocked:
Yes
Yes
Yes
TDP:
65W
95W
95W
DDR4 Speed:
2667 MHz
2667 MHz
2667 MHz
DDR4 DIMMs:
4
4
4
PCIe Lanes:
24
24
24
Socket Support:
AM4
AM4
AM4
Transistors:
4.8 billion
4.8 billion
4.8 billion
Die size:
192 mm²
192 mm²
192 mm²
Included Cooler:
Wraith Spire
Wraith Max
Wraith Max
Cooler TDP:
95W
140W
140W
Cooler Weight:
0.425 Kg
0.545 Kg
0.545 Kg
Cooler Dimensions:
109mm (L)
103 mm (W)
54 mm (H)
105mm (L)
108 mm (W)
85 mm (H)
105mm (L)
108 mm (W)
85 mm (H)
Price:
$330
$400
$500
Release Date:
March 2, 2017
March 2, 2017
March 2, 2017
AMD is offering their Ryzen 7 processors with and without a CPU cooler. The X variants are also available in WOF (Without Fan-Heatsink) packages and these WOF packages are slightly cheaper than the variant with a heatsink included. Depending which model you buy, the Ryzen 7 1700 comes with a circular 95W Wraith Spire cooler, while the Ryzen 7 1700X and 1800X come with the 140W Wraith Max. You can choose weather you want to spend extra on the model that comes with a cooler or save money by choosing your own air or liquid cooler.
The original Wraith cooler was very impressive and was able to match the Hyper 212+ in cooling performance and noise levels. I found the original Wraith cooler to be significantly improved over AMD's previous stock coolers. AMD's original Wraith cooler is the best stock cooling to date offered by any processor manufacturer. Unlike Intel stock coolers which most people throw away because they are complete garbage, these new coolers from AMD don't have to go straight into the trash bin once you unbox them because they are actually high quality and well designed.
AMD Zen Architecture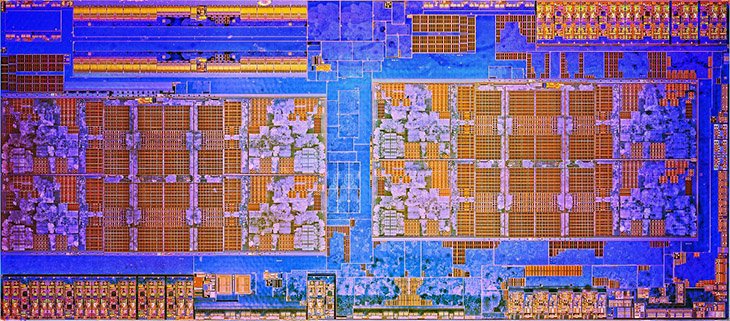 The engineers at AMD have been busy designing the Zen architecture from the ground up for the past few years. The development of the Zen architecture began shortly after AMD re-hired Jim Keller in August 2012, and in 2015, AMD publicly revealed Zen. The Zen architecture is built on a 14nm FinFET process by GlobalFoundries. The architecture is comprised of a CCU Complex (CCX), which is a 4-core, 8-thread module and AMD has put two CCX units together to get the Ryzen 7 processors with 8-core and 16-threads. AMD connects two CCXes together with their high-speed Infinity Fabric which handles system memory, I/O, PCIe and more.
AMD has increased the target buffer size in branch prediction from 512 to 768 entries. The Zen architecture includes support for new instructions such as AVX2, MOVBE, SHA, SMEP, and BMI1/2. Each CCX has 64K L1 I-Cache, 64K L1 D-Cache, 512KB L2 cache per core and 8 MB of L3 cache that is shared across all the cores. The L2 cache on Zen is double the size of Intel's 256 KB L2 cache in Skylake or Broadwell. Normally, larger caches require more die area which costs power.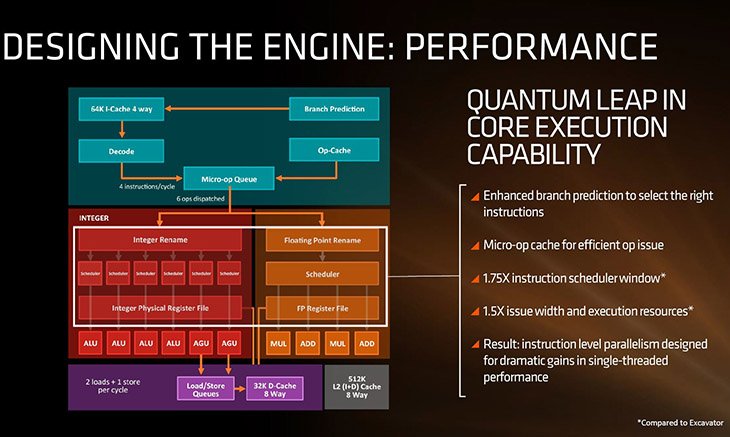 Each AMD Ryzen processor features AMD SenseMI technology, which is basically a bunch of sensing, adapting, and learning technologies built into the processor. Some of these technologies which I will talk more about below include Pure Power, Precision Boost, Extended Frequency Range, Neural Net Prediction and Smart Prefetch.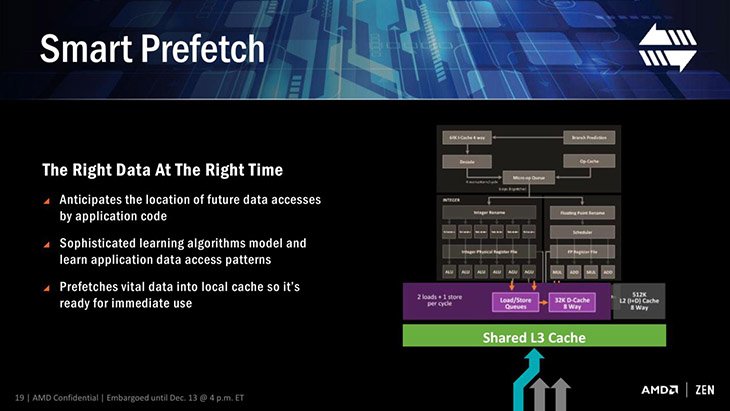 Smart Prefetch is a learning algorithm that predict and pre-load needed data for fast and responsive computing. Similar to Smart Prefetch, Net Prediction anticipates the location of future data accesses by learning the application data access patterns which prefetches vital data into local cache so it's ready for immediate use. AMD is also introducing SMT (simultaneous multi-threading) which is similar to Intel's HyperThreading. SMT will allow for 2 threads per core, a departure from the CMT (clustered multi-thread) design that was used in the Bulldozer architecture.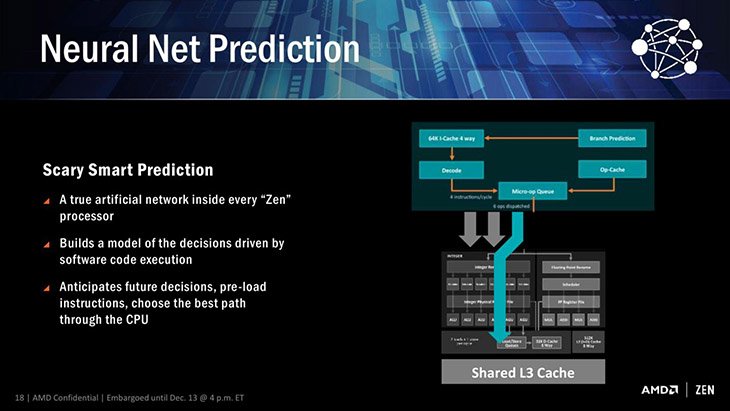 Pure Power helps with monitoring temperature, speed and voltage and Precision Boost adjusts the processor's frequency in real time to meet the clockspeed demands of your game or application. We talked about XFR (Extended Frequency Range) in the previous page but I will mention it again. XFR will automatically increase the clockspeed depending on the cooling you are using and this is a fully automated process. Neural Net Prediction is a built-in artificial intelligence that helps Ryzen tackle application workload more efficiently. This is a true artificial network inside the Zen architecture that anticipates future decisions by pre-loading instructions.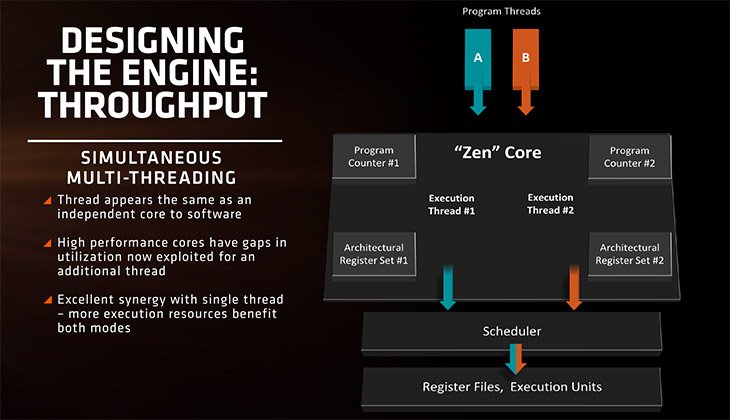 Going back to Bulldozer and CMT (clustered multi-thread), AMD had to work with Microsoft due to the way threads were dispatched to cores to ensure proper performance. Since Zen utilizes SMT, AMD doesn't have this problem with their Ryzen processors. Something that we have to keep in mind when talking about Simultaneous Multi-Threading is that it is a challenge for developers to optimize for a new architecture. Intel had major issues with Hyper-Threading in the early days and it has taken them years to optimize it.
Packaging and Accessories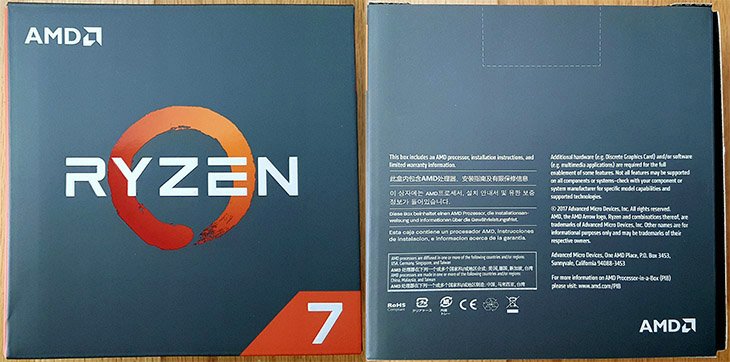 The Ryzen 7 1700 comes packaged in a simple but effective elegant box that is mostly dark gray with a little bit of orange. I have received the model of the Ryzen 7 1700 without the Wraith Spire cooler and so the packaging is pretty simple and you just get the processor, a case-badge and a simple manual.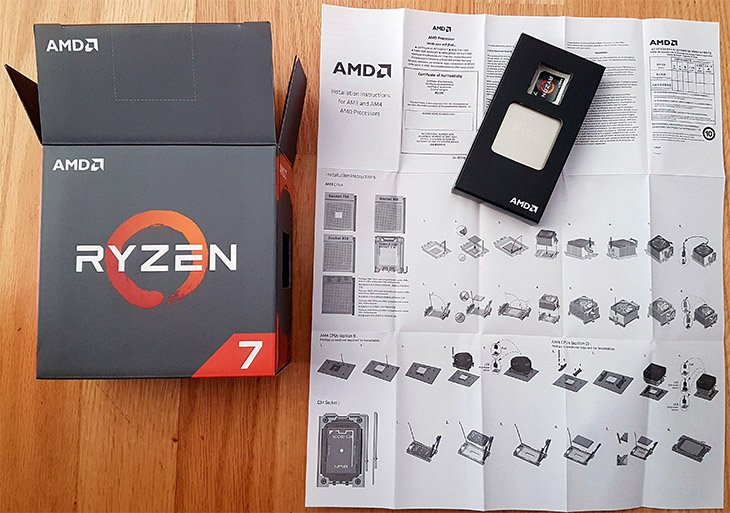 AMD's AM4 socket is a PGA (Pin Grid Array) socket and it comes with about 40%+ more pins than AM3+ and it has new mounting holes. AM4 supports 1331 pins which is a big increase over the 942 of AM3+. Unfortunately, the new mounting holes break compatibility with all previous generation coolers for AM2/AM2+/AM3 and AM3+. Thankfully, most CPU cooler manufactures such as Noctua will send you a free upgrade kit which will allow you to use your Noctua cooler on AM4 motherboards. I contacted Noctua and they were able to send me the AM4 mounting kit for the NH-D15 because I had no way of testing the Ryzen 7 1700.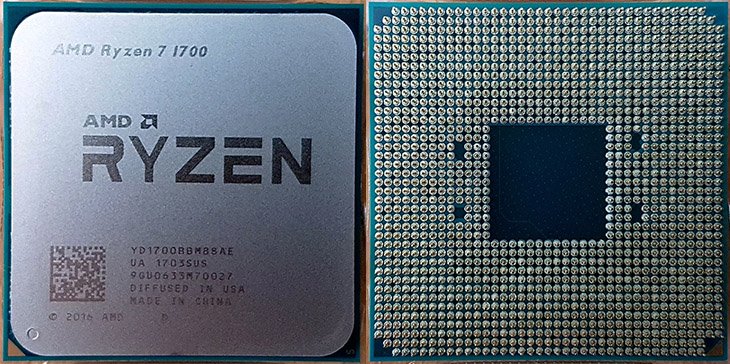 Motherboard
The MSI X370 xPower Gaming Titanium motherboard that AMD has sent me is currently the most expensive AM4 motherboard on the market. When it comes to cooling your PC, MSI has include 6x fan headers to allow you to cool your system any way you want. These fan headers support DC/PWM mode, full-fan control, and are watercooling ready. The fan headers automatically detect fans running in DC or PWM mode and will adjust accordingly for optimal tuning of fan speeds and silence.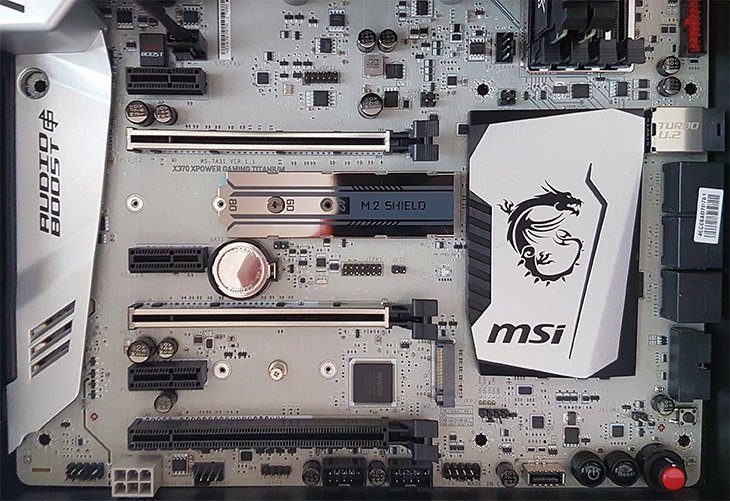 There are on-board LED indicators which show if your fans are running in a compatible mode or not. When the LED indicator is red, you have full control of your fan and if the LED indicator is green, it means your fan is running in a mode you cannot control.
MSI has equipped the X370 xPower Gaming Titanium with VR Boost which is a smart chip that ensures a clean and strong signal to a VR optimized USB port. If are using a VR headset, this will give you a smoother experience because traditional USB ports often suffer signal drops, which impacts performance of connected devices. The PCIe slots are steel armor for a stronger hold thus preventing any damage due to heavy-weight graphics cards and steel armor also protects PCI Express signals against electromagnetic interference.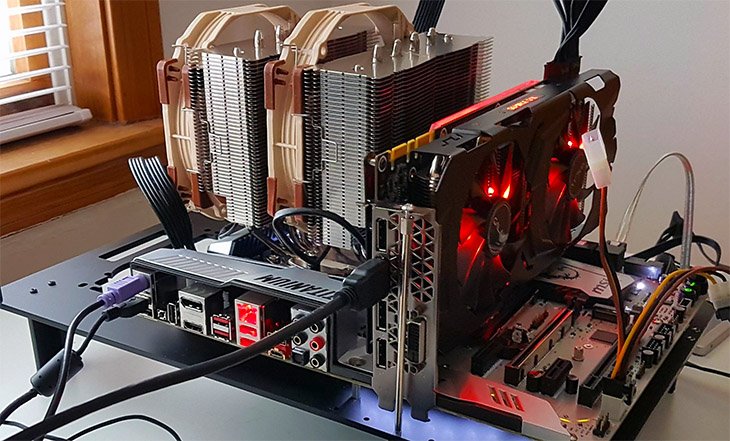 Another attractive feature of this motherboard is Audio Boost which basically operates like a dedicated soundcard and it is powered by an EMI-shielded High Definition audio processor with built-in DAC. Audio Boost is physically isolated from the rest of the motherboard circuitry to ensure the purest audio signal possible without any interference from the rest of the components.
The New AMD Wraith Coolers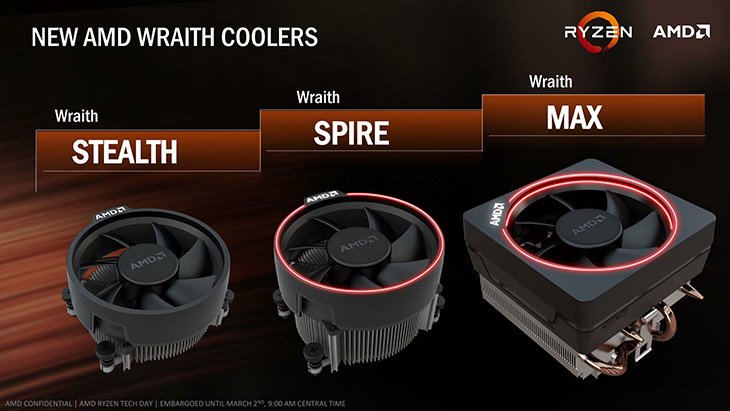 I don't have any of the new coolers for testing so I don't know how better they are over the original Wraith cooler but I have reviewed the original Wraith cooler and I found the cooling and noise performance to be excellent. AMD bundled the original Wraith cooler with their premium FX CPUs and APUs. It seems that the new stock coolers will have RGB lighting with the exception of the Wraith Stealth cooler. AMD is including the Wraith Max cooler with the X models while the Wraith Spire cooler is included with the Ryzen 7 1700.
It's good to see AMD take stock cooling seriously because Intel doesn't seem to think it's worth investing in bundling their CPUs with decent stock coolers. Intel's stock coolers have always been terrible and most people toss them out. These new stock coolers from AMD are built like third party coolers with a copper base and heatpipes.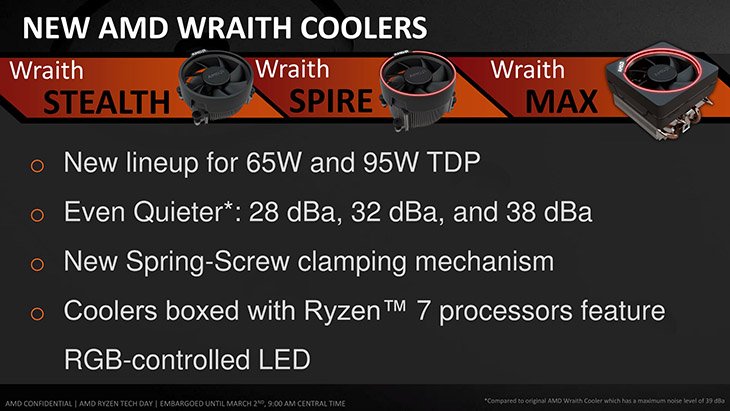 The Wraith Spire cooler sports a circular design and comes with an 80mm fan and dimensions are 109mm(L) x 103mm(W) x 54mm(H). The Wraith Max is slightly bigger than the Wraith Spire and is most likely a tweaked version of the original Wraith cooler. AMD has designed the Wraith Max with noise levels in mind while not sacrificing too much performance. As far as dimensions go, it measures 105mm(L) x 108mm(W) x 85mm(H) while the original Wrath is 100mm(L) x 117mm(W) x 80mm(H).
Memory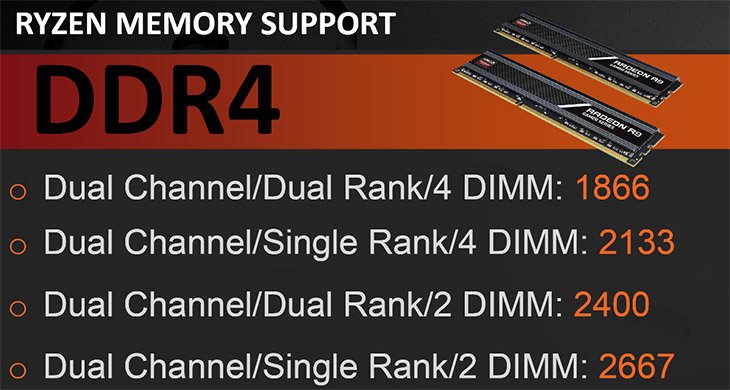 Officially, the Ryzen processors support a maximum speed of DDR4-2667 and for speeds greater than DDR4-2667, make sure to pay particular attention to motherboard vendor's memory QVL lists. The Ryzen CPUs support ECC (error correcting memory) which is a memory type that can detect and correct common types of memory corruption. I will be using the Crucial Ballistix Elite (2x8GB) which is rated at DDR4-3000Mhz but I couldn't get it to run above 2667Mhz in my testing. I increased the timings and slightly increased the ram voltage but it just wouldn't boot above 2667Mhz so I left it at 2667Mhz for this review.
Test Setup
Test Setup
Processor:
AMD Ryzen 7 1700
Intel Core i7-6900K
Motherboard:
MSI X370 xPower Gaming Titanium (BIOS Version 1.1)
ASUS X99 Deluxe II (BIOS Version 1504)
RAM:
Crucial Ballistix Elite 2667 MHz DDR4 16GB (2x8GB)
Graphics Card:
NVIDIA GeForce GTX 1070
Storage:
Crucial MX300 1TB SSD
Power Supply:
SilverStone Titanium ST80F-TI 800W
Case:
Open ATX Bench Case
OS:
Windows 10 64Bit
Thermal Compound:
Noctua NT-H1
Heatsink:
Noctua NH-D15
All of the testing is done with an ambient temperature of ~21C and the CPUs are tested with the power saving features disabled in the BIOS. CPU-Z will be used to verify the CPU speed and the voltage being used in Windows 10. Also, the testing was done on a fresh install of Windows 10 64-bit and we made sure there were as few processes running as possible by disabling a bunch of unnecessary services that come with Windows 10. To make this testing as fair as possible, I will be using the same components listed above (RAM, SSD, GPU, Cooler, PSU) on both test units. Both CPUs will be running at default speeds and RAM speed will be set to 2667Mhz for Ryzen 7 1700 and 2666Mhz for the i7-6900K.
We are setting the Windows power profile on High Performance mode because Ryzen's SenseMI doesn't function properly when set on Balanced mode. When the Windows power profile is set on Balanced mode, it seems that Windows takes over and mis-manages Ryzen's power/clocks. The Balanced mode has problems with waking up the cores from sleep and setting it on High Performance mode forces all cores to be active. I noticed that if I set the Windows Power profile on default Balanced mode, Ryzen's performance drops by at least 5% so this is something that Microsoft and AMD need to address with either a windows update or BIOS update.
tCTL Sensor in AMD Ryzen 7 Processors
Model:
True Junction Temp (Example)
tCTL Offset for Fan Policy
Temp Reported by tCTL
AMD Ryzen 7 1800X:
38°C
20°C
58°C
AMD Ryzen 7 1700X:
38°C
20°C
58°C
AMD Ryzen 7 1700:
38°C
0°C
38°C
I want to quickly mention something about the temperature sensor in the Ryzen processors. According to an official post on AMD's blog, AMD explained that their Ryzen 7 CPUs have a sensor called tCTL (T-Control) which is the primary sensor that reports how hot everything is and the sensor takes the temperature from the interface point between the CPU die and the heatspreader. The tCTL sensor is offset on the Ryzen 7 1800X and 1700X which AMD says is necessary so all AMD Ryzen processors have a consistent fan policy. You can simply subtract 20°C to determine the true junction temperature of the 1800X and 1700X. Also, keep in mind that most applications will be displaying the offset reading, instead of the actual junction temperature.
In gaming, we will be testing at 1920x1080 and 2560x1440 and the settings will be set to ultra. Idle power consumption of the entire computer will be measured after leaving the computer idle for 20 minutes with no additional applications running in the background. Load power consumption of the entire computer will be measured during benchmarking in 3DMark FireStrike on max settings. I want to make it clear that power consumption measurements will differ per computer and components if you add optical drives, HDDs etc and it will also differ based on the PSU efficiency. We are measuring the entire system, not just the processor's power consumption.

Synthetic Benchmarks:
+ Cinebench R15
+ Cinebench R11.5
+ POV-Ray 3.7
+ FryBench
+ TrueCrypt 7.1a
+ SiSoftware Sandra
+ PCMark 8
+ 3DMark Fire Strike

Gaming Benchmarks:
+ Watch Dogs 2
+ Deus Ex: Mankind Divided
+ Hitman (2016)
+ Battlefield 1
+ Tomb Raider (2016)
+ The Division
+ The Witcher 3

Power Consumption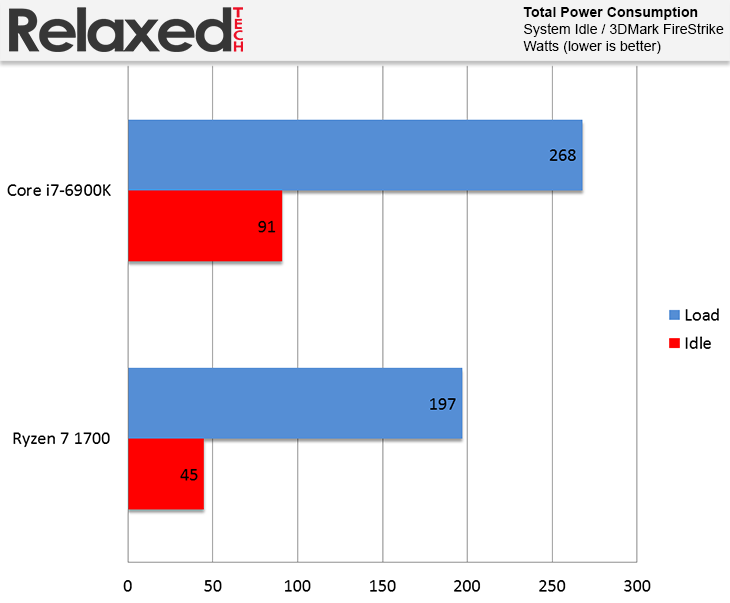 In the past, AMD's CPUs have never been able to compete with Intel in power consumption but it seems that the tables have turned in favor of AMD this time. Both CPUs are built on 14nm manufacturing process, and yet, the Ryzen 7 1700 consumes way less power in both idle and under load. Intel must be on suicide watch right now.
Temperature
Thanks to the Noctua NH-D15, the Ryzen 7 1700 at default settings runs under 26 Degree Celsius in idle and never goes above 43 C in gaming. I fired up Witcher 3 on max settings and I never saw the temperature go above 43 C so that's excellent. After overclocking it to 3.8Ghz (1.3875v), idle temp remained the same but load temperature jumped to 57 C which is still very impressive. Once I exit out of Witcher 3, the temperature dropped back down to 26 C within a few minutes. Also, keep in mind that you will probably need less than 1.3875v to get the Ryzen 1700 stable at 3.8Ghz. I used 1.3875v just to be on the safe side because I hate rebooting into the BIOS every 30 seconds just to up the voltage so you will most likely get even better temperatures than me if you use less volts. You can easily reach the performance of the Ryzen 7 1800X with the Ryzen 7 1700 CPU. Nevertheless, the Ryzen 7 1700 impressed me with its power consumption, temperature and overclocking ability.
CPU Performance Results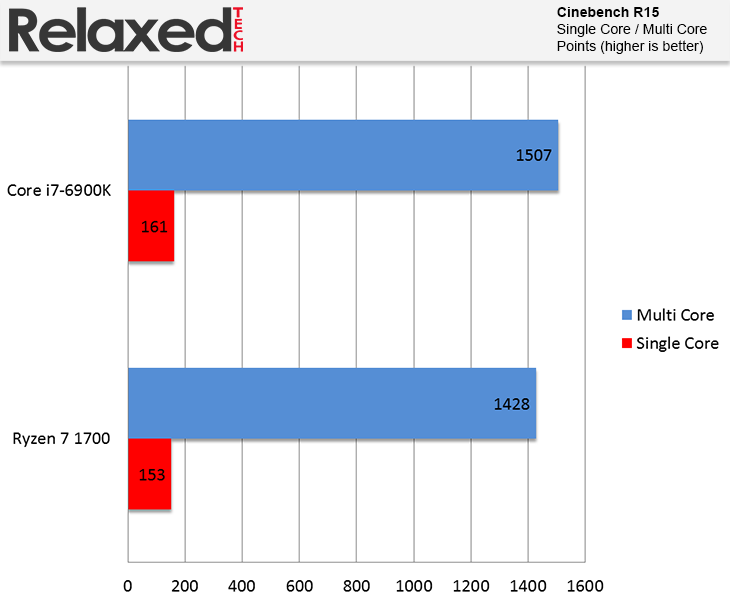 AMD has always struggled with single core performance but Ryzen has finally taken care of that. Looking at the Cinebench R15 chart above, we can see that the ryzen 7 1700 offers similar single and multi-core performance to the i7-6900K while costing 1/3rd of i7-6900K.



We see the same thing with Cinebench R11.5, the Ryzen 7 1700 performing about the same as the i7-6900K. Gotta love the amazing single and multi-core performance at just $330.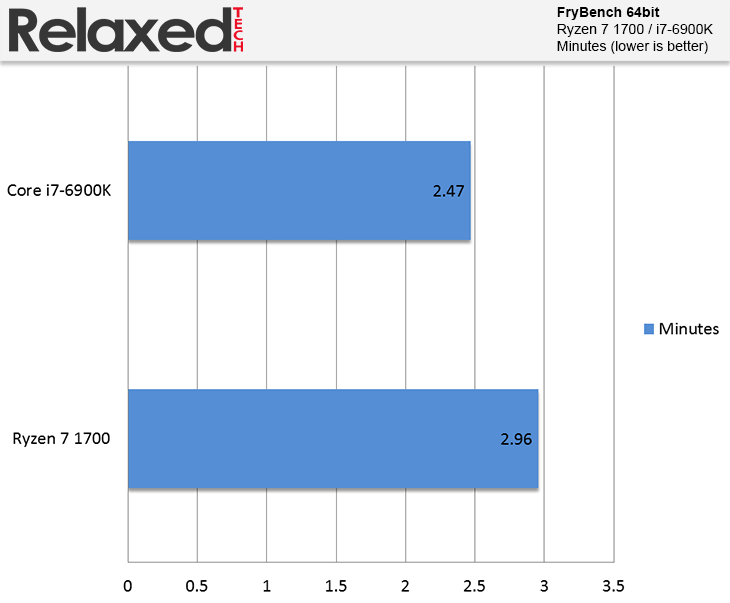 FryRender is a popular benchmarking tool and both CPUs performed similar to each other in this test.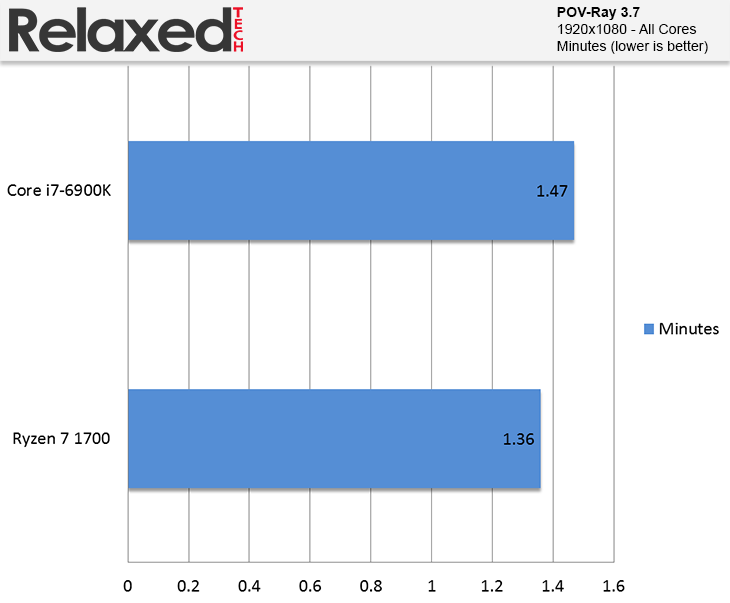 The Ryzen 7 1700 managed to beat the i7-6900K in this benchmark.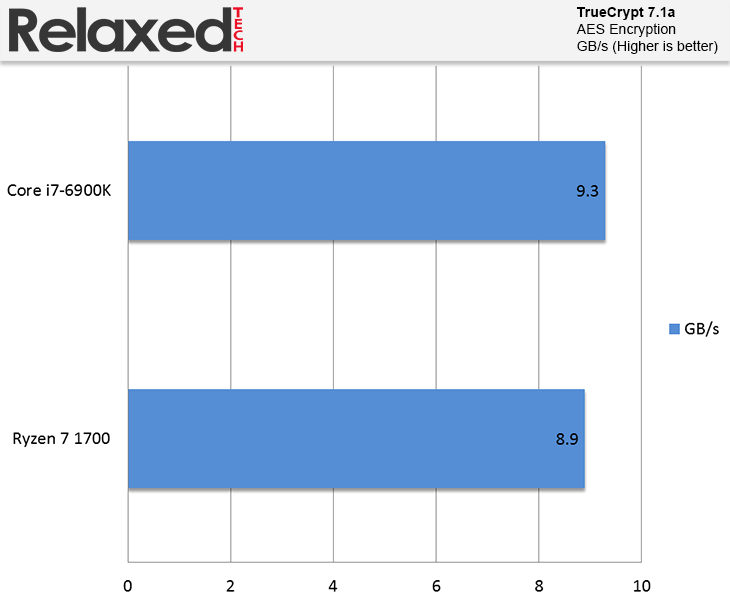 Moving on, the Ryzen 7 1700 slightly fell behind the i7-6900K in this test.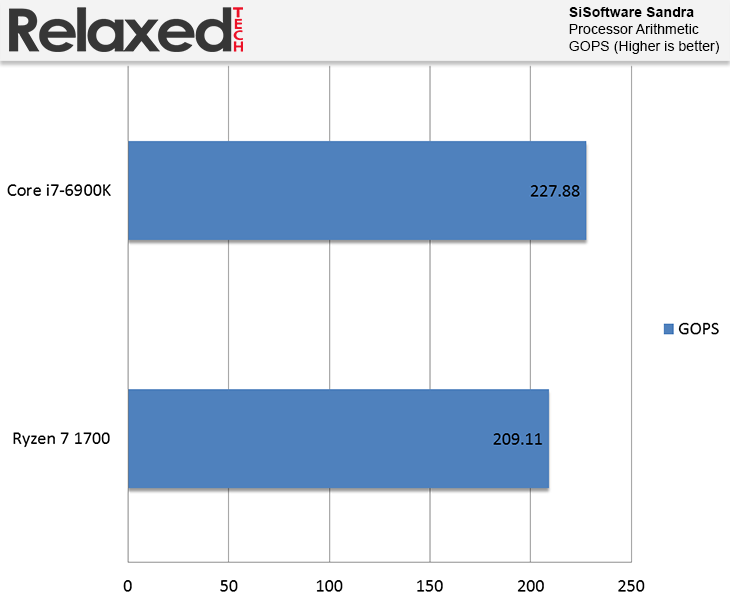 Both CPUs performed very well here with the i7-6900K performing slightly better.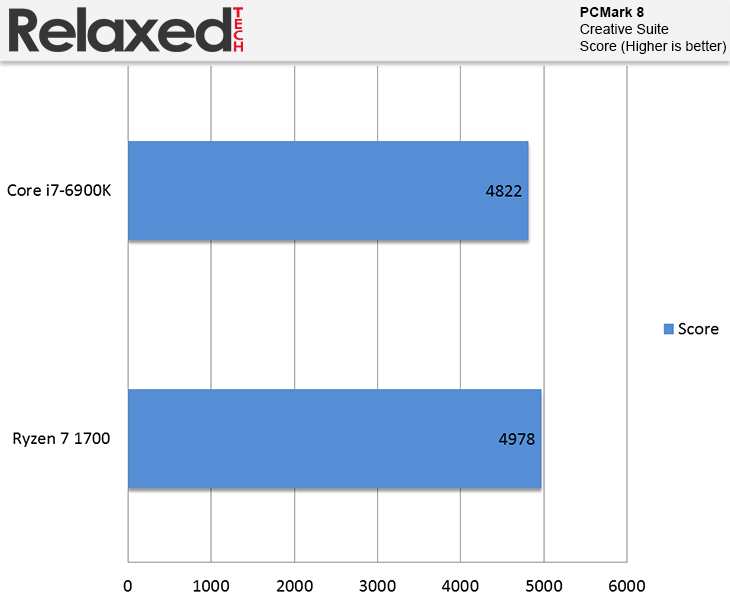 In the PCMark 8 Creative Suite benchmark, the Ryzen 7 1700 jumped ahead of the i7-6900K with 4978 points.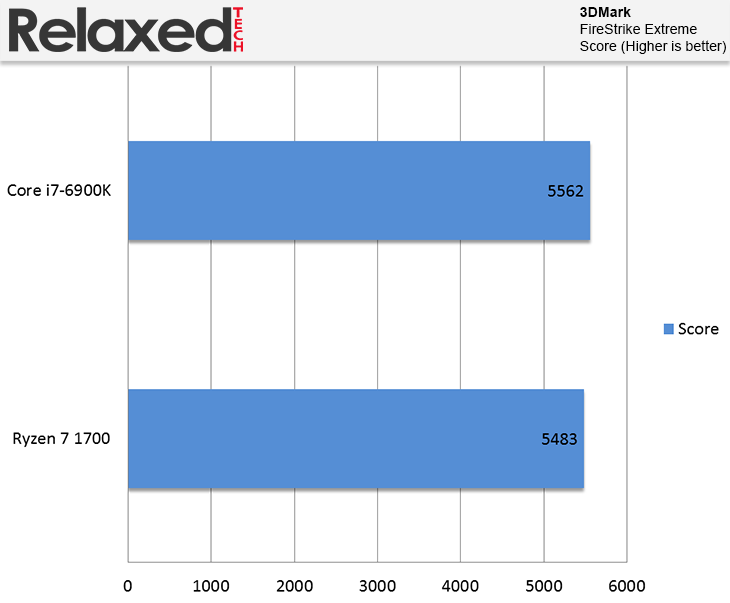 Moving on, the Ryzen 7 1700 once again delivered very good performance in 3DMark FireStrike Extreme test.
Gaming Performance Results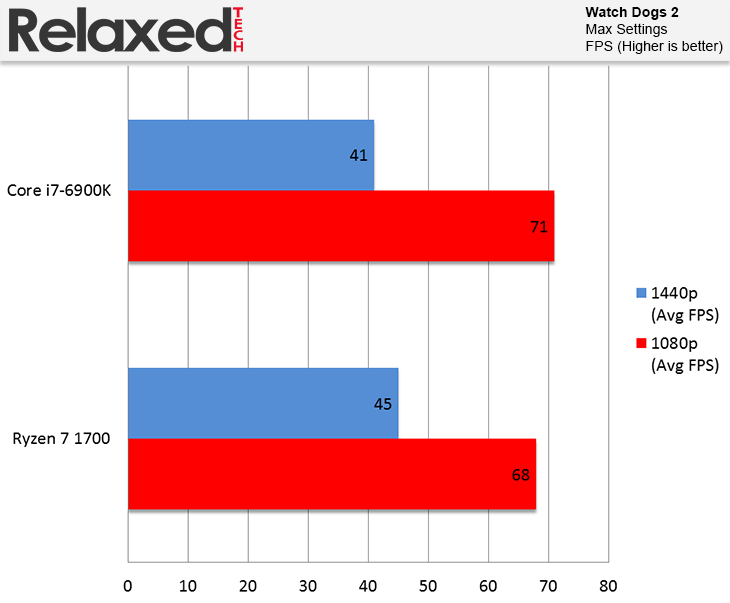 The Ryzen 7 1700 lost in 1080p but won in 1440p.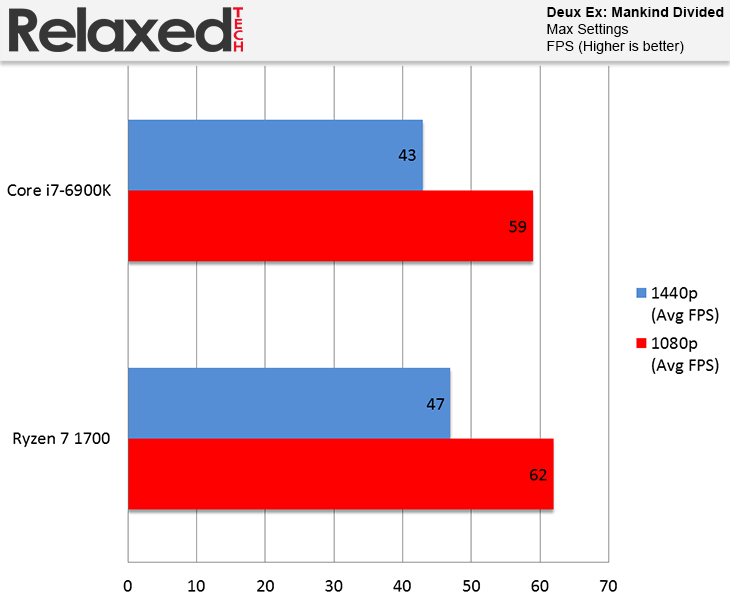 The Ryzen 7 1700 won in both 1080p and 1440p in Deus Ex Mankind Divided.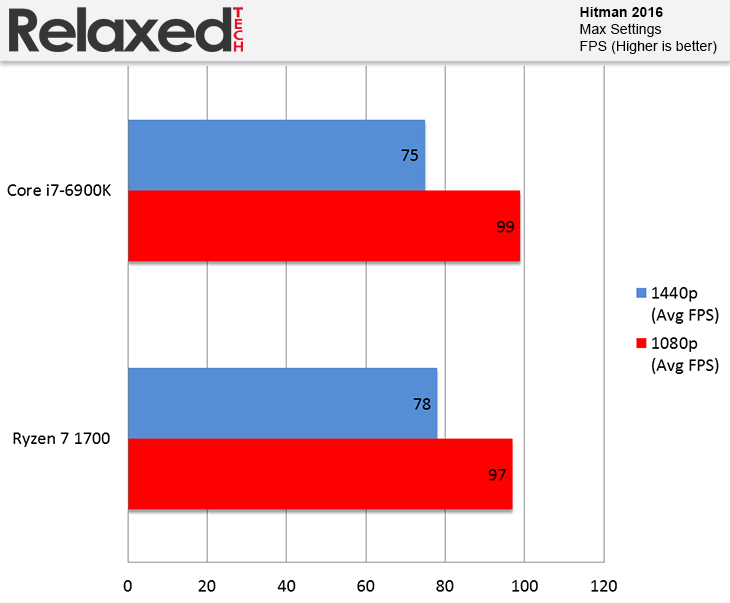 We see the same thing that we saw in the Watch Dogs 2 benchmark, the Ryzen 7 1700 won in 1440p but lost in 1080p.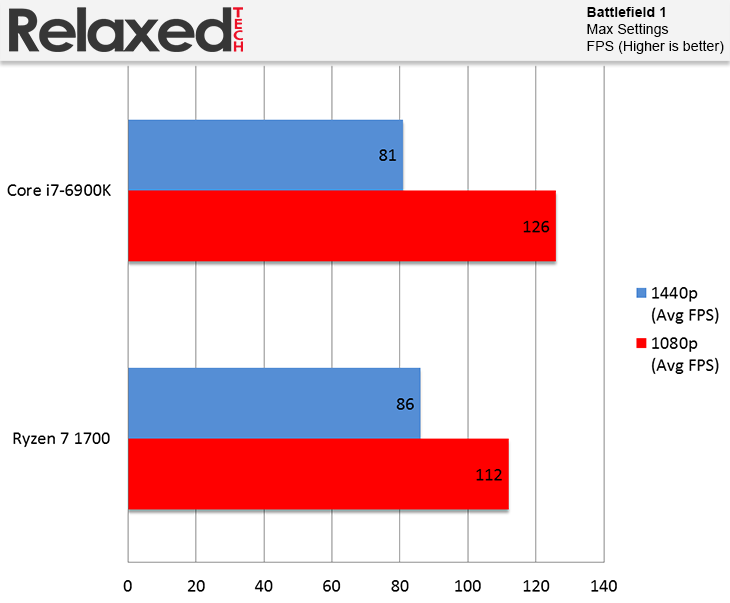 Once again we see the same thing in Battlefield 1.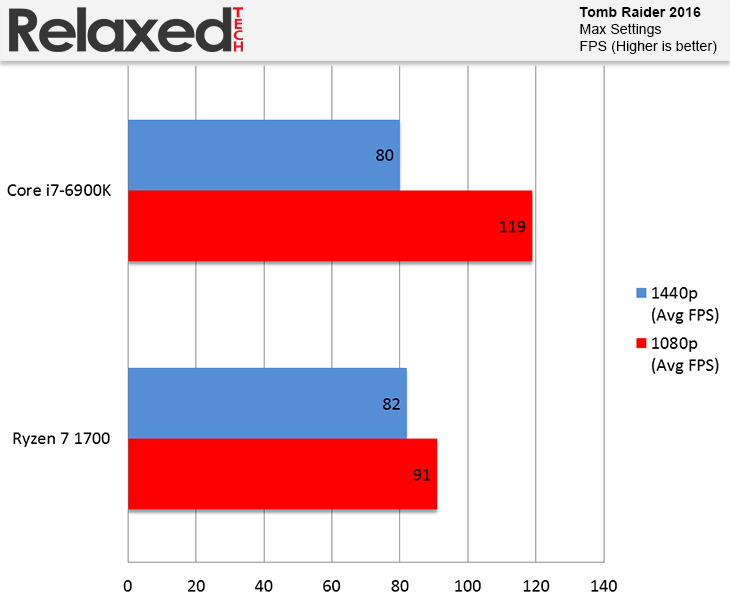 The i7-6900K managed to outperform the Ryzen 7 1700 by quite a bit in 1080p but still lost in 1440p.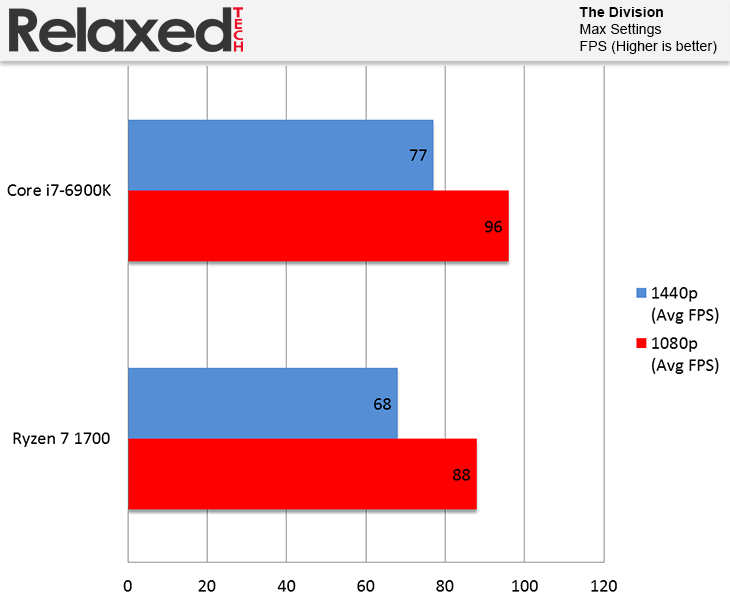 The i7-6900K performed slightly better than Ryzen 7 1700 in both cases in The Division.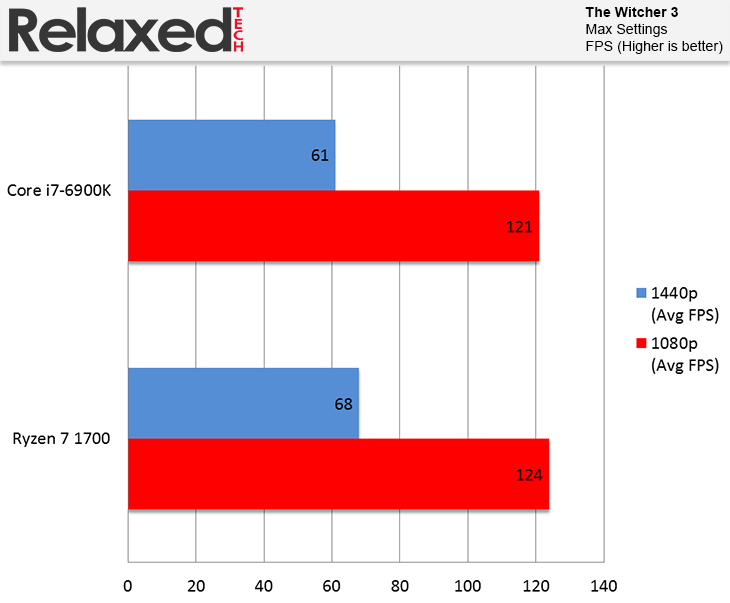 The Ryzen 7 1700 destroyed the i7-6900K in Witcher 3 in both 1080p and 1440p.
Value & Conclusion
I'm very confident to say that Ryzen was exactly what AMD needed to break Intel's CPU monopoly. As a tech enthusiast, I'm very happy to see AMD deliver a great processor that combats the competitor's in the enthusiast segment. To put things into perspective, Intel spends approximately 12 billion dollars on R&D each year while AMD spends roughly a billion. AMD's revenue for 2016 was $4.27 billion and Intel puts more money into R&D than AMD even makes overall. You also have to remember that AMD's $1B R&D budget is for CPU and GPU so half of that goes to their GPU division unlike Intel and Nvidia. Not only is AMD fighting Intel with their 1 billion dollar R&D budget, but Nvidia as well so I have to respect AMD for releasing a great product while spending 1/12th of Intel's R&D budget. Of course Intel doesn't spend all of its $12 billion on CPUs alone, but you can be damn sure that their budget is higher than $500m annually for CPUs.
Ryzen is an incredible accomplishment and even Intel fanboys should be happy for AMD's success with Ryzen because advances in personal computing have been stagnant for years now due to Intel not having any competition from AMD. If you are still not impressed, then here's another fun fact for you, Intel has a total of 107,000 employees and last year, Intel fired 12,000 employees while AMD has a total of 9,000 employees and it is still able to compete with both Intel and Nvidia. AMD must have some top-notch people working for them since they are able to compete in the same ballpark as Intel at 1/12th of Intel's R&D budget and with just 8.4% of Intel's total employees.
I've been using the Ryzen 7 1700 processor that AMD sent me along with the MSI X370 Titanium for a few days now and this is what it comes down to. The actual performance of the Ryzen 7 1700 processor is excellent. I use my computer for a combination of things such as gaming and developing web applications. When I'm developing, the Ryzen 7 1700 processor is definitely much faster than the i7-6900K and the performance difference is huge between the two. When gaming, even though my average FPS is slightly lower than the i7-6900K, the Ryzen 7 1700 feels smoother and fps drops happen a lot less. It's hard to actually describe it since the Ryzen 7 1700 achieves lower average FPS than the i7-6900K, but gaming experience feels smoother on Ryzen 7 1700 than i7-6900K despite the i7-6900K achieving higher average FPS in some games.
Now let's talk a little bit about the AM4 platform. Something that I have always loved from AMD is that their platform lasts much longer than Intel. The AM4 platform seems like a really promising platform and will be around until 2020, but it currently has some issues. My suggestion to anyone who is waiting to buy a Ryzen CPU is this, if you can, wait a couple of months until everything is ironed out. It just feels like AMD slightly rushed Ryzen to the market because there are a lot of issues with the current drivers and software. I have experienced a lot of random reboots and applications randomly crashing. AMD also needs to work with motherboard manufactures to make it easy to get the RAM speed up to 3000Mhz or more.
AM4 is a brand new platform and it's important to realize that every new CPU has bugs. Intel has bugs in their CPUs all the time. Remember Intel's Skylake bug that caused PCs to freeze during complex workloads and what about the early launch issues with X99? Bugs are very common with new products and there is just no way around that and Ryzen has its own bugs just like any other CPU. These bugs normally get fixed via a BIOS update or through windows update as a microcode update. For now, we have to wait until motherboard manufactures release BIOS updates and Microsoft releases a microcode update. The MSI motherboard that AMD sent me hasn't had a BIOS update since Ryzen was released so there's that.
From what I have read, it seems that the motherboard manufactures weren't given enough time to fix all the issues before Ryzen was released and now we may have to wait for BIOS updates which could possibly take months. Despite updating the drivers, windows updates, BIOS (even Beta versions found on MSI's forum), there's still some issues with Ryzen. I understand that new architectures don't just work perfectly without issues but AMD should have definitely worked more with the motherboard manufactures to address these issues before Ryzen was released and given them enough time to iron out everything.
Overall, I am very impressed with how well the Ryzen 7 1700 performed against the i7-6900K. The Ryzen 7 1700 is the new king of price to performance ratio. It is the perfect processor for content creation and it's very good with gaming and it's very hard to beat with its great price. Something that people need to realize is that gaming is not the only thing that people use their computers for and it's probably not even the most used application for computers by a huge margin. We all expected a 40% IPC improvement and yet, AMD overshadowed that with 52% IPC improvement, and there are still people complaining about Ryzen's performance.
The Ryzen 7 1700 is staggeringly ahead of any $330-500 Intel CPU's in multi-core performance. There might be some issues with how some games handle SMT which will most likely get fixed with future patches and don't forget that even Intel had major issues with Hyper-Threading in the early days. Games and software have been tailored to Intel's architectures for the past 6+ years and now we have to wait for games and software to catch up to AMD's new hardware. Zen is a brand new architecture, built completely from scratch and it is unknown to software.
AMD Ryzen's gaming performance will only improve with future patches and AMD has already started working with game developers to get current and future games optimized for Ryzen. These are some AAA titles that are currently being optimized for Ryzen: Doom, BF1, Deus Ex: Mankind Divided, Fallout 4, Ashes of the Singularity, and Totalwar: Attila.

Pros:
+ Outstanding Performance
+ Low-Power Consumption (65W TDP)
+ Much Cheaper Than Competition
+ Ryzen Master Software
+ Perfect For Multi-Tasking
+ Can Reach 1800X Performance Easily
+ Future-Proof Platform
+ Ultimate Price/Performance Value
+ Runs Very Cool

Cons:
- Slightly Rushed To The Market

AMD did a fantastic job with Ryzen and maybe expectations were a little bit too high, but expecting a 100% win over Intel in one generational jump is the reason why some people are disappointed from Ryzen's performance. Ryzen is great for gaming and excellent at workstation applications. There will always be people who want the fastest but the majority of people want the best bang for the buck. I can safely say that the Ryzen 7 1700 is the best choice for those who do multi-threading work, gaming, and streaming and the price/performance ratio of the Ryzen 7 1700 is fantastic.
Ryzen finally closes the huge gap between AMD and Intel in the high-end segment. Intel's next CPU can no longer be the same remake with as few cores as possible because AMD just raised the bar. We're in the new multi-thread era and Ryzen will only improve with time. Ryzen will make Intel work harder next time and to give us more than just 3% performance increase each year. The Ryzen 7 1700 processor easily deserves our Gold Award.
Final Score 9.8