Introduction

Admiral was founded in 1934, in Chicago, Illinois and it was later established in Taiwan in 1967 as Admiral Overseas Corporation (AOC). At that time, AOC was the first manufacturer of color televisions for export and fast forward to now, AOC is selling in more than 100 countries worldwide and their products include CRT/LCD monitors, LCD TVs, All in One units, and Android Tablets.
AOC has become a well known name in the enthusiast market and have gained a lot of respect for releasing quality monitors. Their monitors are designed for any solution weather it is for gaming, corporate, creative and USB powered monitors. The gaming industry is one of the fastest growing industries in the world and it keeps growing each year. If you are a gamer, there are so many gaming monitors to choose from nowadays and the Agon line from AOC is specifically targeted at gamers.
AOC has sent us the AOC AG271QG Agon which is a 27 inch stylish gaming monitor that incorporates a wide range of features such as IPS panel, fully adjustable stand, and support for G-Sync with 165Hz refresh rate at 4 ms response time. The AOC AG271QG Agon 27 inch monitor is an extremely well designed gaming monitor which retails for $619.99 on Amazon. It is positioned toward the higher end of the gaming monitor market and competes with other 1440p IPS-Panel 144/165Hz monitors that are on the market such as the Asus ROG PG278Q, ViewSonic XG2703-GS and Acer XB271HU.
Features & Performance
AOC is using a 27 inch AU Optronics AHVA (Advanced Hyper-Viewing Angle) panel on their AG271QG Agon monitor with a 2560 x 1440 resolution. AHVA panel is an IPS (In-Plane Switching) type panel that's designed for great color consistency and viewing angles compared to TN panel.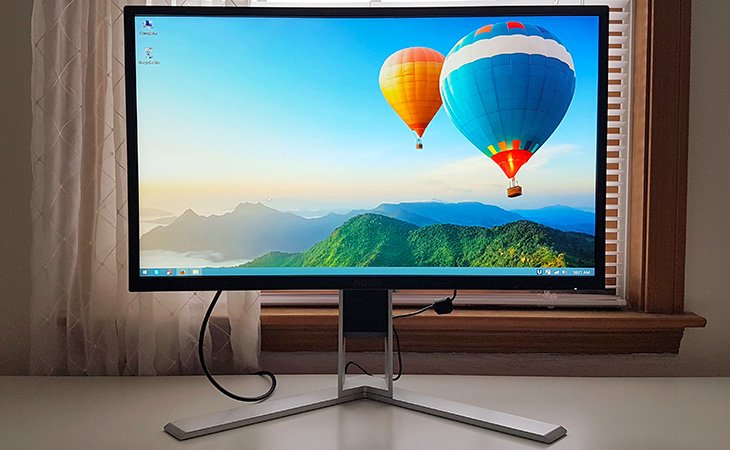 Gaming performance is excellent with the AG271QG. I tested the performance by playing GTA V and CS:GO on maximum settings and I must say that the image quality is outstanding. Color accuracy was strong on GTA V and CS:GO and the environments appeared natural and vivid. To take full advantage of the G-Sync feature, you will need a high end NVIDIA video card such as the GTX 1070 or GTX 1080 which can be very expensive. The GTX 1070 retails for around $450 while the GTX 1080 can be had for around $650.
NVIDIA's G-Sync is designed to ensure smooth on-screen action which works by synchronizing the display's refresh rates to the GPU in your GeForce GTX-powered PC to eliminate screen tearing. The 165Hz refresh rate is effectively faster than a standard display and can help you get those critical missing images on the screen which shows enemy movement in ultra smooth motion so you can easily target them. AOC's warranty process is a 14-day DOA (Dead On Arrival) policy so if you receive a defective monitor, you can return it during that time and they will replace it with an identical one.
Specifications
AOC AG271QG Specifications
Manufacture:
AOC
Model:
AG271QG
Viewable Screen Size:
27"
Panel Type:
IPS Panel
Aspect Ratio:
16:9
Brightness:
350 cd/m2
Refresh Rate:
165Hz

Contrast Ratio (dcr):
50,000,000:1 (dynamic)
Response Time:
4ms
Max Resolution:
2560 x 1440
Color Depth:
16.7M
Pixel Pitch (mm) (H x V):
0.233 x 0.233
View Angle (degrees) (H x V):
178 / 178
Display Area (mm) (H x V):
596.74 x 335.66
Scanning Frequency (H / V):
30~83KHz / 50~76Hz
Cabinet Color:
Black/Red
Adjustability:
Tilt: -3.5°±1.5°~+21.5±1.5°, Pivot: 90°
Swivel, Height Adjustment: 130 mm
VGA/DVI-D:
0
HDMI 1.4:
1
Display Port 1.2:
1
USB 3.0:
4
Power Consumption:
45W (typical), Standby: ~0.5W
Power Source:
Universal 110~240VAC, 50/60Hz
Built-in Speaker:
2W x 2
Audio:
Audio line-in/Earphone-out
User Control:
Source/Auto/Exit, Left/Game Mode
Right/Shadow Control Menu/Enter, Power
Regulations:
uTUVus, CE, FCC, RoHS, Windows 8/10
OSD Languages:
16 Languages including English, French and Spanish
Other Features:
NVIDIA® G-SYNC™, User Friendly Graphical OSD Menu
VESA 100mm Wall Mount Compliant, Kesington Security Slot
AOC's eSaver Software, i-Menu Software
Net Weight (lbs/Kgs):
14.9/6.8
Gross Weight (lbs/Kgs):
22.1/10
Monitor in inch (WxHxD):
24.5 x 17.1 x 8.6
Monitor in mm (WxHxD):
622.7 x 432.7 x 218.2
Loading Qty w/pallet:
20' = 288 pcs; 40' Std= 576 pcs
UPC:
685417713684
In the Box:
27" Monitor, Power Adapter, Power Cord, HDMI cable
DP cable, Audio Cable, USB Cable, Quick Start Guide
Packaging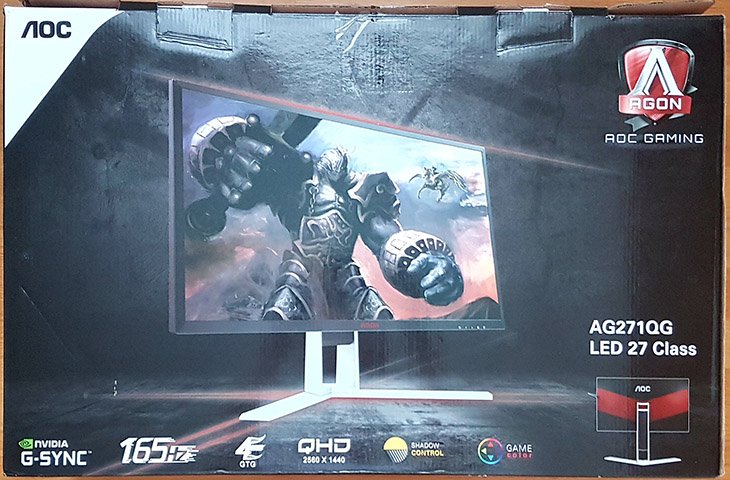 The monitor comes in an elegant box that is huge and weighs exactly 10 kg. All of the features are listed at the bottom of the box and the monitor's dimensions are 24.5 inch in width, 17 inch tall and 8.6 inch deep. Looking at the top right of the box, we see the name 'AGON GAMING' and underneath this, we see 'AG271QG LED 27 Class'.

When you open up the box, you will be confronted with the monitor's quick-start guide, which is printed on the inside flap of the cardboard. The manual and drivers are available for download at the AOC's website. AOC does include a basic quick guide manual but any documentation beyond that will have to be downloaded from AOC's website.

The monitor is protected by two high density foams as shock absorbent and plastic wrapping to prevent any accidental damages during shipping. Inside you will find the 27" monitor, power adapter, power cord, HDMI cable, DP cable, audio cable, USB cable and a basic quick start guide. The included cables are high quality and durable. The components inside are well packaged and everything feels well secured inside the box.
Design & Build Quality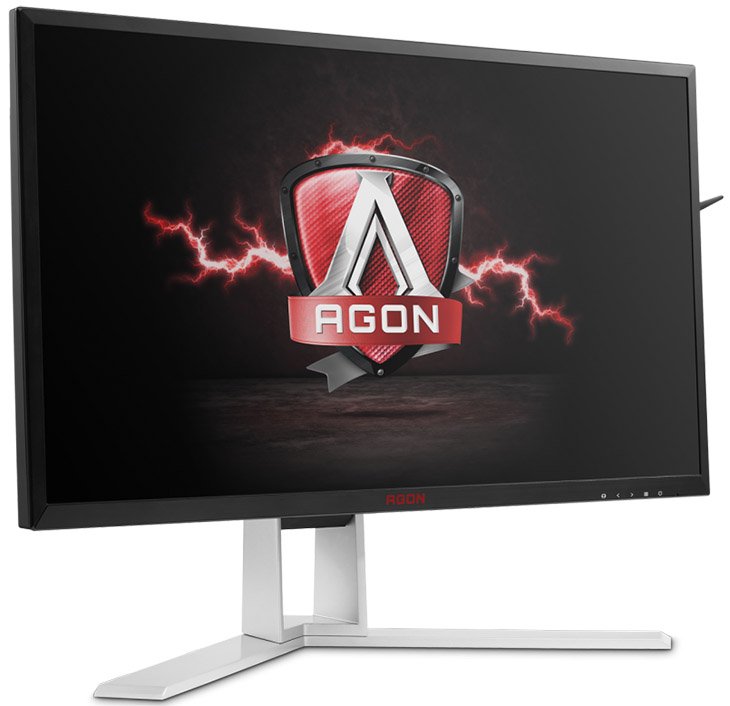 Visually, the AG271QG is very pleasing to the eyes. The metal stand design gives the monitor a very nice contrast to the black display. The AOC AG271QG has a mostly metal construction and movements are firm and precise. It is very robust due to the many metal parts and the stand offers excellent stability and is quite sturdy.
The panel, stand, and base are separated and must be assembled. Find the four black screws in the plastic bag to attach the panel to the stand. AOC also includes a VESA holding plate which can be used to attach the monitor to the wall. At the right side of the monitor, you will notice a retractable headphone hook that you can move down so that it sticks out at the side.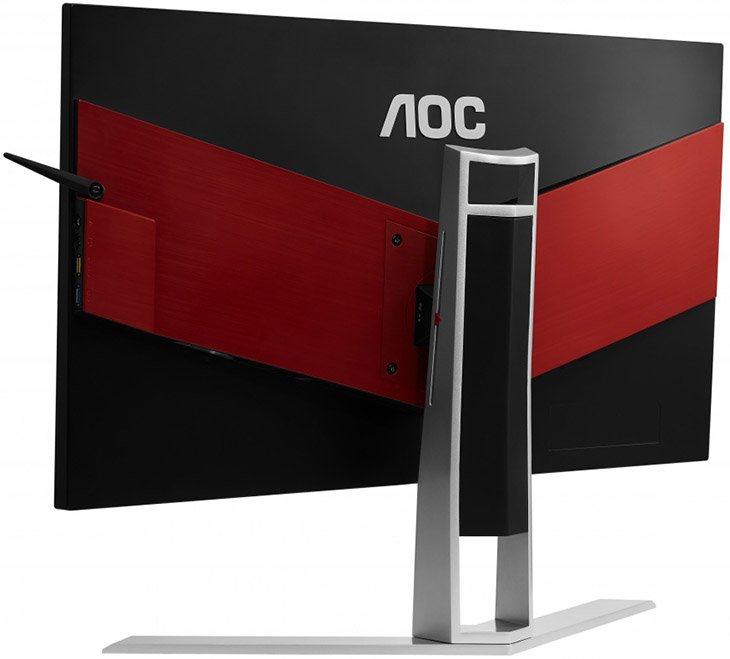 On the back is where you will find the Agon specific styling which is a large 'V-Shaped' red stripe against a black background. The back has a brushed-metal finish which I really like. There is a sliding scale to help with height adjustment and there's a small red plastic marker.
The screen is very flexible and can be rotated to a full 90 degrees into portrait mode and can swivel 20 degrees right to left. Depending on your preference, the monitor has a 130mm clearance for adjusting the height of the screen.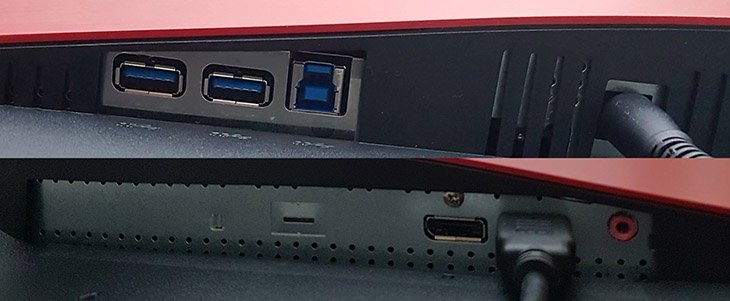 As far as ports go, there are two USB 3.0 ports, one USB 3.0 upstream and a DC power input which you can connect the external power brick to. On the other side of the monitor, there is a DP 1.2a, HDMI 1.4 and a 3.5mm microphone jack.
If you will be using a G-Sync video card, you must use DP 1.2 to get full access of the monitor and the 165Hz refresh rate. There's ventilation across the entire port area because the G-Sync module requires ventilation openings due to the heat that it generates which need to be dissipated.

At the right side of the monitor where the retractable headphone hook is, you will find two USB 3.0 ports, a 3.5mm microphone jack and a 3.5mm audio output. The USB 3.0 yellow port supports fast-charging.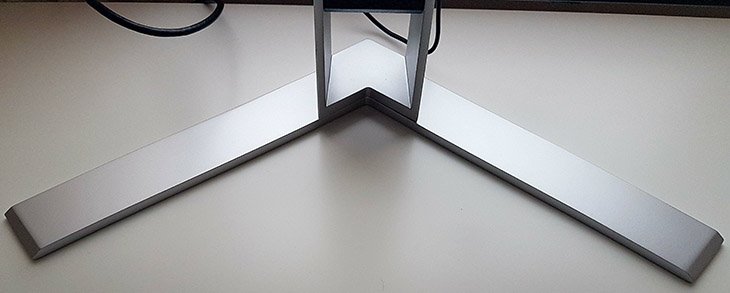 The base is well designed and it is made entirely of metal and it doesn't wobble at all even if I bang my desk.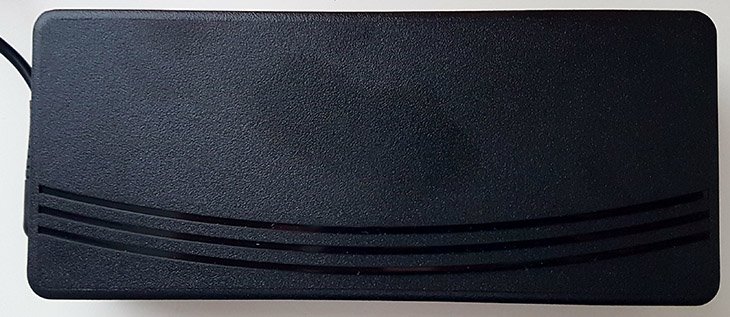 The power supply's dimensions are 170mm in width, 75mm in height, and 40mm in depth which is enormous and it has its own detachable power cord but it can easily be hidden thanks to the ~4 feet long cable.
On-Screen Display & Panel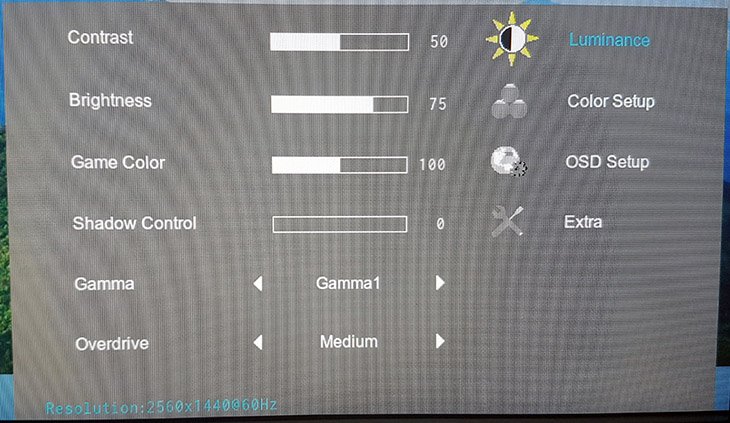 The AG271QG comes with a limited range of settings with just four sections in the OSD. The on-screen display buttons are located across the bottom of the screen which seems to be the norm with AOC monitors nowadays. The first setting in OSD is Luminance and this contains controls for Contrast, Brightness, Game Color, Shadow Control, three Gamma presets, and three Overdrive presets (weak, medium, strong). You can use the Shadow Control option to bump up areas that are hard to see and you can use the Game Color option which acts like a saturation control. The Shadow Control option can be used to dial-in shadow levels to increase contrast for better dark areas without affecting the rest of the screen.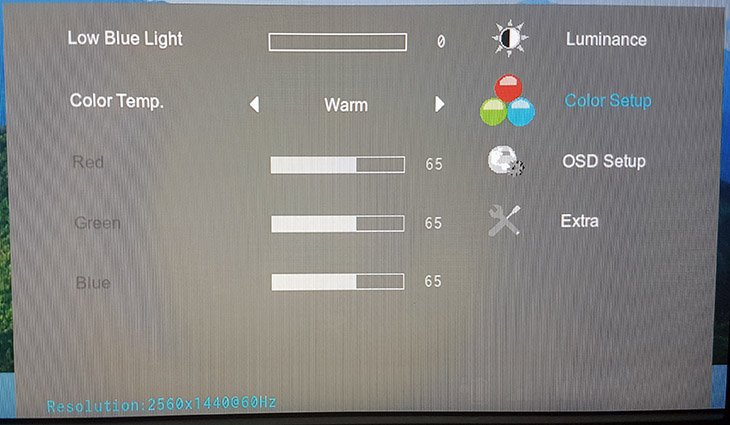 In the Color Setup section, you will see a Low Blue Light option which can be adjusted to reduce the effects of eye strain. The Color Setup section also provides control over color temperature via three presets, Warm, Normal, Cool, with Warm being the default. Besides the color temperature option, you can also tweak the sRGB colors in here. Something that you will notice is that AOC has taken out the picture modes option.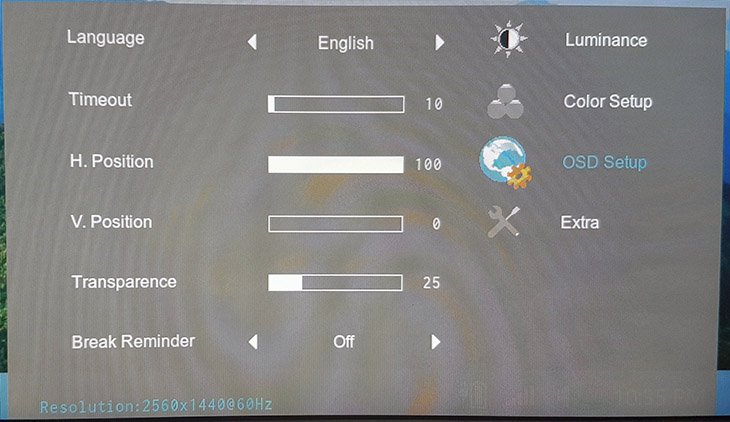 The OSD Setup section allows you to adjust the transparency, language, positions, break reminder and timeout. You can set up a reminder to take a screen break at certain intervals and you can set the timeout up to 120 seconds.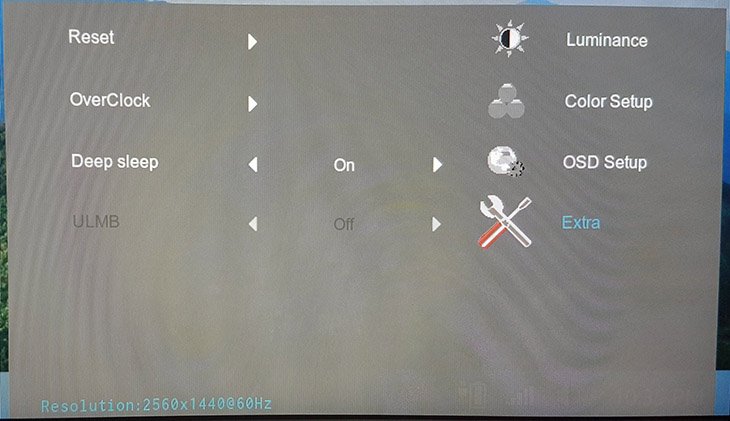 In the Extra section, you will find all the remaining options which can be left the way they are in most cases. Here you will also find the setting where you can turn on the OverClock 165Hz screen refresh rate which will force you to restart the screen. You will see a ULMB option which is used for blur-reduction when using G-Sync. I have to say that the OSD feels very basic, like it is missing a lot of features that most monitors in this price range have.
The bezel has a finish texture that is inspired by brushed metal. In the bottom center bezel is where the AGON logo is located, in bold, red-type.

The model of the monitor is printed in gray on the upper right bezel of the monitor.

Looking at the bottom right of the bezel, you can see the OSD (On-Screen Display) buttons labeled. The buttons themselves are not touch-sensitive and you need to press them from underneath the bezel and they are very hard to read in poor light conditions.
Backlight Bleed & Viewing Angles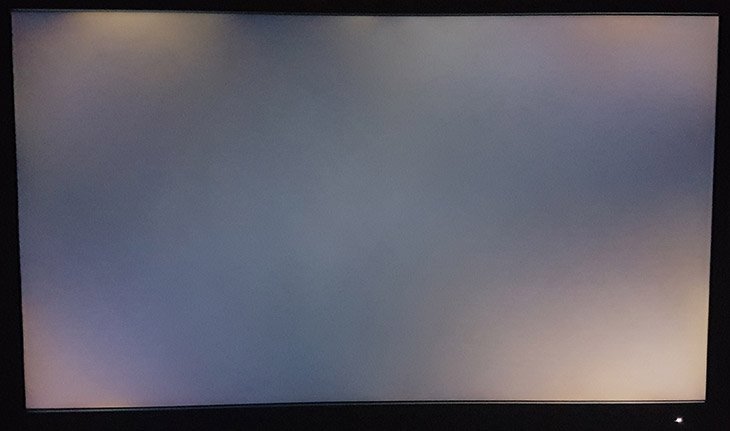 Acer and Asus have been having a lot of quality control issues with their 1440p 144/165Hz G-Sync IPS monitor suffering from backlight bleeding and I had high hopes for this monitor not suffering from the same quality control issues but unfortunately, it does. The backlight bleeding is a major concern among enthusiasts because it is very common with 1440p 144/165hz IPS display monitors.
The AOC AG271QG is using an AHVA panel with the panel model being M270DAN02.3. The 02.3 panel is known for suffering from severe backlight bleeding and this has been corrected to some degree with the 02.6 panel. The Acer XB271HU uses the 02.6 panel and from what I have tested, the bleeding is a lot better than the 02.3 panel. I took the above photo in a dark room with the brightness set to 75% which is the default value. Looking at the picture above, you can see a heavy concentration of the backlight bleed in the bottom right corner and also bottom left corner. There is a small amount on the top left and right side too, but the bottom right is what bothers me the most.
When it comes to backlight bleeding, it will all depend on how sensitive you are to it but I can tell you from spending two weeks testing this monitor, that it's not a big issue and you won't notice it unless you look for it. Like I've already mentioned, the only area that might bother some people is the white spot at the bottom right corner and this is going to vary from panel to panel but it's bearable. You must also keep in mind that nearly every IPS panel on the market suffers from backlight bleeding so you should be expecting it. So this is something that all IPS panels have it and it doesn't necessarily mean that you should be returning it because you think the screen has issues.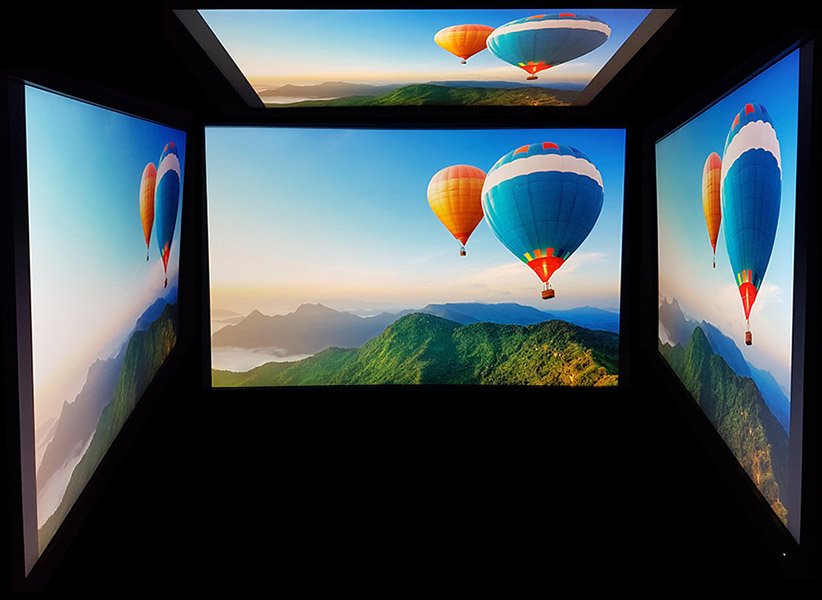 Since this is an IPS panel, viewing angles are fantastic and the color uniformity is very good. There was no color shifting or loss of luminance when viewed from an extreme angle during testing. The colors stay true no matter what angle you're viewing from and you can view the screen from basically any angle without distorting the picture or losing color. Unlike normal TN-panel which suffer from poor viewing angles and can be problematic for a number of reasons.
Conclusion
AOC is a well-liked monitor company in the industry and they are known for making sturdy, reliable and high quality monitors. On paper, the AOC AG271QG has everything you can ask for in an enthusiast gaming monitor such as high build quality, fully adjustable stand, IPS panel, great color accuracy, G-Sync ready and many more. The build quality is sleek and elegant and it definitely has a premium feel to it. Like I have already stated, the viewing angles are pretty much amazing and the default calibration is perfect. AOC is now directly competing with Asus and Acer in gaming monitor market and it is succeeding with its new Agon line.
Backlight bleed is very common with IPS panels and while the AG271QG does suffer to some degree from it, it's bearable. Keep in mind that backlight bleed should not be visible, unless you are looking at the corners and it is only visible on black. Another downside to this monitor is the 2W built-in speakers. They are fairly low-quality and even when the volume is set to 100%, the sound output is still too low. I rarely use the built-in speakers so this doesn't affect me but definitely keep that in mind if you are looking for good built-in speakers. If you are going to be building a gaming PC and you are leaning towards buying a G-Sync-ready graphics card, then definitely consider the AOC AG271QG monitor. It is without a doubt one of the best G-Sync monitors you will find on the market.
The 165Hz refresh rate is great for gamers even though the difference compared to 120Hz or 144Hz is barely noticeable. But I will say that it makes for a great responsive screen and it can easily be activated by enabling the overclocking mode and the OSD menu is clear and simple to navigate. If you are on 60hz monitor, then the difference will be huge but when you start getting this high in refresh rate, you would not be able to spot a difference.

Pros:
+ Excellent Gaming Performance
+ Aesthetic Design
+ IPS Panel
+ High Build Quality
+ G-Sync/ULMB Feature
+ 165Hz Refresh Rate
+ Excellent Packaging
+ Fully Adjustable Stand
+ Cheaper Than Competition
+ Superb Color Accuracy

Cons:
- Weak Built-In Speakers
- Backlight Bleed

The AOC AG271QG offers super quick panel response with 4ms and I can safely recommend this monitor to professional gamers. Color accuracy and image quality is also top notch whether you calibrate or not. If we compare the AOC AG271QG to the Asus ROG PG278Q ($650), ViewSonic XG2703-GS ($690) and Acer XB271HU ($750), the AOC AG271QG is much cheaper at $619.99. The Acer XB271HU does use a better panel (02.6) than the 02.3 panel used in the AOC AG271QG which is why it's more expensive.
The AOC AG271QG is certainly a new competitor in the performance 27-inch segment and AOC's Agon line is about value while still offering a high quality product with plenty of features. Overall, the AOC AG271QG easily deserves our gold award.
Final Score 9.0