Introduction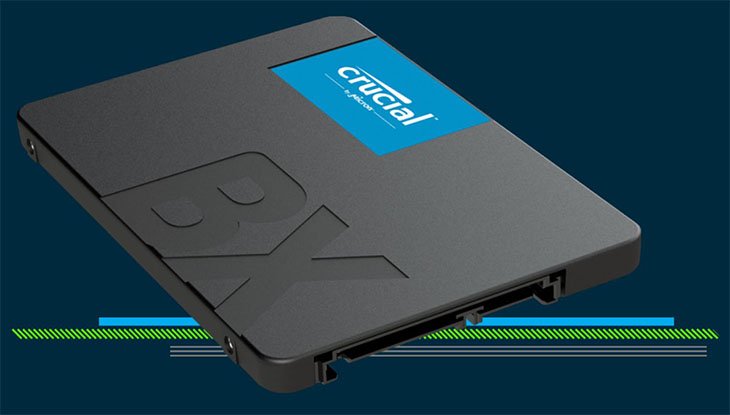 Note: This review has been updated on February 17, 2019 with the testing of the 960GB version.
We recently reviewed the Crucial P1 SSD which is an affordable entry-level NVMe PCIe SSD targeted at users where every dollar counts. By utilizing QLC NAND, Crucial is able to release a high capacity NVMe SSD for a lot less than what it would normally cost them if they were to use a TLC or MLC NAND. Crucial also recently expanded their mainstream SATA SSD line with the addition of the BX500 which is the successor to the BX300 that was released more than two years ago.
The BX series has always been the company's budget oriented line that is basically a stripped down version of the MX line with less features. The release of the BX500 is an interesting one because everybody expected Crucial to use QLC NAND to keep the price low but that's not the case here. Crucial is using TLC NAND but in order to keep the price low, they have decided to not use a DRAM chip. Making it DRAM-less has allowed Crucial to reduce component cost significantly but all of this comes at a performance hit.
Crucial's BX500 series feature a 3-year limited warranty and come in capacities of 120GB ($28), 240GB ($43), 480GB ($80) and 960GB ($130). In this review, we will focus on the Crucial BX500 480GB and 960GB models. Crucial advertises the BX500 series with sequential read speeds of up to 540 MB/s and sequential write speeds of up to 500 MB/s. Crucial has not published any random read and write performance for the BX500 which is a little strange since they always publish that information for every drive they release.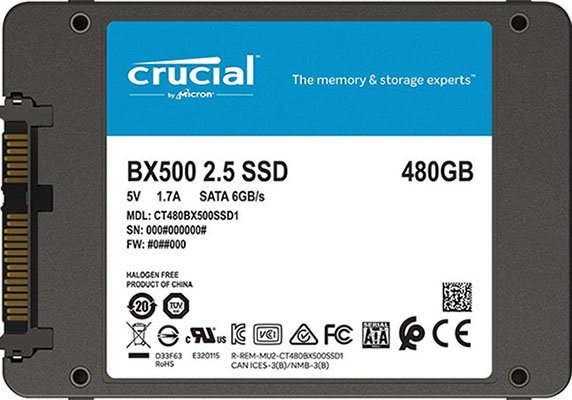 SATA SSDs use the AHCI interface which is an old hardware interface that was created back in the days when hard drives were popular but it's also used today with modern SATA SSDs such as the Crucial MX500 and Samsung 860 Evo. When an SSD uses the AHCI interface, that means that the read/write speeds will be limited by the bandwidth of the SATA 6 Gbps standard which is around 530MB/s read and 500MB/s write.
Crucial is utilizing the Silicon Motion SM2258XT controller in the BX500 which lacks DRAM cache. The Silicon Motion SM2258XT is a four channel controller designed for cost-effective storage solutions. Feature-wise, the BX500 SSD comes with Adaptive Thermal Protection, TRIM support, garbage collection and SLC Write Acceleration technology which accelerates sequential read and write speeds.
Pricing & Endurance
Micron's 3D-NAND technology is built to endure 120TB (TBW) for the 480GB model which equals to about 65GB read/write daily for 5 years while the 960GB model doubles that with 240TB (TBW) endurance which comes out to 130GB read/write per day for 5 years. The 120GB and 240GB models can handle up to 40TB and 80TB (TBW) and this amounts to 21GB read/write daily for 5 years for the 120GB model and 43GB for the 240GB model. The endurance is a bit low compared to other similar capacity SSDs from different manufactures but the average user won't be writing anywhere near 10GB per day so it won't matter much.
A few months ago, we reviewed the Samsung 860 EVO which is one of the fastest SATA SSDs out there but it costs much more than the BX500 and that's because it is designed for different needs. Samsung's 860 EVO is designed to deliver high performance while the Crucial BX500 on the other hand is designed for people who are looking for an entry-level SSD to replace their HDD. Chances are that these same people don't care about having the absolute fastest SATA SSD on the market. So instead of comparing these two drives together, we will compare the Crucial BX500 to the Toshiba TR200 because that's also a DRAM-less SSD.
Price-wise, both the Toshiba TR200 480GB and Crucial BX500 480GB retail for around the same amount. You will find the BX500 480GB for $78 on Amazon while the Toshiba TR200 480GB retails for $80. On Amazon, the Crucial BX500 240GB retails for $43 while the Toshiba TR200 240GB sells for $40. Crucial sells the BX500 960GB model for $130 which is $30 cheaper than the Toshiba TR200 960GB model that sells for $160. Another thing to keep in mind is that Toshiba does not sell a 120GB version of their TR200 SSD but Crucial does sell a 120GB version for just $28 which is perfect for people that need a low capacity SSD for as cheap as possible.
Features
The Crucial BX500 SSD supports many advance features such as Self Monitoring and Reporting Technology (SMART) which is basically a monitoring system used to perform an analysis of the drive for problems with the intent of anticipating hardware failures. It also supports garbage collection which is a form of automatic memory management that works by reclaiming previously written blocks of data so they can be rewritten with new data. TRIM support is included as well which basically means the operating system can inform the SSD which blocks of data are no longer in use and can be wiped internally.
Another feature that the BX500 supports is SLC Write Acceleration which is a technology designed to boost write performance by allocating a fixed SLC cache size which dynamically shrinks or grows depending on the amount of data stored on the flash. The SLC cache size varies based on the capacity of the SSD but with the SLC Write Acceleration technology, a part of the NAND memory acts as SLC memory (one bit per cell) and this portion of the NAND memory acts as a specific buffer through which all data write operations pass.
The Silicon Motion SM2258XT controller does not support AES 256-bit hardware-based encryption which is used to keep your personal files and confidential data restricted from hackers and thieves. Being hardware-based means that the encryption engine secures your data without the performance degradation that you may experience with software-based encryption.
Multistep Data Integrity Algorithm technology is a built-in feature of the NAND that protects your data if your system suddenly shuts down. Crucial has also included Adaptive Thermal Protection technology which ensures that the BX500 operates at optimal temperatures without overheating.
These are all the advanced features the Crucial BX500 SSD supports:
Garbage Collection
TRIM Support
Error Correction Code (ECC)
Self-Monitoring and Reporting Technology (SMART)
SLC Write Acceleration
Adaptive Thermal Protection
Multistep Data Integrity Algorithm
Specifications
Crucial BX500 Series
Model
120GB
240GB
480GB
960GB
Price
$28
$43
$80
$130
Interface
SATA 6 Gbps
Thickness
7 mm
Form Factor
SATA 2.5"
Protocol
AHCI
Controller
Silicon Motion SM2258XT
DRAM
None
NAND
Micron 64-layer 3D TLC
Sequential Read
540 MB/s
Sequential Write
500 MB/s
4KB Random Read (IOPS)
NA
4KB Random Write (IOPS)
NA
Endurance (TBW)
40 TB
80 TB
120 TB
240 TB
Operating Temperature
0°C to 70°C
Life Expectancy
1.5 Million Hours
Usage Application
Client PCs
TRIM supported
Yes
Hardware Encryption
No
Firmware
M6CR013
Warranty
3 Years
Launch Date
October 2018
Packaging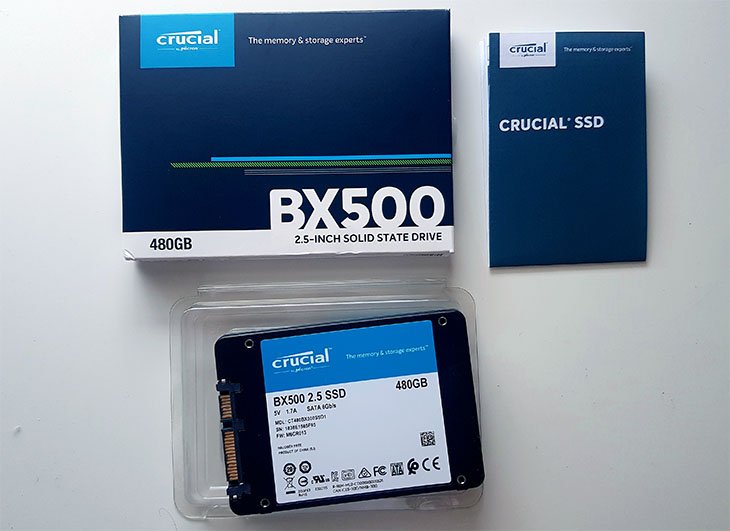 Crucial's BX500 packaging remains the same as their SATA SSD packaging. The packaging of the BX500 has a white strip on the front which lists the capacity size and the form factor located at the bottom right corner. On the back you will find similar information such as model, serial number, capacity and warranty information in varies languages. Crucial includes the Acronis True Image HD software for transferring data from your old drive to your new BX500 SSD which can be redeemed online.
You can download the Crucial Storage Executive software which can be used to enhance the performance of your SSD by allowing you to update the firmware, over-provision, secure-erase, and track the health of the SSD as well as see how much storage you've used. To configure your OS to work best with an SSD, you can disable index searching, prefetch, and superfetch because they are not needed if you are using an SSD I would also set the power options to high performance in Windows.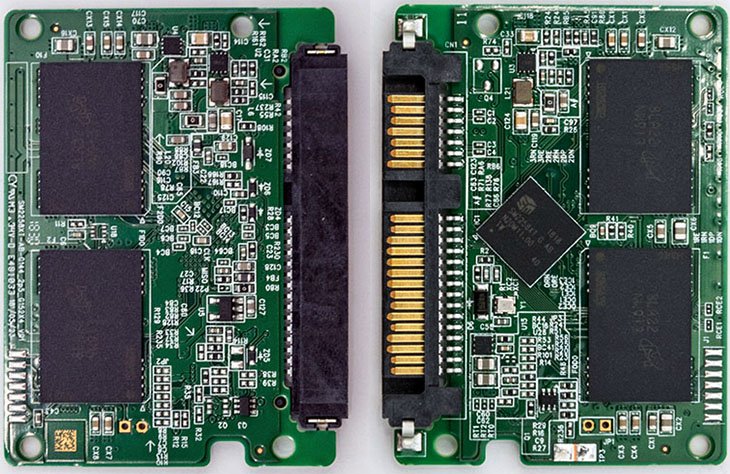 As you can see from the picture above, the BX500 480GB SSD is double-sided so you have two flash chips on each side of the PCB. Each flash chip has a capacity of 128GB which equals to 512GB in total. Crucial reserves a portion of the flash for SLC write cache to improve the performance which explains why the SSD is 480GB. On one side you will find the Silicon Motion SM2258XT controller which the 'XT' in this case means the controller supports a DRAM-less design.
Test Methodology
Test Setup
Processor:
AMD Ryzen 7 2700X (3.8Ghz)
Motherboard:
MSI X370 xPower Titanium (BIOS v1E)
RAM:
Ballistix Elite 16GB (2x8GB) DDR4 3200 MHz
Graphics Card:
Nvidia GeForce GTX 1070
Storage:
Crucial BX500 960GB
Crucial BX500 480GB
Crucial P1 1TB
Samsung 970 Evo 500GB
Western Digital Black 3D 500GB
Samsung 860 Evo 500GB
Crucial MX500 1TB
Crucial MX500 500GB
Crucial BX300 240GB
Crucial BX300 480GB
Crucial MX300 525GB
Crucial MX300 1TB
Toshiba TR200 480GB
Samsung 850 EVO 500GB
Samsung 850 EVO 250GB
Samsung 850 Pro 512GB
Power Supply:
Seasonic Focus Plus 750W Gold
Heatsink:
Noctua NH-D15
OS:
Windows 10 Pro 64-Bit
Thermal Compound:
Noctua NT-H1
Case:
Fractal Define Nano S
To make sure these drives perform at their maximum performance, we will be disabling all the power saving features in the BIOS (C6-state, etc). The testing was done on a fresh install of Windows 10 64-bit with the latest windows updates installed. We disabled a bunch of unnecessary services such as drive indexing, Prefetch, Superfetch, Defrag and removed all the bloatware from Windows 10 to make sure there were as few processes running as possible during the testing.
We'll be using the AMD Ryzen 7 2700X processor overclocked to 3.8Ghz and the MSI X370 xPower Titanium motherboard with the latest BIOS version which at the time of writing this is v1E. Installing and using an SSD is pretty straight forward, simply connect one end of your SATA cable to the SATA port in your motherboard and the other end of the cable to your SSD. After installing windows, make sure to check if you have the latest firmware.

Benchmark Software:
+ Windows 10 Startup
+ HD Tune Pro
+ ISO File Copy
+ AS SSD Read/Write
+ AS SSD Score
+ IOMeter
Benchmark Results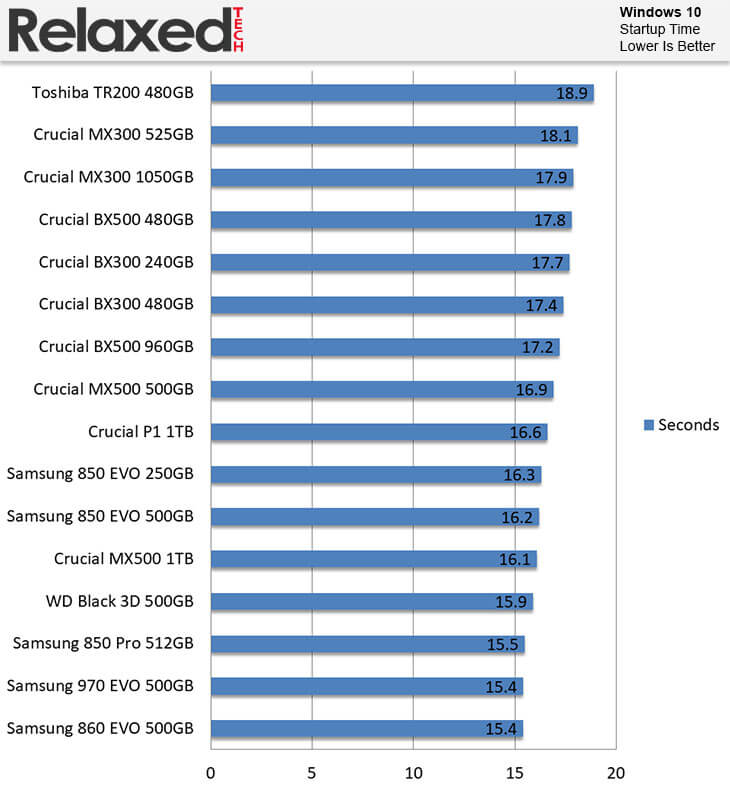 Windows 10 boot times are measured from the time it takes between hitting the power button to reaching the Windows desktop.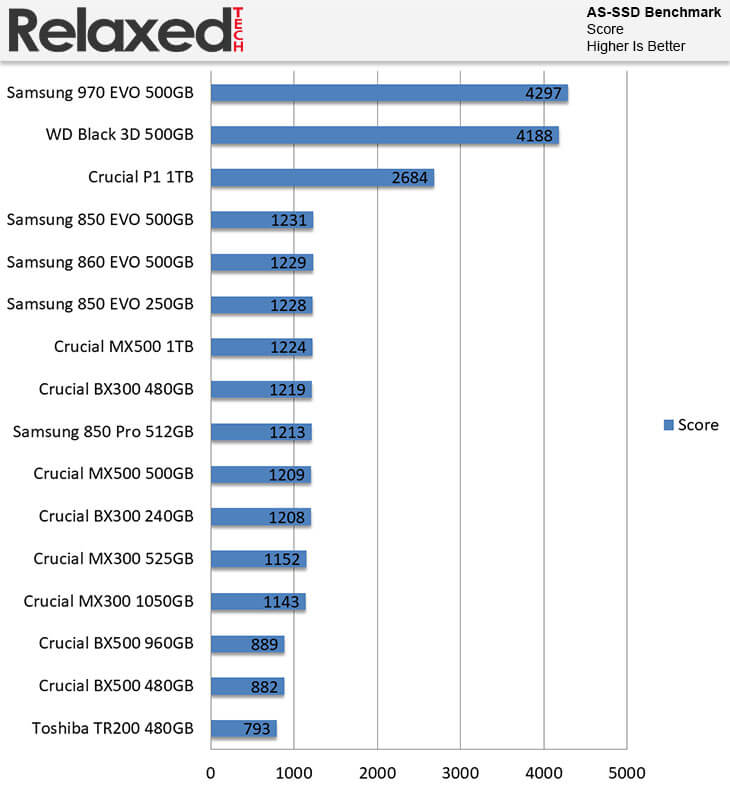 The AS-SSD software is a popular benchmarking software used to measure the performance of an SSD. In this test we are measuring the overall score.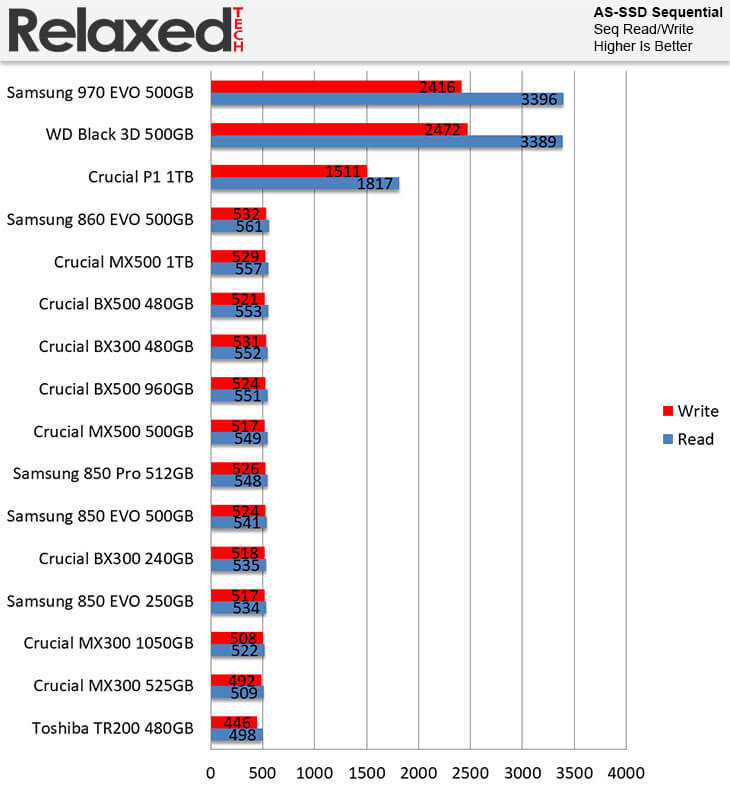 Once again, we are using the AS-SSD software to measure sequential read and write speed of each drive.



In this test, we are using IOMeter which is one of the best application for stress testing the random IO performance of an SSD. IOMeter is set to use 4KB file size chunks and will stress the SSD with random 4 KB files.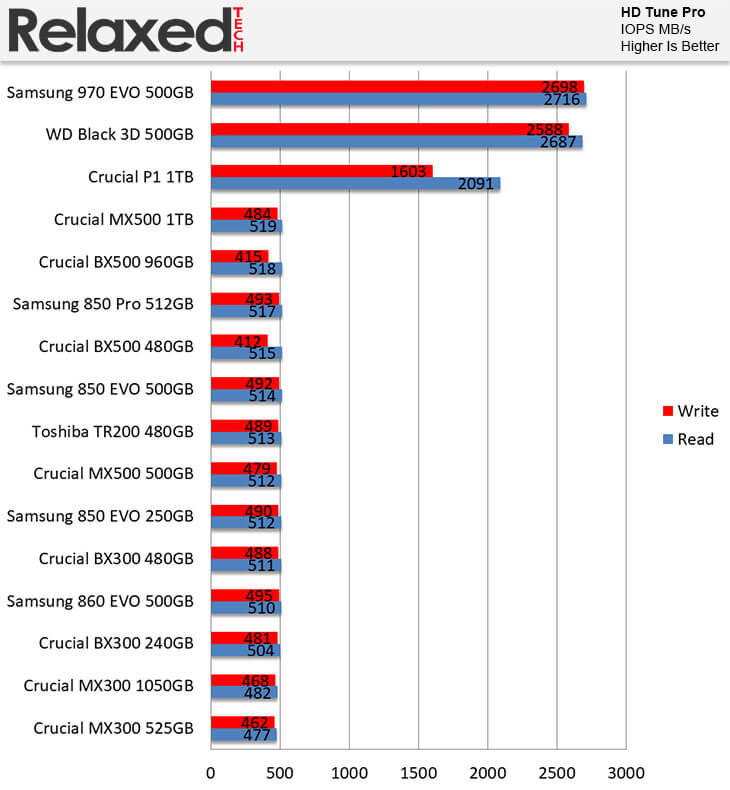 Here we are using HD Tune Pro to measure read and write IOPS. HD Tune Pro is a Hard Disk Utility with many functions such as error checking, S.M.A.R.T and benchmarking.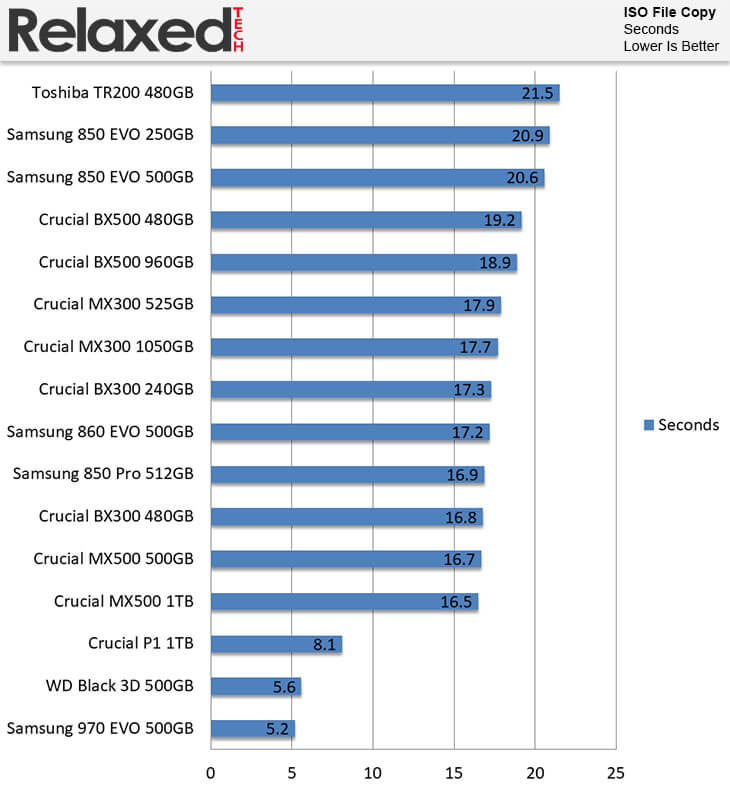 To represent a large file usage scenario, we are copying a 10GB ISO image to a different folder on the same drive.
Conclusion
There is no doubt that DRAM-less SSDs are becoming popular because of their attractive price. They are also not that much slower than a high end SATA SSD. In the real world, you would never be able to tell the difference between the BX500 and a high end SATA SSD so if you don't care about having the fastest drive on the market, the Crucial BX500 drive is a good choice.
Crucial's BX500 480GB and 960GB are a great budget SSD drives that offer good performance at an affordable price. The BX500 series comes loaded with plenty of attractive features such as SLC Write Acceleration, Adaptive Thermal Protection and Multistep Data Integrity Algorithm. The BX500 SSDs will outperform any HDD that's out there and that is good enough for the majority of the population. If you are using a traditional hard drive, definitely consider upgrading to a SATA SSD like the BX500 because it will offer a massive upgrade in every aspect from read/write speeds to boot times.

Pros:
+ Great Sequential Read/Write Speeds
+ Free Acronis True Image Software
+ Significantly Faster Than a HDD
+ Highly Affordable
+ Three-Years Warranty

Cons:
- Low Random Write Speeds
- Lacking Hardware Encryption

Crucial's SSDs have always been competitively priced compared to the competition and the BX500 is no exception. At $80, the BX500 480GB is affordable but not by much compared to the MX500 500GB which is $85. The BX500 960GB model sports a $130 price-tag which makes it about $5 cheaper than the MX500 1TB ($135) on Amazon but on NewEgg, you can find the BX500 960GB for as low as $118. I think Crucial should lower the price of the BX500 480GB to around $70 and the 960GB model to around $110. When the BX500 series launched, it was limited to only 480GB capacity which I would think might not be enough for some people but with the availability of the 960GB model, people now have more options.
If you are on a tight budget, we recommend going with the Crucial BX500 drive since it offers great performance at an attractive price but if money is not an issue for you, then definitely check out either the MX500 or Samsung 860 EVO. Another thing that I like about Crucial BX500 SSD is that it comes with the Acronis True HD Image software which can come in handy if you want to clone your drive. I'm also a big fan of the Crucial Storage Executive software because it is easy to use and helps optimize the performance of your Crucial SSD. Overall, I believe the Crucial BX500 480GB and 960GB SSDs deserve our Great Value award.
Final Score 9.0