Introduction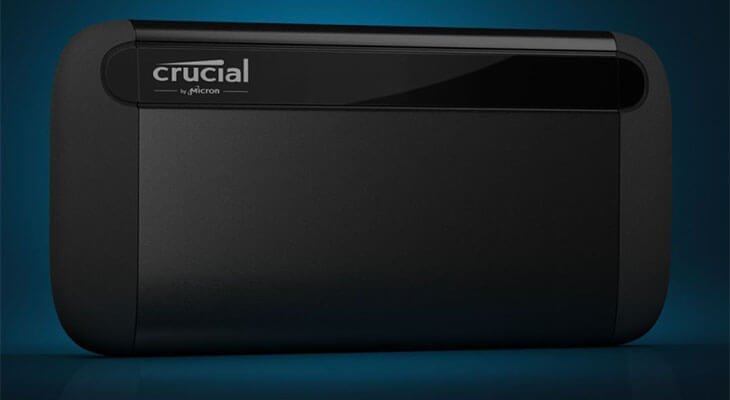 Micron recently released the Crucial X8 which is the company's first portable SSD and it is currently available in 500GB and 1TB capacities and features a 3-year limited warranty. Crucial claims that the X8 can deliver sequential read speeds of up to 1,050MB/s via USB 3.2 Gen2 interface. In this review, we will focus on the 1TB model which you can find for $165 on Crucial's store page while the 500GB model sells for $120. Crucial might release a 2TB version at a later date but for now the maximum capacity that you can buy is the 1TB model. Compatibility is great with the X8 and it works with pretty much every device out there including Windows, MacOS, PlayStation 4, Xbox One, iPad Pro, and Android devices.
Under the hood, the Crucial X8 uses the same hardware as the Crucial P1 SSD so that means that the X8 utilizes Micron's 3D QLC NAND technology. Something to keep in mind about QLC NAND is that it is designed to close the gap between hard drives and flash storage by delivering high speeds and capacities at a much more affordable prices. The firmware is where the X8 and the P1 differ. The SSD inside the Crucial X8 operates in a sealed enclosure so the firmware has been optimized to allow it to better operate in a hotter enclosure without overheating.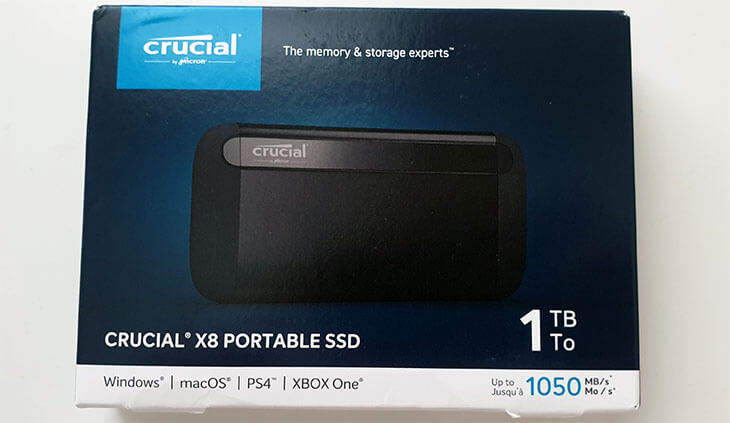 Most of the portable SSDs on the market are using the old SATA 3 interface which means that the read/write speeds will be limited but the newer portable SSDs like the Crucial X8 are utilizing the M.2 NVMe interface which can offer speeds of up to 1GB/s. If you are the type of person who works with moving a lot of data around, then you want a portable drive that can do the job as quickly as possible. Before you decide to buy one of the newer portable SSDs, you have to make sure that your computer supports USB 3.1 Gen 2 (10Gbps) and in my case, I am using the Lenovo X1 Carbon 6th generation laptop which has support for USB 3.1 Gen 2 and Thunderbolt 3.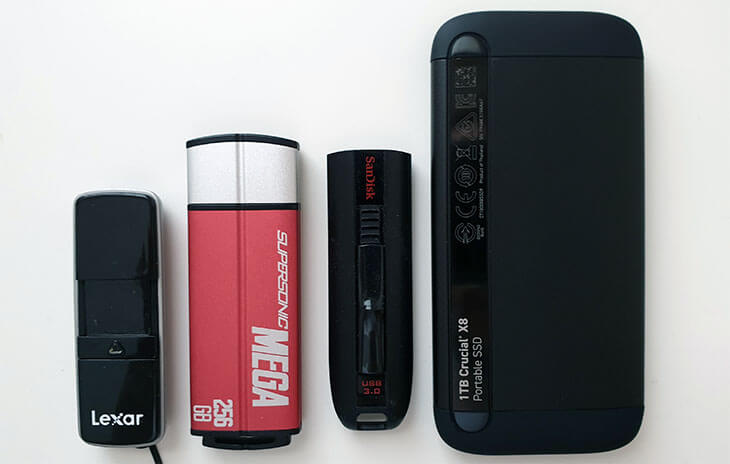 Here is a side by side of the X8 along with some USB 3.0 drives that I typically carry around when I am transferring data. The Crucial X8 is light weight and quite compact and it measures 4.33 x 0.45 x 2.09 inches and weighs 148 grams including the cables. Looks-wise, the X8 features a unibody core of anodized aluminum which gives it a sleek, sturdy design that is also capable of dissipating heat efficiently to maximize performance. Crucial says that the X8 can withstand against extreme temperatures, shock, vibration, and even a 7.5-foot drop.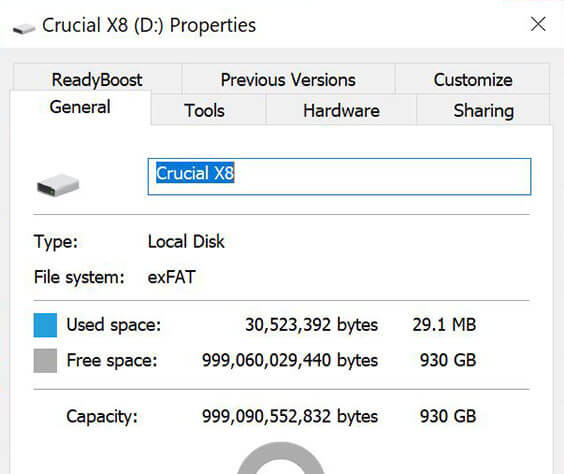 In order to provide the user with the best compatibility out of the box, Crucial went with the exFAT file system which works across a variety of operating systems, including Windows and MacOS. Crucial is reserving a small portion of the drive for SLC caching so the overall available capacity is 930GB which is is plenty for the average user. You can always reformat it and since I work with Windows as my primary OS, I have gone ahead and reformatted to NTFS.
Specifications
Crucial X8 Portable SSD Series
Model
500GB
1TB
Price
$120
$165
Interface
USB 3.2 Gen2 Type-C (10Gb/s)
USB 3.2 Gen1 (5Gb/s)
Protocol
NVMe
Dimensions
4.33 x 0.45 x 2.09 in
Weight
148 grams
Form Factor Inside
M.2 2280
NAND
Micron 64-layer 3D QLC
Sequential Read
1,050MB/s
Package Content
Type-C to Type-C USB cable (10Gb/s)
Type-C to USB-A adapter (5Gb/s)
Quick-Start Guide
Compatibility
Windows 10, 8.1
MacOS
PS4 & PS4 Pro
XBOX One & XBOX One X
iPad Pro (2018 USB-C model)
Android
Drop Resistance
Up to 7.5 ft (2 m)
Warranty
3 Years
Launch Date
October 2019
Packaging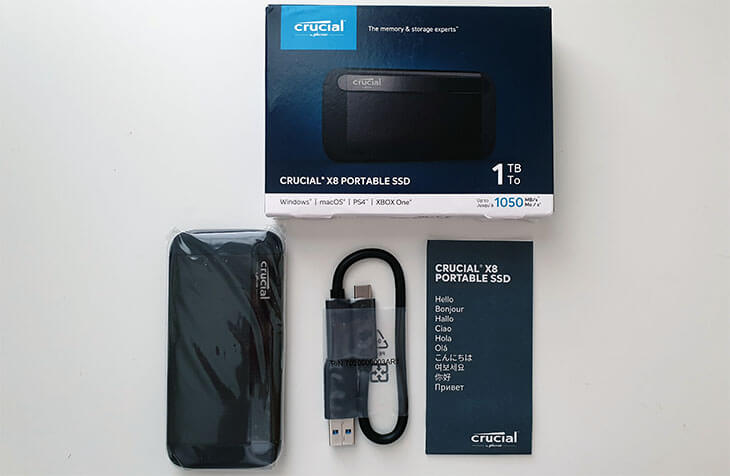 Crucial's X8 packaging remains similar to their SATA SSD packaging. On the front of the packaging, we see the 1TB capacity, 1050MB/s sequential read speeds and compatibility with Windows, macOS, PS4 and Xbox One while on the back you will find some marketing and warranty information in varies languages. Crucial ships the X8 with a Type-C to Type-C USB cable (10Gb/s), Type-C to USB-A adapter (5Gb/s) and a multilingual quick-start guide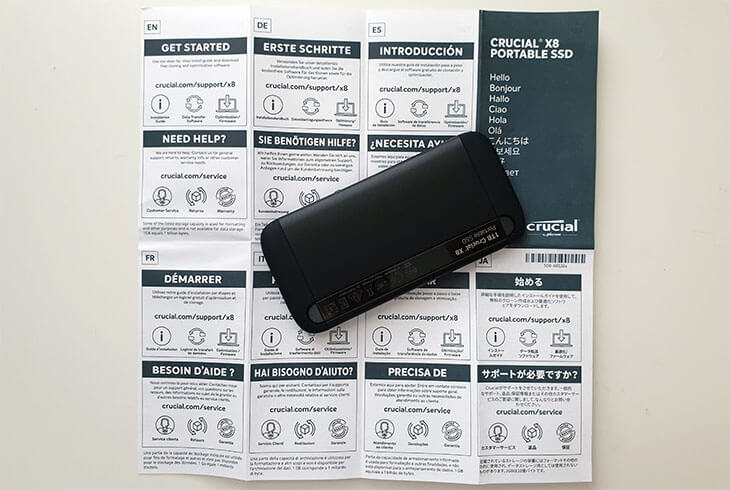 The quick-start guide recommends visiting the Crucial X8 support page to view the step-by-step install guide and download a free cloning and optimization software. The Crucial X8 is simple to use and it is entirely bus powered with only one cable. You can use Windows's Bitlocker or mac OS's FileVault to encrypt your data.
Test Methodology
The Crucial X8 1TB portable SSD will be tested using the Lenovo X1 Carbon 6th generation laptop which comes equipped with two USB 3.1 Gen 2 ports, a Core i5-8250U and 8GB of ram. The testing was done on Windows 10 Pro 64-bit (1903) with all the windows updates and latest drivers installed. We have fully debloated Windows 10 and disabled a bunch of unnecessary services that run in the background such as drive indexing, Prefetch, Superfetch, Defrag, etc.

Benchmark Software:
+ CrystalDiskMark
+ HD Tune Pro
+ ATTO Disk Benchmark
+ AS SSD Read/Write
+ Anvil's Storage Utilities
Benchmark Results

CrystalDiskMark is a popular disk benchmarking software and in this test I recorded a maximum read and write speeds of 915 MB/s and 913 MB/s which is excellent for a USB-based portable drive.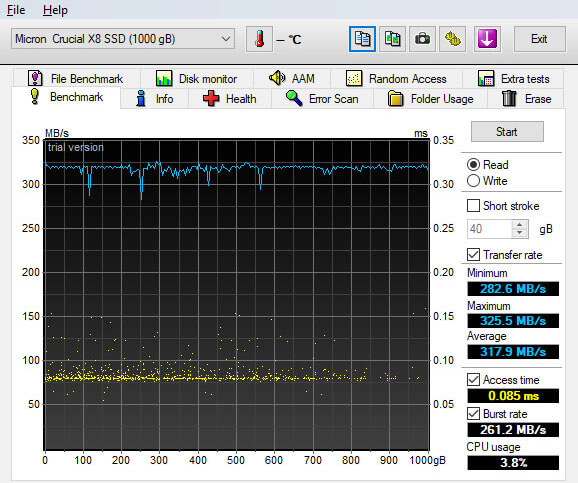 In this test we are using HD Tune Pro to measure the drive's performance.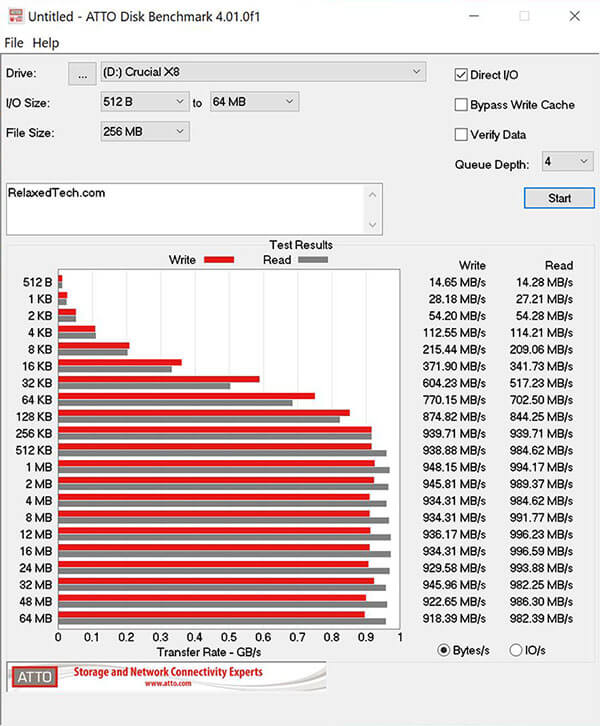 ATTO Disk Benchmark is another popular hard-disk and SSD benchmarking tool.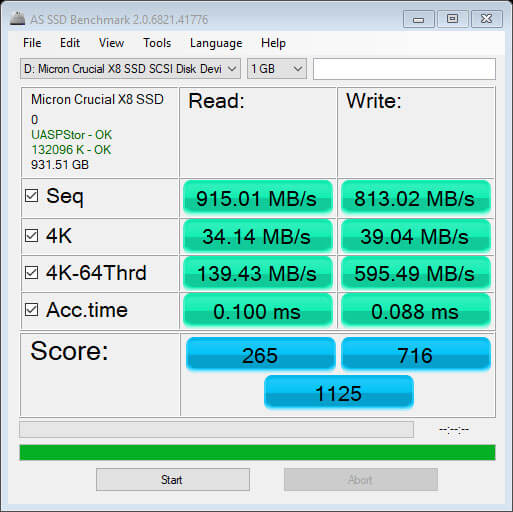 AS-SSD is similar to CrystalDiskMark and can be used to test the sequential and random read/write performance.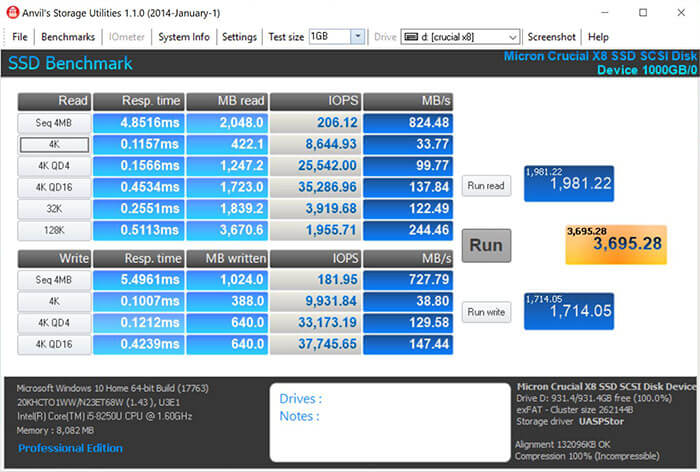 Anvil's Storage Utilities is a relevant disk benchmarking software to use for measuring the performance of a traditional HDDs and SSDs.
Conclusion
Crucial's X8 1TB portable SSD is easily the fastest USB-based portable SSD that I have ever tested. It offers blazing fast performance at an affordable price and it sports a high build quality that it is drop-proof up to 7.5 feet. If you are still using a traditional hard-drive based portable drive then I would strongly recommend upgrading to the Crucial X8 because it will offer a massive performance upgrade in read/write speeds.

Pros:
+ Blazingly Fast
+ Sturdy Design
+ Well-Priced
+ 3-Year Warranty

Cons:
- Limited To 1TB Capacity
- Short USB Cable

At $165, the X8 1TB is well-priced and competes with other portable SSDs that are on the market such as the Samsung T5 and Sandisk Extreme. Something to keep in mind about the Sandisk Extreme and Samsung T5 is that they are SATA 3 based so the read/write speeds will be limited to 500MB/s while the Crucial X8 can reach up to 1GB/s. Both the Samsung T5 and Sandisk Extreme have a 2TB model while the Crucial X8 does not so if you are looking for a large portable drive capacity, you will not find that with the Crucial X8.
If you are in the market for a super fast portable drive with over 1GB/s speeds, the Crucial X8 is definitely worth checking out. The X8 sports a sleek design and it is quite compact at just over 4 inches. The included Type-C USB cable is thick and durable and I also like that Crucial has included a Type-C to USB-A 3.0 adapter for people that don't have a USB-C port. The included USB cable is about 8.9 inches long which is kind of short so you may need to look into purchasing a longer cable. Overall, I believe the Crucial X8 1TB portable SSD deserves our recommended award.
Final Score 9.4