Introduction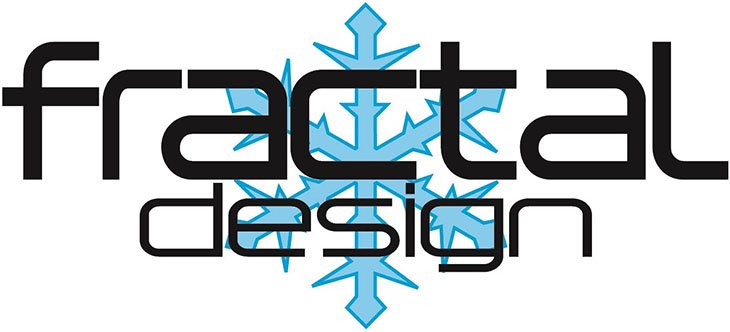 Fractal Design was founded in 2007 and their products are famous for the Scandinavian design which is a minimalistic, elegant and simple design. When it comes to computer cases, Fractal Design is a well known name in the enthusiast market and they have gained a lot of respect for releasing high quality cases. Fractal Design also makes fans, power supplies and CPU coolers but they are mostly known for being highly active in the computer case market with a huge range of products for all prices.
Today we are looking at the Define C Window model which is a stylish, compact, mid-tower case that supports a full ATX motherboard. There are two versions of the Define C case, the regular Define C (non-windowed) and the Windowed version. Fractal Design has also released the Define Mini C, and Define C Mini Window which is smaller than the usual Micro ATX case and it carries the same build quality as the Define C.
The Define C Window retails for $89.99 and it incorporates a wide range of features such as space for high performance graphics cards, support for various cooling configurations and it even comes with Velcro straps for easy cable management. It has a fully blacked-out interior and it is quite roomy for such a compact case. You can accommodate up to 5 hard drives and all modern graphics card and it certainly has plenty of room if you wish to expand your system with water cooling components or more fans.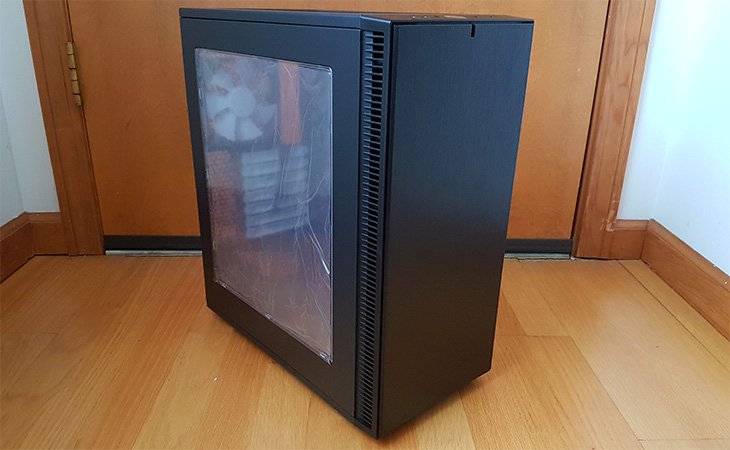 There's two included 120mm fans that spin at a maximum of 1200RPM. The front door is made of plastic while the body is made of durable steel. The case comes with a front, bottom and top removable dust filter that are durable and sturdy. You can install graphics cards up to 315 mm in length with front fans mounted and you can also install a full size ATX PSU up to 175 mm.
Specifications
Fractal Design Define C Specifications
Manufacture:
Fractal Design
Model:
FD-CA-DEF-C-BK-W
Material:
Plastic and Steel
Motherboard:
ATX, Micro-ATX, ITX
Drive Bay:
2x Internal 2.5/3.5"
3x Internal 2.5"
Cooling System:
Front: 3 x 120mm or 2 x 140mm (1 x Dynamic X2 GP-12 included)
Rear: 1 x 120mm (1 x Dynamic X2 GP-12 included)
Top: 2 x 120/140mm
Bottom: 1 x 120mm
Radiator Support:
Front: 360, 280, 240, 140 and 120 mm. Max width 144 mm
Top: 240 and 120 mm radiators. Max component height on motherboard 40mm
Rear: 120 mm. Max width 125 mm

Expansion Slot:
7
Front I/O Port:
2x USB 3.0
Audio in/out
Power button with LED
HDD activity LED
Reset button
Limitation of PSU:
Up to 175mm deep
Limitation of GPU:
Up to 315mm with front fans mounted
Limitation of CPU cooler:
168mm
Dust Filters:
Bottom, front and an optional top filter intake
Net Weight:
6.8 kg
Fan controller:
None
Dimension:
399mm x 210mm x 440mm (LxWxH)
Packaging

The case comes in a simple brown box and on the front of the box you see the name 'Define C' and on the back you have the basic technical specifications of the case. The case is 210mm in width, 440mm tall and 399mm deep and weighs 6.8 kg.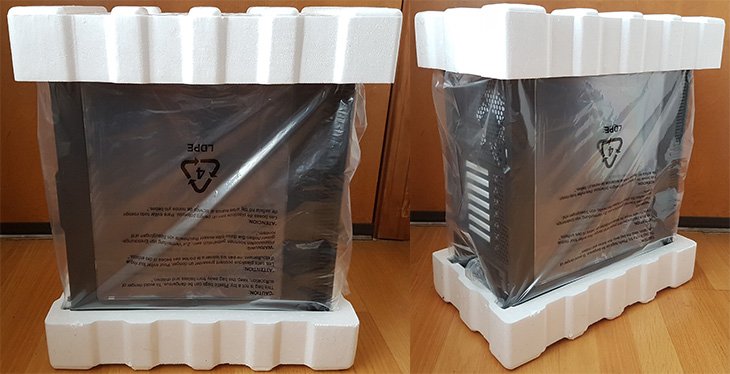 Fractal Design's packaging is very good. The Define C is protected by two high density foams as shock absorbent and plastic wrapping to prevent any accidental damages during shipping.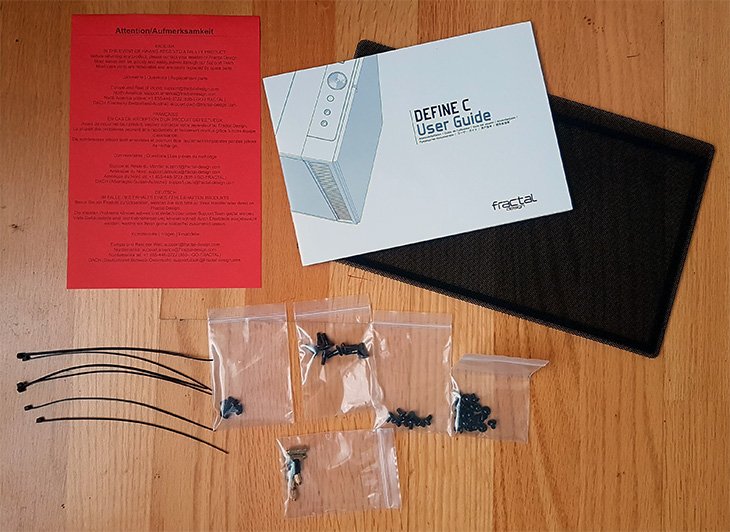 The accessories included are a pack of black screws, six cable ties, the users manual and a metal-mesh for the top cover. The manual has all the information you need to know about the case.
Design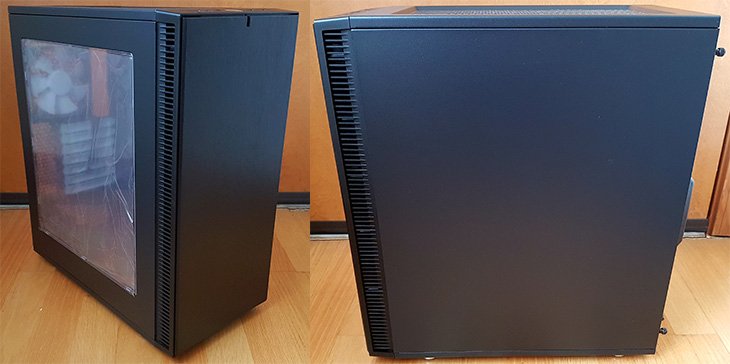 The front panel has a simple and elegant look to it. While the front panel may look like it is made of steel, it is in fact made out of plastic and the frame has air vents which are designed to bring in fresh air into the case. The side window is big enough that you can see everything inside and the side panels are secured with thumbscrews at the rear of the case.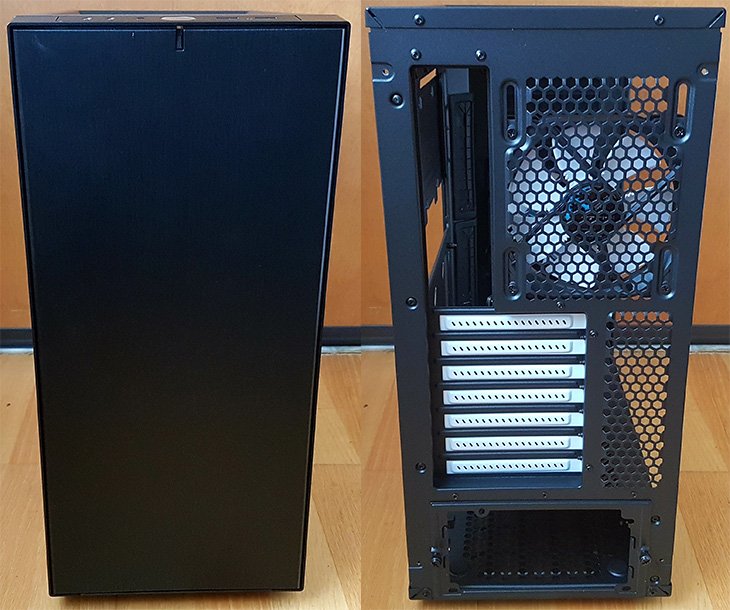 On the back, you will see seven expansion slots, a bottom mounted power supply and also a pre-installed 120mm fan. The Define C can house radiators up to 240mm in the top and 360mm in the front. So that means that on the front, you can install a 360/280/240/140mm, and on the top, you can install a 240/120mm while on the back, you can install a 120mm radiator.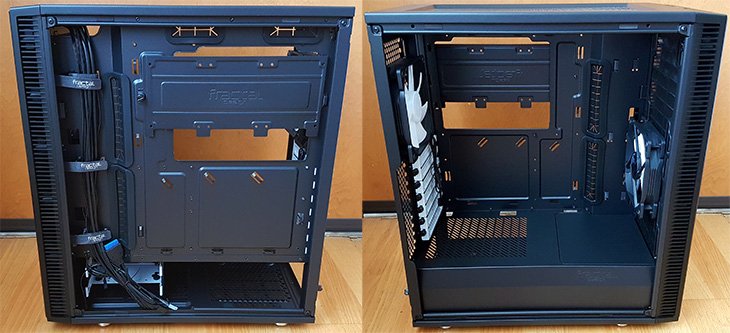 The interior is roomy and can cover ATX, Micro-ATX, and ITX motherboards. There are plenty of rubber grommet holes for organizing the cables and there's 15-35 mm of space for cable routing behind the motherboard plate. The motherboard tray has a nice large cut out that will come in handy when installing a big CPU cooler. You can install CPU coolers with a maximum height of 168mm so big air coolers such as the the Noctua NH-D15 which is 165mm tall will fit in nicely in this case. With that being said, I tried to install the NH-D15 in this case and there's not enough room to use two fans on the NH-D15 so you will have to use only one fan.

You will notice that the Define C comes with Velcro strips to make your cables look nice and neat and Fractal Design has pre-routed all the internal cables already for you. There's a shroud at the bottom of the interior to cover up the PSU and drive bays. The shroud can be used to hide your drive cage and excess cabling to eliminate any airflow obstructions. Fractal Design has sleeved black all the cables to go with the overall color scheme which is very much appreciated. On the back of the motherboard tray, you will see three mounting positions for SSDs.

The Define C has a flexible cage system that can hold up to five drives. You can access the drive bays from behind the motherboard tray. The drive bays can easily be removed or re-positioned to gain additional interior space and increase airflow or to make more room for water cooling components.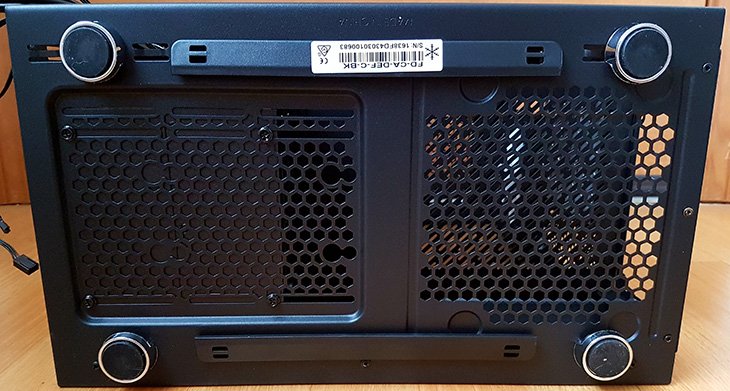 The bottom removable dust filter spans across the entire floor of the case and you will also notice that the Define C stands on four chrome feet that are very durable.

As far as the user interface goes, you get the power button with LED, reset button, HDD activity, two USB 3.0 ports and the audio I/O. The USB 3.0 ports are in black internal housing instead of blue housing that you normally see.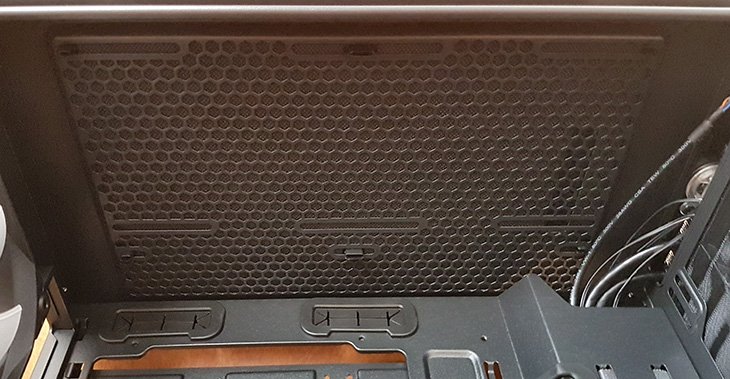 Looking at the top of the interior, the mounting holes for the fans or radiator are offset to make sure they don't interfere with the heatsink on the motherboard. You can install a total of seven 120mm fans in the Define C Window so that means two fans in the front, one fan in the back, three at the top and one at the bottom so there's plenty of room for all kinds of configurations.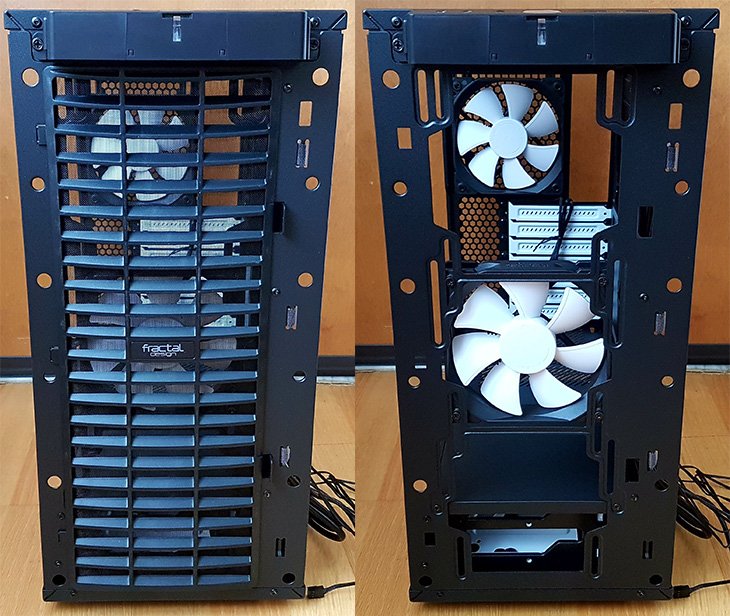 This case does not come with an optical bay and a built-in fan controller. The inside of the front panel is covered in sound-absorbing material which Fractal-Design calls ModuVent. When you remove the front panel, you will notice the Fractal Design logo which sits right in the middle of the removable dust filter. I personally think they should remove the logo because it causes airflow obstruction. There's only one 120mm fan included in the front panel which is a bit of a disappointment because most cases that retail at around $90 come with two fans on the front.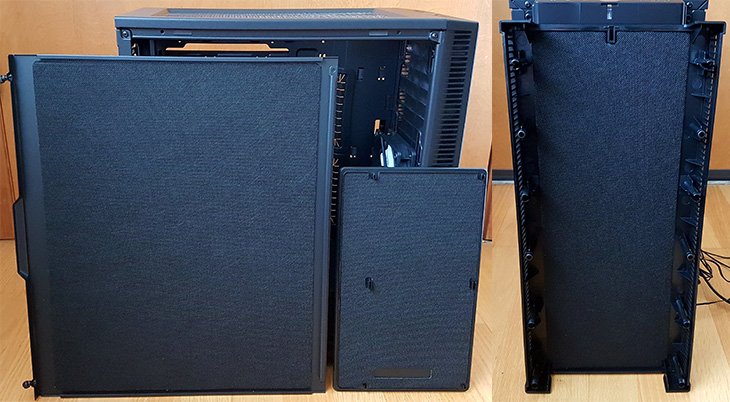 The Define C is designed for silent computing while not compromising on airflow and cooling capabilities. With that being said, each panel is covered in noise-absorbing material (ModuVent) and this makes the panels quite heavy. I want to mention that the maximum GPU length is 315mm so you can easily fit long modern graphics cards. Fractal Design's warranty for their cases is 2 years under normal usage but this does not include cosmetic damages such as scratches or scuffs unless attributed to shipping.
Test Methodology
Test Setup
Processor:
AMD Ryzen 7 1700X
Motherboard:
MSI X370 xPower Gaming Titanium
RAM:
Crucial Ballistix Elite 2933 MHz DDR4 16GB (2x8GB)
Graphics Card:
NVIDIA GeForce GTX 1070
Storage:
Crucial MX300 1TB SSD
Power Supply:
SilverStone Titanium ST80F-TI 800W
Heatsink:
AMD Wraith Max
OS:
Windows 10 64Bit
Thermal Compound:
Noctua NT-H1
Case:
Fractal Design Define C Window
To test the airflow performance of this case, we will be testing the temperature of both the CPU and GPU during idle and load phases. Idle temperatures will be measured after leaving the computer idle for 20 minutes. CPU-Z will be used to verify the CPU speed and the voltage being used in Windows 10 and GPU-Z will be used to monitor the temperature of the video card. We will be testing the cooling performance of the case with the AMD Ryzen 7 1700X running at default settings with the voltage set to auto in the BIOS.
All of the testing is done with an ambient temperature of ~22C. RealTemp will be used to monitor the temperature of the CPU and Prime95 (Large FFTs) will be used to deliver the full load to the CPU for 20 minutes. We'll run FurMark for also 20 minutes to put as much load into the GPU as possible.
Noise Levels In dBA
Lawn Mower:
90 dBA
Vacuum Cleaner:
80 dBA
Conversation:
65 dBA
Floor Fan:
50 dBA
Refrigerator Hum:
40 dBA
Rustling Leaves:
30 dBA
Pin Falling:
15 dBA
We will measure the noise levels for both idle and load using a dBA meter and point it at the computer at a distance of ~25 cm at the front of the case. It's always difficult to measure noise levels because there are always noises in the background which can affect it so the results may not be 100% precise but it should give you a clear indication of the noise levels for the case. The fans will be tested at default speeds.
Performance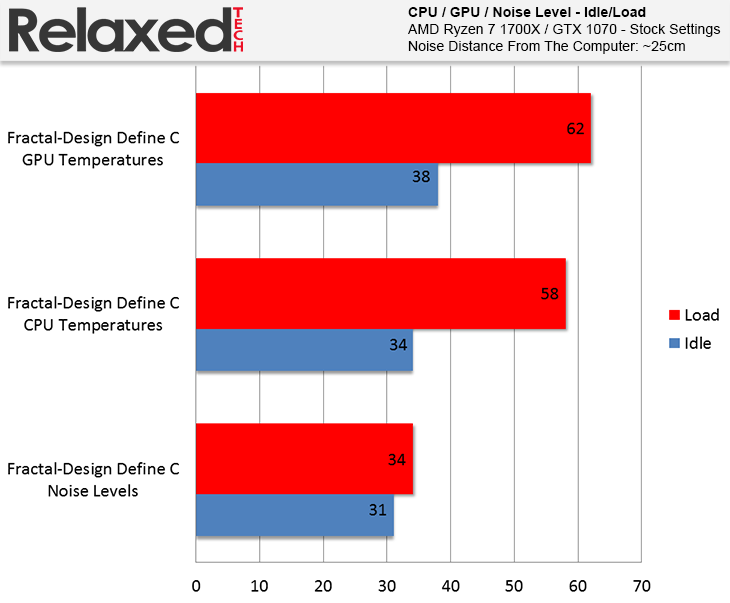 When measuring temperatures, you have to account for margin of error which is 1-2 degree Celsius. In both idle and load, the Define C provided decent cooling capabilities. Like I have already mentioned, most cases at the $90 price point come with two fans at the front. Since the Define C only has one fan at the front, it does run warmer compared to most cases that I have tested. Nevertheless, the cooling performance is good despite the case being engineered primarily for quietness.
Conclusion
The Define C has everything you can ask for in an enthusiast mid-tower case but it has some small issues in my opinion. I would have liked for the window panel to have been tempered glass like it is in the NZXT S340 or at least a full side panel window. It is the norm for cases at this price point now to have tempered glass but acrylic window is good too. While the included fans are silent, they also don't move very much air. Most cases come with fans that spin at around 1500 to 1800RPM. I would have liked another 120mm fan on the front to further improve the airflow because there's very little airflow movement inside the case as is.
Most cases can accommodate air coolers up 160mm while the Define C can easily fit big air coolers up to 168mm. If you are looking to build a compact gaming PC, the Define C is without a doubt the case to buy. The sound absorbing panels do a fantastic job at keeping the case whisper quiet. The interior is clean and elegant and it has ample room for high-performance components. The side window is big enough that allows you to see the entire case which is great but like I already mentioned, a full side panel window would have been even better. Fractal Design is known for making high quality cases and this time it's no exception. The build quality and design is sturdy and elegant and it has a near perfect cable management system.
The Define C window version supports up to seven 120mm fans total which can be configured for push/pull configuration for maximum airflow performance. When it comes to radiator support, it can house radiators up to 240mm in the top and 360mm in the front. It offers excellent air or water cooling capabilities and the interior is optimized for fast and easy builds. You can build a massive water cooling system in this case and the flexible storage options has room for up to 5 drives.

Pros:
+ Extra Room Behind The Motherboard Tray
+ Easy To Clean Removable Dust Filters
+ Velcro Strips For Cable Management
+ Great Water Cooling Support
+ Aesthetically Pleasing
+ Sturdy Build Quality
+ Minimalist Design
+ Dead Silent

Cons:
- Needs Another 120mm Fan On The Front
- Stock Fans Don't Move A Lot of Air

Fractal Design has done a fantastic job designing the Define C, it is by far one of the highest quality cases we have reviewed thus far. The power supply shroud is perfect if you want to conceal the drive cage and cables to make the interior cleaner for better airflow. Overall, the Fractal Design Define C Window easily deserves our gold award.
Final Score 9.0