Introduction

In September of 2014, Galaxy and KFA2 announced that they will be re-branding itself to a single global brand name, Galax. Galaxy and its European brand, KFA2, were the same company but they operated under different names so the updated brand name will make it easier to offer the exact same product portfolio world wide. The company was founded in 1994 and since then, they have introduced numerous well-received product series such as Hall of Fame and GC (Galaxy Clocked) video cards. Their Hall of Fame video cards are built with custom PCB designs, better power delivery circuits and powerful coolers and the GC cards come with better factory overclocks than most factory overclocked cards.
The company is based in Asia and they are slowly breaking into the Western market by offering video cards that not only perform better than reference design but also look very attractive. It certainly won't be easy for Galax to break into the Western market because there are so many video card brands on the market and it's become harder and harder to stand out from the competition. Galax's Hall Of Fame video cards are the company's premium line cards and are well-received in the enthusiast and gaming industry. Enthusiasts love the HOF cooler design because for its ability to dissipate high amounts of heat when overclocking. All of these great features will help Galax stand out from the other companies. Also, Galax does not only make custom built video cards, but also DRAMs and SSDs.
Today I'm looking at the Galax GTX 1070 EXOC SNIPER Black edition which retails for $429.99 and comes with 3 years of warranty. There is also a white edition available which looks cooler in my opinion because it makes the video card stand out from the crowd. Very rarely will you see a graphics card with a white cooler design and I understand that most people tend to like the all-black color scheme, but it's nice to have the option for the people that like something different. Moving on, the Galax GTX 1070 EXOC Sniper is a high-end custom-built video card that is designed for gamers and comes with plenty of attractive features. The "EXOC" name stands for Extreme Overclocked and the Sniper name basically means that it is targeting the FPS gamer.
Now let's talk a bit about the internal design, the card comes with a 5+2 power design, dual 100mm cooling LED fans, custom RGB lighting, and the standard array of connectivity which includes three DisplayPort 1.4 and one HDMI 2.0b, as well as a single dual-link DVI port. It features an anodized aluminum backplate meaning that it is corrosion-resistant.
Something that I like about this card's design is the Silent Extreme Technology which only activates the fans when the temperature reaches 45 degrees Celsius. This feature is great because it will keep the card inaudible during idle mode and increase the life of the fan. The Founders Edition uses an 8-pin power connection but the Galax GTX 1070 EXOC Sniper uses an 8-pin and 6-pin power connections and has an SLI interface. The rating for the card is 150 watts which means you can use a 500W+ PSU without an issue. Having a 6-pin and 8-pin power connector means the card can receive a maximum of 300 watts.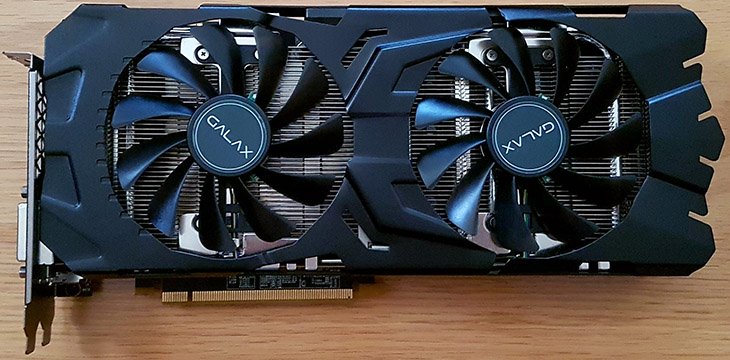 Another thing that I want to mention is that this card comes with a base clock of 1594 Mhz and a boost of 1784 Mhz. If we compare it to the founders edition which has a 1506 Mhz base clock and 1683 Mhz boost, the Galax GTX 1070 EXOC Sniper comes with a 88 MHz base clock bump and a 101 Mhz boost clock bump over the founder's edition. The GPU boost may run higher than 1784 Mhz but that depends on the power and thermal operating conditions. This makes the Galax GTX 1070 EXOC Sniper a tad quicker.
Looking at the above picture, you will notice that Galax is using a black PCB to match the black color scheme of the EXOC Sniper Black card. Dimension-wise, the card measures 296 x 144 x 43 mm with bracket and 282 x 128 x 43 mm without bracket. One thing that I have to mention is that the specifications listed on Galax's website say that this card has a max resolution of 4K (4096x2160@60Hz) but the GTX 1070 actually supports 8K (7680x4320@60Hz). Anyway, like most high end cards, the Galax GTX 1070 EXOC Sniper is designed to run at 16x PCIe 3.0.
Technical Specifications
Galax GTX 1070 EXOC Sniper Specifications
CUDA Cores:
1920
Base Clock:
1594 Mhz
Boost Clock:
1784 Mhz
Memory Speed:
8Gbps
Standard Memory Config:
8GB
Memory Interface Width:
256-bit GDDR5
Memory Bandwidth:
256 GB/sec

Feature Support:
OpenGL 4.5, Bus Support PCI-E 3.0,
Certified for Windows 7-10, Linux,
Free85BSDx86, Microsoft DirectX 12,
Virtual Reality Ready Yes, SLI Options
Max Digital Resolution:
4096x2160@60Hz
Max VGA Resolution:
2560x1600
Display Support:
Multi Monitor 4 Displays, HDCP 2.2, HDMI 2.0b
Standard Display Connectors:
DVI-D, HDMI, 3x DP 1.4
Max Graphics Card Power:
150W
Min System Power Requirement:
500W
Supplementary Power Connectors:
1x6pin, 1x8pin
Product Code:
70NSH6DHN1WS
UPC Code:
4895147124209
Dimensions (with Bracket):
296 x 144 x 43 mm
Dimensions (without Bracket):
282 x 128 x 43 mm
Features:
NVIDIA GeForce GTX VR Ready,
Simultaneous Multi-Projection,
NVIDIA Ansel, NVIDIA G-SYNC,
NVIDIA SLI w/ HB Bridge Support,
NVIDIA GameStream, NVIDIA GPU Boost 3.0
Packaging & Accessories

The video card comes in a traditional large sturdy box and on the front, we see the Galax brand on the top left and on the bottom right we see the "GeForce GTX 1070" shown in large bold letters. On the back, you will see some of the product's features and illustrations such as the "ultimate home theater" and "higher quality video stream".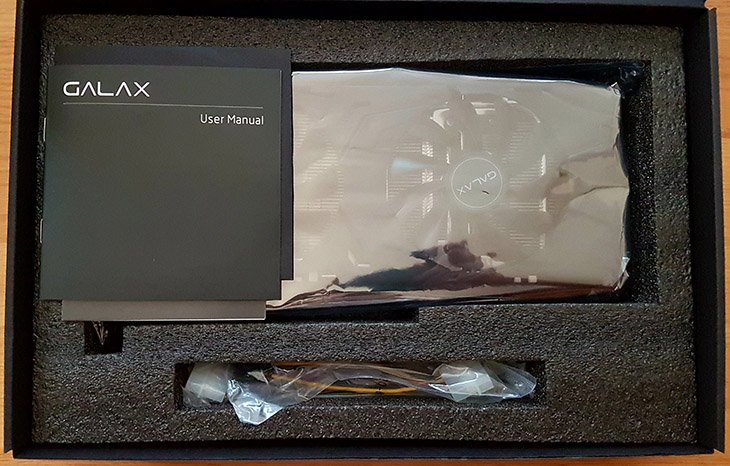 The product is packaged well and the video card is inside a high density foam shell to protect it during shipping. The accessories included are a setup guide, user's manual, driver disk, and two PCIe power cables. The two PCIe power cables aren't necessary in my opinion because pretty much all power supplies have at least one direct PCIe cable but nevertheless, it's nice to see them included in case you need them.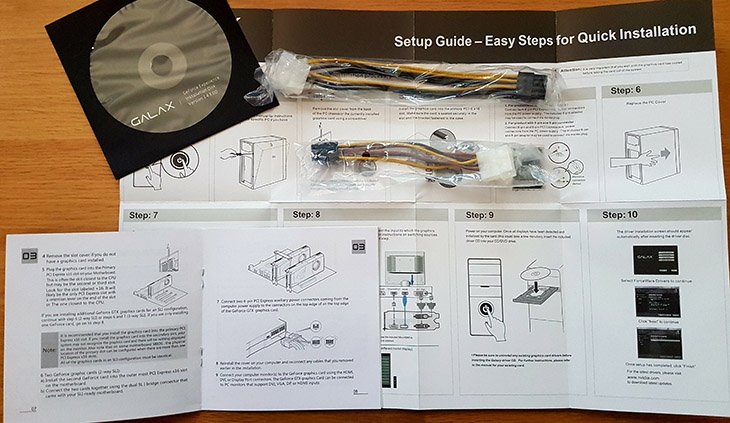 The two manuals have all the information that you need to know about the video card and how to install it. The setup guide has information on how to quickly install your video card and get your computer up and running. The user manual on the other hand goes into more detail about the video card, troubleshooting and installing the card. It basically tells you everything you need to know about the video card.
GPU Design

Looking at the side view of the card, the card measures about 11 inches long and 5 inches wide so it's pretty big and it is a two-slot card. The card is a little bit taller than most cards but that is to accommodate the large cooling solution. The cooling solution is well designed and you can see the nickel-plated dual-heatpipe design that uses two 100mm fans. The fans light up in bright red when the card is turned on. Since this card utilizes the Silent Extreme Technology, that means the fans start spinning when the GPU temperature reaches 45 degree Celsius. There is a GEFORCE GTX branding which illuminates and you can control the lighting with the Xtreme Tuner software.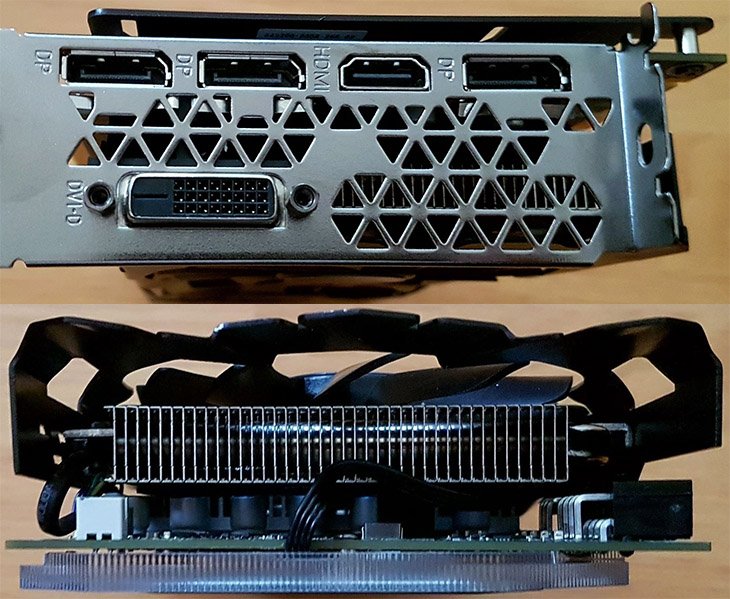 Looking at the I/O panel, we can see that it is well ventilated so the heat can easily escape from the card and bring in fresh air. You can see that the Galax GTX 1070 EXOC Sniper has lots of cut-outs and vents for air to flow in and out. Underneath the dual-fans, you will see a huge aluminium fin stack which the heatpipes run through it.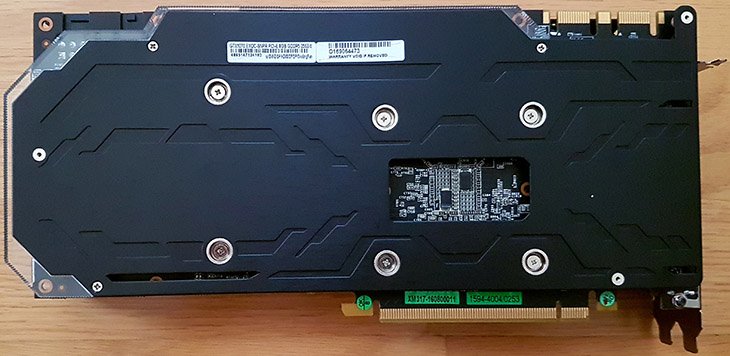 On the back of the video card is a sturdy backplate that protects the card from warping with its large dual-heatpipe cooling solution. It does a good job of provide protection to the PCB and providing better heat dissipation and it uses a special RGB lighting around the edges.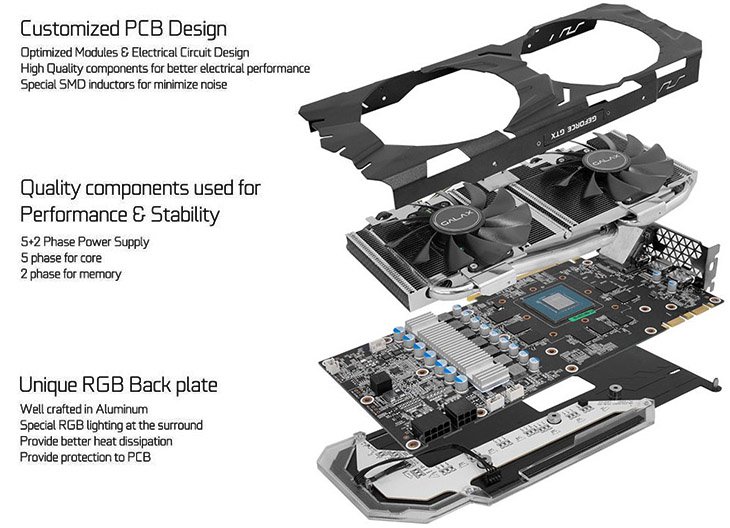 Head over to Galax's GTX-1070 EXOC Sniper website if you want to see high resolution images of the card in different RGB lightings.
Test Setup
Test Setup
Processor:
Intel i7-6900K Stock
Motherboard:
ASUS X99 Deluxe II
RAM:
Crucial Ballistix Elite 16GB DDR4 3000Mhz
Graphics Card:
Galax GTX 1070 EX-OC SNIPER
Galax GTX 1070 Founders Edition
Storage:
Crucial MX300 1TB SSD
Power Supply:
SilverStone ST80F-TI 800W
Heatsink:
Noctua NH-U14S
OS:
Windows 10 Home 64-Bit
Thermal Compound:
Noctua NT-H1
Drivers:
NVIDIA: 376.33 WHQL
AMD: Catalyst 16.12.2 WHQL
To make sure these GPUs perform at their maximum performance, we will be disabling all the power saving features in the BIOS (CPU C-state, C1E, EIST etc). The testing was done on a fresh install of Windows 10 64-bit with the latest windows updates installed. We disabled a bunch of unnecessary services and removed all the bloatware from Windows 10 to make sure there were as few processes running as possible during the testing.
We'll be using an Intel Ivy Bridge i7-6900K CPU that will run on stock settings. We're using the ASUS X99 Deluxe II motherboard with the latest BIOS version 1401 from ASUS. Installing and using a graphics card is pretty straight forward, simply connect the GPU in the correct PCIe slot and plug the PCIe connectors from the power supply to the graphics card. After installing your video card, make sure to install the latest drivers. At the time of writing this review, we tested all the cards at their stock speeds with the latest drivers. All of the testing is done with an ambient temperature of ~21C. Also, all games are tested at their highest quality settings and at 2560x1440 resolution. Idle and load temperatures will be measured by using Unigine Heaven Benchmark to get the video card at 100% load.

Software Benchmark Suite:
+ 3DMark 11
+ Rise of the Tomb Raider
+ Fallout 4
+ Hitman (2016)
+ The Witcher 3
+ Just Cause 3
+ GTA V
+ Rainbow Six Siege
+ The Division

Fan Noise & Temperature
We will measure the noise levels in idle and load using a dBA meter and we will point it at the video cards at a distance of ~60cm. Idle noise levels will be measured after leaving the system idle for 20 mins. Load noise levels will be measured after playing GTA V on max settings for 20 minutes. It's always difficult to measure noise levels because there are always noises in the background which can affect it so the results may not be 100% precise but it should give you a clear indication of the noise levels for each video card. The video cards will be tested at stock speeds.
Noise Levels In dBA
Lawn Mower:
90 dBA
Vacuum Cleaner:
80 dBA
City Traffic:
75 dBA
Conversation:
65 dBA
Air Conditioning:
60 dBA
Floor Fan:
50 dBA
Electric Hum:
45 dBA
Refrigerator Hum:
40 dBA
Rustling Leaves:
30 dBA
Pin Falling:
15 dBA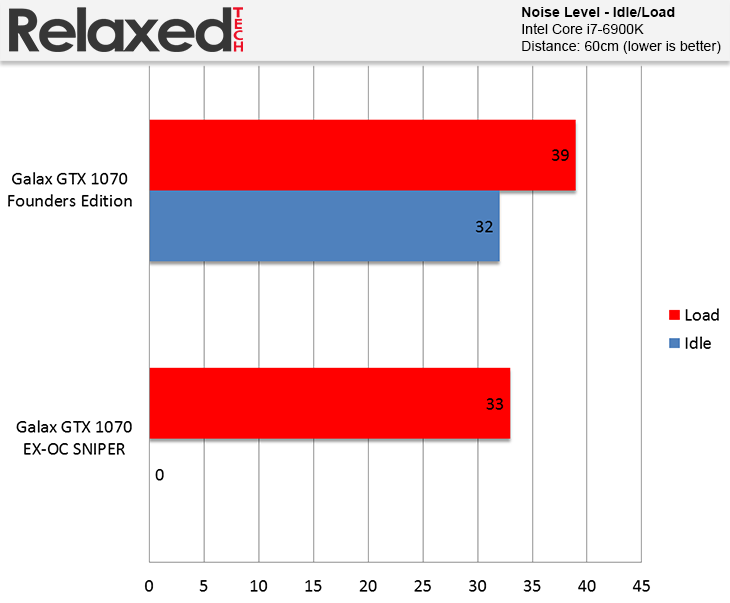 Idle fan noise is fantastic because the fans turn completely off in idle (up to 45°C). During load noise levels, the card is about 6dBa quieter than the Founders Edition.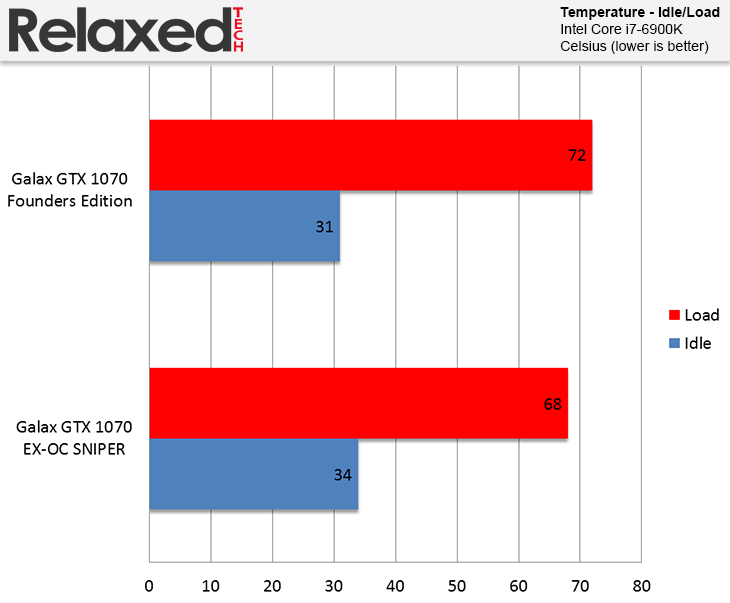 Idle temperature is good despite the fans turned off and load temperature is great.
Software Benchmarks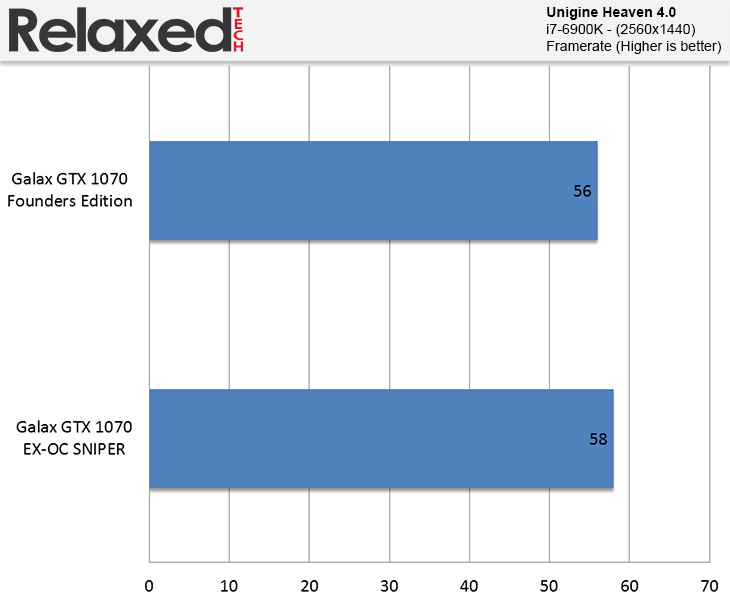 In the Unigine Heaven benchmark, we are using max settings (8x AA, Ultra, Extreme Tessellation etc).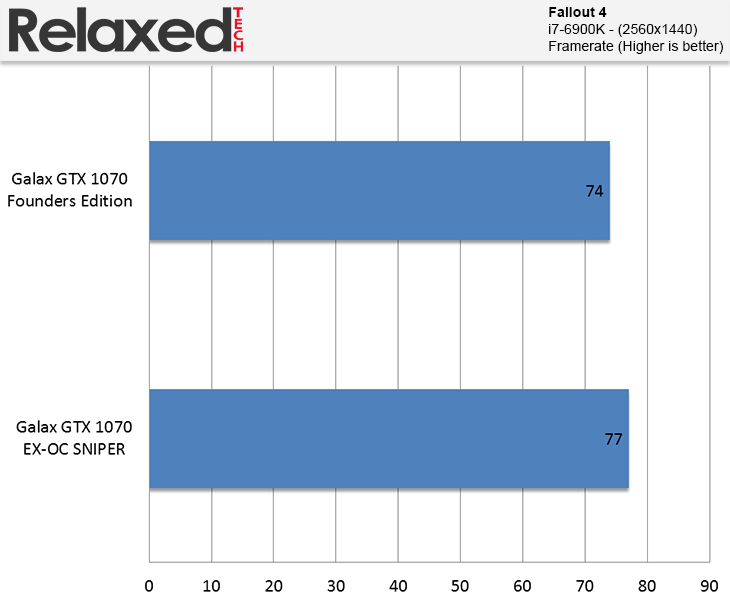 In the Fallout 4 benchmark, the Galax GTX 1070 EXOC Sniper is 3fps faster than the Founders Edition.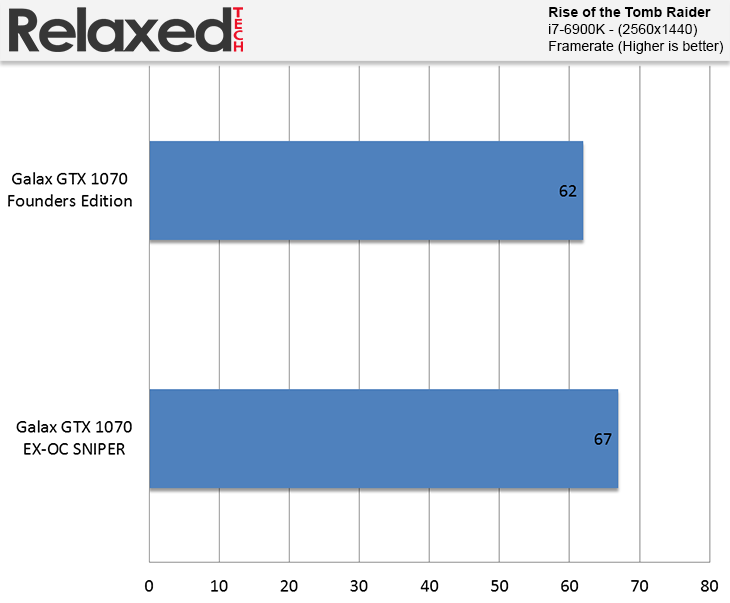 Looking at the Rise of the Tomb Raider benchmark, the Galax GTX 1070 EXOC Sniper is 5fps faster.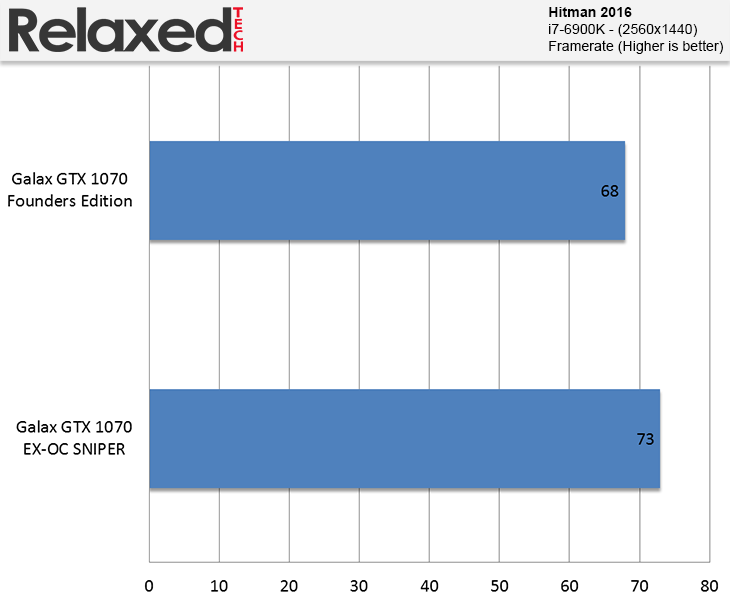 Moving on to the Hitman 2016 benchmark, the Galax GTX 1070 EXOC Sniper is 5fps faster.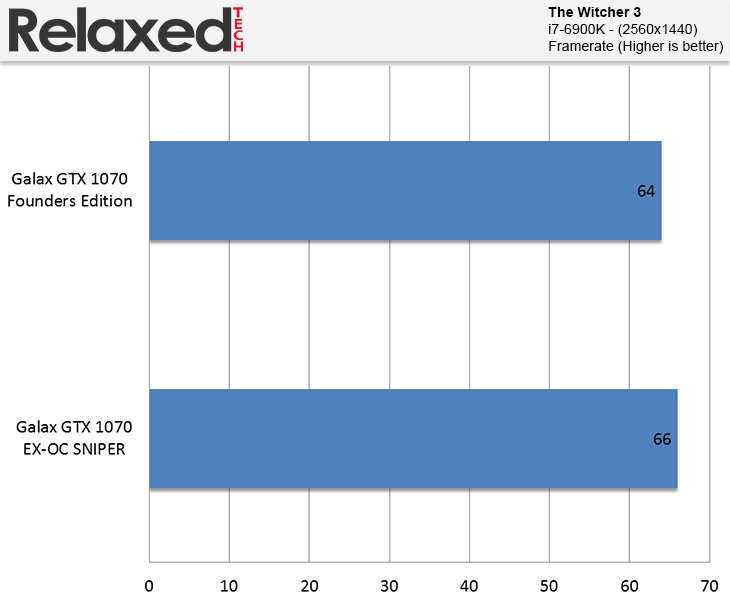 Once again, in the The Witcher 3 benchmark, the Galax GTX 1070 EXOC Sniper is faster by 2fps.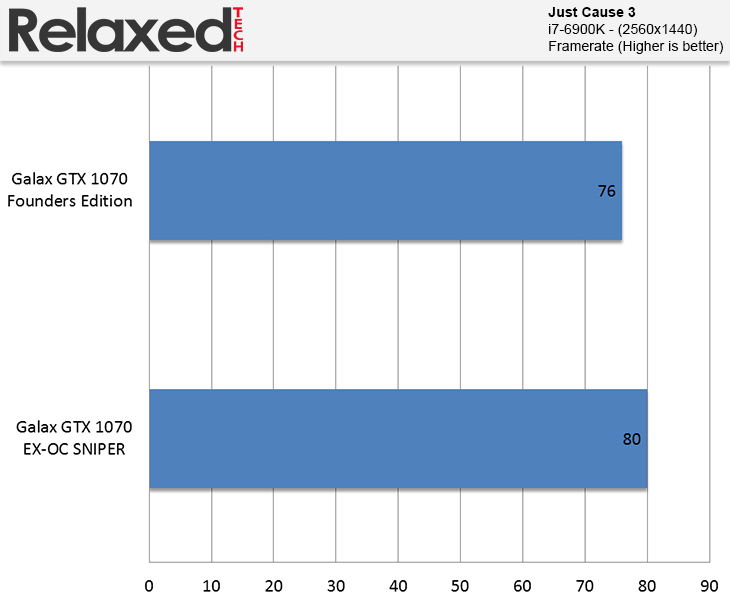 Looking at the Just Cause 3 benchmark, the Galax GTX 1070 EXOC Sniper is 4fps faster.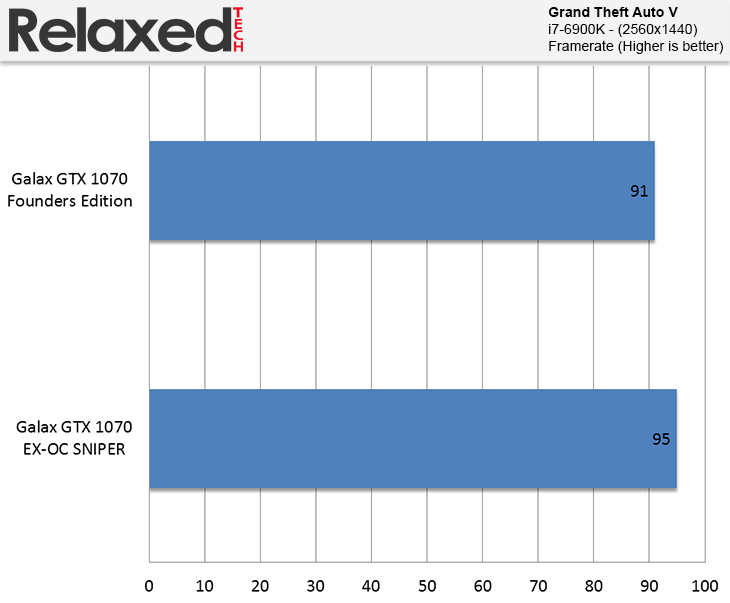 Moving on to the GTA V benchmark, the Galax GTX 1070 EXOC Sniper is 4fps faster.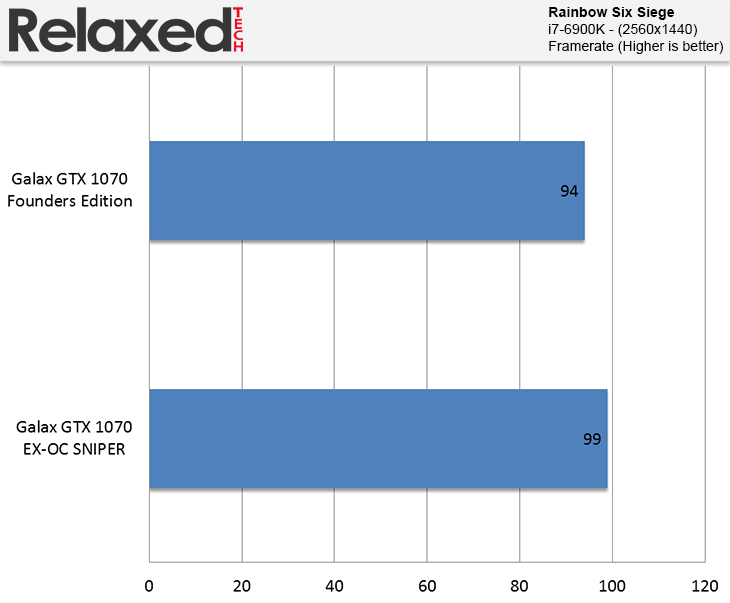 Looking at the Rainbow Six Siege benchmark, the Galax GTX 1070 EXOC Sniper is 5fps faster.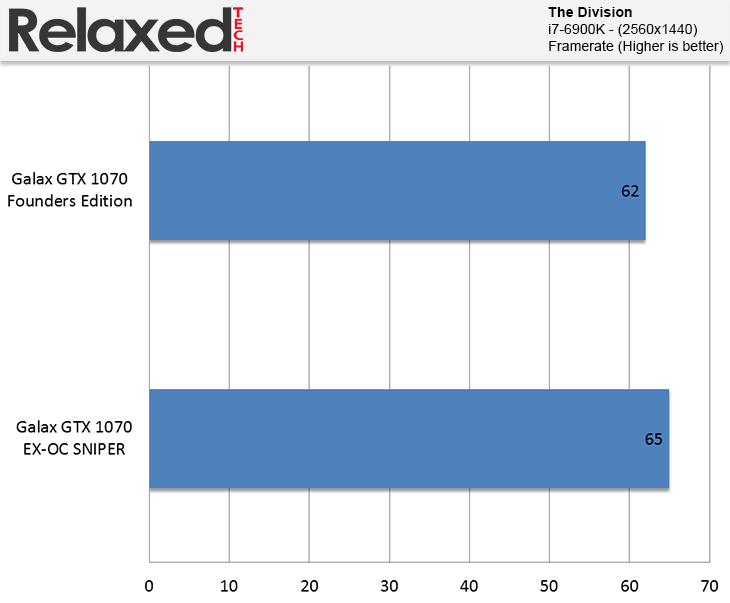 In the Tom Clancy's The Division benchmark, the Galax GTX 1070 EXOC Sniper is 3fps faster.
Conclusion
The Galax GTX 1070 EXOC Sniper is a huge improvement in every way compared to the Founders Edition. Not only is the Galax GTX 1070 EXOC Sniper more efficient but it also performs much better while being much quieter. The cooling solution does an excellent job at keeping the card cool and the Silent Extreme Technology is great because it activates the fans only when the temperature reaches 45 degrees Celsius so the card is whisper quiet most of the time. So the card will remain dead-silent during light loads such as office work or other less 3D-intensive applications. The Galax GTX 1070 EXOC Sniper is perfect for PC gamers who want to play the latest games on max settings at 1440p. As far as availability goes, the Galax GTX 1070 EXOC SNIPER can be hard to find in the U.S but it is available at Galax's online website for $429.99 and comes with 3 years of warranty.
The Galax GeForce GTX 1070 EXOC SNIPER is available in two color options, black and white and the white-themed offers a unique look that's rarely seen. I'm personally tired of the usual all-black themed video cards so I appreciate Galax's effort for making a white version. With a price of $430, the Galax GTX 1070 EXOC Sniper is expensive especially when compared to other cheaper GTX 1070s that can be found for $380. But what you have to keep in mind is that this card comes with an overclock out of the box which saves you the hassle of manually overclocking and there's room to overclock even more. The build quality and protective backplate make this card worth the $430 price point in my opinion. The card also offers additional features such as RGB lighting which can be customized using the Xtreme Tuner.
Pros:
+ Factory Overclocked
+ High Build Quality
+ Whisper Quiet Fans
+ Protective Backplate
+ Silent Extreme Technology
+ Easily Detachable Fans
+ Low Temperatures
+ RGB Lighting
+ HDMI 2.0b & DisplayPort 1.4

Cons:
- Expensive
- 3 Years Warranty

I believe that in order for Galax to stand out against other competitors in this industry, they have to do something different. The card comes with 3 years of warranty which is considered standard but recently there's been a trend where companies are now offering 4+ years. Gigabyte announced that they will be offering 4 years on their graphics card and Zotac is offering 5 years. I think Galax should extend the warranty to 4 years to compete with the other companies. Moving on, I didn't find any major issues with the Galax GTX 1070 EXOC SNIPER. It is a fantastic card that is well engineered. We recommend the Galax GTX 1070 EXOC Sniper to anyone who's looking for a high quality video card for a silent gaming experience.

Overall, we are proud to give the Galax GeForce GTX 1070 EXOC SNPR our Elite Award.
Final Score 9.1