Introduction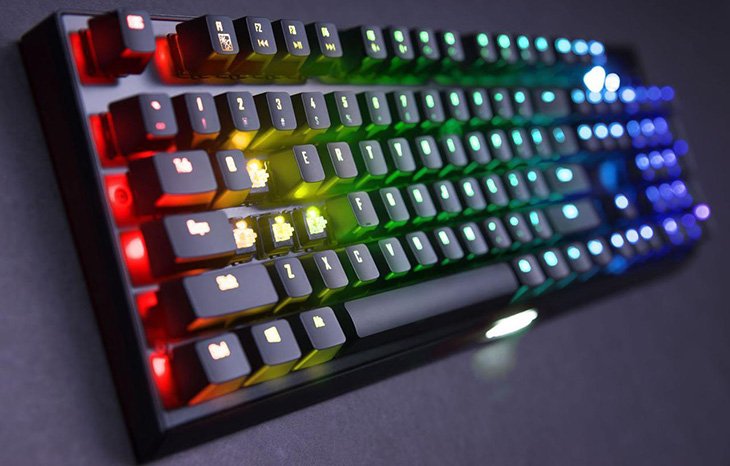 The PC gaming peripherals market is getting bigger every year and there's plenty of opportunities to make money in this market but finding the right gaming keyboard that has all the bells and whistles that gamers want in a market saturated with poor quality gaming keyboards is hard. That's why today we are looking at the Aorus K9 Optical from Gigabyte which is easily one of the best gaming keyboards that I have recently tested. Gigabyte launched the Aorus K9 Optical in November of 2017 and this is its second Aorus branded keyboard aimed at gamers.
The Aorus K9 Optical is not your typical mechanical gaming keyboard and that's because it does not use the conventional mechanical switches, instead it uses the optical Flaretech switches which are much faster and have a longer lifespan than traditional mechanical switches. The Aorus K9 Optical comes in two flavors, one with the Red switches and another with the Blue switches. The Red switches have a weak tactile feedback while the Blue switches have a much strong tactile feedback. For this review I will focus on the Red switches because that is what Gigabyte has sent me.
Gigabyte's Aorus K9 Optical is a sophisticated full-size gaming keyboard that comes loaded with plenty of attractive features such as swappable switches for custom gaming experience, braided cable for extra durability, cable management to reduce clutter on your desk, 100 million keystrokes which is double of a traditional mechanical keyboard, full RGB backlighting, and it is also splash proof.
The Flaretech Optical Switch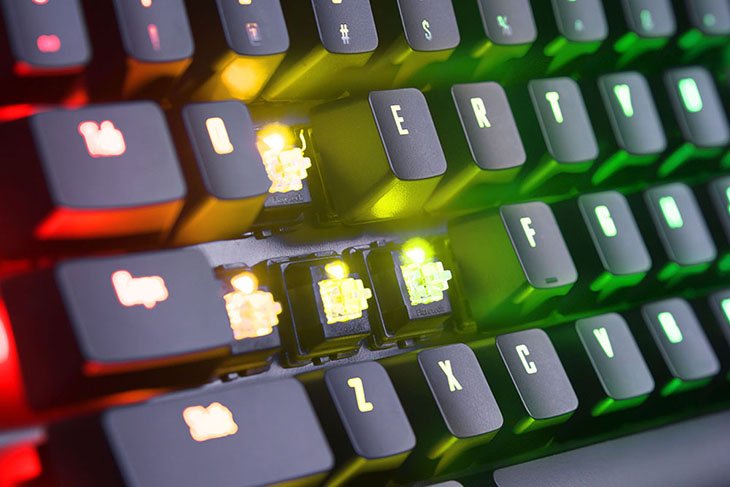 Adomax first demonstrated prototypes of its Flaretech Optical switches at Computex 2015. The Flaretech switches are hot-swappable and Gigabyte includes nine Red switches with the Aorus K9 Optical keyboard to allow gamers to customize their keyboard. Adomax's Flaretech switch uses a sensor and light to read the keypress because it is designed to send a digital input as soon as it receives a light signal. Compared to regular mechanical switches that suffer from high debounce time, the Flaretech switches have a significantly low debounce time, thus making them ideal for gamers by delivering much faster gameplay.
The Flaretech Red switches feel similar to the Cherry-MX red switches so that means there won't be any tactile or audible feedback but the keystrokes are silky smooth and each key can be customized to 16.8 million colors using the Aorus Engine software. As far as the specs go, the Flaretech Red switches come with a 4mm travel distance, 2mm actuation point and a 55g actuation force and it is guaranteed for 100 million key presses. Gigabyte also includes a switch puller that can be used to remove the keycap or remove the switch.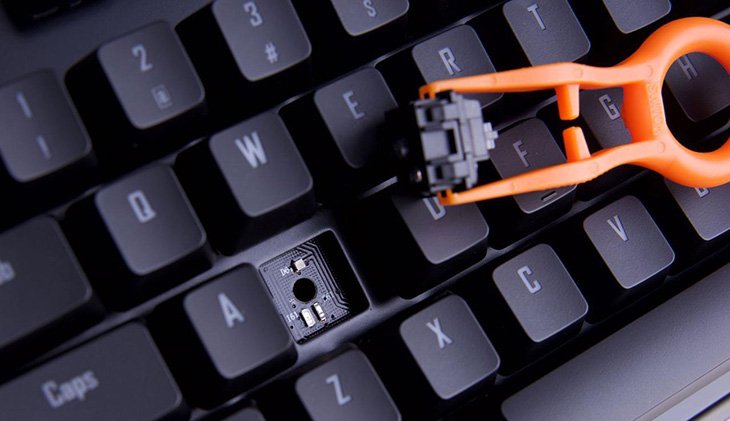 In terms of performance, the Flaretech red switches are very close to the Cherry-MX Red switches with the actuation distance (2mm) and travel distance (4mm) being the same and with an almost similar rating for actuation force, 55G for the Flaretech Red and 45G for the Cherry-MX Red. But the biggest difference in terms of specifications between the Flaretech Red and Cherry MX Red switches is the debounce time.
Red Switch Specifications
Switch Type:
Flaretech Red
Cherry-MX Red
Peak Force:
55 cN – Linear
45 cN – Linear
Switch Life:
100 million
50 million
Debounce Time:
0.03ms
5ms
Tactile feedback:
No
No
Audible feedback:
No
No
Travel Distance:
4mm
4mm
Actuation Distance:
2-4mm
2mm
Reset point:
2-4mm
1.9mm
Keycap stem:
MX (cross)
MX (cross)
The average Cherry MX Red switch has a 5ms debounce time while the Flaretech Red switches have a debounce time of 0.03ms. This is great for gamers who are into fast-paced gaming such as CS:GO where every millisecond counts. So if you need a keyboard with fast and rapid actuation, the Aorus K9 Optical might be the keyboard you need.
Something else that you might notice about the stem in the Flaretech Optical switches is that they are compatible with the MX stem. This means you can use the stem from the Flaretech switches with any Cherry MX key caps and since the Flaretech Optical switch doesn't need to be soldered onto the PCB, you can swap the switches that break over time with a different type of Flaretech optical switch. You can even swap the whole keyboard with a different type of Flaretech Optical switch.
Pricing, Warranty & Features

Price-wise, the Aorus K9 Optical Red keyboard retails for $139.99 on Amazon and comes with 2-years of warranty. It features full N-Key rollover which means every single keystroke gets registered, every single time, regardless of how many other keys are pressed simultaneously. The Aorus K9 Optical weighs about 2.6 lbs including the cable and it measures 439 mm x 140 mm x 37 mm inches (L x W x H) and features 1000 Hz polling rate via USB 2.0. The cable itself is 6.5 ft long and it is nicely braided. Braided cables offer extra durability and are very much preferred by gamers.
At $140, you would expect the keyboard to come with dedicated media controls and wrist rest pad but that's not the case here. The K9 Optical lacks dedicated media controls and a wrist rest pad which I'm sure is a disappointment to many people. Most gaming keyboards that retail for $100+ come with dedicated media controls that give you access to light effects, multi-media controls, and also have a dedicated volume/mute wheel.
Another feature the Aorus K9 Optical lacks that I would have liked to have seen is a dedicated USB 2.0 passthrough. For those that don't know what a USB passthrough is, it's simply a USB port on the keyboard that you can use to connect a USB device to so you don't have to connect it from behind the computer case. This can be very useful if you want to charge your smartphone while playing a game or when browsing the web. This is not a big deal but it's something that most high-priced keyboards have.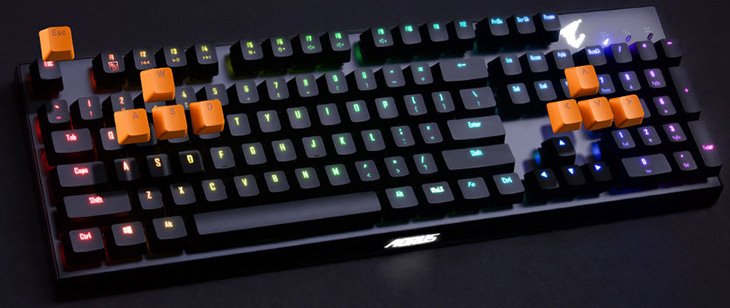 Besides the nine switches, you also get nine orange keycaps for W, A, S, D, ESC and 4 arrow keys. The keycaps are made of PBT (Polybutylene terephthalate) which means it has better hardness, durability and smoother texture than normal ABS. Not only does PBT have a longer lifespan, but it can also significantly resist stains of oil from your fingers and will not wear out after years of usage. Gamers can customize their K9 Optical with different switches and orange PBT keycaps.
Each key has its own RGB LED and you can customize the lighting effects via the Aorus Engine. The Aorus Engine makes it really easy to customization and create complicated lighting effects in just a few seconds. The keycaps in the Aorus K9 Optical are exposed which makes it easy to remove them, exchange them and also clean them but at the same time it's easy for dirt and dust to gather inside the keyboard.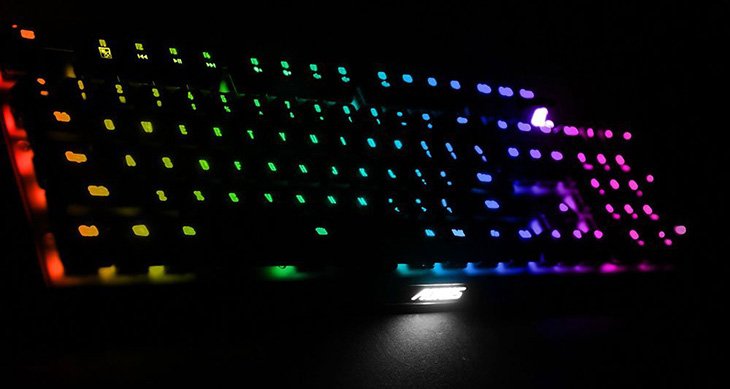 While exposed keycaps give the keyboard that modern look to it, some people do not like the look of it because of RGB lighting flowing through the case which is also known as light leakage and the Aorus K9 Optical does suffer from light leakage. Exposed keycaps are not for everyone and I know many people that prefer their keys to be boxed in, but you get used to exposed keycaps very quickly.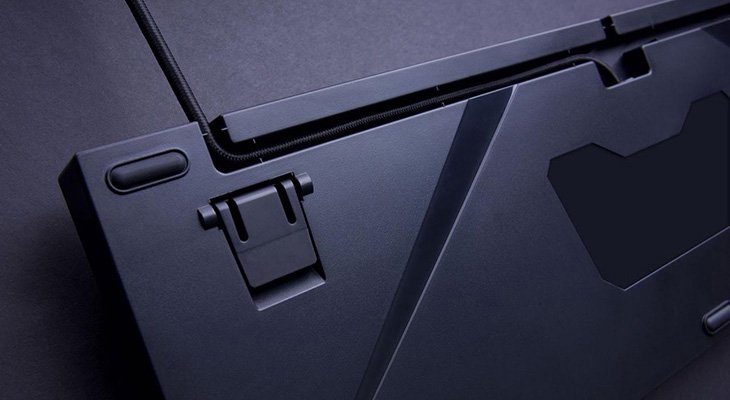 Cable management is top-notch with the Aorus K9 Optical and it offers three different cable pathways on the bottom to allow users to clean up their desktop and set up their gaming gear in an organized manner. You can organize the cable by looping through the "L" shaped loop on either the left or right side or through the center of the board.
Design-wise, the Aorus K9 Optical does not feature a flashy look but rather a minimalistic look which I really like. The Aorus K9 Optical is built with an aluminum chassis which means it is very lightweight compared to most mechanical keyboards and it feels quite sturdy when holding it. The finish on the keyboard is fingerprint resistant which is also very nice. To help elevate the keyboard, there are rubber pads on the bottom and also there are the single-step feet with a rubber base to help keep the keyboard in place.

One thing I want to mention about the Flaretech red switches is that they are not necessarily designed for typing, and while they are an improvement compared to the traditional mechanical switches, you should probably look elsewhere if you are an avid typist. The Flaretech red switches are great for gaming but the short travel distances and fast actuation makes it difficult to use this keyboard for everyday tasks.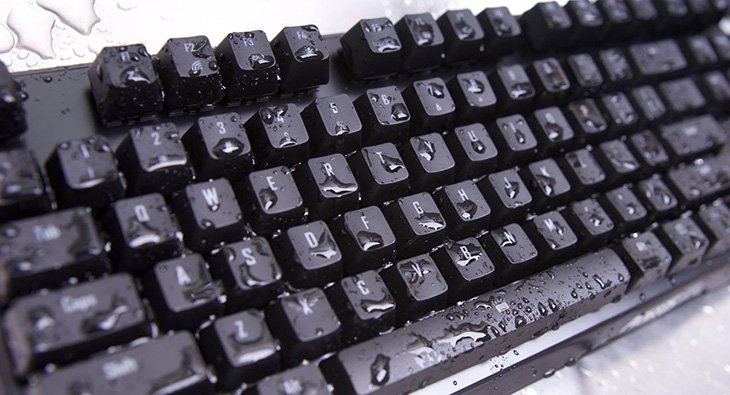 The Aorus K9 Optical is designed to handle harsh, dusty conditions and liquid spills and Gigabyte claims that it can even work under water. Unlike traditional mechanical gaming keyboards, the Aorus K9 Optical does not use metal contact points in the key switch itself, instead it uses infrared light to measure the travel distance and key stroke and this makes them less prone to damage by liquids than average mechanical keyboards.
Specifications
Technical Specifications
Company:
Gigabyte
Model:
Aorus K9 Optical Red
Interface:
USB 2.0
Activation:
Flaretech Optical-Mechanical
Switch Type:
Red/Blue
Switch Life:
100 Million Strokes
Key Profile:
Standard
Travel Distance:
4mm
Activation Distance:
2mm
Debounce Time:
0.03ms
Peak Force:
Red : 55g +/- 10g
Blue: 55g +/- 10g
Dimensions:
439(L) x 140(W) x 37(H) mm
Weight:
1180g (2.6lb)
Cable Length:
2m
Software:
AORUS Engine
OS Support:
Windows 7/8/10
Simultaneous Key input:
N-Key Rollover
Backlighting:
16.8M Color Per-Key
Report Rate:
max 1000Hz
Key Features:
0.03ms Debounce Time – When Speed Matters
Ultra Durable – 100 Million Keystrokes
Splash proof
Swappable Switches – Custom Gaming Experience
Chatterproof
Exclusive Top-quality Steel Springs
Full RGB Backlighting
AORUS Engine – You're In Control
N-Key Rollover
Floating Key Design
Braided Cable
Cable Management

Performance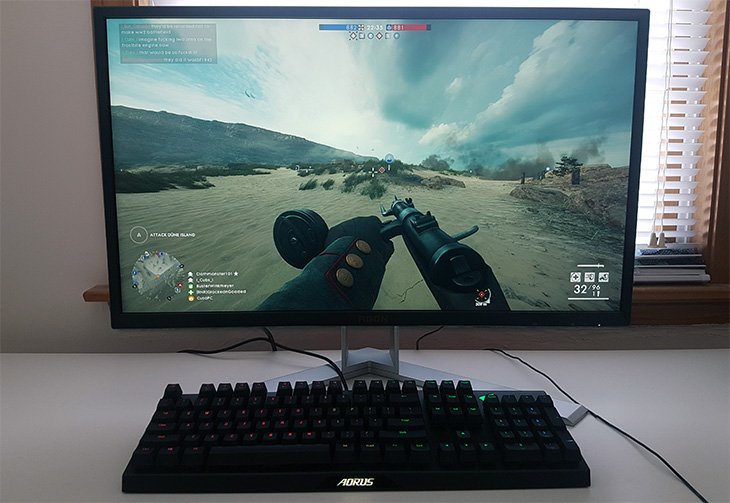 I tested the gaming performance of the Aorus K9 Optical Red by playing Battlefield 1 for a few hours. The Aorus K9 Optical Red offers great gaming performance and it is very comfortable to use. Its sturdy design can withstand forceful tapping with no problems which is very nice. Also, I compared the Aorus K9 Optical Red keyboard to the Logitech G610 keyboard which uses Cherry-MX red switches and for the most part, I could not tell the difference between the two keyboards. But the Flaretech red switches do feel more responsive/faster due to the incredibly fast debounce time but other than that, they feel similar to the Cherry-MX Red switches.
Aorus Engine Software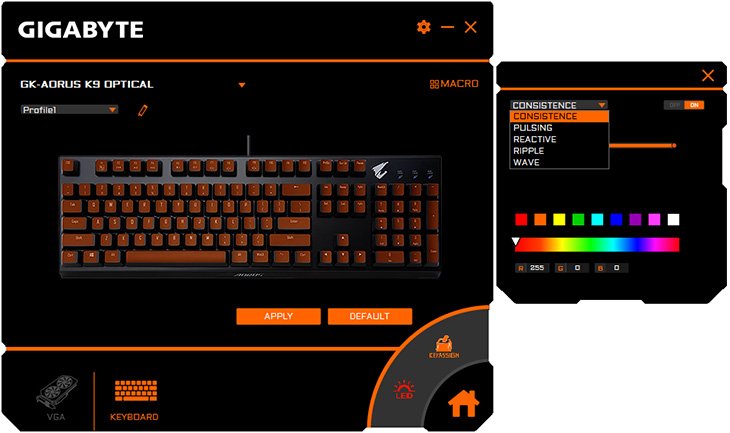 Setting up the Aorus K9 Optical for customization and personalization with the Aorus Engine software is pretty straight forward. I do want to mention that the UI of the Aorus Engine software feels outdated compared to the competition and I think Gigabyte should spend some time redesigning the interface to give it a more modern look and feel.
When you first launch the software, you will be presented with a picture of the keyboard and the keyboard's model number is shown in the top left corner. Underneath this, there is a profiles drop-down list and there are 5 pre-built profiles. You can access the other profiles and set up your own custom settings for different appearance and lighting effects.
There are 5 lighting effects to choose from, Consistency, Pulsing, Reactive, Ripple, Wave. Activating the light effects is as easy as selecting the effect from the drop down menu and hitting apply. After you pick the lighting effect from the drop down menu, you can then experiment with the color selection, brightness, speed, and direction. Everything can be set with only just a few clicks which makes it really easy to tweak the settings.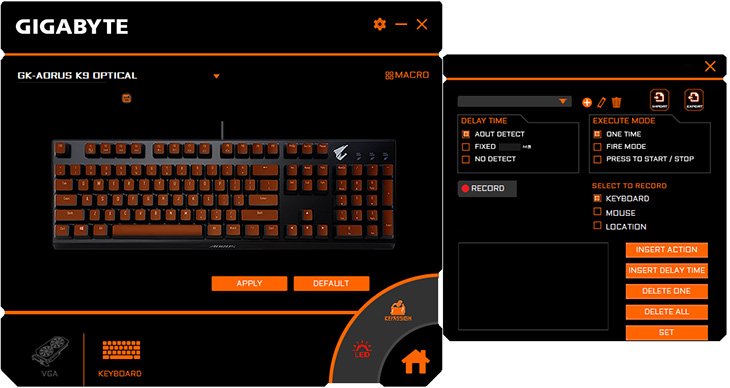 Looking at the top right side, you will notice a Macro button which is used to set macros on the Aorus K9 Optical. Here you can create your own macros and also import/export them. The Aorus Engine software lacks many functionalities such as polling rate adjustment, N-Key Rollover toggle and key-repeat that are present in the competitor's software. The current color theme and text-size on some of the buttons is tiring on the eyes and my recommendation to Gigabyte would be to come up with a new UI design for the Aorus Engine to make it as easy on the eyes as possible.
Conclusion
The Aorus K9 Optical Red is an excellent gaming keyboard thanks to the Flaretech Optical red switches and the liquid-proof design is a unique feature that helps it stand out from the competition. If gaming is your primary goal, I would go with the Flaretech red switches because they offer smooth linear keystrokes and deliver very quick bounce time which makes them perfect for gaming. Flaretech blue switches on the other hand would be ideal for typing so I would go with that if typing is what you will be doing most of the time.
The Flaretech switches have a higher lifespan over traditional mechanical switches and they are very easy to replace, and also sport a sturdy build quality. The full RGB lighting control as well as the included nine swappable switches and keycaps are great for customizing the keyboard. The keycaps themselves are very durable and not prone to fading or losing their texture.
My main issue with the Aorus K9 Optical is its steep price. At $140, the Aorus K9 Optical keyboard is quite expensive and there are plenty of mechanical keyboards out there that cost less and come with features such as dedicated media keys and a wrist rest pad. Most keyboards that retail at this price-range come with dedicated media keys and most of them also offer a wrist rest pad. If Gigabyte decides to make another revision to this keyboard in the future, they should definitely consider including those two features.

Pros:
+ Cable Management
+ Swappable Switches
+ Splash Proof
+ Braided Cable
+ Attractive Design
+ Great Performance
+ Great Packaging

Cons:
- Expensive
- Lacks Dedicated Media Keys
- Lacks Wrist Rest Pad
- Aorus Engine Software Needs Improvements

Besides the price and the lack of the dedicated media keys and wrist rest pad, the Aorus Engine software is another thing that Gigabyte needs to focus on. The Aorus Engine software lacks many of the customizations that are found in the competitor's software such as the SteelSeries Engine software and Logitech's gaming software. The UI of the Aorus Engine also needs to be redesigned to have a modern look and feel. Other than that, the Aorus K9 Optical is a great keyboard for gamers who are looking for a truly high-end gaming keyboard with a sturdy build quality and a sleek design. Overall, I believe the Aorus K9 Optical keyboard deserves our recommended award.
Final Score 8.0