Introduction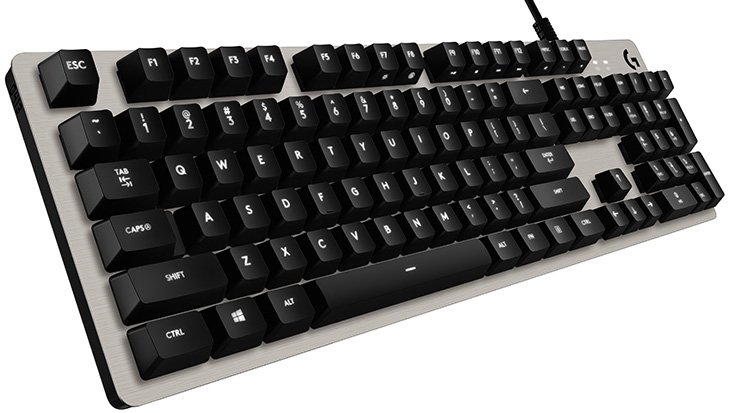 The Logitech G413 keyboard is a great mid-range mechanical gaming keyboard that features an attractive, modern design and comes with Logitech's exclusive Romer-G switches. Logitech claims that their Romer-G switches offer 25 percent faster actuation than standard mechanical switches. The keyboard itself is relatively lightweight and it has an aluminum body, USB passthrough port and backlighting. Logitech is selling the G413 in two versions, Carbon (red lighting) and Silver (white lighting). The Silver model is sold exclusively at Best Buy.
The G413 is a full-size keyboard that measures 17.5 x 4.1 x 1.4 inches and retails for $89.99 and comes with 2 years of limited warranty. Logitech has sent me the Silver model which I've been using for a few days now and I absolutely love the way it looks.
Looks-wise, the G413 sports a brushed aluminium finish and a borderless design. Since the G413 features a borderless design, this means the keys stick out over the platform which some users might not like because the key caps basically hover above the platform without any protection on the sides. I personally don't mind and love the simpler design but I can understand why some people might not like that. With the G413, you get a full set of keys and a number pad but no dedicated media keys.

Most budget keyboards are made out of plastic but the G413 is made with aircraft grade aluminum for a sturdy yet elegant design. The G413 offers cable pathways on the bottom to allow users to clean up their desktop and set up their gaming gear in an organized manner. You can organize the mouse cable by looping through the "U" shaped loop while the main channel through the center of the board can be used for the headset cable to avoid having the cable go around the keyboard or through and under the desk.

Now let's talk a little bit about the Romer-G Mechanical Switches. The Romer-G switches are built for professional-grade performance, responsiveness and durability. With a short-throw actuation point of 1.5 mm, Romer-G switches register key presses up to 25 percent faster than standard mechanical switches.
Romer-G mechanical switches are also designed for precise and clean lighting through the keycaps. This means keys are always visible and never distracting, especially during late night gaming sessions. Depending on which model of the G413 you get, the Carbon model features red backlighting while Silver model features white backlighting.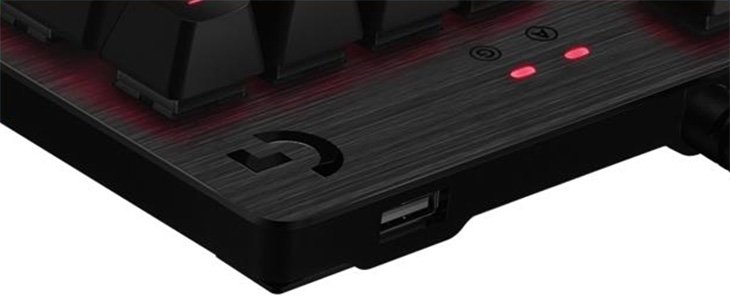 Logitech has integrated a dedicated USB passthrough in the G413 which can provide full power and data speed for any USB device. What I don't like about the G413 is that it requires two USB ports, one of the keyboard and one for the USB passthrough. As I mentioned earlier, the G413 does not come with dedicated media keys but you can use the FN key to control volume, play and pause, mute, game mode, lighting, etc. The FN toggle feature in Logitech Gaming Software configures keys to perform media commands by default.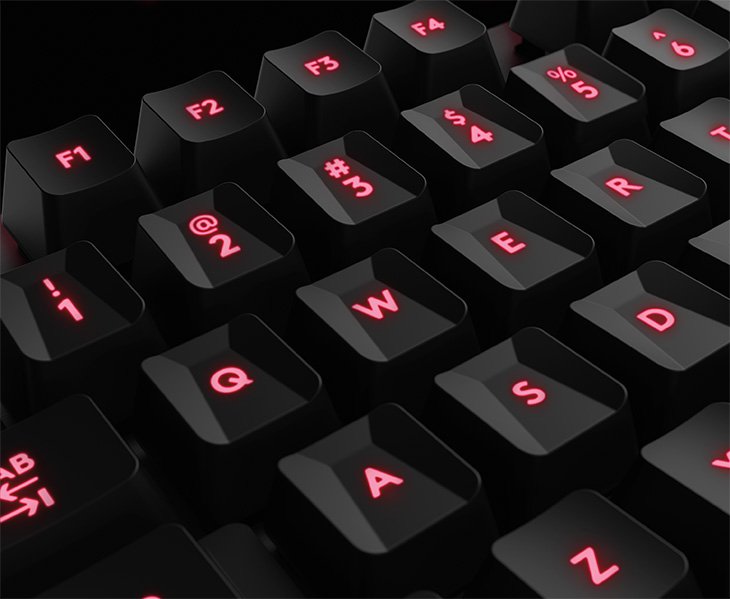 The Logitech G413 Keyboard comes with standard smooth key caps designed for speed and a traditional feel. Most gamers are comfortable with smooth keycaps but Logitech has also include an optional set of gaming keycaps with their faceted design for those players who prefer to get every edge they can.
Specifications
Technical Specifications
Company:
Logitech
Model:
G413
Height:
5.12 in (132 mm)
Width:
17.5 in (445 mm)
Depth:
1.4 in (34 mm)
Weight w/o cable:
2.4 lbs (1105 g)
Cable Length:
6 ft (1.8 m)
Switches:
Romer-G
Durability:
70 million keypresses
Actuation distance:
0.06 in (1.5 mm)
Actuation force::
1.6 oz (45 g)
Total travel distance:
.12 in (3.0 mm)
Connection Type:
USB Type A (corded)
USB Protocol:
USB 2.0
USB Speed:
Full Speed
Indicator LIghts (LED):
2
USB Ports (Built-in):
1, USB 2.0
Backlighting:
Yes
G413 Silver:
White
G413 Carbon:
Red
Backlight Toggle:
FN + F7
Game Mode:
FN + F8
Media Controls:
FN + F9/F10/F11/F12
Announced:
April 2017
Performance
I tested the performance of the G413 by playing Battlefield 1 and Far Cry 4 and this is what it comes down to. The G413 performed exceptionally well thanks to the Romer-G switches. The Romer-G switches are responsive and relatively silent compared to mechanical switches. Logitech's Romer-G switches should also last much longer as they're rated for 70 million actuations. The G413 is very comfortable to use and its sturdy design can withstand forceful tapping with no problems. Logitech has perfected the response times to a science.
Logitech Gaming Software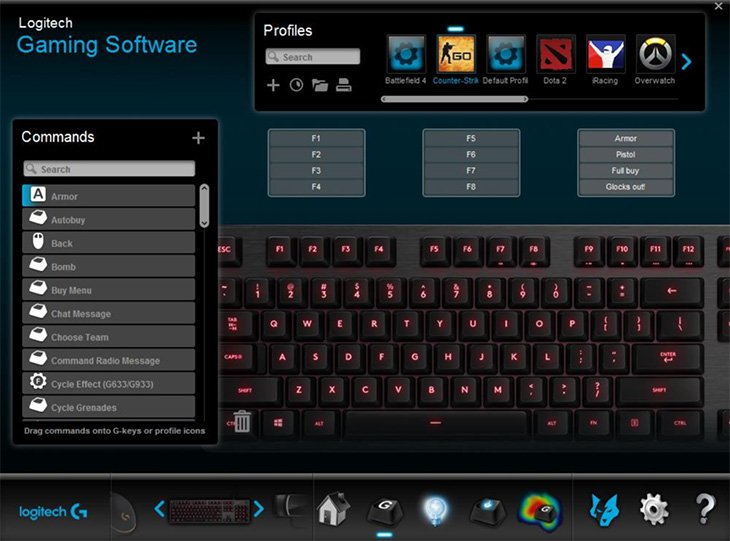 The G413 can be used with Logitech's Gaming Software for customization and personalization. You can customize the G413 Keyboard with lighting effects, per app profiling and other tools to perfect your personal experience. Keep in mind that the G413 does not support individual key lighting.
You can use the 'Custom Function Keys' to assign any custom function to the Function 1-12 keys on the G413 Keyboard. Using the powerful macro and scripting features built into the Command Editor, you can basically create an unlimited amount of customization with Custom Function Keys and you can even save and export the profiles you create to share with other people.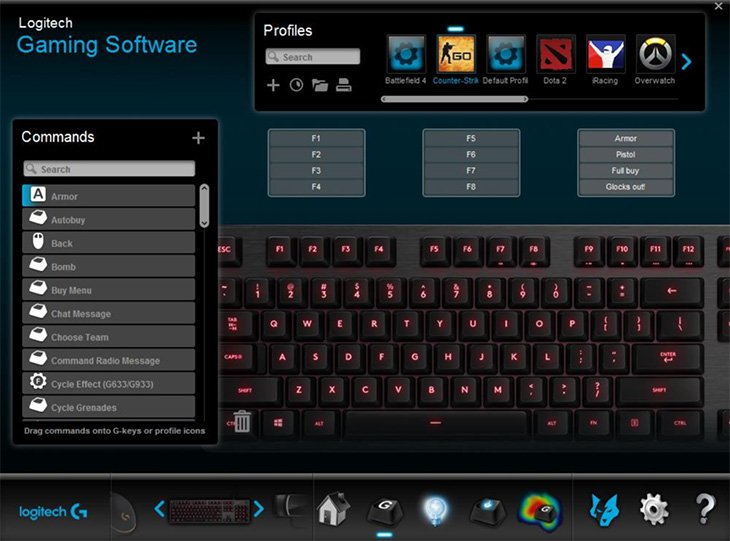 You can set up per-game profiles to automatically adjust certain aspects of the G413 when you launch an application. To enable per-profile settings, simply click the radio button on the tab you want to apply. Users can dial in their settings to get the perfect experience while gaming.
Conclusion
The G413 is perfect for users who are looking for a slightly cheaper mechanical keyboard. It's easily one of the best entry-level mechanical gaming keyboard that I have tested. Logitech's Romer-G switches are durable and perform exactly as advertised. The silver version of the G413 can be found only at Best Buy and it features white lights instead of the carbon with red lights.

Pros:
+ Aesthetic Design
+ Inexpensive
+ Superb Performance
+ RGB Lighting
+ Comfortable
+ Sturdy

Cons:
- No Dedicated Media Keys
- Needs Two USB Ports

If you are looking to get the best mechanical gaming keyboard without spending too much money but also want a great typing experience, you can't go wrong with the Logitech G413. Overall, I believe the Logitech G413 keyboard deserves our Editor's Choice award.
Final Score 9.0