Introduction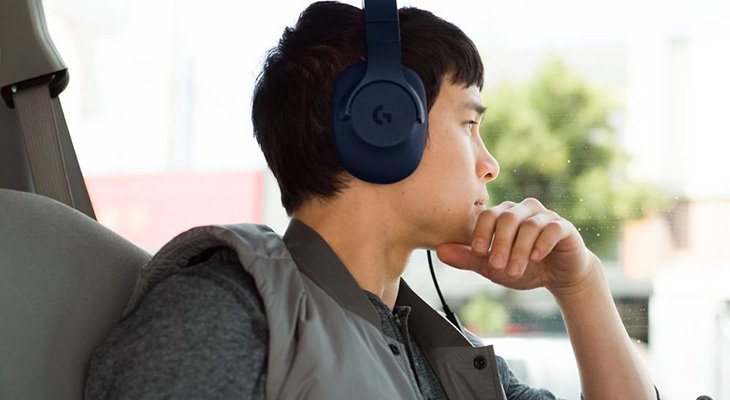 The gaming headset market is rather competitive and gamers are always looking for the next best gaming headset that meets their price point and all the features that they expect. Today we will be looking at the Logitech G433 wired 7.1 surround sound gaming headset which is the newest member of the G series from Logitech. The Logitech G433 comes in four distinct colors, Triple Black, Fire Red, Royal Blue, and Blue Camo and retails for $99 and features a 2 year of limited warranty.
In a crowed headset market, the $99 price-tag of the G433 is a little steep in my opinion because there are other gaming headset from companies such as Sennheiser and SteelSeries that retail for much less and offer the same quality and features as the G433. Logitech has incorporated the Pro-G audio drivers into the G433 which help with producing booming bass and precise clarity.
The Logitech G433 also features an acoustic port positioned behind the driver for more dynamic and spatial sound. Logitech's G433 is not a "true" surround sound headset meaning that the DTS Headphone:X is basically a software encoding method for simulating surround sound from just 2 audio drivers. The majority of the headsets on the market are virtual surround (2 drivers only) so "true" surround sound headsets that have independent drivers for each channel are most often 5.1 not 7.1 and are significantly more expensive.
Design and Features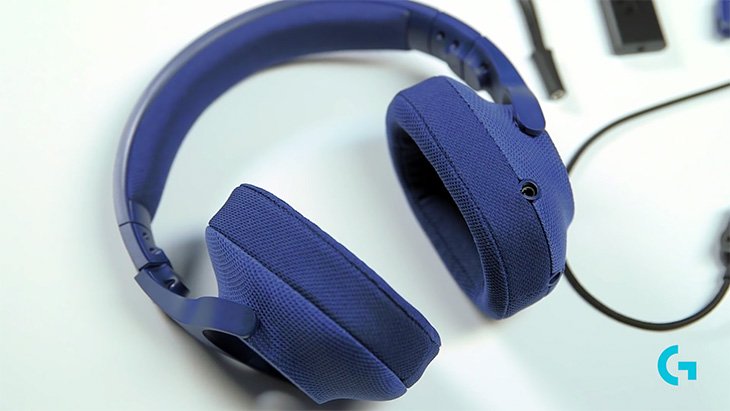 Whether you are a PC or console gamer, Logitech has made the G433 compatible with pretty much any platform by including two audio cables to optimally connect and perform on essentially all gaming devices. For mobile devices, tablets and consoles, you can use the auxiliary cable but the 7.1 surround sound of the G433 is limited to PC only via the Logitech Gaming software so consoles and mobile devices only get Stereo. Personally, this does not bother me because I am a PC gamer but console gamers who care about surround sound might have to look elsewhere.
The outside of the G433 is fabric with a hydrophobic coating making it stain resistant. The G433 is made of three different plastic and steel and this makes it a combination of rigid and flexible. Physically, the G433 is 7.17 in (182 mm) deep, 3.22 in (81.7 mm) wide, and it stands 6.77 in (172 mm) in height and weighs 9.14 oz (259 g) without including the cable. It is very lightweight and durable and you can really extend it to fit any size of head and the ear cups rotate 90 degrees for added flexibility. The top of the headset is made from a plastic material and the underside of the headband is made of cloth-covered foam.
Logitech includes a PC gaming cable kit which connects to the G433 and allows you to mute and adjust the volume with the control box. It's also uniquely designed to eliminate crosstalk between the mic and the headset. The PC gaming cable also connects to the USB digital sound card which enable features like DTS 7.1 surround sound and custom equalizer (EQ).
Comfort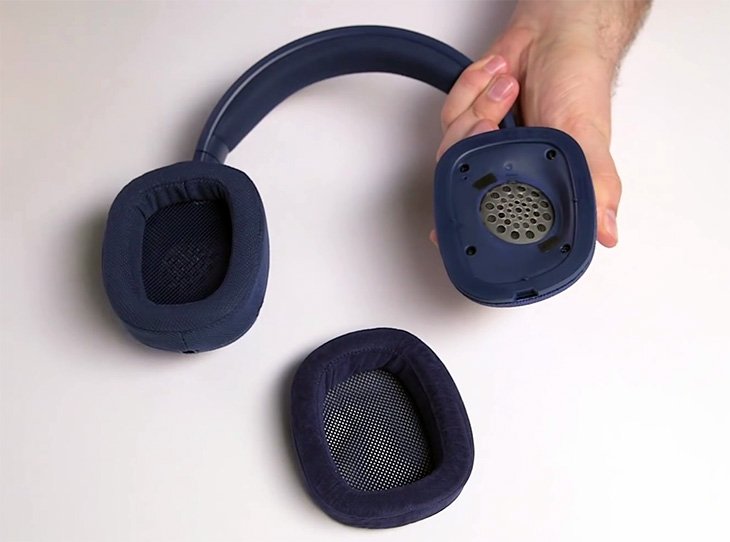 The ear pads are replaceable and they are ease to remove but it takes some work to get them back in. The stock mesh fabric ear pads are somewhat unconformable and they feel a little rough around the edges but Logitech does include microfiber ear pads which are much more comfortable. The G433 is not flimsy or fragile which is surprising since it's using a plastic frame and it doesn't cause irritation after long periods of use so you can use it for an entire day without an issue. Although, it tends to clamp a bit tightly but not to the point where it's unbearable.
Gaming Performance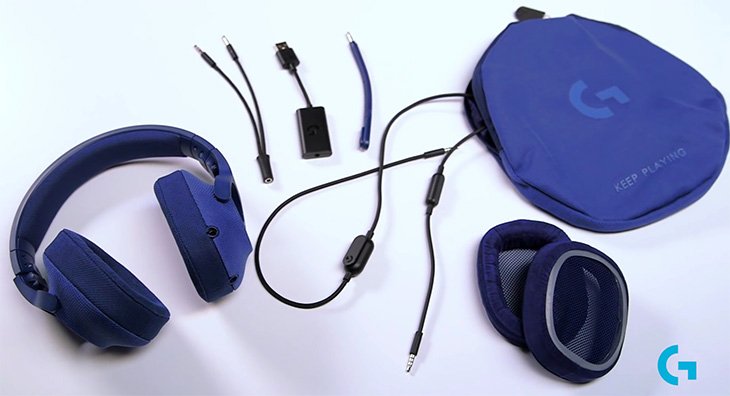 When it comes to gaming, the G433 sounds pretty good. My go to game for benchmarking products is generally Battlefield 1 and Battlefield 1 felt immersive with all the explosions and gun fires during my benchmarking. Logitech has added acoustic ports to the back of the ear pads to make the low end rich and warm which definitely helps when you are playing an intense game like Battlefield 1. During gaming, I was able to pinpoint gunshots and footsteps which is a very important aspect of Battlefield 1. Enabling DTS in the Logitech Gaming software gave Battlefield 1 a little bit more depth and better sound stage.
Audio and Mic Quality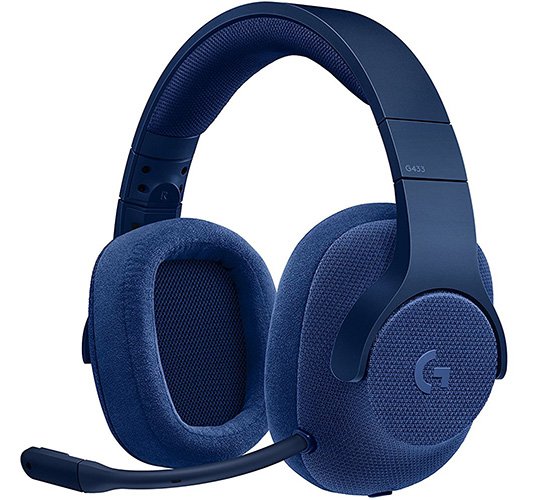 The microphone is flexible and detachable which makes sense for mobile scenarios. The mic itself is made of a bendable and rubbery material which keeps it shape for the most part but it does tend to go back to its natural form. Logitech has included an audio and microphone splitter in case you are using a device that does not have a 3.5mm port. You also get a USB DAC which allows the G433 to use DTS for virtual 7.1 surround sound. The mic quality is solid and there is a mic pop filter which helps with noise canceling.
Chatting or streaming with your friends is clean and the G433 does not pick up outside noises which is excellent. Watching movies and listening to music is great and it provides a very pleasant listen. If you are simply using the mic to chat with your friends online then the G433 will do the job just fine but I would not recommend it for stuff like voice-overs or commentary type things.
Specifications
Technical Specifications
Company:
Logitech
Model:
G433
Dimensions (HxWxD):
6.77 in (172 mm) x 3.22 in (81.7 mm) x 7.17 in (182 mm)
Weight: (w/o cable):
9.14 oz (259 g)
USB DAC:
160 mm
PC Cable Length:
6.56 ft (2 m)
Mobile Cable Length:
4.92 ft (1.5 m)
Headphone Frequency response:
20Hz-20KHz
Headphone Impedance:
32 Ohms
Headphone Sensitivity:
107dB@1KHz SPL 30mW/1cm
Headphone Cable length:
6.60 ft. (2m)
Headphone Driver:
1.6 in (40 mm)
Mic Pickup Pattern:
Cardioid (Unidirectional)
Mic Type:
Back Electret Condenser
Mic Size:
4mm
Mic Frequency response:
100Hz-10KHz
OS:
Windows 10, Windows 8.1, Windows 7
Mac, Nintendo Switch, PS4, Xbox One, tablets and mobile
Package Contents:
-G433 wired gaming headset
-USB DAC with 3.5 mm, 4-pole output
-Detachable microphone boom with micro pop filter
-Mobile cable with inline controls and mic
-Console/PC cable with inline controls
-PC splitter for separate mic and headphone jacks
-Additional microfiber ear pads
-Headset carrying bag
-Accessories case (Blue Camo only)
-User documentation
Announced:
June 8, 2017
Warranty:
2-Year Limited Hardware Warranty
Logitech Gaming Software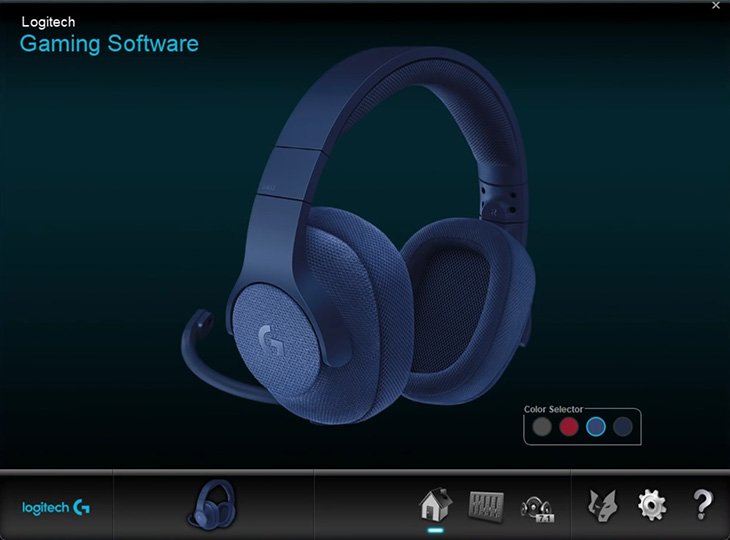 You don't have to download the Logitech Gaming software to use the G433, but it does unlock plenty of cool features and allows you to enable the virtual DTS surround sound and tweak the custom equalizer (EQ) settings. The Logitech Gaming software has a simple and clean user interface and it allows you to control all of your Logitech devices from within the Gaming software which is roughly 120 MB. I would advise that after installing the software, make sure to check if there is a firmware update for your device.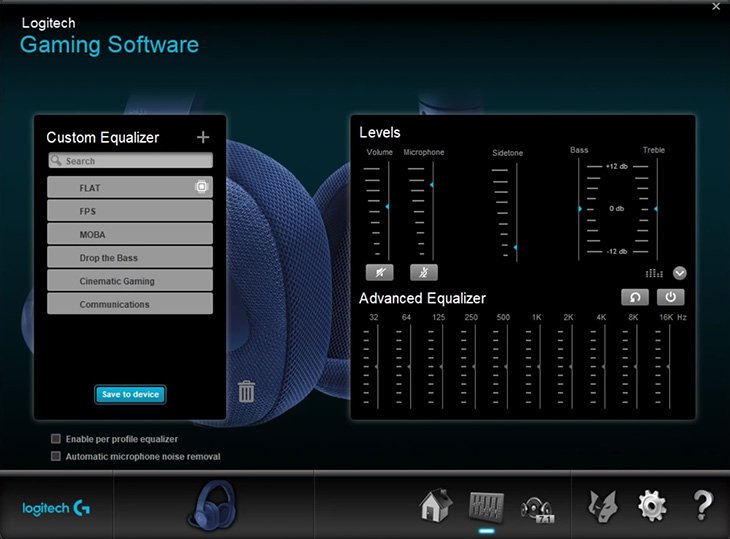 In the equalizer setting page, you can pick from one of the six equalizer profiles, Flat, FPS, MOBA, Drop the Bass, Cinematic Gaming, or Communications. It also allows you to create your own custom EQ profiles and you have control over volume, microphone, sidetone, bass, and treble levels. Another cool feature of the Logitech Gaming software is the ability of setting profiles per game and customizing them with specific settings.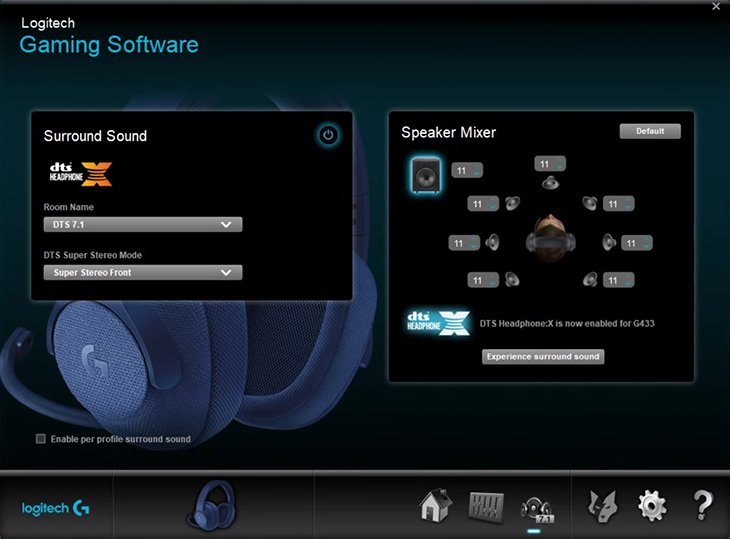 On the surround settings page is where you will go to enable or disable the DTS Headphone:X technology. Here you can also adjust the volume per virtual channel and create per-game profiles and each channel is set to 11 by default.
Conclusion
Overall, the Logitech G433 is a highly versatile gaming headset that does a great job in all scenarios. The sound quality is good and so is its build quality and you can choose between four attractive colors. The stock mesh fabric ear pads are unconformable but swapping them out with the included microfiber ear pads will make a big difference.
The G433 is a solid gaming headset but it comes with a high price-tag which might push some people away. It is currently retailing for $99 which is quite expensive and in this price-range, I think there are better alternatives out there that don't have a plastic build that give it a somewhat cheap feel.

Pros:
+ Stylish
+ Versatile
+ Sound Quality
+ Great Packaging
+ Gaming Performance
+ Comfortable Design

Cons:
- Expensive
- Feels A Little Cheap

The G433 is certainly the jack of all trades and Logitech has a real winner with the G433. It provides great flexibility for gamers, it is lightweight and sounds great. Logitech's packaging is top-notch and they include all the accessories you need to take the G433 over to the console, or out of the house with your mobile devices. Overall, I believe the Logitech G433 headset deserves our Recommended award.
Final Score 9.0