Introduction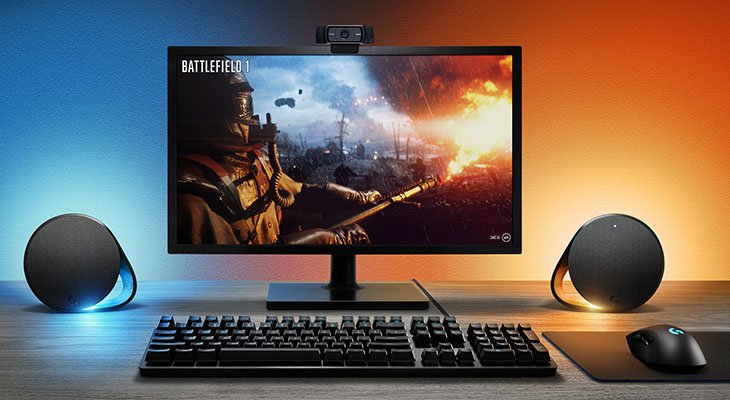 The Logitech G family includes keyboards, headsets, mice and other PC peripherals that gamers have come to love from Logitech. Logitech sells many non-gaming desktop speakers but they have never released a gaming desktop speaker until now. Meet the G560 which is Logitech G's first gaming speaker. Logitech has designed the G560 to be an excellent speaker for not just gaming but also for both music and movies.
The Logitech G560 is a sophisticated gaming speaker system that incorporates many attractive features such as LightSync technology which is used to synchronize the RGB lighting and audio in real-time to match your on-screen action across games, music and movies. Logitech has also included multiple sources of connectivity: USB, 3.5mm and Bluetooth. A USB connection is required for true digital audio, LightSync RGB and DTS:X Ultra surround sound. We have testing the G560 for the past week and overall it is an excellent gaming speaker.
Logitech LightSync Technology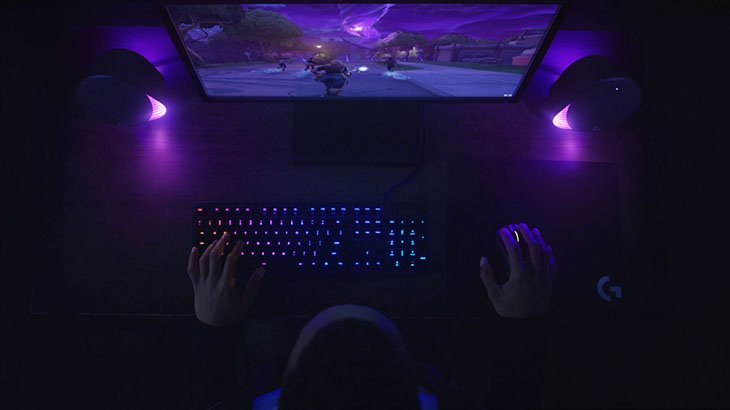 The G560 utilizes Logitech's LightSync technology which is basically an intelligent RGB lighting system that reacts to content to deliver a dynamic lighting experience. If you have a device that supports the LightSync technology, you can use Logitech G's LightSync engine to create and control RGB lights from any piece of content. You will find the LightSync engine in the Logitech Gaming Software. The LightSync engine prioritizes lighting effects, sending the lighting effects to LightSync enabled devices. Devices that support LightSync also share their lighting states with the engine so that lighting is actively managed.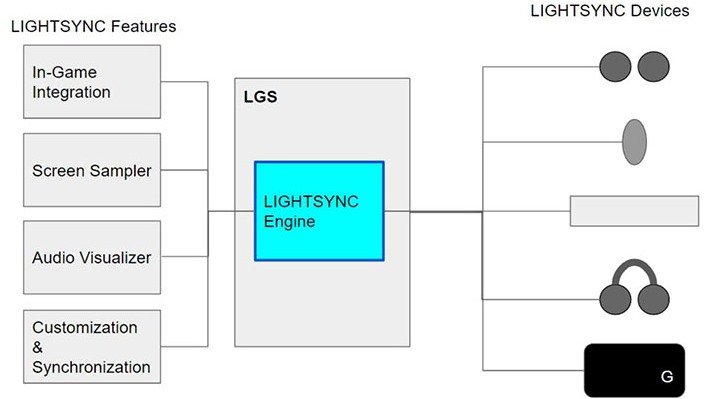 LightSync technology can be used with any application on the PC without in-game integration through the screen sampler applet or the audio visualizer applet. Using the screen sampler applet, LightSync technology can replicate any content on-screen and bring the colors to life on any LightSync-enable devices by selecting zones of the screen to sample color. It will automatically respond and change as the colors changes on screen. This can create ambient lighting for your favorite games or any visual content that you watch on your PC. You can also use the audio visualizer applet on the PC to have G560 react to any audio being played through the speakers.
Pricing, Warranty & Features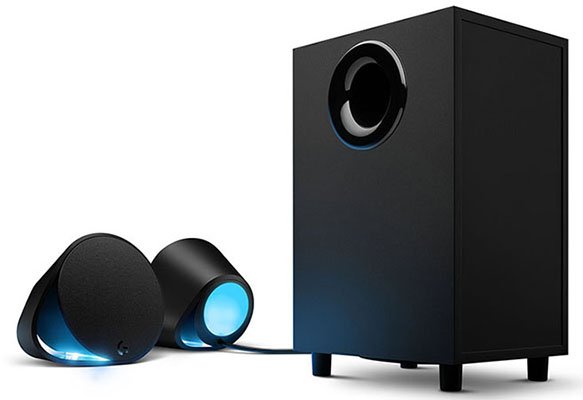 The two satellite speakers are lightweight but the subwoofer is quite heavy, weighing more than 12 pounds and measuring 15.9" tall, 10" wide, and 8.1" in length. The two satellite speakers are much smaller, 5.8" tall, 6.5" wide, and 4.6" in length and weigh about 2 pounds each. Price-wise, the G560 retails for $199.99 on Amazon and comes with 2-years of warranty.
The satellite speakers sport a minimalistic design with a brushed finish which gives it a nice modern look. One of the satellite speakers is just a speaker while the right speaker has a volume control and a button to change the RGB lighting brightness. On the back, you will find two buttons, one to pair a Bluetooth device and another to shut off the speakers. Each satellite speaker is equipped with two LED RGB zones and to get the most out of them, you will need use the Logitech Gaming Software. The LED RGB zones are bright enough to light up the corner of a room.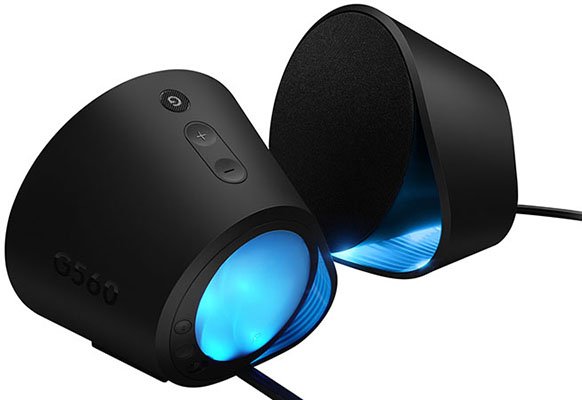 Looks-wise, the G560 sports a circular shape and the case is made out of premium plastic materials so it is built very well. A nice thing about the G560 is that it is not glossy so you don't have to worry about fingerprints. The satellite speakers are covered in a soft fabric material which gives it a stealthy look to it. Keep in mind that the soft fabric material used here can accumulate dust very quickly.
The satellite speakers have a good build quality but nothing outstanding. The cables that connect to the satellite speakers are thick and durable so there won't any issues for quite a while. The G560 does not feature a flashy look but rather a minimalistic look which I absolutely love.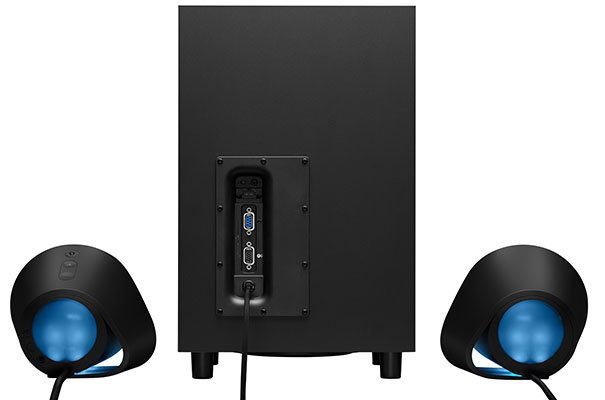 As for ports, there is a dedicated left and right channel output for the speakers and they are color coordinated. There is also a micro-USB port to connect to your PC and a 3.5mm aux input. The USB cable is 2.5 meters long so you shouldn't have any problems routing to your PC. I do want to mention that the G560 supports Bluetooth (v4.1) connectivity and the Bluetooth range is approximately 25 meter. You will need to press the Bluetooth button on the right satellite speaker for around 3 seconds to pair it with a device.
Specifications
Technical Specifications
Company:
Logitech
Model:
G560
Total watts (Peak:
240W
Total watts (RMS):
120W
Bluetooth version:
4.1
Bluetooth connections:
2
Bluetooth Range:
25-meter line of sight Bluetooth range
3.5mm input:
1 (on back of subwoofer)
Headphone jack:
1 (on back of right satellite)
Subwoofer dimensions:
15.9" (H) x 10" (W) x 8.1" (D)
Subwoofer weigh:
12.1 lbs
Right & left speaker dimensions:
5.8" (H) x 6.5" (W) x 4.6" (D)
Satellite speaker (pair) weight:
3.92 lbs
Total weight:
16.02 lbs
Operating Systems:
Windows 10, Windows 8.1 or Windows 7
Mac OS X (DTS:X not supported)
Internet access for Logitech Gaming Software
Announced:
March 15 2018
Performance
Audio is a huge part of our world and having the power, performance and flexibility of a great sound system is an important part of providing the best experience possible. The G560's performance was tested by playing Battlefield 1 for a few hours and also listening to music on YouTube. The G560 sounds amazing right out of the box without having to adjust anything. The G560 can making gaming come alive and you can feel the explosive action from the 240 Watts Peak power feeding the subwoofer and the two satellite speakers. What I like most about the G560 is that you can crank up the sound to fill a large room with amazing explosions and different effects, but you can also use the G560 as the main source of sound for a dance party or simply as background music for dinner.
Logitech Gaming Software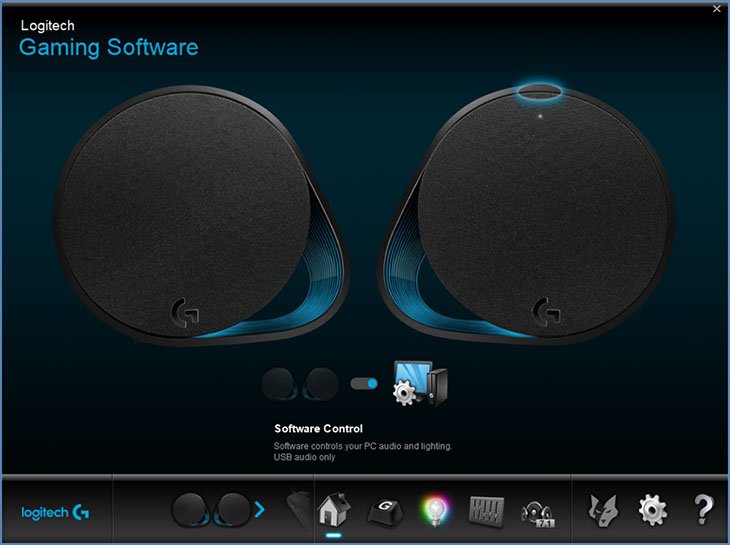 Setting up the G560 for customization and personalization with the Logitech Gaming Software is pretty straight forward. The Logitech Gaming Software can be used for managing all Logitech accessories, such as speakers, mice, keyboards, and headsets. It allows you to customize things such as lighting effects, per-app profiling, EQ and more to perfect your personal experience. Logitech's Gaming Software has a nice modern look and feel which I really like. We are using the latest version of the which at the time of writing this review is 9.02.65 and it is about 120MB.
Logitech recommends to use the Logitech Gaming Software to get the full experience of the G560. However, the G560 can also be used without LGS to simply play audio and produce RGB lighting effects using the firmware mode. The firmware mode is the default mode which the speaker will be in when G560 is connected to a PC or other computer and there is no software present. The G560 will enumerate as an audio device and work properly but will only be able to use the audio visualizer mode. These modes can also be used when connected to a 3.5mm or Bluetooth connection.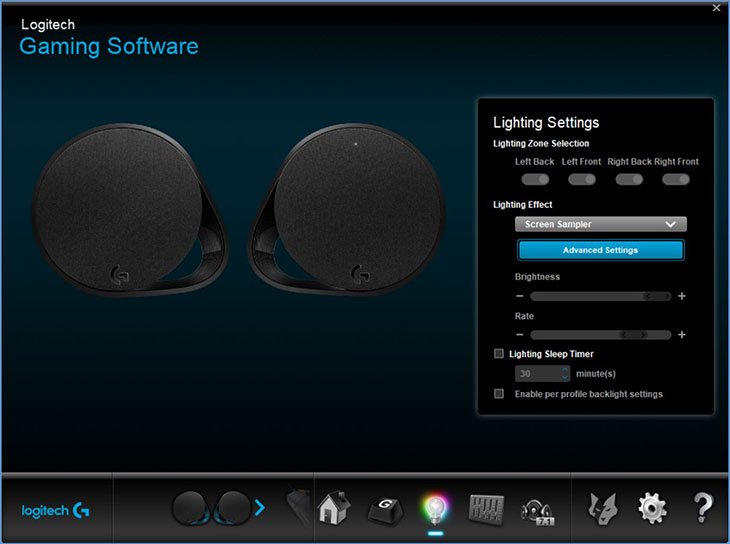 Logitech gives gamers direct integrated lighting thanks to the LightSync engine but it's important to keep in mind that not all games are going to have SDK level dynamic lighting. With that being said, Logitech has designed a tool to let users customize the lighting on G560 with the Screen Sampler tool. Screen Sampler maps four areas of the screen to the four zones of the G560: Left Back, Left Front, Right Back, Right Front. Screen sampler averages the colors in the sampled area and sends that color to these four lighting zones. When selected, this effect samples the screen during all PC usage, no matter what type of application is being used.
The Logitech Gaming Software also allows users to choose "Enable per profile lighting" and Screen Sampler will only be enabled when set to specific game profiles you choose. When Per Profile Lighting is enabled, Screen Sampler will automatically switch profiles when the corresponding game is launched. Each of these profiles can be customized to have their own set of screen regions and additional options. This is particularly powerful as some games will have better compatibility with the custom tools and so you can choose which mode works best for each application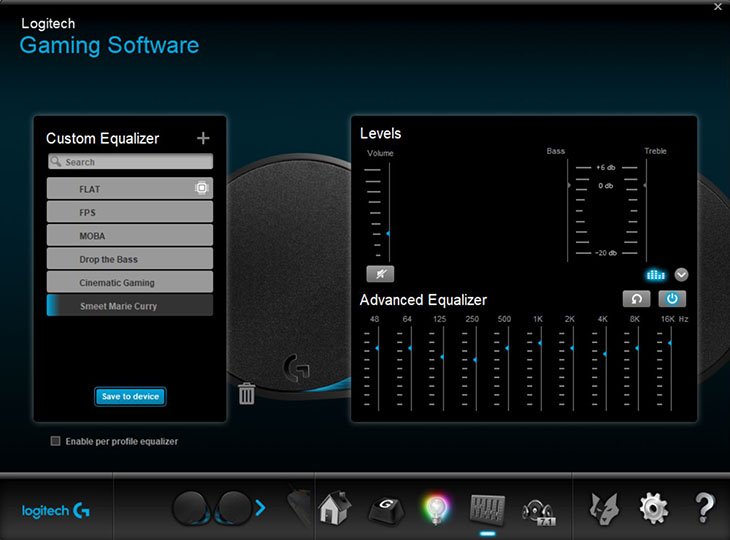 The "Customize Audio Experience" tab allows users to change their EQ and volume levels for the G560 Speaker System. Users can create a custom EQ setting by clicking the "+" button, then rename and adjust the different frequencies. To adjust different settings for specific applications using per-profile mode, enable the menu by clicking "enable per profile equalizer". This menu works exactly like other per-profile settings. If certain games or apps have special EQ needs, you can have those profiles automatically assigned so you don't have to keep changing the settings every time.
Conclusion
Logitech's G560 is an excellent gaming speaker and its LightSync technology is what sets it apart from the competition. As far as physical size, the subwoofer is large and takes up quite a bit of space on the floor. The satellite speakers on the other hand are about average size. If you are going to place the subwoofer under your desk, make sure you have enough room.
There are many popular games that have incorporated Logitech's LightSync technology into their games such as: Battlefield 1, DOTA 2, CS:GO, GTA V and many others. The LightSync technology is all about adding another layer of immersive to your gaming experience. Logitech provides developers an Software Development Kit (SDK) and tools to help developers enable LightSync features in their games.

Pros:
+ Sleek Design
+ Powerful Sound
+ DTS:X Surround Sound
+ Immersive RGB Lighting
+ Bluetooth Connectivity
+ Logitech Gaming Software

Cons:
- Slightly Expensive

Logitech has one of the best driver software on the market, no questions asked. The Logitech Gaming Software is by far my favorite driver software compared to the competition. It allows for a ton of customization and personalization with a friendly UI. If you are looking for a fantastic PC gaming desktop speaker with a high sound quality and a sleek design, you simply cannot go wrong with the Logitech G560. Overall, I believe the Logitech G560 keyboard deserves our gold award.
Final Score 9.4