Introduction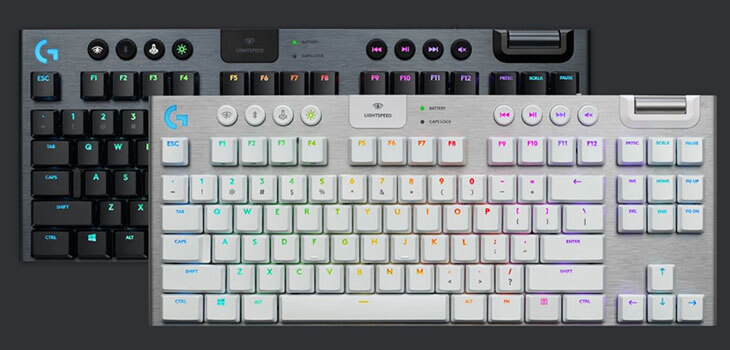 There is no doubt that TenKeyLess keyboards are popular among gamers because they provide more room for mouse movement but finding the right one in a market saturated with poor quality gaming keyboards is hard. Recently Logitech released the G915 TKL keyboard which is a wireless mechanical keyboard that uses low-profile switches to provide the speed, accuracy, and performance of traditional switches but at half the height.
Logitech is selling the G915 TKL in white and black color but the white color only comes with the GL Tactile switch while the black color is available in three switches; GL Clicky, GL Tactile and GL Linear. The GL switches are essentially the Kailh choc switches that are found in other gaming keyboards. My review unit came with the GL Clicky switch which I find a joy to use. Now let's talk a little bit about the different GL switches.
Logitech GL Switches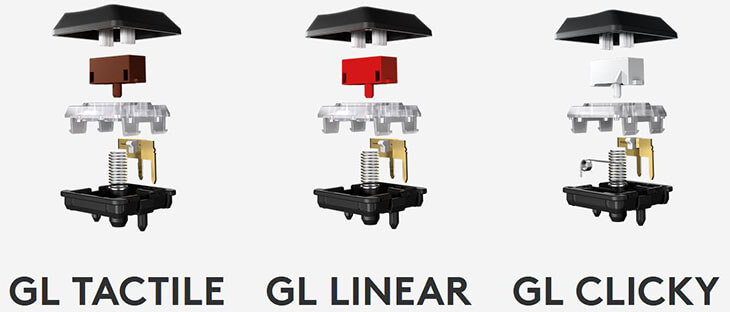 The GL Tacticle switch provides a discernible tactile bump during actuation and it is not too loud or distracting. It is ideal for gamers who are into fast-paced gaming due to the short travel distance which plays a huge role in improving the rate of repeating keystrokes.
Logitech Switch Specifications
Switch Type
GL Tactile
GL Linear
GL Clicky
Feedback Type
Discernable Bump
Smooth
Audible Click
Actuation Distance
1.5 mm
1.5 mm
1.5 mm
Total Travel Distance
2.7 mm
2.7 mm
2.7 mm
Average Force
50 gf
50 gf
50 gf
Tactile Force
60 gf
N/A
60 gf
There is also the GL Linear switch which provides a fluid and smooth keystroke and is great for double-taps, rapid keystrokes and uninterrupted half-presses. Similar to the GL Tacticle, the GL Linear switch is also good for gaming. The GL Linear is built upon without tactile point which further enhances the actuation speed.

My favorite switch is the GL Clicky because it provides an audible and tactile feedback and is ideal for those who love that "clicky" feel. Compared to traditional mechanical switches that suffer from high actuation distance time, the GL switches are 25 percent faster to press because you don't have to press them down as far before they actuate. Using switches with a low actuation distance time is ideal for fast paced games such as Overwatch and CS:GO.
Pricing, Warranty & Features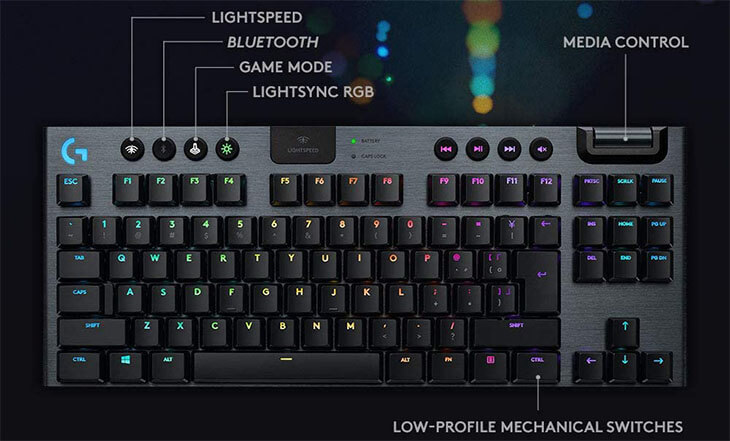 From a build quality perspective, the G915 TKL features a modern slim design with an aluminum alloy top case and a steel-reinforced base which looks really good. It weighs 810 g (28.6 oz) without including the cable and measures 368 mm (15.2") in length, 150 mm (5.9") in width and 22 mm (0.9") in height. I love that it comes with a 6 ft long cable that it is nicely braided. Braided cables offer extra durability and are very much preferred by gamers.
The G915 TKL utilizes the LightSync technology which lets you customize full spectrum color lighting per key. You can customize every color to match your setup across keyboards, speakers, headsets, and mice and you can even create your own animation effects. Logitech has placed the LEDs in the center to minimizes light leakage and to focus the light evenly through the top of the keys for a cleaner look.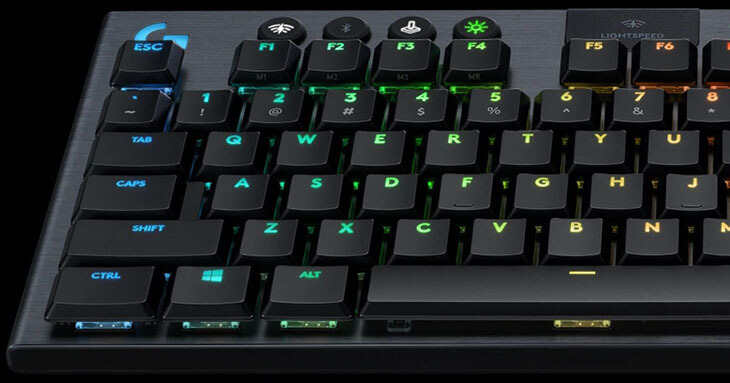 Looks-wise, the G915 TKL sports a borderless design which means the keys will stick out over the platform. Some users might not like this because the key caps basically hover above the platform without any protection on the sides and dust can easily accumulate inside but at the same time this makes the keyboard much easier to clean and maintain.
A feature that the G Pro lacked when it was released was the lack of dedicated media controls but the G915 TKL fixes that by including a variety of dedicated media controls. With the G915 TKL you can easily change the lighting effects and adjust brightness with onboard controls. You can select from seven preset animations by pressing the brightness soft key plus numbers 1-7 and you can also create up to two of your own lighting profiles using G HUB software and save the profiles to numbers 8 and 9.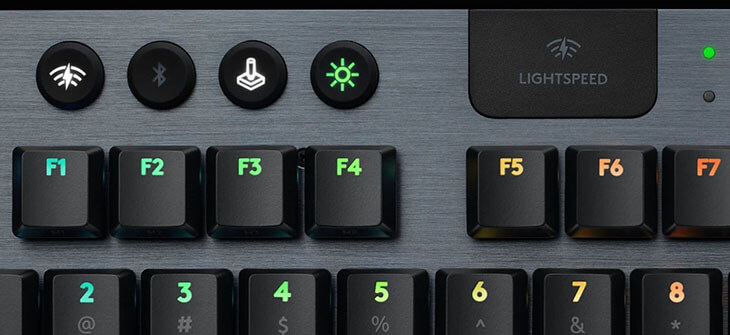 You can save up to three different profiles to the keyboard's onboard memory and can switch between stored modes using the F1 - F4 keys. There is also a Game Mode button which can be used to deactivate any keys that will interrupt or distract you while gaming. By default, Game Mode disables the Windows key but you can use the Logitech G HUB software to customize what keys you want to disable.

Battery life is great and it can fully recharge in under three hours. On a single charge, the G915 TKL can last up to 40 hrs and you can keep playing while it's plugged in and charging via micro USB. Logitech has included a battery indicator light on the keyboard to notify you when the battery is low which is awesome. You can toggle between wireless via USB receiver and Bluetooth via the dedicated button. Dedicated controls quickly adjust volume, play/pause and skip music or videos, and mute audio instantly.
Price-wise, the G915 TKL retails for $229.99 on Amazon and comes with 2-years of warranty. The G915 TKL certainly has all the bells and whistles that you might expect from a premium keyboard but it also lacks some features such as a wrist rest. At $230, it is disappointing to see the lack of a wrist rest considering how expensive the keyboard is so you'll have to buy a wrist pad separately for added comfort.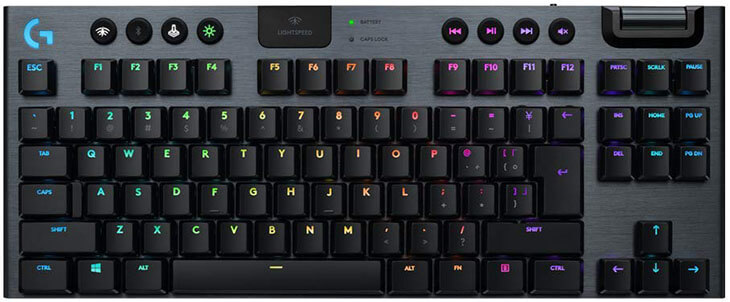 Something else that the G915 TKL lacks is a USB passthrough. A dedicated USB passthrough can be useful if you you want to charge your smartphone while playing a game or when browsing the web but I guess it is not a deal breaker.
Many high-end premium keyboards use PBT keycaps which are more durable and don't suffer from legend wear but the G915 TKL comes your standard ABS keycaps which you would not expect from a keyboard that sells for $230. I really wish Logitech had gone with the higher end PBT keycaps.

To help elevate the keyboard and prevent scratches on your desk, there are rubber pads underneath the keyboard which is awesome. Also, there are adjustable feet which can be adjusted to 4° or 8°.
Specifications
Technical Specifications
Company
Logitech
Model
G915 TKL
Product
Keyboard
Length
368 mm (15.2 in)
Width
150 mm (5.9 in)
Height
22 mm (0.9 in)
Weight (w/o cable)
810 g (28.6 oz)
Cable Length
6 ft (1.8 m)
Battery Life
40 hours (100% brightness)
Connectivity
USB receiver + Bluetooth
Programmable Macros
F-keys
USB Passthrough
No
Backlighting
RGB
Key Caps
Plastic
Construction
Aluminum alloy
Onboard Memory
2 Lighting Profiles
3 G-keys Macro Profiles
Warranty
2 Years
Announced
June 2020
Performance
As I've already mentioned, my review unit came with the GL Clicky switches. I tested the performance of the G915 TKL by playing World War Z, Battlefield V and Hitman 2 for a few hours each. In my experience, the G915 TKL offers an excellent gaming performance thanks to the low profile switch which needs less travel distance before they actuate. For games that require quick response time such as Battlefield V, the G915 TKL delivers a great experience and I did not notice any lag while playing in wireless mode. The keyboard itself is very comfortable to use and its sturdy design can withstand forceful tapping with no problems which is very nice.
Logitech G Hub Software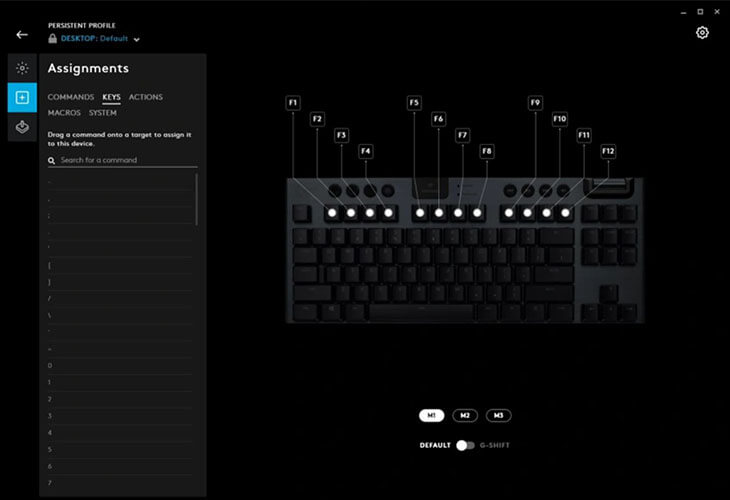 Logitech's G Hub Software has a simplistic look and feel which I really like. You can use the G Hub Software to manage all Logitech accessories, such as mice, keyboards, and headsets. It allows you to customize things such as lighting effects, media controls, per app profiling, create macros and much more. Third-party apps like Discord and OBS are integrated into the G Hub software which is great if you want to download and share custom game profiles with the Logitech G community.
My favorite feature of the G Hub software is that I can set up per-game profiles to automatically adjust certain aspects of the keyboard when I launch an application. I can assign any custom function to the F1-12 keys and also create macros and scripting features. You can basically create an unlimited amount of customization with Custom Function Keys and can even save and export the profiles you create to share with other people.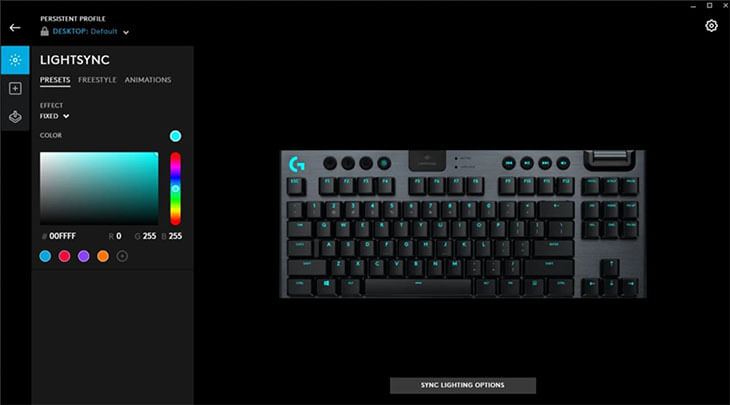 In the LightSync window, you can customizing different lighting effects and animations. After you pick the lighting effect, you can then experiment with the color selection, brightness, speed, and direction. There are plenty of different lighting effects options to choose from such as static, breathing, wave, rippling, etc.
Conclusion
Overall, there's no doubt that the G915 TKL is an excellent keyboard and while it is feature packed, it also sports a very high price tag which makes it difficult to recommend. At $230, the G915 TKL is very expensive compared to other keyboards such as the Corsair K65 RGB TKL and SteelSeries Apex Pro TKL which cost much less and come with similar features such as dedicated media keys but they do lack wireless capability though.
The ABS keycaps are the most common keycaps used in keyboards and that is because they are inexpensive and they are also prone to fading and losing their texture. PBT keycaps on the other hand have better texture and feeling than ABS but also cost more. If Logitech decides to make another revision to the G915 TKL in the future, they should definitely consider using PBT keycaps.
I have been using the G915 TKL for the past week mainly for gaming and I love its sleek and slim design. Logitech has created a top-notch gaming keyboard with the G915 TKL and its low profile GL switches delivers a great gaming experience. I would strongly recommend the GL Clicky switches for someone who is looking for a keyboard that is both for typing and gaming.
I will say that the G915 TKL has become my daily driver because of its sturdy build quality and wireless performance. I am also a fan of Logitech's G Hub software because it offers a ton customization options such as the LightSync technology which allows to customize individual keys to have its own RGB lighting.

Pros:
+ Good Battery Life
+ Low Profile Design
+ Fantastic Wireless Performance
+ Dedicated Media Controls
+ Great Typing Experience
+ Sturdy Build Quality

Cons:
- ABS keycaps
- No Wrist Rest
- Expensive

If you are in the market for a high-end mechanical gaming keyboard, the G915 TKL is definitely the keyboard to get. It offers everything you could want in a TKL gaming keyboard and then some. Overall, I believe the Logitech G915 TKL keyboard deserves our Editor's Choice award.
Final Score 9.0