Introduction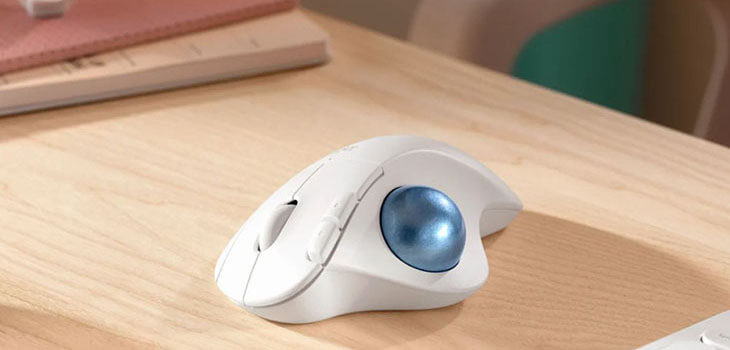 Trackball mouses are very popular in the audio recording and engineering industry because they are more efficient and comfortable than regular mouses when working across large screens with complex software interfaces. With a trackball mouse, there is less elbow and wrist movement and your thumb is all you need to maneuver the ball which can also help prevent carpal tunnel syndrome.
If you have never used a trackball mouse before then don't worry, it's really simple but there's definitely a learning curve to it. Instead of sliding the mouse to navigate, the navigation is now done through the trackball. With that in mind, you rest your hand on the mouse with your fingers lying on the left and right buttons, and move the pointer across the screen. At first, it takes some time to get used to it but after a while, you start to get the hang of it.
Logitech recently released the M575 which is a new trackball mouse that replaces its predecessor M570 that was released back in 2010. The M575 comes with 1 year of limited warranty and retails for $49.99 via Logitech's website. It is available in graphite and off-white colors and features dual wireless connectivity via a USB receiver or Bluetooth.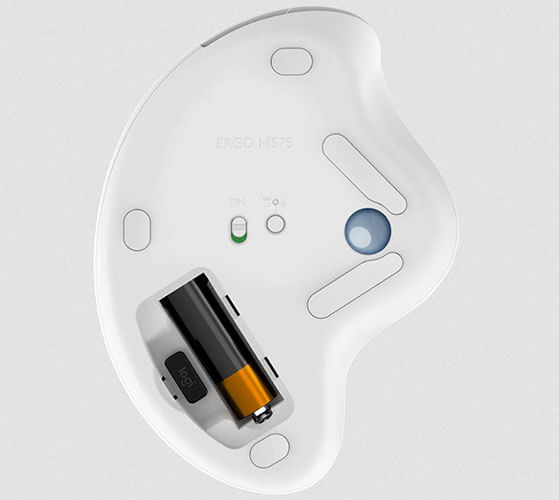 Logitech includes a USB receiver which can be stored in the battery compartment so you don't have to worry about misplacing it. Connecting via Bluetooth is great for iPad users because you do not need to use the USB receiver. The M575 uses a single AA battery which Logitech says it can power the device for up to 24 months when using the USB receiver and up to 20 months when using the Bluetooth connectivity.
Compared to the more expensive MX Ergo, the M575's scroll wheel lacks the tilting capabilities and also lacks the rechargeable battery. The tilted precision scroll wheel on the MX Ergo lets you customize the trackball angle from 0 to 20 degrees for a more comfortable hand position. Having the ability to switch between angles is good for improving wrist posture.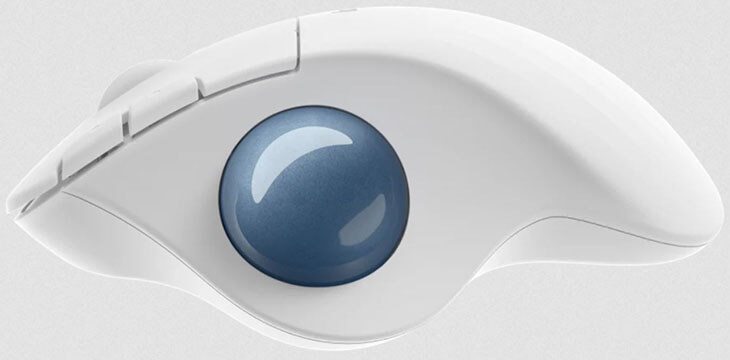 The right hand side of the mouse has a slight contour but it's the left hand side where the programmable buttons are located. To utilize these features, you are required to use the Logitech Options software which I will talk more about a little later. The buttons are easy to press and are the perfect size. Logitech says that the M575 has been designed to perform for more than 3 million clicks. The M575 is a right-handed mouse only so left-handed users will have to look for a different trackball mouse.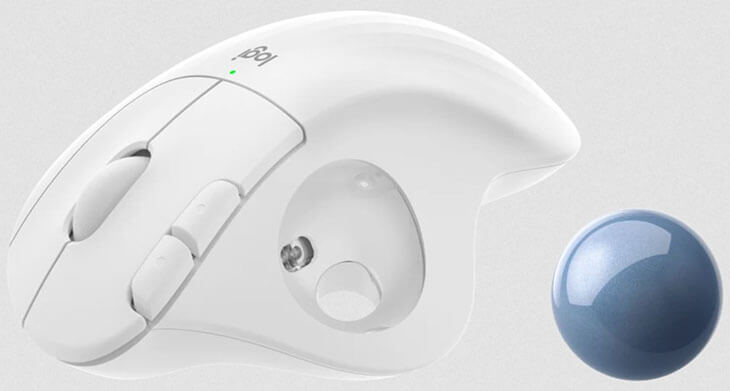 Build quality is excellent and the M575 is made of recycled plastic which helps reduce our carbon footprint. The plastic parts in M575 include 50% for Graphite and 21% for Off-white. Logitech has given the M575 a ridged surface to help with grip and a matte finish which doesn't pick up fingerprint marks. I have used both the M570 and MX Ergo and I can safely say that the M575 feels better than the M570 but it also lacks the premium-feeling of the MX Ergo.
Physically, the M575 is 1.89" deep, 3.94" wide, and it stands 5.28" in height and weighs 145 g. Logitech has done an excellent job of designing the shape of the M575 to ensure your hand and forearm stay relaxed after many hours of use.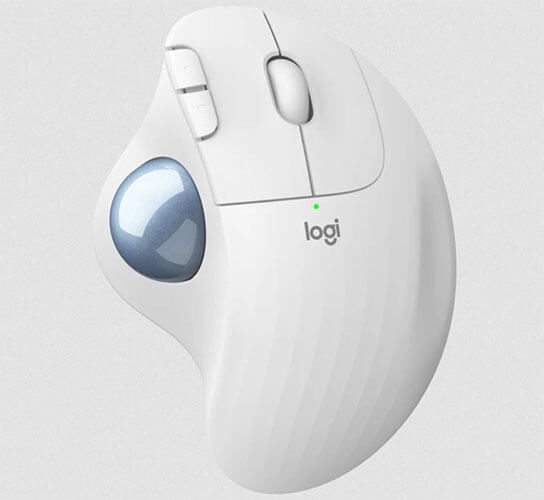 With a regular mouse you need plenty of desk space in order to comfortably move the mouse around but a trackball mouse can be ideal for tight workspaces and busy desks. If you are working on a small desk or even a regular desk that is cluttered with things, the M575 will help reclaim a large portion of your desk.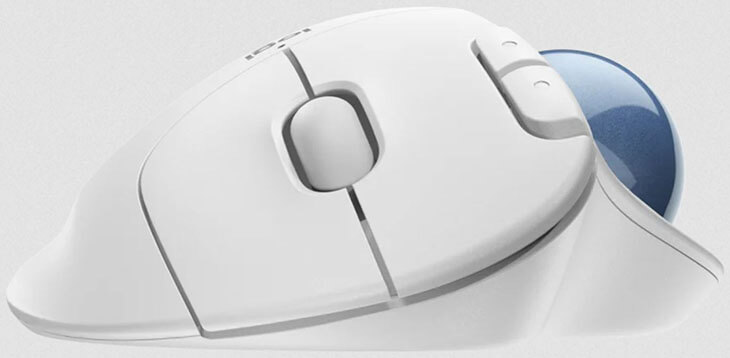 I have been using the M575 for about a week now and it's been a great experience so far. I have used trackball mouses before and I love them. Moving the trackball is smooth and precise and it is quite sturdy and does not feel loose. The movement of the trackball is tracked using precision optical sensors from the inside of the mouse.
Something that I dislike about the M575 is the lack of the rechargeable battery. I know this comes down to personal preference but I prefer having a built-in rechargeable battery like the one in the MX Ergo rather than a replaceable battery.
Specifications
Technical Specifications
Company
Logitech
Model
Ergo M575
Dimensions (HxWxD)
5.28 in (134 mm) x 3.94 in (100 mm) x 1.89 in (48 mm)
Weight
5.11 oz (145 g)
USB Receiver Dimensions
0.57 in (14.4 mm) x 0.74 in (18.7 mm) x 0.24 in (6.1 mm)
USB Receiver Weight
0.06 oz (1.8 g)
Sensor
Logitech Advanced Optical Tracking
Nominal Value
400 DPI
Maximal Value
2000 DPI
Number of Buttons
5
Wireless Technology
2.4GHz
Operation Distance
10m (33-ft)
Battery Type
1 x AA battery (included)
Battery life With USB Receiver
up to 24-month
Battery life with Bluetooth
up to 20-month
OS
Windows 10/8/7, macOS X 10.13 or later
Package Contents
ERGO M575 Wireless Trackball
USB Receiver
1 X AA battery
Quick Start Guide
Announced
October 2020
Warranty
1-Year Limited Hardware Warranty
Logitech Options Software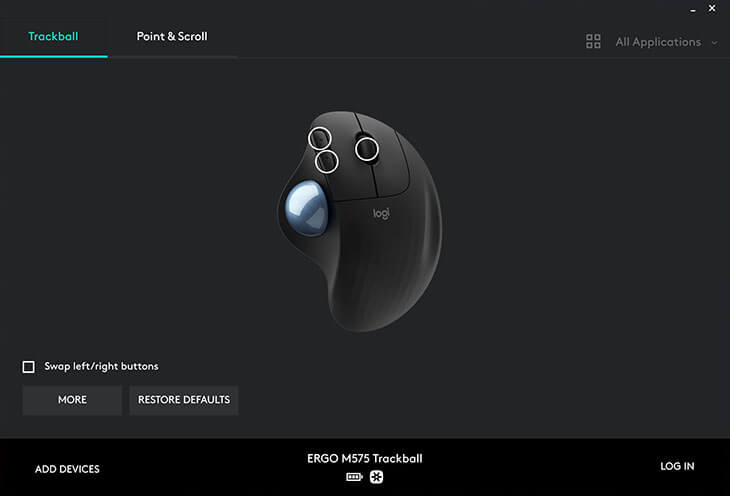 Logitech's Options software allows you to customize the buttons, adjust trackball speed, assign application specific settings and receive notification and status from your device. It also allows you to check if there is a firmware update for your device which is awesome. I am a big fan of the Logitech Options software because it has a simple and clean user interface and can be used to control all of your Logitech devices.
When you first launch the software, you will be presented with the Trackball setting which allows you to program the two buttons on the M575. You also have the Point & Scroll setting which allows you to adjust the trackball's cursor speed.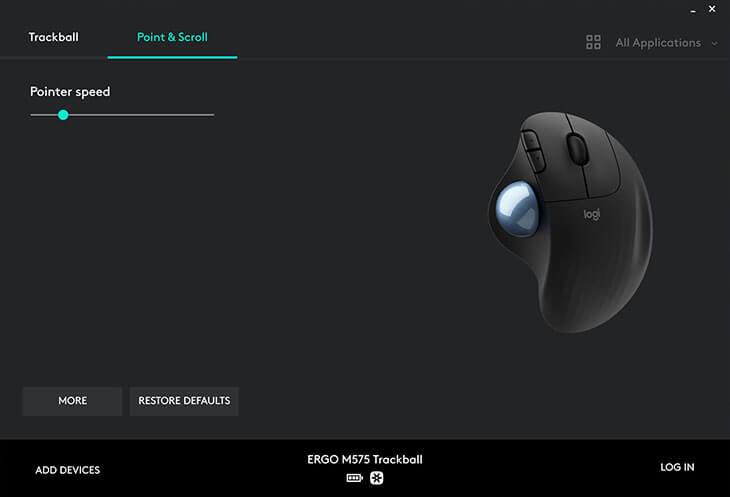 In the bottom center, the Logitech Options software displays the battery life of your device and also whether the device is attached via the Unifying Receiver or Bluetooth. Programming the buttons on the device is pretty straightforward. After you select the button that you want to program, a dropdown appears where you can select from pre-defined actions such as Copy, Close Window, Close Desktop, etc.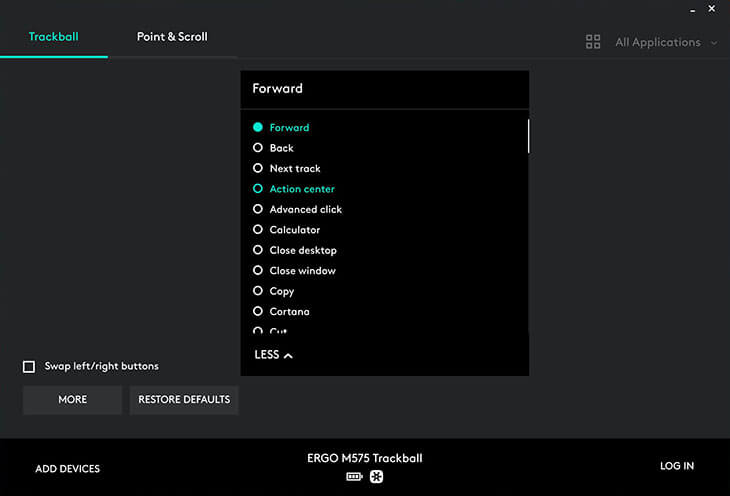 Conclusion
If you have never used a trackball mouse before and are willing to learn how to use one, the M575 is a good mouse to get. The M575 Ergo does a good job of making your long computing sessions more comfortable without causing wrist pain. It retails for $50 which is quite a bit more than the M570 which sells for $30 on Amazon. Hopefully the price will come down a little because at $50, I think it might push some people away.

Pros:
+ Dual Wireless Connectivity
+ Logitech Options Software
+ Good Battery Life
+ Comfortable Design

Cons:
- Lacks Rechargeable Battery
- Pricey

When it comes to gaming, we recommend sticking with a regular mouse because games tend to require fast movements and using a trackball wouldn't be ideal in that situation. For daily computing tasks such as browsing the web, the M575 is fantastic and it does everything it's been designed to do amazingly well. Overall, I believe the Logitech M575 Ergo mouse deserves our recommended award.
Final Score 9.2