Introduction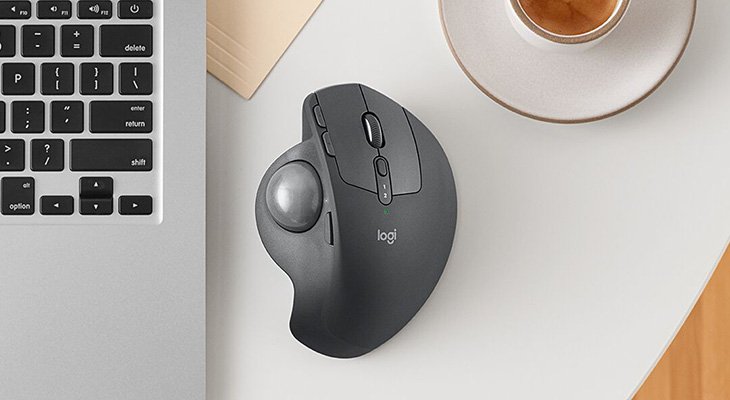 Logitech is a company that is well respected in the computer peripheral industry for making fantastic keyboards, mouses, headsets, webcams, and Bluetooth speakers. About two months ago Logitech released the MX Ergo which is a new trackball mouse that replaces its predecessor M570 that was released back in 2010. Logitech's M570 is still considered a great ergonomic trackball mouse and 7 years later, we now have an improved trackball mouse which in my opinion is easily the best ergonomic mouse on the market.
Trackball mouses are very popular in the audio recording and engineering industry because it's more efficient and comfortable on the hand to use a trackball mouse when working across large screens with complex software interfaces than using a regular mouse. The Logitech MX Ergo retails for $99 on Amazon and comes with 1 year of limited warranty. There's no doubt that the MX Ergo sports a high price and a $99 price-tag puts it in a premium-price territory but considering all the features that it comes with, I think it's well worth it.
If you have never used a trackball mouse before then don't worry, it's really simple but there's definitely a learning curve to it. Instead of sliding the mouse to navigate, the navigation is now done through the trackball. Logitech also includes a dedicated precision button for adjustments that lowers the tracking sensitivity of the cursor. With that in mind, you rest your hand on the mouse with your fingers lying on the left and right buttons, and move the pointer across the screen. At first, it takes some time to get used to it but after a while, you start to get the hang of it.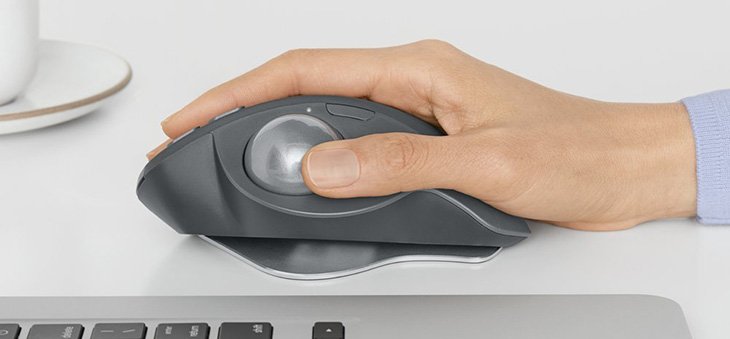 What really makes the MX Ergo unique is this detachable metal plate that snaps on to the bottom of the mouse and lets you customize the trackball angle from 0 to 20 degrees for a more comfortable hand position. Having the ability to switch between angles is good for improving wrist posture. Logitech claims that the MX Ergo requires 20% less muscular strain than a regular computer mouse.
Physically, the MX Ergo is 3.93" deep, 2.2" wide, and it stands 5.22" in height and weighs 259 g including the metal plate. It's a big mouse and it feels great in my hand. You can also use the MX Ergo without the metal plate, but it feels extremely wobbly so I wouldn't recommend it. The bottom of the metal plate is designed with materials that help the trackball stay in position when using it. Logitech has done an excellent job of designing the shape of the MX Ergo to ensure full palm and finger support and the soft rubber on the top offers a comfortable grip that isn't awkward.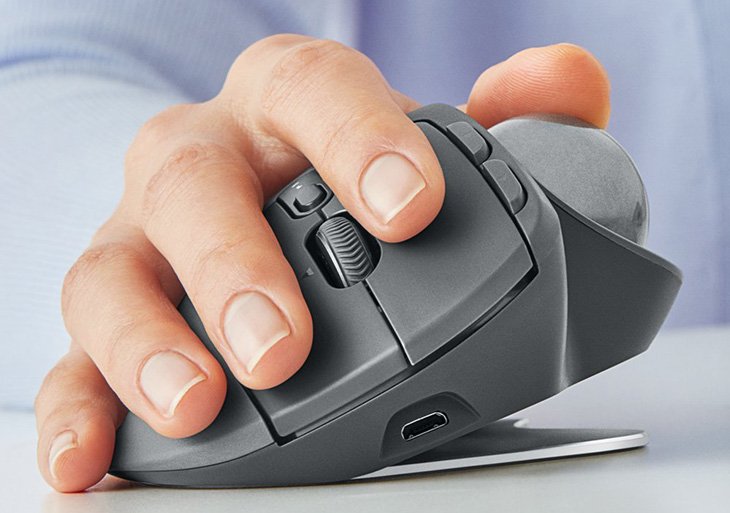 The scroll wheel has also been significantly improved with the MX Ergo over its predecessor M570. Besides the normal vertical scrolling, the scroll wheel can do horizontal scrolling, and it can also be pressed down to click. Logitech has included a button near the scroll wheel that lets you pair between two computers and you can also copy and paste data between the two computers. To utilize these features, you are required to use the Logitech Options software which I will talk more about a little later.
Build quality is excellent and you can definitely tell that the MX Ergo is made of high quality materials. The materials used offer a good grip for sweaty and dry conditions and it doesn't cause irritation after long periods of use. It has a matte finish on it which is great because it doesn't pick up fingerprint marks.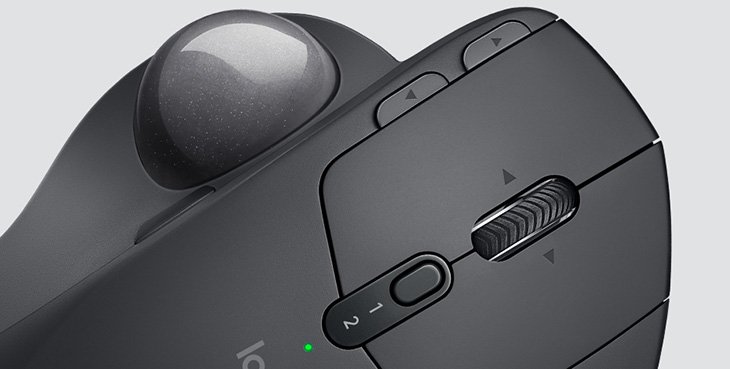 I have been using the MX Ergo for about a week now and like I already mentioned, at first I was having a hard time using the trackball to navigate but after an hour or so of practice, I was able to get used to it. The trackball has been smooth and precise so far and it is quite sturdy and does not feel loose. The movement of the trackball is tracked using precision optical sensors inside.
You connect the MX Ergo either with Bluetooth or Logitech's Unifying receiver via a Micro USB. The unifying receiver allows you to wirelessly connect up to six Logitech devices but the MX Ergo also includes a built-in Bluetooth which you can use instead of using the unifying receiver. The MX Ergo is compatible with Windows 7 or later versions of Windows and Mac OS X 10.12 or later. As far as battery life goes, Logitech claims that users will get around four months of use off a charge and one minute of charge gives you a full day of use.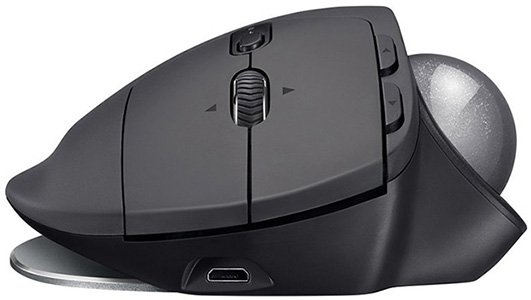 The right hand side of the mouse has a slight contour but it's the left hand side where the programmable buttons are located. The buttons themselves are fairly well placed and are also the perfect size, at least for my fingers anyway. The MX Ergo is a right-handed mouse only so left-handed users will have to look for a different trackball mouse.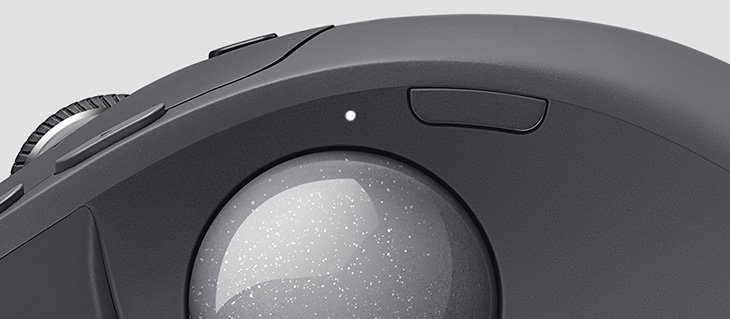 With a regular mouse you need plenty of desk space in order to comfortably move the mouse around but the MX Ergo can be ideal for tight workspaces and busy desks. If you are working on a small desk or even a regular desk that is cluttered with things, the MX Ergo will make your life a lot easier.
Specifications
Technical Specifications
Company:
Logitech
Model:
MX Ergo
Dimensions (HxWxD):
5.22 in (132.5 mm) x 2.02in (51.4 mm) x 3.93in (99.8 mm)
Weight:
5.78 oz (164 g) (without metal plate/without receiver)
Weight:
9.14 oz (259 g) (with metal plate/without receiver)
Unifying Receiver Dimensions:
0.72 in (18.4 mm) x 0.57 in (14.4 mm) x 0.24 in (6.1 mm)
Unifying Receiver Weight:
0.07 oz (2 g)
Sensor:
Logitech Advance Optical Tracking
Nominal Value:
380 DPI
Minimal And Maximal Value:
320 DPI - 440 DPI
Number of Buttons:
8
Wireless Technology:
2.4GHz wireless technology
Operation Distance:
About 32 ft (10 m)
Battery:
Rechargeable Li-Po (500 mAh) battery
Battery Life:
Up to 4 months on a single full charge
Buttons Durability (Left / Right):
10 million clicks
OS:
Windows 10/8/7, macOS X 10.12 or later
Package Contents:
Trackball
Unifying receiver
Micro-USB Cable For Recharging
User Documentation
Announced:
September 6, 2017
Warranty:
1-Year Limited Hardware Warranty
Logitech Options Software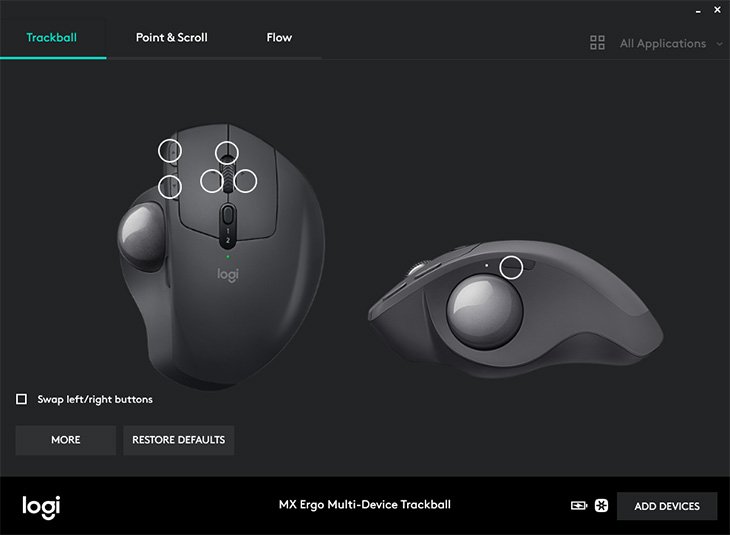 You don't have to download the Logitech Options software to use the MX Ergo, but it does unlock plenty of cool features such as button customizations, application specific settings as well as notification and status. The Logitech Options software has a simple and clean user interface and it allows you to control all of your Logitech devices from within the Options software which is roughly 143 MB. I would advise that after installing the software, make sure to check if there is a firmware update for your device.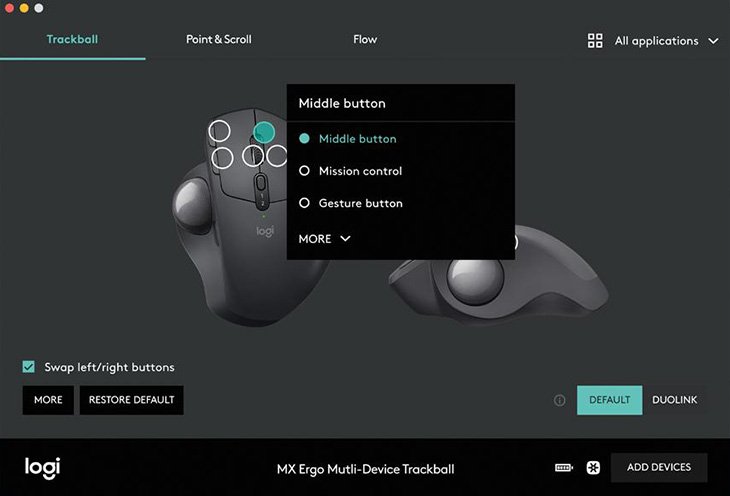 When you first launch the software, you will be presented with the Trackball setting that shows the 6 programmable buttons. You also have the Point and Scroll setting and the Flow setting. The Logitech Options software can display the battery life of the MX Ergo and whether the MX Ergo is attached via the Unifying Receiver or Bluetooth. The Flow setting on the other hand is where you will go if you want to connect the MX Ergo with two computers. Inside the Flow setting, you also have the ability to copy-and-paste between systems and transfer files as well. Keep in mind that a single full charge should give you about 4 months of usage which is plenty.
Conclusion
If you have never used a trackball mouse before and are willing to learn how to use one, the MX Ergo is the mouse to get. From its build quality and innovative design, the MX Ergo does a good job of making your long computing sessions more comfortable. Logitech has always released amazing mouses and the MX Ergo is no exception.
The MX Ergo is the best ergonomic mouse on the market but it comes with a high price which might push some people away. It is currently retailing for $99 which is quite expensive but that is to be expected from a premium mouse. I have been using the MX Ergo as my daily driver for a week now and I will continue to use it as my primary mouse.

Pros:
+ Smooth Wireless Operation
+ Pairs To Two Devices
+ Great Battery Life
+ Incredibly Ergonomic
+ Comfortable Design

Cons:
- Not Ambidextrous
- Expensive

When it comes to gaming, we recommend sticking with a regular mouse because games tend to require fast movements and using a trackball wouldn't be ideal in that situation, but for daily computing tasks such as browsing the web, the MX Ergo is fantastic. In the end, we love using the Logitech MX Ergo and it does everything it was designed to amazingly well. Overall, I believe the Logitech MX Ergo mouse deserves our Gold award.
Final Score 9.0