Introduction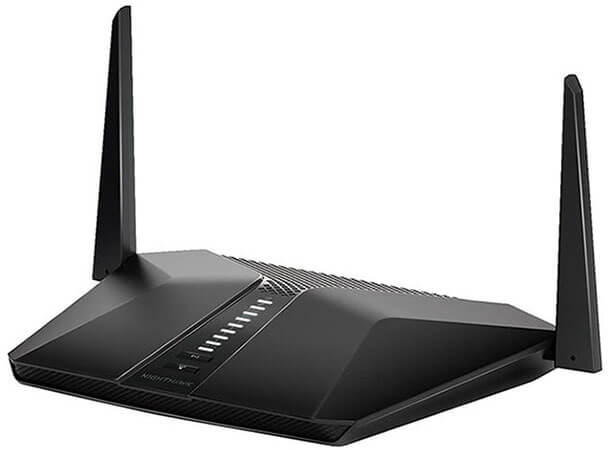 Netgear's Wi-Fi 6 802.11ax family includes the RAX80, RAX120, and RAX200 which currently retail for $400, $500, and $600 respectively. Netgear recently released the Nighthawk RAX40 which is the new addition to the Netgear 802.11ax Wi-Fi 6 router family and supports up to 600 Mbps on the 2.4Ghz band and up to 2400 Mbps on the 5Ghz band.
The RAX40 is the company's entry level model of the AX series routers and is ideal for people who are on a budget and want to test the new Wi-Fi 6 technology. It sports a $200 price tag making it much more affordable than the other Nighthawk Wi-Fi 6 routers being sold. The table below compares the specifications of Netgear's current Wi-Fi 6 routers.
Netgear Nighthawk AX Series
Model
RAX40
RAX80
RAX120
RAX200
Price
$200
$400
$500
$600
Wired Ports
5x 1Gbps
6x 1Gbps
5x 1Gbps
1x 5/2.5/1Gbps
5x 1Gbps
1x 2.5/1Gbps
Wi-Fi Speed
3000Mbps
6000Mbps
6000Mbps
11000Mbps
Stream Config
2.4G : 2x2
5G : 2x2
2.4G : 4x4
5G : 4x4
2.4G : 4x4
5G : 8x8
2.4G : 4x4
5G : 4x4 + 4x4
SoC
Intel GRX350
Broadcom BCM4908
Qualcomm IPQ8074
Broadcom BCM4908
Radios
Intel WAV654
Broadcom
BCM43684 x2
Qualcomm
QCN5054 + QCN5024
Broadcom
BCM43684 x3
Frequency Bands
Dual Band
600Mbps + 2.4Gbps
Dual Band
1.2Gbps + 4.8Gbps
Dual Band
1.2Gbps + 4.8Gbps
Tri Band
1.2Gbps +
4.8Gbps + 4.8Gbps
Antennas
2
4
4
8
Processor
Dual-core 800Mhz
Quad-core 1.8GHz
Quad-core 2.2GHz
Quad-core 1.8GHz
RAM / Flash
256MB Flash
512MB RAM
512MB Flash
1GB RAM
512MB Flash
1GB RAM
512MB Flash
1GB RAM
USB Ports
1x USB 3.0
2x USB 3.0
2x USB 3.0
2x USB 3.0
Unlike 802.11ad which had an extremely short range and required you to be close to the router at all times or the speed would drop significantly if you moved away, the 802.11ax standard has a long range coverage and can easily penetrate walls. 802.11ax is the true successor to 802.11ac and in order to experience the super-fast 802.11ax speeds, you will first need a client device that supports 802.11ax. Currently, the Samsung Galaxy S10 is the only device on the market to take advantage of the new 802.11ax standard and also Intel recently released the Wi-Fi 6 AX200 wireless network card. It will take some time before the new 802.11ax standard makes its way into the phones and laptops.
The 802.11ax standard brings major improvements over 802.11ac such as support for OFDMA (orthogonal frequency-division multiple access) which is used to improve spectral efficiency and significantly reduce contention. Unlike 802.11ac which operates in the 5Ghz range only, 802.11ax operates in both the 2.4Ghz and 5Ghz ranges simultaneously to greatly improve performance. Also, the 802.11ax makes MU-MIMO a mandatory feature which along with OFDMA, enable simultaneous bidirectional communication between an access point (AP) and end users.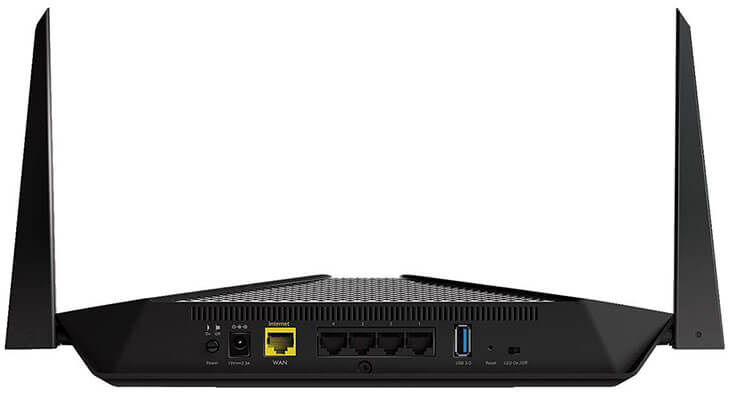 As far as ports go, the RAX40 comes with a power button, DC power port, 1x Gigabit WAN port, 4x Gigabit LAN ports, 1x USB 3.0 interface, reset button, and LED light switch. The LED light switch let's you turn off all the LEDs except for the power light. On each side there is an external antennas which is adjustable but non-removable. The RAX40 stays relatively cool thanks to the ventilation holes on the back and at the top.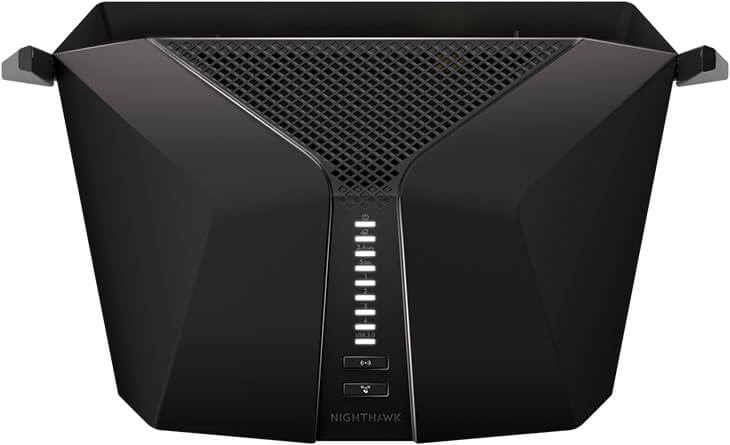 Netgear has gone with a minimalistic design with a black-and-gray chassis which looks pretty distinctive and modern. Dimensions-wise, the AX4 is quite compact and slim compared to other Nighthawk routers. It measures 14.17 x 8.46 x 2.36 in (HWD) and weighs 1.36 pounds (618 g). You can also wall mount the RAX40 via the two bottom-panel screw slots.
Most WiFi routers normally just blast the WiFi signals in all directions which isn't efficient at all but the RAX40 supports Beamforming+ which means the router and the device talk with each other so the router can directly beam the WiFi signal to the device. This results in a much stronger, faster and more reliable connection that is locked in even when the device is moving around the house.
Specifications
Netgear Nighthawk RAX40 Specifications
Wi-Fi Technology
802.11ax Dual Band WiFi (AX3000)
Wi-Fi Performance
AX3000 WiFi (600 + 2400)
Wi-Fi Range
Medium to large homes
Wi-Fi Band
2.4G: 600Mbps, 40/20 MHz 1024/256 QAM
5G: 2400Mbps, 160/80/40/20 MHz 1024 QAM
Ethernet Ports
Five (5) 10/100/1000 Mbps Gigabit Ethernet ports (1 WAN & 4 LAN)
USB Ports
One (1) USB 3.0 port
Security
Standards-based WiFi Security (802.11i, 128-bit AES encryption with PSK)
Automatic firmware update delivers latest security patches to the router
Guest network access—separate & secure
VPN Support—Secure access to your home network away from home
Physical Specifications
Dimensions: 14.17 x 8.46 x 2.36 in (360 x 215 x 60 mm)
Weight: 1.36 lb (618 g)
Processor
Dual-Core processor
Package Contents
Nighthawk AX4 Wi-Fi Router (RAX40)
Ethernet cable
Quick start guide
Power adapter
Below I have listed the internal components of the Nighthawk RAX40.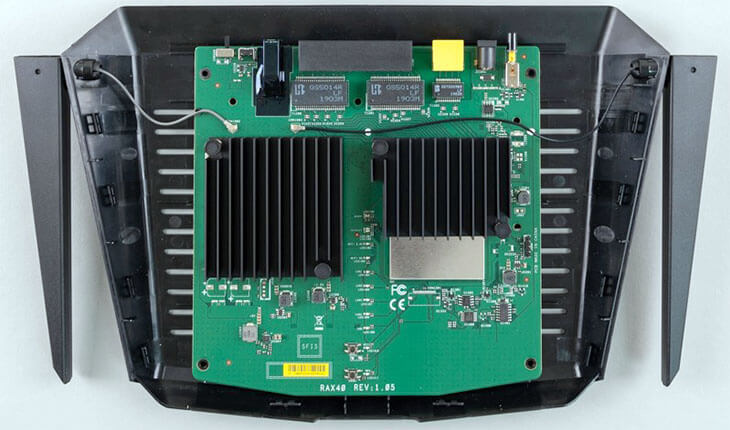 The RAX40 comes with the Intel (Lantiq) PXB4395 dual-core 800Mhz processor and it's using 512MB of DDR3L RAM from Samsung and 256MB flash from Macronix. Netgear tends to use either Broadcom or Qualcomm chipset in their routers so this is the first Intel based router using an Intel/Lantiq chipset. The wireless 2.4G and 5G radios are from Intel (WAV654). The 2.4G radio supports 2x2 1024QAM and the 5G radio supports 2x2 1024QAM up to 160 MHz channels which can reach 2400Mbps.
Netgear RAX40 Internal Specs
CPU
Intel (Lantiq) PXB4395 (GRX350)
Frequency
800 MHz, 2 cores
Memory
256 MB Flash (Macronix MX30LF2G18AC-TI)
RAM
512 MB (Samsung K4B4G1646E-BYMA)
2.4 Ghz Radio
Skyworks SKY85331-11
5 Ghz Radio
Skyworks SKY85743-31
Dual-Band
5GHz (2400Mbps), 2.4GHz (600Mbps)
Wi-Fi
802.11ac/ax
MIMO
2x2:2
SoC
Intel AnyWAN SoC GRX350
Switch
Intel (Lantiq) PXB4395
Antennas
Two External
Packaging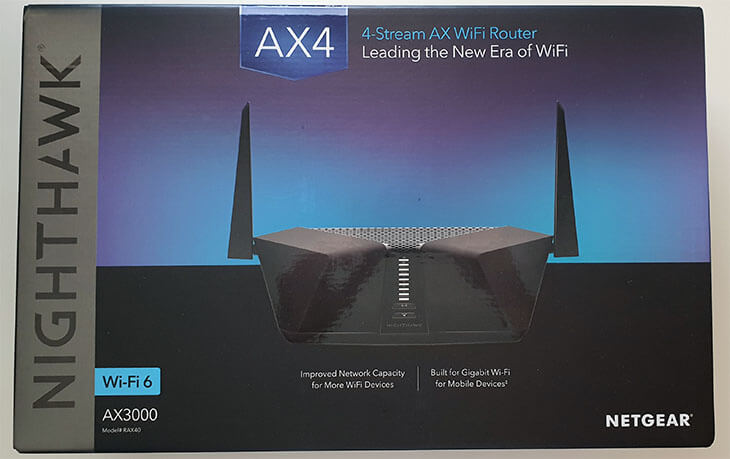 The RAX40 comes in an elegant box and all of the features are listed on the back of the box. When you open up the box, you will be confronted with the Nighthawk RAX40 router, Ethernet cable, quick start guide, and power adapter.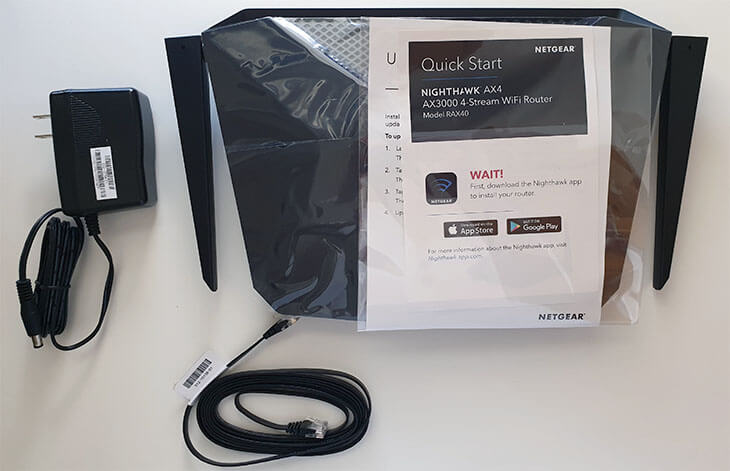 The included Ethernet cable and power adapter cable are high quality and the components inside are well packaged and everything feels well secured inside the box. Netgear does include a basic quick guide manual but any documentation beyond that will have to be downloaded from Netgear's website. Overall, the packaging is good and the product arrived in perfect condition.
Setup
The setup process is very easy and it probably took me less than 5 minutes to get everything up and running. Netgear has done a good job of making the process easy for people that are not tech savvy. Setup can be done in two ways, either from a browser or using the Netgear Nighthawk app for your mobile device.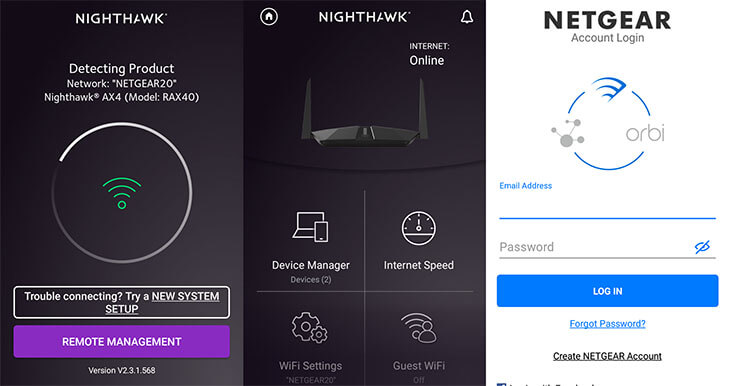 After I had connected everything together, I then downloaded the Netgear Nighthawk WiFi Router app from Google Play. When you first open the Nighthawk app, it will ask you to create an account. During the setup process, you will be asked for a username and password to login to the router which can be found on the sticker that's on the router. You will also be prompted to do a firmware update at the start. After that, you can change the network name and password for security reasons and restart the devices and you should be good to go.
If you are still not able to set it up, then you can use the app to connect with a Netgear technician who will walk you through the process. Also, Netgear's website has plenty of videos and articles on how to setup the router system and configure it for maximum security.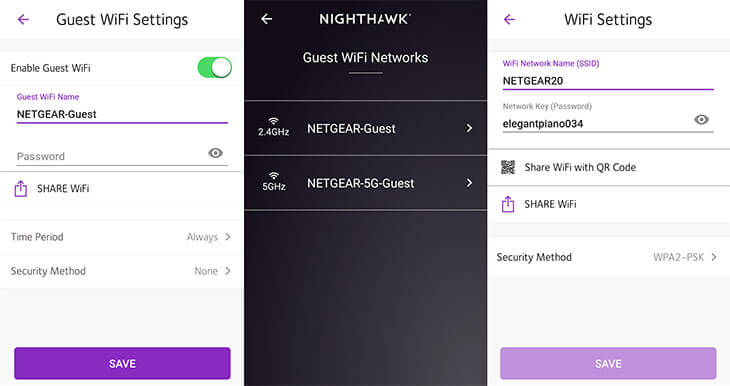 What I like the most about the Nighthawk WiFi Router app is that it comes loaded with features that make your life easy. It gives you convenient access to your router's features such as remote management, smart parental controls, speed test, guest WiFi and traffic meter. If you have children, you can configure it so that the WiFi is cut off after a specific time so your children don't stay up all night on the Internet. You can also set up a guest WiFi service with just a few clicks.
Performance
I don't have an 802.11ax device so I was not yet able to test the RAX40's full capabilities but I was able to test its 160MHz throughput on the 5GHz band using my ThinkPad X1 Carbon 6th gen laptop that is equipped with an Intel Wireless AC-9260 network card which supports the 160MHz channel bandwidth.
I'll be comparing the RAX40 against the Nighthawk R7000 which I have been using for the past 2 years without any issues. Keep in mind that the R7000 is an 80Mhz router while the RAX40 is a 160Mhz router so it will be interesting to see the speed difference between the two. For the most part, the R7000 provides great speed when I'm in the kitchen and living room but as soon as I go to the patio, garage or basement, the speed drops significantly or sometimes the WiFi signal becomes unreachable.
Router Performance (Mbps)
Distance
Netgear Nighthawk R7000
Netgear Nighthawk RAX40
Close To Router
133.19 Mbps (Download)
10.26 Mbps (Upload)
211.71 Mbps (Download)
15.43 Mbps (Upload)
Kitchen
116.23 Mbps (Download)
8.89 Mbps (Upload)
172.01 Mbps (Download)
13.12 Mbps (Upload)
Living Room
118.62 Mbps (Download)
7.44 Mbps (Upload)
178.24 Mbps (Download)
11.27 Mbps (Upload)
Basement
55.71 Mbps (Download)
5.98 Mbps (Upload)
82.46 Mbps (Download)
9.13 Mbps (Upload)
Patio
48.22 Mbps (Download)
4.49 Mbps (Upload)
71.32 Mbps (Download)
6.12 Mbps (Upload)
Garage
37.61 Mbps (Download)
3.73 Mbps (Upload)
54.75 Mbps (Download)
5.09 Mbps (Upload)
I have never had any issues with my WiFi speeds in my kitchen and living room because the R7000 sits in the middle of these two rooms but it's amazing to see the RAX40 improve the Wi-Fi speed. When staying close to the router, we can see that the RAX40 was able to provide a whopping 45% speed increase over the R7000 which is really impressive. The RAX40 has significantly increased the Wi-Fi speed across my house including the kitchen, living room and basement. After installing the RAX40 system, I have not experienced any random WiFi drop outs in my patio and garage so that's excellent.
Conclusion
Overall, I have been using the Nighthawk RAX40 for the past few days now and I have to say that I am extremely impressed by the performance of it. The addition of the NETGEAR Nighthawk App allows users to set up their own routers easily and quickly. Keep in mind that there are only a few clients available on the market to take advantage of the 802.11ax standard but if you want to be an early adopter to 802.11ax, then the Nighthawk AX4 is a good choice. It adopts the Intel GRX350+WAV654 hardware solution which provide excellent throughput. The coverage and speed has been fantastic and now I get full coverage everywhere in my house.

Pros:
+ 802.11ax Support
+ Fast Speeds
+ Strong Signal
+ Long Range
+ No More Buffering
+ Easy To Setup
+ Competitively Priced

Cons:
- Need AX devices To Take Advantage
- Bulky

The Nighthawk RAX40 comes with four Gigabit LAN ports, one Gigabit WAN port, and one USB 3.0 port which is plenty for the average user. For an entry level 802.11ax router, the RAX40 is reasonably priced in my opinion and has plenty to offer. I have not found any dead spots in the house and streaming, web surfing, gaming all work without any issues. With all that being said, we believe the Nighthawk RAX40 deserves our gold award.
Final Score 9.4