Introduction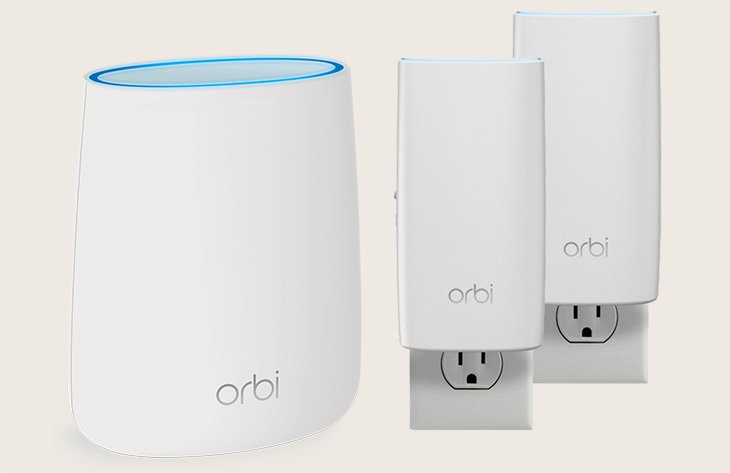 Netgear has sent us the Orbi RBK23W for review which is a WiFi System designed to provide fast, strong and reliable WiFi in every room of your house. The RBK23W WiFi system can cover homes up to 5,000 square feet with up to 2.2Gbps combined WiFi speeds. It comes with an Orbi WiFi router and two wall plug satellites that replace your home router and extenders.
Netgear's Orbi RBK23W supports Tri-band WiFi with up to 450Mbps on the 2.4Ghz band, and up to 866Mbps on both of the 5Ghz bands. This will help maximize the Internet speeds available in your home and and reduce dead WiFi zones. When you buy the RBK23W, you will get one Orbi Router (RBR20), two Orbi Wall Plug Satellites (RBW30), one 2m Ethernet cable, one 12V/2.5A power adapter, and a quick start guide. The Orbi RBK23W retails for $300 on Amazon and comes with 1 year of warranty.
There are two types of satellites that you can buy to further extend the coverage of your WiFi system. There is the wall-plug satellite which costs $140 and adds another 1,500 square feet of coverage and also there is the standalone satellite which costs $220 and adds up to 2,500 square feet of coverage. The Orbi router (RBR20) by itself retails for $250 and covers 2,000 square feet.
Price-wise, if we compare the Orbi RBK23W against other mesh-router systems on the market, the RBK23W costs much less. Google's Wifi system costs $299 for three packs but it only covers up to 4,500 square feet whereas the RBK23W goes up to 5,000 square feet. The Linksys Velop is another interesting WiFi device and competes with Netgear's Orbi. Linksys Velop retails for $450 for three packs but it covers up to 6,000 square feet or you can get two packs for $300 which will only cover up to 4,000 square feet. There are also some other WiFi devices out there but most of them don't provide coverage for 5,000 square feet under $300.
Features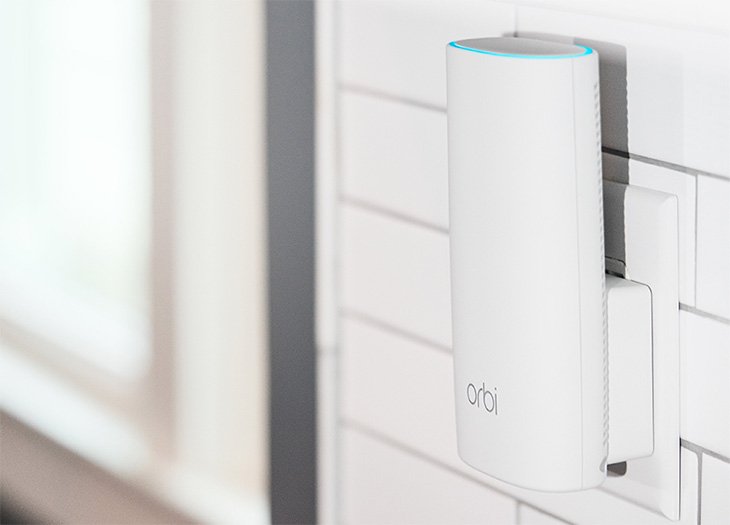 The Orbi RBK23W features an attractive sleek design with an excellent build quality that feels quite sturdy when holding it in your hand. As far as measurements go, the router measures 6.6 x 5.6 x 2.4 in (HxWxD) and weighs a little over 1 pound. The satellites on the other hand measure 6.34 x 3.3 x 3.0 in and weigh 0.67 lb.
The Orbi router packs a 717Mhz ARM Cortex A7 Quad-Core processor which provides up to 20% more single thread performance than the Cortex-A5 processor. Also, the Orbi router along with the satellites utilize four high performance internal antennas. Netgear also includes a Bluetooth radio and antenna which can be used with the Orbi app for setup.
Netgear is using color-coded LEDs to indicate different statuses with their Orbi devices. For example, if it is glowing white around the top, it means it is booting up and if it's glowing blue, it means everything is running fine. If your Internet connection is poor, it will glow amber and if your connection is gone, it will glow magenta.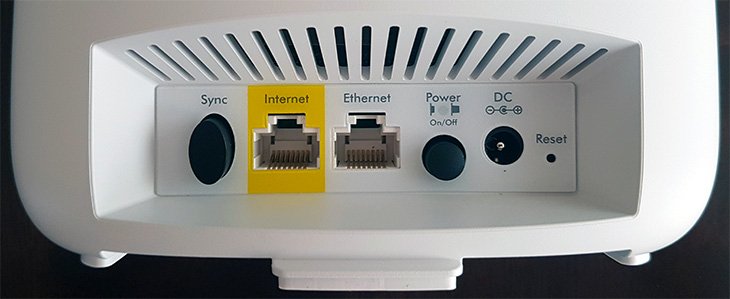 As far as ports go, the Orbi router included in the RBK23W doesn't have any USB ports but it does come with a power connector, power on/off button, a reset button and two Gigabit Ethernet ports. One of the ports is yellow and plugs into your existing modem while the other port can be used to connect the printer or a NAS if you have one. The satellites do not include an Internet port. On the back of the Orbi router is a sync button which is used to reset the router and synchronize it with the satellites and can also be used for WPS connection.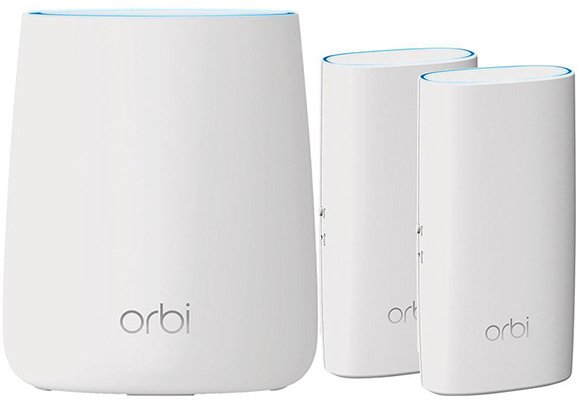 Netgear is using beamforming to improve range, extend coverage and reduce dead spots for large homes. Most WiFi routers normally just blast the WiFi signals in all directions which isn't efficient but with beamforming, the router and satellites talk to each other so the router can directly beam the WiFi signal to the satellite. This results in a much stronger, faster and more reliable connection that is locked in even when the device is moving around the house.
Another great feature that Netgear has implemented into their Orbi devices is the fastlane technology. Normally, the extender's job is to extend both 2.4 GHz and 5 GHz WiFi bands at the same but this reduces the WiFi performance. With fastlane technology, it provides maximum WiFi performance with a dedicated band connecting the extender and the WiFi device, and a second band connecting the extender and the WiFi router. Fastlane technology produces a cleaner and stronger receiving signals from your device by avoiding any signal loss during transmission between router and satellite.
Specifications
Netgear Orbi RBK23W Specifications
Wi-Fi Technology:
802.11ac
Wi-Fi Performance:
AC2200 WiFi (866 + 866 + 400)
Wi-Fi Range:
Very Large Homes
Wi-Fi Band:
Band 1: 400 Mbps @2.4GHz – 256QAM
Band 2: 866 Mbps @5GHz – 256QAM
Band 3: 866 Mbps @5GHz – 256QAM
Wireless Data Rates:
Up to 2.2Gbps
Coverage:
5,000 sq ft
MU-MIMO:
Yes
Antennas:
Router: Four (4) high performance internal antennas
Satellites: Four (4) high performance internal antennas
Beamforming:
Implicit/Explicit Beamforming for 2.4 & 5GHz bands
Gigabit Ethernet ports (Router):
Two (2) 10/100/1000Mbps Gigabit Ethernet ports (Router) 1 WAN & 1 LAN
Key Features:
FastLane3 Technology
The dedicated Wi-Fi backhaul creates better 4K HD streaming & gaming, even as you connect more devices.

Your Home & Yard. Covered.
This kit of an AC2200 Router & two Satellites covers up to a 5,000 sq.ft. home with high-performance Wi-Fi.

Manage Your Kids' Screen Time.
Circle with Disney Smart Parental Controls lets you easily manage content & time online on any device.

One Wi-Fi Network.
Enjoy the convenience of a single Wi-Fi name for your whole home.

Easy Setup.
Use the Orbi app or any web browser to set whole home Wi-Fi in minutes. No accounts to set up.
Security:
WPA / WPA2-PSK support
Guest Wi-Fi Network is easy to setup separate & secure Internet access for guests
Dimensions:
5.6 x 2.4 x 6.6 in (Router)
3.3 x 3.0 x 6.34 in (Satellite)
Weight:
1.05 lb (Router)
0.67 lb (Satellite)
Processor:
ARM Cortex A7 Quad-Core
Memory:
Router: 4GB Flash and 512MB RAM
Satellites: 256MB Flash and 512MB RAM each
Package Contents:
One (1) Orbi Router (RBR20)
Two (2) Orbi Wall Plug Satellites (RBW30)
One (1) 2m Ethernet cable
One (1) 12V/2.5A power adapter
Quick start guide
Standards:
IEEE 802.11b/g/n 2.4 GHz - 256 QAM support
IEEE 802.11a/n/ac 5 GHz - 256 QAM support
IEEE 802.11a/n/ac 5 GHz - 256Q AM support
I spent some time opening up the Orbi router and inspecting the internal components and below I have listed all the internal components.
Netgear Orbi RBK23W Internal Specs
Model
RBK23W
CPU:
Qualcomm IPQ4019
Frequency:
717MHz, 4 cores
Arch:
ARM Cortex A7
Flash:
4 GB
RAM:
512 MB
2.4 Ghz Radio:
Skyworks SKY2623L 2.4 GHz Power Amp (x2)
5 Ghz Radio:
RFMD RFPA5542 5 GHz power amp (x2)
5 Ghz Backhaul:
RFMD RFPA5542 5 GHz power amp (x4)
Bluetooth:
CSR8811 Bluetooth 4.1
Security:
Crypto engine: Secure boot, Trust Zone: PRNG
High Speed I/O:
1x PCIe, 1x PSGMII/SGMII, 1x USB 3.0
Switch:
QCA8075
Network Subsystem:
Integrated L2/3 switch/router and ACL
Hardware NAT engine
Traffic steering
Seamless integration with Linux network stack
Let's talk a little bit about the specs inside the Orbi router. The Orbi router comes with the Qualcomm IPQ4019 which is a quad-core CPU running at 717Mhz and it's using 512MB of DDR3L RAM and 4GB flash. The Qualcomm IPQ4019 is the first Wave 2 802.11ac WiFi SoC designed for routers, gateways and access points. It supports configurations of two 2.4GHz and 5GHz WiFi radios or even three bands (with 60GHz). Also, the Qualcomm IPQ4019 includes support for interfaces such as USB 3.0, LCD, SD/eMIMC, multi-channel audio, LTE and Ethernet.
Packaging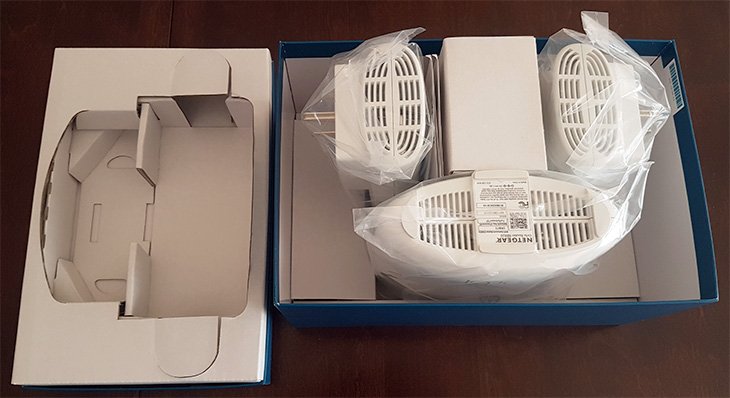 The Orbi WiFi system comes in an elegant box and all of the features are listed on the back of the box such as the coverage, model number, and WiFi speed. When you open up the box, you will be confronted with the Orbi Router, two satellites and a quick user guide.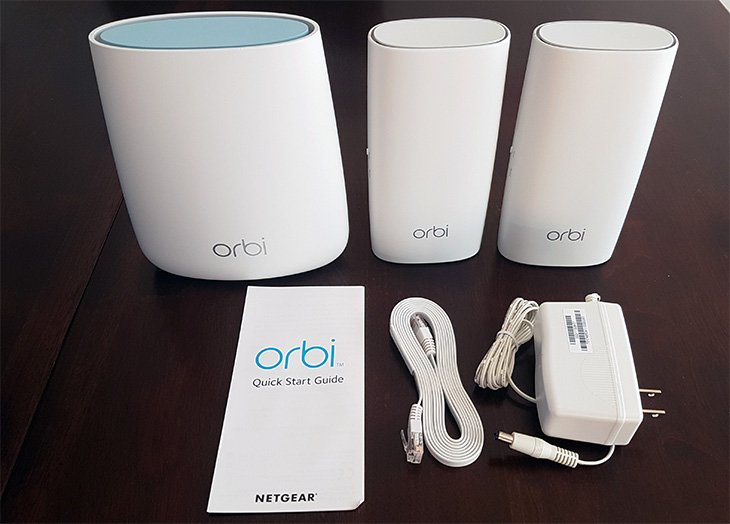 The included Ethernet cable and power adapter cable are high quality and the components inside are well packaged and everything feels well secured inside the box. Netgear does include a basic quick guide manual but any documentation beyond that will have to be downloaded from Netgear's website. Overall, the packaging is good and the product arrived in perfect condition.
Setup and Orbi App
The setup process is very easy and it probably took me less than 10 minutes to get everything up and running. Netgear has done a good job of making the process easy for people that are not tech savvy so you don't need to have any knowledge of DNS, IP Address or Encryption. Setup can be done in two ways, either using a computer connected via Ethernet to the Orbi router, or from a mobile device connected via WiFi. Personally, I went with the second option because I find it easier to setup my devices from my tablet.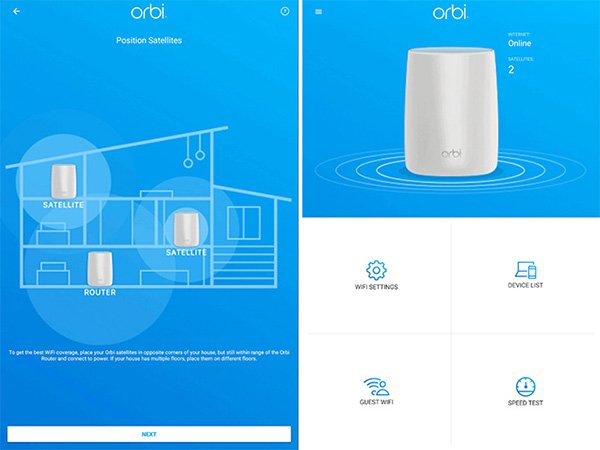 After I had connected everything together, I then downloaded the Orbi app from Google Play but you can also use the Netgear Genie app to setup everything up. When you first open the Orbi app, it will ask you how many satellites you are trying to setup which in my case is two. Then, it will connect to the WiFi and the name of the wifi is on the unit. Give it a few seconds to detect the satellites and if it fails to so, you might have to move the satellites closer to the router if they are too far apart. After that, you can change the network name and password for security reasons and restart the devices and you should be good to go.
If you are still not able to set it up, then you can use the Orbi app to connect with a Netgear technician who will walk you through the process. Also, Netgear's website has plenty of videos and articles on how to setup the Orbi system and configure it for maximum performance. Something that many people forget to do which I would strongly encourage you to do is to update to the latest firmware. I found the default firmware to be a little buggy which was resolved by updating to the latest version.
What I like the most about the Orbi app is that it gives you full control over any of the individual device and it comes loaded with features that make your life easier. For example, if you have children, you can configure it so that the WiFi is cut off after a specific time so your children don't stay up all night on the Internet. You can also set up a guest WiFi service with just a few clicks.
Performance
I have been using the Nighthawk R7000 for the past 2 years without any issues but its coverage has never really impressed. For the most part, the R7000 provides great speed when I'm in the kitchen or living room but as soon as I go to the patio, garage or basement, the speed drops significantly or WiFi signal becomes unreachable.
Router Performance (Mbps)
Distance:
Netgear Nighthawk R7000
Netgear Orbi RBK23W
Close To Router:
143.09 Mbps (Download)
7.55 Mbps (Upload)
146.07 Mbps (Download)
7.68 Mbps (Upload)
Kitchen:
127.03 Mbps (Download)
6.89 Mbps (Upload)
142.01 Mbps (Download)
7.11 Mbps (Upload)
Living Room:
129.82 Mbps (Download)
6.83 Mbps (Upload)
141.24 Mbps (Download)
7.18 Mbps (Upload)
Basement:
46.62 Mbps (Download)
4.51 Mbps (Upload)
127.46 Mbps (Download)
6.53 Mbps (Upload)
Patio:
37.11 Mbps (Download)
4.33 Mbps (Upload)
98.32 Mbps (Download)
6.12 Mbps (Upload)
Garage:
19.87 Mbps (Download)
3.64 Mbps (Upload)
83.95 Mbps (Download)
5.89 Mbps (Upload)
Looking at the above table, you can clearly see the difference the Orbi RBK23W made in speed in my basement, patio and garage. I have never had any issues with my WiFi speeds in my kitchen and living room because my router sits in the middle of these two rooms but I have always had WiFi dead spots and weak signals in my patio, garage and basement so it's awesome to see the Orbi RBK23W improve this. After installing the Orbi system, I have not experienced any random WiFi drop outs thus far in any area of my house so that's excellent.
Conclusion
Overall, I have been using the Orbi RBK23W for the past few days now and I have to say that I am extremely impressed by this beast. The setup process is so simple that even a caveman can do it. Even if you are someone with no tech experience in setting up routers, the Orbi app makes it extremely easy to set everything up in a few minutes.
The coverage and speed has been fantastic since I installed the RBK23W and now I get full coverage everywhere in my house. Also, before I would get weak WiFi signals or random WiFi dropouts in my garage and patio but the RBK23W has taken care of that issue for me. Of course, this all depends on how your house is structured and where you place the satellites but in my case, it has made a huge difference. I have installed one satellite on the second floor of my house and another one in my kitchen which is close to the patio and garage.

Pros:
+ Easy Setup
+ Aesthetic Design
+ Supports MU-MIMO
+ Great Coverage
+ Cheaper Than Competition
+ Zero Dead Spots In My House

Cons:
- Firmware Is Buggy

The Netgear Orbi RBK23W is an amazing WiFi system that comes with the latest industry standards and is even cheaper than the competition. Compared to other 3-packs WiFi systems out there such as Google WiFi or Linksys Velop, the RBK23W is cheaper anywhere from $15 to $20.
If you are in the market for a high-end WiFi system then the Orbi RBK23W might be what you need. It delivers amazing performance and supports modern features such as MU-MIMO which means that the WiFi router can communicate with multiple devices simultaneously and this decreases the time each device has to wait for a signal. With all that being said, we believe the Orbi RBK23W AC2200 deserves our gold award.
Final Score 9.5